Disputed Space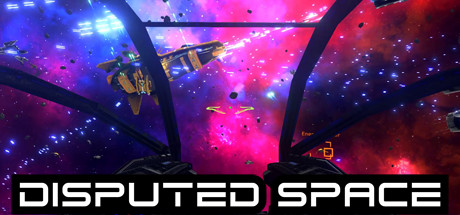 Store | Hub | SteamDB
Developer: ShilohGames Publisher: ShilohGames
Genre: Action, Adventure, Indie, Simulation, Early Access
Languages: English
Tags: Early Access (37), Action (33), Indie (31), Simulation (29), Adventure (20), Arcade (14), Shooter (14), Space (14), Local Co-Op (13), First-Person (12), Sci-fi (12), Co-op (12), 6DOF (12), Twin Stick Shooter (11), Space Sim (11), Singleplayer (11), FPS (11), Retro (10), Great Soundtrack (9)
Category: Single-player, Local Multi-Player, Co-op, Local Co-op, Shared/Split Screen, Full controller support
Release date: Jun 12, 2017
Price: $4.99
Owners: 664 ± 919
Followers: 2,716
Peak concurrent players yesterday: 1
YouTube stats: 68 views and 0 comments for videos uploaded last week, 0 new videos uploaded yesterday.

Steam Spy is still in beta, so expect major bugs.
Peak daily concurrent players:
CCU data courtesy of SteamDB. Used with permission.
Hourly concurrent players:
YouTube:
The views data is based on top 50 videos uploaded last week. Actual number of views might be more than the number shown.

The displayed number of videos uploaded yesterday is limited to 50, so if there were more videos uploaded, the number will still show 50.

If the game has commonly used word as its name (like "FEAR" or "Volume") its number of Youtube views might be wrong.
Games similar to this one:
#
Game
Release date

Price

Score rank
(Userscore / Metascore)

Owners

Players

Playtime (Median)

1
Monsterland
Dec 14, 2015
$0.99
N/A (N/A)
7,976 ±2,564
647 ±730
01:23 (00:41)
2
Penarium
Sep 22, 2015
$9.99
N/A (N/A/80%)
88,168 ±8,524
28,240 ±4,824
02:52 (02:30)
3
Gateways
Sep 13, 2012
$4.99
89% (94%/72%)
52,815 ±6,597
18,324 ±3,886
02:18 (00:46)
4
Modbox
Apr 5, 2016
$14.99
89% (94%)
32,982 ±5,213
9,270 ±2,764
01:11 (00:30)
5
Goats on a Bridge
Feb 6, 2015
$4.99
N/A (N/A)
68,767 ±7,528
22,850 ±4,339
02:29 (00:33)
6
UBERMOSH:WRAITH
Jan 29, 2017
$0.99
86% (93%)
27,162 ±4,731
4,096 ±1,837
00:38 (00:27)
7
Everyday Shooter
May 8, 2008
$9.99
81% (92%/77%)
45,270 ±6,108
28,240 ±4,824
02:01 (00:13)
8
Xion
Jun 23, 2017
$14.99
N/A (N/A)
664 ±919
332 ±649
00:21 (00:10)
9
Dark Matter
Feb 27, 2015
$4.99
N/A (N/A)
117,702 ±9,848
15,952 ±3,626
00:49 (00:05)
10
Parallax
Mar 10, 2015
$9.99
74% (90%/68%)
8,192 ±2,598
4,311 ±1,885
01:37 (01:05)
11
Masochisia
Oct 9, 2015
$7.99
64% (87%/68%)
8,407 ±2,632
6,036 ±2,230
02:05 (01:56)
12
Howard Phillips Lovecar
Jun 8, 2017
$0.99
N/A (N/A)
671 ±1,314
671 ±1,314
00:03 (00:03)
13
Deep Dark Dungeon
May 5, 2017
$9.99
N/A (N/A)
1,992 ±1,591
1,992 ±1,591
02:56 (04:11)
14
Scoregasm
Feb 8, 2012
$4.99
59% (85%)
54,755 ±6,717
25,868 ±4,617
00:53 (00:23)
15
9.03m
Nov 20, 2013
$0.99
59% (85%)
36,431 ±5,479
15,952 ±3,626
00:15 (00:13)
16
The Depths of Tolagal
Jan 5, 2015
$4.99
N/A (N/A)
5,174 ±2,065
2,371 ±1,398
01:25 (00:55)
17
PolyDome
Aug 9, 2016
Free
N/A (N/A)
35,138 ±5,381
9,270 ±2,764
00:08 (00:05)
18
Don't cut your hand
May 30, 2017
$0.99
51% (82%)
4,096 ±1,837
2,587 ±1,460
00:53 (01:01)
19
The Troma Project
Oct 28, 2015
$6.99
N/A (N/A)
215,571 ±13,326
13,365 ±3,319
00:17 (00:04)
20
CAPSULE
May 29, 2014
$4.99
49% (81%)
13,365 ±3,319
4,743 ±1,977
00:45 (00:19)
21
Feel-A-Maze
Nov 25, 2014
$4.99
49% (81%)
13,797 ±3,372
3,018 ±1,577
00:13 (00:10)
22
Last Horizon
Nov 18, 2015
$4.99
47% (80%)
15,306 ±3,551
5,605 ±2,149
01:38 (01:06)
23
Cash_Out
May 27, 2015
$4.99
N/A (N/A)
3,665 ±1,738
2,156 ±1,333
01:54 (02:24)
24
Realms of Arkania: Star Trail
Aug 10, 2017
$29.99
N/A (N/A)
3,018 ±1,577
2,371 ±1,398
24:00 (34:56)
25
Generic Space Shooter
Mar 11, 2016
$2.99
N/A (N/A)
4,096 ±1,837
216 ±421
00:20 (00:06)
26
CMYW
Oct 16, 2015
$3.99
N/A (N/A)
15,737 ±3,601
1,509 ±1,115
00:03 (00:06)
27
Super Hipster Lumberjack
Jul 20, 2015
$0.5
40% (77%)
27,593 ±4,769
8,623 ±2,666
01:09 (00:16)
28
Cult of the Wind
Jun 30, 2014
$9.99
N/A (N/A)
182,804 ±12,272
33,198 ±5,230
00:58 (00:06)
29
Dino Eggs: Rebirth
Jun 8, 2016
$9.99
N/A (N/A)
4,958 ±2,021
431 ±596
00:57 (00:37)
30
Antisphere
Jul 14, 2017
$11.99
N/A (N/A)
3,449 ±1,686
1,293 ±1,032
25:52 (32:58)
31
Xeodrifter
Dec 11, 2014
$9.99
35% (74%)
48,288 ±6,308
20,048 ±4,065
02:08 (01:10)
32
vrAMP
May 27, 2016
$4.99
N/A (N/A)
1,725 ±1,192
1,725 ±1,192
00:28 (00:22)
33
Sportsfriends
Dec 19, 2014
$14.99
N/A (N/A)
21,341 ±4,194
10,132 ±2,889
02:00 (00:46)
34
Axel & Pixel
Oct 6, 2010
$1.24
N/A (N/A)
21,988 ±4,257
8,407 ±2,632
01:42 (00:54)
35
Music Inside: A VR Rhythm Game
Sep 5, 2016
$14.99
N/A (N/A)
2,371 ±1,398
1,725 ±1,192
05:41 (12:15)
36
Chunks
Apr 11, 2016
$19.99
N/A (N/A)
24,791 ±4,520
3,880 ±1,788
01:13 (00:48)
37
Copter and Sky
Jul 21, 2016
$4.99
N/A (N/A)
6,252 ±2,270
1,940 ±1,264
00:46 (00:58)
38
High Fidelity
Nov 9, 2016
Free
28% (70%)
19,401 ±3,998
6,467 ±2,308
01:26 (00:47)
39
Don't Let Go!
Sep 13, 2016
$2.99
N/A (N/A)
12,288 ±3,182
6,683 ±2,347
00:50 (00:27)
40
Butsbal
Jun 3, 2015
$2.99
N/A (N/A)
13,581 ±3,345
2,587 ±1,460
00:39 (00:50)
41
Crystal Catacombs
Jan 15, 2015
$7.99
N/A (N/A)
23,066 ±4,360
2,802 ±1,519
00:34 (00:16)
42
Eron
Mar 17, 2015
$1.99
22% (65%)
36,863 ±5,512
6,036 ±2,230
00:20 (00:16)
43
BIT.TRIP FATE
Jul 11, 2013
$9.99
20% (63%/74%)
55,617 ±6,770
30,827 ±5,040
01:45 (00:57)
44
Ruzh Delta Z
May 11, 2015
Free
20% (63%)
106,707 ±9,377
10,779 ±2,980
00:13 (00:07)
45
Freshman Year
Apr 20, 2015
Free
17% (61%)
62,515 ±7,178
5,605 ±2,149
00:18 (00:09)
46
Ski Park Tycoon
Feb 3, 2015
$9.99
N/A (N/A)
2,156 ±1,333
1,509 ±1,115
18:30 (18:39)
47
KEL Reaper of Entropy
Nov 18, 2014
$1.99
N/A (N/A)
6,036 ±2,230
2,156 ±1,333
01:30 (00:07)
48
BIT.TRIP FLUX
Jun 5, 2014
$9.99
15% (59%)
41,605 ±5,855
18,755 ±3,931
01:31 (01:01)
49
Kimulator 2: The Bottle Flip Master
Jul 3, 2017
$2.99
N/A (N/A)
996 ±1,125
332 ±649
00:30 (00:15)
50
The Language Game
Jul 9, 2015
$4.99
N/A (N/A)
5,389 ±2,107
431 ±596
00:37 (00:17)
51
Dinner Date
Mar 1, 2011
$3.99
13% (56%)
42,899 ±5,946
24,144 ±4,461
00:26 (00:21)
52
Afterlife Empire
Aug 21, 2015
$4.99
12% (55%)
4,958 ±2,021
1,940 ±1,264
00:52 (00:33)
53
Wildlife Park 2 - Dino World
Jul 17, 2014
$3.99
N/A (N/A)
39,881 ±5,733
15,952 ±3,626
05:01 (02:23)
54
Woodlands
May 30, 2017
$9.99
N/A (N/A)
11,856 ±3,126
647 ±730
00:22 (00:20)
55
Dragon Fantasy: The Black Tome of Ice
May 26, 2016
$9.99
N/A (N/A)
1,725 ±1,192
862 ±843
07:34 (09:41)
56
Wildlife Park 2 - Fantasy
Jul 17, 2014
$0.99
6% (44%)
46,348 ±6,180
17,461 ±3,793
02:07 (00:27)
57
Barren Roads
Jun 1, 2015
$8.99
6% (44%)
996 ±1,125
996 ±1,125
00:22 (00:29)
58
Evolution
Jun 6, 2016
Free
N/A (N/A)
9,485 ±2,796
5,605 ±2,149
06:08 (04:46)
59
Industry Transporters
Aug 31, 2015
$9.99
N/A (N/A)
4,096 ±1,837
1,293 ±1,032
09:22 (18:23)
60
Bloop
Jan 16, 2015
$0.74
N/A (N/A)
224,625 ±13,603
37,294 ±5,544
00:23 (00:08)
61
Hacker Evolution Duality
Aug 15, 2011
$4.99
2% (33%)
320,985 ±16,260
109,941 ±9,518
01:09 (00:18)
62
Doc Clock: The Toasted Sandwich of Time
Oct 15, 2010
$4.99
2% (32%/62%)
106,923 ±9,386
53,677 ±6,651
01:09 (00:20)