Monsters!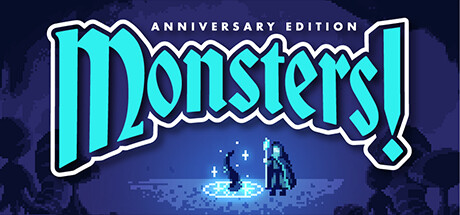 Store | Hub | SteamDB | Site
Developer: QuadraTron Games Publisher: QuadraTron Games
Genre: Action, Indie
Languages: English
Tags: Action (32), Indie (22), Twin Stick Shooter (13), 2D (12), Pixel Graphics (11)
Category: Single-player, Full controller support
Release date: Oct 25, 2016 (previously in Early Access)
Price: $4.99
Owners: 700 ± 969
Followers: 145
YouTube stats: 1,381,688 views and 4,961 comments for videos uploaded last week, over 50 new videos uploaded yesterday

Steam Spy is still in beta, so expect major bugs.
Peak daily concurrent players:
CCU data courtesy of SteamDB. Used with permission.
Hourly concurrent players:
YouTube:
The views data is based on top 50 videos uploaded last week. Actual number of views might be more than the number shown.

The displayed number of videos uploaded yesterday is limited to 50, so if there were more videos uploaded, the number will still show 50.

If the game has commonly used word as its name (like "FEAR" or "Volume") its number of Youtube views might be wrong.
Games similar to this one:
#
Game
Release date

Price

Score rank
(Userscore / Metascore)

Owners

Players

Playtime (Median)

1
Echoes of the Fey: The Fox's Trail
Aug 16, 2016
$7.99
N/A (N/A)
933 ±912
700 ±790
07:19 (07:18)
2
Killing Time
Dec 15, 2016
$9.99
N/A (N/A)
1,166 ±1,019
233 ±456
00:11 (00:03)
3
Sprite Lamp
Sep 25, 2014
$34.99
N/A (N/A)
69,968 ±7,900
18,658 ±4,079
00:57 (00:01)
4
Soft Body
May 17, 2016
$9.99
N/A (N/A)
2,108 ±1,684
1,757 ±1,537
02:58 (06:06)
5
Snow Games VR
Feb 1, 2017
Free
N/A (N/A)
7,463 ±2,580
3,965 ±1,880
00:36 (00:05)
6
Hauntsters
Dec 22, 2015
$4.99
N/A (N/A)
3,265 ±1,706
0 ±0
00:00 (00:00)
7
Gazzel Quest, The Five Magic Stones
Jul 15, 2016
$1.99
N/A (N/A)
2,332 ±1,442
0 ±0
00:00 (00:00)
8
D/Generation HD
Oct 23, 2015
$12.99
N/A (N/A)
19,358 ±4,155
1,399 ±1,117
00:14 (00:08)
9
Devil Sealing Stone
Apr 11, 2016
$7.99
N/A (N/A)
1,633 ±1,206
0 ±0
00:00 (00:00)
10
Strania - The Stella Machina -
Nov 24, 2015
$14.99
N/A (N/A)
2,099 ±1,368
1,633 ±1,206
00:51 (01:24)
11
Mimic Arena
May 17, 2016
$7.99
N/A (N/A)
6,764 ±2,456
233 ±456
00:01 (00:00)
12
EXZEAL
Jul 14, 2016
$11.99
N/A (N/A)
933 ±912
700 ±790
02:05 (01:27)
13
TRIZEAL Remix
Jul 7, 2016
$11.99
N/A (N/A)
700 ±790
233 ±456
03:07 (01:02)
14
Man in a Maze: Deathmatch
Oct 16, 2014
$9.99
N/A (N/A)
5,364 ±2,187
1,166 ±1,019
00:19 (00:17)
15
Killer Klownz
Dec 5, 2016
$0.89
N/A (N/A)
3,032 ±1,644
700 ±790
00:06 (00:04)
16
Z-Exemplar
Nov 25, 2016
$4.99
N/A (N/A)
4,198 ±1,935
933 ±912
01:49 (02:23)
17
LooWarVR
Aug 11, 2016
$3.99
N/A (N/A)
1,406 ±1,375
703 ±972
02:20 (02:19)
18
Beyond Reality
Jan 8, 2016
$4.99
N/A (N/A)
6,997 ±2,498
3,498 ±1,766
02:51 (03:08)
19
Kenney Game Assets
May 8, 2015
$9.99
N/A (N/A)
2,332 ±1,442
2,099 ±1,368
32:35 (48:48)
20
Crawl
Apr 11, 2017
$14.99
95% (96%)
237,426 ±14,550
146,700 ±11,438
06:06 (02:34)
21
Organ Quarter Pre-Alpha Demo
Oct 28, 2016
Free
92% (95%)
40,582 ±6,016
20,291 ±4,254
00:32 (00:15)
22
Aurion: Legacy of the Kori-Odan
Apr 14, 2016
$14.99
89% (94%/69%)
77,898 ±8,335
17,725 ±3,976
04:13 (03:17)
23
The Frostrune
Feb 2, 2017
$9.99
89% (94%)
6,997 ±2,498
2,099 ±1,368
02:22 (03:10)
24
Dragon Age: Origins Awakening
Mar 16, 2010
$9.99
89% (94%/82%)
160,694 ±11,971
59,940 ±7,312
00:24 (00:01)
25
Clean'Em Up
Aug 18, 2016
Free
N/A (N/A)
33,118 ±5,435
6,064 ±2,325
00:33 (00:18)
26
Godot Engine
Feb 23, 2016
Free
89% (94%)
161,161 ±11,988
97,256 ±9,313
00:58 (00:01)
27
Brief Karate Foolish
Nov 18, 2016
Free
85% (93%)
109,151 ±9,866
80,697 ±8,484
00:11 (00:04)
28
Fallout 2: A Post Nuclear Role Playing Game
Aug 19, 2009
$4.99
85% (93%/86%)
1,066,086 ±30,804
463,891 ±20,333
10:52 (01:07)
29
The Plan
Feb 14, 2014
Free
81% (92%)
684,991 ±24,702
412,114 ±19,166
00:13 (00:07)
30
Getsuei Gakuen -kou-
Nov 3, 2015
$24.99
N/A (N/A)
2,332 ±1,442
1,166 ±1,019
16:45 (14:35)
31
D: The Game
Oct 27, 2016
$5.99
N/A (N/A)
3,965 ±1,880
2,332 ±1,442
01:15 (01:48)
32
Historium VR - Relive the history of Bruges
Dec 2, 2016
$7.99
N/A (N/A)
933 ±912
466 ±645
02:02 (01:21)
33
Brighter Day
Jul 17, 2015
$2.99
N/A (N/A)
3,732 ±1,824
2,799 ±1,580
01:06 (01:38)
34
You Have 10 Seconds
Aug 2, 2016
Free
74% (90%)
264,714 ±15,363
207,340 ±13,597
00:31 (00:08)
35
You Have 10 Seconds 2
Aug 25, 2016
Free
71% (89%)
171,423 ±12,364
121,745 ±10,420
00:37 (00:16)
36
Descent: Road to Legend
Jun 1, 2016
Free
68% (88%)
61,339 ±7,396
23,556 ±4,584
07:35 (01:04)
37
TrackMania Nations Forever
Apr 16, 2008
Free
68% (88%)
2,540,087 ±47,474
1,839,703 ±40,433
07:03 (01:11)
38
Jacob Jones and the Bigfoot Mystery : Episode 2
Sep 23, 2014
$3.99
N/A (N/A)
2,460 ±1,819
1,054 ±1,191
01:46 (01:08)
39
panGEMic
Dec 28, 2016
Free
N/A (N/A)
5,131 ±2,139
4,665 ±2,039
00:09 (00:08)
40
The Bottom of the Well
Mar 3, 2016
Free
65% (87%)
106,585 ±9,750
45,013 ±6,336
00:45 (00:18)
41
Half-Life: A Place in the West
Sep 29, 2016
Free
65% (87%)
76,965 ±8,285
36,384 ±5,697
00:24 (00:06)
42
Totemori
Feb 10, 2017
Free
62% (86%)
60,173 ±7,326
48,978 ±6,609
00:23 (00:09)
43
Subspace Continuum
Jul 3, 2015
Free
62% (86%)
127,109 ±10,647
48,045 ±6,546
04:05 (00:06)
44
The Abbey of Crime Extensum
May 19, 2016
Free
62% (86%)
62,738 ±7,480
16,559 ±3,843
10:11 (00:10)
45
LostWinds 2: Winter of the Melodias
Mar 24, 2016
$9.99
62% (86%)
13,527 ±3,473
2,799 ±1,580
02:47 (03:56)
46
Seduce Me the Otome
Jun 4, 2015
Free
62% (86%)
258,883 ±15,193
134,806 ±10,964
05:39 (01:16)
47
Off-Peak
Oct 21, 2016
Free
59% (85%)
106,818 ±9,760
63,205 ±7,508
00:18 (00:08)
48
Plenty: Skyhearth
Oct 20, 2016
Free
N/A (N/A)
30,086 ±5,180
10,728 ±3,093
02:14 (00:07)
49
Road Redemption
Oct 4, 2017
$19.99
56% (84%)
132,940 ±10,888
118,013 ±10,259
06:03 (01:55)
50
Salt
Oct 15, 2014
$14.99
56% (84%)
77,898 ±8,335
67,636 ±7,767
08:38 (02:33)
51
Art of War: Red Tides
Dec 22, 2016
Free
54% (83%)
781,081 ±26,375
598,930 ±23,100
06:44 (00:45)
52
Starship Titanic
Oct 27, 2016
$5.99
N/A (N/A)
2,099 ±1,368
933 ±912
03:11 (02:49)
53
Codename CURE
Jul 17, 2015
Free
51% (82%)
2,103,018 ±43,217
1,444,615 ±35,844
02:16 (00:36)
54
Mainland
May 8, 2015
Free
51% (82%)
115,914 ±10,167
41,048 ±6,051
00:46 (00:10)
55
Demetrios - The BIG Cynical Adventure
May 31, 2016
$9.99
N/A (N/A/72%)
4,431 ±1,988
3,032 ±1,644
03:45 (03:33)
56
Aplowcalypse
Dec 14, 2016
Free
N/A (N/A)
13,527 ±3,473
8,163 ±2,698
00:15 (00:07)
57
Ley Lines
Dec 5, 2016
Free
49% (81%)
21,690 ±4,398
11,195 ±3,160
00:47 (00:08)
58
Tales of Cosmos
Oct 20, 2016
$14.99
N/A (N/A)
4,898 ±2,090
1,166 ±1,019
01:04 (00:53)
59
Grand Pigeon's Duty
Aug 5, 2016
$0.99
47% (80%)
227,631 ±14,247
208,039 ±13,620
04:31 (04:31)
60
SourVR Video Player
Nov 21, 2016
Free
N/A (N/A)
29,387 ±5,120
18,425 ±4,054
00:34 (00:07)
61
Age of Enigma: The Secret of the Sixth Ghost
May 11, 2015
$9.99
N/A (N/A)
9,096 ±2,848
1,166 ±1,019
07:45 (06:16)
62
Hardland
Oct 23, 2014
$14.99
47% (80%)
12,594 ±3,351
11,195 ±3,160
02:48 (01:34)
63
The Orphan Dreams
Apr 27, 2016
$3.99
N/A (N/A)
10,495 ±3,059
1,166 ±1,019
00:34 (00:27)
64
FreeCell Quest
Oct 19, 2015
$9.99
47% (80%)
10,495 ±3,059
7,930 ±2,659
10:45 (08:01)
65
Gorky 17
Sep 27, 2013
$0.99
47% (80%)
586,102 ±22,852
86,761 ±8,797
01:18 (00:05)
66
96 Mill
Jan 26, 2017
$5.99
N/A (N/A)
1,166 ±1,019
233 ±456
00:02 (00:00)
67
Ludu
Dec 4, 2016
Free
N/A (N/A)
13,294 ±3,443
7,230 ±2,539
00:14 (00:12)
68
Queen Of Thieves
Jan 20, 2017
$24.99
N/A (N/A)
1,757 ±1,537
1,406 ±1,375
08:42 (08:51)
69
Pavilion
Sep 23, 2016
$9.99
N/A (N/A)
2,099 ±1,368
1,633 ±1,206
02:12 (04:20)
70
Absent
Aug 31, 2015
Free
45% (79%)
96,090 ±9,257
25,888 ±4,805
01:05 (00:10)
71
Rising Angels: Reborn
Sep 12, 2014
Free
45% (79%)
187,749 ±12,939
57,841 ±7,182
01:33 (00:12)
72
Rising World
Dec 3, 2014
$14.99
45% (79%)
117,547 ±10,239
111,250 ±9,961
17:44 (04:46)
73
NVIDIA VR Funhouse
Jul 14, 2016
Free
43% (78%)
233,461 ±14,428
154,397 ±11,734
01:13 (00:20)
74
MSI Electric City
Aug 9, 2016
Free
43% (78%)
66,470 ±7,700
26,588 ±4,870
00:16 (00:05)
75
Barrow Hill: The Dark Path
Sep 22, 2016
$14.99
N/A (N/A)
2,566 ±1,512
1,399 ±1,117
04:02 (02:15)
76
Rescue the Great Demon 2
Nov 18, 2016
Free
41% (77%)
96,323 ±9,269
63,671 ±7,536
00:51 (00:13)
77
Thing-in-Itself
Jan 5, 2017
$2.49
39% (76%)
1,406 ±1,375
1,054 ±1,191
00:31 (00:44)
78
VRMultigames
Jul 25, 2016
Free
39% (76%)
60,406 ±7,340
21,923 ±4,422
00:31 (00:11)
79
Comicado
Jan 21, 2014
$9.99
N/A (N/A)
933 ±912
700 ±790
00:47 (00:47)
80
Ladra
Nov 13, 2015
$1.99
N/A (N/A)
20,524 ±4,278
3,265 ±1,706
00:30 (00:41)
81
Witches, Heroes and Magic
Jun 29, 2015
$14.99
N/A (N/A)
7,463 ±2,580
233 ±456
00:06 (00:02)
82
Planet in the Shadows
Apr 15, 2016
$1.55
N/A (N/A)
3,032 ±1,644
466 ±645
00:08 (00:02)
83
Fishing Planet
Aug 28, 2017
Free
37% (75%)
2,851,213 ±50,281
1,979,407 ±41,933
11:44 (00:44)
84
Dropzone
Feb 15, 2017
Free
35% (74%)
230,196 ±14,327
164,426 ±12,109
02:45 (00:38)
85
Fantasy Tales Online
May 5, 2016
Free
35% (74%)
135,506 ±10,993
86,294 ±8,773
02:08 (00:14)
86
Sirius Online
Jun 1, 2015
$9.99
33% (73%)
92,825 ±9,099
36,150 ±5,678
03:23 (03:36)
87
Governor of Poker 3
Feb 19, 2016
Free
33% (73%)
473,220 ±20,536
391,590 ±18,683
06:54 (01:03)
88
Heavy Metal Machines
Jan 31, 2017
Free
31% (72%)
544,354 ±22,024
325,353 ±17,031
01:20 (00:22)
89
GameLooper
Jan 21, 2016
Free
31% (72%)
169,557 ±12,296
100,521 ±9,468
00:57 (00:05)
90
Glory by Example
Aug 24, 2016
$1.99
N/A (N/A)
700 ±790
233 ±456
02:14 (00:44)
91
Teria
Jan 17, 2017
$0.99
N/A (N/A)
4,898 ±2,090
0 ±0
00:00 (00:00)
92
Medieval Engineers
Feb 19, 2015
$19.99
30% (71%)
298,299 ±16,308
265,414 ±15,383
11:25 (02:36)
93
Among Ripples
Jan 22, 2015
Free
28% (70%)
480,450 ±20,692
287,803 ±16,018
00:19 (00:06)
94
Invisible Apartment
Mar 2, 2015
Free
28% (70%)
182,851 ±12,769
69,968 ±7,900
00:18 (00:05)
95
Bitardia Cards: Memes of 2ch
May 19, 2016
Free
28% (70%)
50,610 ±6,719
12,594 ±3,351
00:13 (00:09)
96
Girlfriend Rescue
Jul 10, 2015
$4.99
N/A (N/A)
7,463 ±2,580
3,965 ±1,880
02:10 (02:32)
97
Kult: Heretic Kingdoms
Aug 26, 2015
$5.99
N/A (N/A)
39,416 ±5,929
5,831 ±2,280
00:57 (00:09)
98
Gods and Idols
Dec 12, 2016
Free
27% (69%)
101,221 ±9,501
79,531 ±8,422
02:48 (00:15)
99
Red Spider: Vengeance
Nov 25, 2016
Free
N/A (N/A)
7,230 ±2,539
466 ±645
11:30 (07:39)
100
Tactical Genius Online
Jan 20, 2017
Free
27% (69%)
108,218 ±9,824
41,281 ±6,068
01:31 (00:12)
101
N.E.R.O.: Nothing Ever Remains Obscure
Apr 29, 2016
$2.24
27% (69%/59%)
5,364 ±2,187
3,965 ±1,880
04:12 (09:06)
102
Ghoul Kid
Apr 26, 2016
Free
27% (69%)
77,198 ±8,298
34,518 ±5,549
00:14 (00:07)
103
16 Bit Arena
Mar 24, 2015
Free
27% (69%)
140,403 ±11,190
43,847 ±6,254
00:01 (00:01)
104
Kickoff Legends
Dec 13, 2016
Free
N/A (N/A)
9,329 ±2,884
5,831 ±2,280
00:27 (00:39)
105
Lop Nor Zombie VR (HTC Vive)
Sep 30, 2016
$2.99
N/A (N/A)
3,032 ±1,644
933 ±912
02:25 (03:06)
106
:
Sep 29, 2015
Free
24% (67%)
85,361 ±8,725
19,591 ±4,180
03:27 (00:10)
107
Adam's Venture: Origins
Apr 1, 2016
$29.99
23% (66%)
4,898 ±2,090
3,498 ±1,766
02:55 (03:43)
108
The Room of Black & White
Dec 18, 2015
$4.99
N/A (N/A)
698 ±1,367
698 ±1,367
00:23 (00:23)
109
The Quivering
Jan 28, 2015
$3.99
N/A (N/A)
7,230 ±2,539
466 ±645
00:03 (00:02)
110
Tiny Bridge: Ratventure
May 8, 2015
$4.99
23% (66%)
240,458 ±14,642
169,090 ±12,279
02:38 (02:39)
111
RoShamBo
Jul 14, 2016
Free
21% (64%)
203,375 ±13,466
135,272 ±10,983
02:07 (00:18)
112
Lands of Hope Redemption
Oct 15, 2015
$1.99
N/A (N/A)
700 ±790
466 ±645
01:23 (00:55)
113
PD Howler 9.6 Digital Painter and Visual FX box
Mar 11, 2015
$29.99
N/A (N/A)
1,633 ±1,206
1,399 ±1,117
29:34 (55:43)
114
9Dragons
Feb 14, 2017
Free
18% (62%)
39,649 ±5,947
26,821 ±4,891
25:17 (00:15)
115
To Burn in Memory
Jan 19, 2016
Free
18% (62%)
114,049 ±10,085
48,278 ±6,562
00:17 (00:02)
116
Torn Tales
Jan 17, 2017
$12.99
N/A (N/A)
5,131 ±2,139
4,198 ±1,935
02:25 (03:04)
117
The NADI Project
Jun 1, 2016
Free
17% (61%)
77,898 ±8,335
31,719 ±5,319
00:27 (00:15)
118
Nomad
Jun 26, 2015
Free
17% (61%)
401,152 ±18,909
318,356 ±16,847
03:39 (00:31)
119
Walkover
Mar 23, 2015
Free
17% (61%)
104,953 ±9,675
30,086 ±5,180
00:55 (00:05)
120
Full Tilt Poker
Jan 26, 2016
N/A
N/A (N/A)
75,333 ±8,197
27,987 ±4,996
00:53 (00:09)
121
Playing History: Vikings
Jul 1, 2015
$2.99
N/A (N/A)
13,760 ±3,503
2,099 ±1,368
00:35 (01:35)
122
LogoMaker 4
Dec 4, 2013
$29.99
16% (60%)
3,498 ±1,766
3,032 ±1,644
03:37 (04:20)
123
Memories of a Vagabond
Jul 7, 2014
$4.99
N/A (N/A)
347,743 ±17,606
219,701 ±13,996
03:02 (03:03)
124
Go Home - Rage incoming
Aug 2015
$1.99
N/A (N/A)
6,530 ±2,413
700 ±790
00:04 (00:04)
125
Witan
Jul 12, 2016
Free
N/A (N/A)
703 ±972
351 ±687
01:07 (00:33)
126
Zombie Vikings: Stab-a-thon
Dec 22, 2016
Free
N/A (N/A)
22,856 ±4,515
18,425 ±4,054
00:16 (00:07)
127
Dungeon Siege III
Jun 20, 2011
$14.99
15% (59%/72%)
772,685 ±26,233
563,946 ±22,416
10:54 (02:42)
128
BLOCKADE 3D
Dec 19, 2014
Free
15% (59%)
4,028,082 ±59,689
3,040,595 ±51,914
06:53 (00:51)
129
Intruder Alert: Ixian Operations
Jul 21, 2016
Free
15% (59%)
38,949 ±5,894
7,697 ±2,620
00:52 (00:09)
130
Robinson: The Journey
Feb 9, 2017
$39.99
N/A (N/A)
2,099 ±1,368
2,099 ±1,368
03:00 (06:21)
131
Escape
Apr 20, 2015
Free
14% (58%)
165,825 ±12,160
77,898 ±8,335
00:15 (00:05)
132
Fall of the New Age Premium Edition
Jul 25, 2014
$6.99
N/A (N/A)
34,285 ±5,530
4,898 ±2,090
03:10 (03:38)
133
Codename: Rogue Fleet
Jan 15, 2016
Free
14% (57%)
110,317 ±9,919
46,646 ±6,450
00:24 (00:09)
134
One Manga Day
May 4, 2015
Free
14% (57%)
147,867 ±11,483
56,208 ±7,080
00:22 (00:07)
135
Savage Lands
Mar 5, 2015
$14.99
14% (57%)
497,942 ±21,065
310,193 ±16,629
06:06 (01:32)
136
Games of Glory
Apr 25, 2017
Free
13% (56%)
302,264 ±16,415
120,346 ±10,360
01:08 (00:17)
137
Curse of Mermos
Jun 23, 2015
Free
13% (56%)
163,493 ±12,075
72,534 ±8,043
00:36 (00:06)
138
Frozen Free Fall: Snowball Fight
Sep 15, 2015
Free
13% (56%)
236,960 ±14,535
123,378 ±10,489
02:53 (00:21)
139
Shadow Hunter
Apr 20, 2015
Free
13% (56%)
80,930 ±8,496
11,895 ±3,257
00:17 (00:11)
140
Metal War Online: Retribution
Dec 2015
Free
13% (56%)
447,798 ±19,977
319,522 ±16,877
04:32 (00:18)
141
Forgotten Myths CCG
Mar 21, 2016
Free
12% (55%)
59,240 ±7,269
14,227 ±3,562
03:08 (00:07)
142
Karos
Dec 24, 2014
Free
12% (54%)
381,095 ±18,431
140,403 ±11,190
03:17 (00:01)
143
One Way To Die: Steam Edition
Sep 1, 2015
Free
12% (54%)
159,528 ±11,927
43,847 ±6,254
00:19 (00:04)
144
Clicker Guild
Dec 16, 2016
Free
12% (54%)
159,528 ±11,927
124,077 ±10,519
06:32 (01:04)
145
After Life - Story of a Father
Nov 25, 2016
$5.99
N/A (N/A)
6,530 ±2,413
700 ±790
00:17 (00:17)
146
Rustbucket Rumble
May 4, 2015
Free
11% (53%)
263,315 ±15,322
146,700 ±11,438
01:26 (00:10)
147
Eclipse --- Defending the motherland
May 26, 2016
Free
N/A (N/A)
73,700 ±8,107
26,588 ±4,870
02:28 (00:06)
148
Uebergame
Oct 26, 2015
Free
10% (52%)
150,199 ±11,573
73,700 ±8,107
00:10 (00:04)
149
Fairy Tale About Father Frost, Ivan and Nastya
Apr 30, 2014
$2.99
N/A (N/A)
12,828 ±3,382
1,633 ±1,206
00:55 (01:44)
150
Astro Lords: Oort Cloud
Jan 15, 2016
Free
N/A (N/A)
90,959 ±9,007
35,217 ±5,605
01:37 (00:01)
151
Clash of the Monsters
Apr 13, 2016
Free
9% (50%)
87,227 ±8,820
40,582 ±6,016
00:36 (00:06)
152
Premium Pool
Mar 14, 2016
N/A
N/A (N/A)
252,819 ±15,014
176,087 ±12,531
01:03 (00:17)
153
Rover The Dragonslayer
Jun 2, 2016
$1.99
N/A (N/A)
11,895 ±3,257
1,399 ±1,117
00:17 (00:15)
154
The Sun Will Rise
Oct 3, 2016
Free
9% (50%)
24,256 ±4,651
5,131 ±2,139
01:24 (00:44)
155
Judgement
Sep 15, 2015
$4.99
N/A (N/A)
8,163 ±2,698
700 ±790
00:12 (00:09)
156
Regimental Chess
Apr 29, 2015
Free
7% (47%)
99,122 ±9,402
31,019 ±5,260
00:36 (00:05)
157
Gabriel Knight 3: Blood of the Sacred, Blood of the Damned
Aug 29, 2016
$5.99
N/A (N/A/80%)
64,371 ±7,577
1,166 ±1,019
00:31 (00:17)
158
Campaign Clicker
Oct 5, 2016
Free
6% (45%)
114,515 ±10,106
84,429 ±8,677
01:29 (00:13)
159
The Journey Home
Aug 22, 2016
Free
N/A (N/A)
30,320 ±5,200
4,665 ±2,039
00:13 (00:09)
160
High Profits
Jan 12, 2017
Free
6% (44%)
164,426 ±12,109
146,001 ±11,410
17:40 (00:51)
161
Twisty's Asylum Escapades
Sep 28, 2016
$0.49
N/A (N/A)
2,332 ±1,442
933 ±912
02:20 (01:47)
162
Rumble Fighter: Unleashed
Dec 16, 2016
Free
6% (43%)
34,051 ±5,511
24,489 ±4,673
00:33 (00:06)
163
Maze Sounds
Oct 1, 2016
$4.99
N/A (N/A)
4,665 ±2,039
700 ±790
00:49 (00:47)
164
Dragon Blood
Jan 31, 2017
Free
5% (42%)
18,192 ±4,028
11,195 ±3,160
00:52 (00:06)
165
The Mystery of the Druids
Apr 7, 2015
$4.99
N/A (N/A)
18,658 ±4,079
3,032 ±1,644
02:19 (00:18)
166
Elansar
Jan 11, 2016
$1.99
N/A (N/A)
2,799 ±1,580
233 ±456
01:23 (00:27)
167
Atlantis 2: Beyond Atlantis
Apr 17, 2015
$3.99
N/A (N/A)
9,096 ±2,848
1,399 ±1,117
00:49 (00:34)
168
WAR7
Oct 21, 2016
Free
N/A (N/A)
15,626 ±3,733
1,166 ±1,019
00:08 (00:11)
169
HIT
Feb 9, 2015
Free
3% (35%)
312,992 ±16,704
105,886 ±9,718
00:12 (00:05)
170
Galaxy Combat Wargames
Sep 29, 2016
Free
N/A (N/A)
20,757 ±4,303
2,566 ±1,512
00:12 (00:14)
171
Escape The Museum
Apr 29, 2014
$4.99
N/A (N/A)
4,431 ±1,988
1,399 ±1,117
07:43 (07:50)
172
The Lost City Of Malathedra
Mar 31, 2015
$7.99
N/A (N/A)
4,898 ±2,090
0 ±0
00:00 (00:00)
173
Get Rich or Die Gaming
Sep 2, 2015
$2.99
N/A (N/A)
7,697 ±2,620
466 ±645
00:22 (00:14)
174
Plastic Playground
Apr 18, 2016
Free
2% (31%)
85,828 ±8,749
30,786 ±5,240
00:44 (00:05)
175
BattleSpace
Jan 7, 2015
Free
2% (31%)
135,039 ±10,974
34,051 ±5,511
00:29 (00:01)
176
Outpost 13
Oct 26, 2015
$4.99
N/A (N/A)
2,099 ±1,368
1,399 ±1,117
01:24 (02:04)
177
Shadow of Kingdoms
Aug 11, 2015
Free
1% (27%)
87,227 ±8,820
22,390 ±4,469
02:18 (00:06)
178
Towns
Nov 7, 2012
$14.99
1% (26%)
205,940 ±13,551
183,784 ±12,802
19:50 (02:22)
179
Dyno Adventure
Sep 26, 2016
$0.99
N/A (N/A)
2,799 ±1,580
1,399 ±1,117
03:01 (01:52)
180
24 Hours 'til Rescue
Feb 19, 2016
$3.99
N/A (N/A)
18,425 ±4,054
1,166 ±1,019
00:05 (00:08)
181
Jacob
Jul 18, 2016
Free
0% (19%)
37,783 ±5,805
6,297 ±2,370
00:17 (00:03)
182
Legends of Persia
Jun 3, 2014
$19.99
N/A (N/A)
64,837 ±7,604
7,697 ±2,620
01:13 (00:11)
183
Haunted House: Cryptic Graves
Nov 25, 2014
N/A
N/A (N/A)
1,406 ±1,375
1,054 ±1,191
00:20 (00:27)
184
Absence
Feb 11, 2016
$5.99
N/A (N/A)
2,099 ±1,368
233 ±456
00:08 (00:02)
185
Gremlin Invasion: Survivor
May 1, 2015
$4.99
N/A (N/A)
698 ±1,367
0 ±0
00:00 (00:00)
186
Hush Hush - Unlimited Survival Horror
Mar 25, 2016
$2.99
N/A (N/A)
1,633 ±1,206
700 ±790
04:46 (03:16)
187
The Admin
Nov 1, 2016
$4.99
N/A (N/A)
4,665 ±2,039
1,633 ±1,206
02:21 (02:14)
188
Manor of the Damned!
Nov 23, 2016
$3.99
N/A (N/A)
5,597 ±2,234
0 ±0
00:00 (00:00)