Eclipsed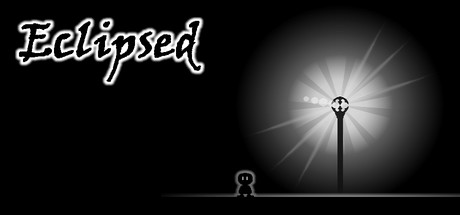 Store | Hub | SteamDB
Developer: Christ Laurenz Sambrano Publisher: Christ Laurenz Sambrano
Genre: Adventure, Casual, Indie, Early Access
Languages: English
Tags: Early Access (24), Indie (21), Casual (21), Adventure (21)
Category: Single-player, Steam Achievements, Full controller support, Includes level editor
Release date: Feb 17, 2016
Price: $5.99
Owners: 5,239 ± 2,351
Followers: 201
YouTube stats: 1,242 views and 63 comments for videos uploaded last week, 2 new videos uploaded yesterday.

Steam Spy is still in beta, so expect major bugs.
Peak daily concurrent players:
CCU data courtesy of SteamDB. Used with permission.
Hourly concurrent players:
YouTube:
The views data is based on top 50 videos uploaded last week. Actual number of views might be more than the number shown.

The displayed number of videos uploaded yesterday is limited to 50, so if there were more videos uploaded, the number will still show 50.

If the game has commonly used word as its name (like "FEAR" or "Volume") its number of Youtube views might be wrong.
Games similar to this one:
#
Game
Release date

Price

Score rank
(Userscore / Metascore)

Owners

Players

Playtime (Median)

1
Man Alive
May 25, 2015
$4.99
N/A (N/A)
7,720 ±2,854
551 ±762
02:14 (01:29)
2
Cubic complex
Mar 13, 2017
$0.99
N/A (N/A)
9,650 ±3,191
551 ±762
00:11 (00:07)
3
Fragmental
Feb 29, 2016
$14.99
N/A (N/A)
810 ±1,120
810 ±1,120
01:27 (01:27)
4
Satellite Rush
Nov 16, 2016
$4.99
N/A (N/A)
6,342 ±2,586
4,136 ±2,089
02:09 (02:39)
5
Ping Ping
May 27, 2016
$3.99
N/A (N/A)
6,342 ±2,586
0 ±0
00:00 (00:00)
6
Legena: Union Tides
Oct 8, 2015
$3.99
N/A (N/A)
11,029 ±3,411
276 ±539
00:01 (00:00)
7
Veer
Apr 13, 2016
$2.99
N/A (N/A)
6,342 ±2,586
1,379 ±1,206
02:46 (04:27)
8
Worldy Cup
Aug 10, 2016
$4.99
N/A (N/A)
1,214 ±1,372
810 ±1,120
00:09 (00:08)
9
Area-X
Jun 24, 2015
$24.99
N/A (N/A)
827 ±934
551 ±762
14:25 (09:36)
10
ROGUS - Kingdom of The Lost Souls
Jun 30, 2015
$4.99
N/A (N/A)
15,164 ±4,000
827 ±934
00:08 (00:08)
11
Playthings: VR Music Vacation
Aug 24, 2016
$4.99
N/A (N/A)
752 ±1,472
0 ±0
00:00 (00:00)
12
Gamma Bros 1.5
May 26, 2016
$4.99
N/A (N/A)
7,720 ±2,854
1,654 ±1,321
00:13 (00:20)
13
Miko Gakkou Monogatari: Kaede Episode
Nov 26, 2015
$8.99
N/A (N/A)
1,379 ±1,206
827 ±934
00:56 (00:51)
14
WITCH-BOT MEGLILO
Jul 15, 2016
$5.99
N/A (N/A)
2,481 ±1,618
1,379 ±1,206
02:36 (02:27)
15
Tacopocalypse
Mar 14, 2017
$4.99
N/A (N/A)
4,136 ±2,089
2,757 ±1,705
02:49 (02:44)
16
ShareX
Oct 2, 2015
Free
89% (94%)
289,228 ±17,465
180,595 ±13,802
11:01 (00:01)
17
The FOO Show featuring Will Smith
Apr 5, 2016
Free
85% (93%)
62,312 ±8,108
20,955 ±4,702
00:11 (00:06)
18
Hadean Lands
Jun 20, 2016
$11.99
N/A (N/A)
1,930 ±1,427
1,103 ±1,078
03:00 (03:38)
19
50 years
May 26, 2017
$4.99
74% (90%)
8,823 ±3,051
6,342 ±2,586
06:01 (04:57)
20
Cyber Sentinel
Jul 29, 2016
$9.99
N/A (N/A)
2,481 ±1,618
276 ±539
00:45 (00:15)
21
Mu Cartographer
Aug 24, 2016
$4.99
74% (90%)
12,683 ±3,658
4,136 ±2,089
01:06 (00:44)
22
Moorhuhn (Crazy Chicken)
Feb 5, 2015
$1.99
70% (89%)
32,535 ±5,859
13,786 ±3,814
00:13 (00:05)
23
Blasters of the Universe
Aug 31, 2017
$14.99
70% (89%)
6,342 ±2,586
2,481 ±1,618
01:09 (01:28)
24
GT Legends
Nov 28, 2012
$7.99
64% (87%/84%)
129,587 ±11,692
66,999 ±8,408
01:47 (00:01)
25
Unpossible
Jul 3, 2015
$2.99
61% (86%)
6,342 ±2,586
5,790 ±2,471
02:20 (00:22)
26
Army of Pixels
Oct 29, 2015
$4.99
N/A (N/A)
3,860 ±2,018
3,309 ±1,868
03:15 (03:38)
27
Trials of Azra
Sep 15, 2016
$9.99
N/A (N/A)
2,757 ±1,705
1,103 ±1,078
04:36 (04:39)
28
Numba Deluxe
May 23, 2014
$2.99
N/A (N/A)
220,850 ±15,263
18,749 ±4,448
00:50 (00:12)
29
Forgotten Ball
Mar 3, 2016
$2.99
N/A (N/A)
2,481 ±1,618
827 ±934
00:37 (00:32)
30
Tvori
Aug 25, 2016
$19.99
N/A (N/A)
1,930 ±1,427
1,930 ±1,427
01:19 (02:03)
31
The Seeker
Sep 2, 2016
$2.99
N/A (N/A)
1,103 ±1,078
0 ±0
00:00 (00:00)
32
Ascension VR
Aug 1, 2016
$9.99
N/A (N/A)
1,619 ±1,584
1,214 ±1,372
00:32 (00:33)
33
Detached
May 18, 2017
$24.99
46% (80%)
8,547 ±3,003
5,790 ±2,471
01:30 (00:29)
34
A Week of Circus Terror
Aug 5, 2016
$4.99
N/A (N/A)
30,329 ±5,657
1,654 ±1,321
00:15 (00:16)
35
Roogoo
Dec 17, 2009
$1.99
44% (79%/72%)
86,575 ±9,557
20,127 ±4,608
00:18 (00:09)
36
Selenon Rising
Apr 29, 2016
$5.99
N/A (N/A)
810 ±1,120
405 ±792
07:28 (03:44)
37
Skeet: VR Target Shooting
Apr 5, 2016
Free
42% (78%)
121,040 ±11,300
67,275 ±8,425
00:32 (00:12)
38
RC Mini Racers
Jul 16, 2015
$4.99
N/A (N/A)
42,185 ±6,672
6,342 ±2,586
00:35 (00:18)
39
Cobi Treasure Deluxe
May 23, 2014
$2.99
36% (75%)
281,232 ±17,222
25,917 ±5,229
00:15 (00:07)
40
Luxor Amun Rising
Jun 10, 2008
$9.99
N/A (N/A)
12,959 ±3,698
6,342 ±2,586
04:18 (00:39)
41
Simutrans
May 24, 2016
Free
34% (74%)
100,085 ±10,276
56,522 ±7,722
06:12 (00:08)
42
One Last Chance
Apr 7, 2016
$3.99
N/A (N/A)
13,786 ±3,814
7,169 ±2,750
02:59 (03:46)
43
ASDAD: All-Stars Dungeons and Diamonds
Oct 1, 2015
$4.99
N/A (N/A)
7,444 ±2,802
1,103 ±1,078
01:27 (00:23)
44
Triblaster
Jul 1, 2014
$2.99
N/A (N/A)
9,650 ±3,191
827 ±934
00:53 (00:52)
45
Detective Hank and the Golden Sneeze
Jul 29, 2016
$9.99
N/A (N/A)
810 ±1,120
405 ±792
01:59 (00:59)
46
Coated
Aug 25, 2015
$4.99
N/A (N/A)
1,930 ±1,427
0 ±0
00:00 (00:00)
47
Indie Assault
Jul 7, 2015
$9.99
N/A (N/A)
6,893 ±2,697
276 ±539
00:02 (00:00)
48
Dreii
Feb 2, 2016
$5.99
N/A (N/A)
1,214 ±1,372
810 ±1,120
00:27 (00:20)
49
Roads of Rome
Oct 16, 2015
$3.99
N/A (N/A)
1,379 ±1,206
1,379 ±1,206
11:18 (14:03)
50
1,000 Heads Among the Trees
Dec 11, 2015
$6.99
N/A (N/A)
20,403 ±4,640
15,440 ±4,036
03:22 (03:27)
51
RoBoRumble
Dec 10, 2015
$0.89
N/A (N/A)
117,731 ±11,145
8,272 ±2,954
01:58 (00:03)
52
Plight of the Zombie
Feb 22, 2016
$4.99
N/A (N/A)
23,712 ±5,002
2,481 ±1,618
00:32 (00:30)
53
TesserAct
Oct 24, 2014
$14.99
N/A (N/A)
4,411 ±2,157
551 ±762
00:15 (00:10)
54
Panda School Browser
May 22, 2015
$3.99
N/A (N/A)
2,757 ±1,705
0 ±0
00:00 (00:00)
55
Marcus Level
Jan 20, 2016
$4.99
N/A (N/A)
5,239 ±2,351
4,136 ±2,089
04:54 (05:51)
56
Minigame Party VR
Apr 5, 2016
$0.99
N/A (N/A)
1,619 ±1,584
1,214 ±1,372
00:47 (01:04)
57
Soda Star
May 14, 2015
$3.99
N/A (N/A)
2,206 ±1,525
276 ±539
00:12 (00:04)
58
BomberZone
Jun 10, 2016
$1.99
N/A (N/A)
49,353 ±7,216
46,596 ±7,012
05:21 (04:31)
59
Damnation City of Death
Mar 3, 2015
$9.99
N/A (N/A)
15,164 ±4,000
3,033 ±1,789
01:24 (00:10)
60
Perfection.
Aug 28, 2013
$2.99
N/A (N/A)
19,300 ±4,513
6,893 ±2,697
00:38 (00:15)
61
Unlimited Escape
Feb 5, 2015
$4.99
N/A (N/A)
1,214 ±1,372
0 ±0
00:00 (00:00)
62
TribeQuest: Red Killer
May 18, 2016
$0.99
N/A (N/A)
4,136 ±2,089
0 ±0
00:00 (00:00)
63
Lord Mayor
Jul 21, 2016
$1.99
N/A (N/A)
6,066 ±2,530
0 ±0
00:00 (00:00)
64
Shannon Tweed's Attack Of The Groupies
Apr 1, 2014
$4.99
N/A (N/A)
8,823 ±3,051
551 ±762
00:17 (00:11)
65
CINEVEO - VR Cinema
Apr 24, 2015
$29.99
7% (46%)
8,823 ±3,051
7,169 ±2,750
00:42 (00:21)
66
Gunship!
Jul 11, 2014
$6.99
N/A (N/A)
20,403 ±4,640
3,033 ±1,789
01:19 (00:54)
67
Rooftop Cop
Mar 2, 2015
$2.99
N/A (N/A)
5,514 ±2,412
827 ±934
02:30 (02:23)
68
Tick: The Time Based Puzzle Game
Aug 20, 2015
$2.99
N/A (N/A)
752 ±1,472
0 ±0
00:00 (00:00)
69
Hunter Gatherer
Mar 24, 2015
$1.99
N/A (N/A)
752 ±1,472
0 ±0
00:00 (00:00)
70
I Am Vegend - Zombiegeddon
May 22, 2014
$2.99
N/A (N/A)
30,053 ±5,631
3,860 ±2,018
03:21 (07:46)
71
DesertLand 2115
Nov 18, 2016
$4.99
N/A (N/A)
1,619 ±1,584
1,619 ±1,584
00:07 (00:09)
72
War Operations
Sep 18, 2014
$3.99
2% (30%)
14,337 ±3,889
2,481 ±1,618
00:06 (00:02)
73
Death and the Fly
May 23, 2011
$9.99
N/A (N/A)
1,654 ±1,321
1,103 ±1,078
00:05 (00:06)
74
Age of Castles: Warlords
May 15, 2015
$1.99
N/A (N/A)
6,617 ±2,642
4,136 ±2,089
03:09 (03:25)
75
Back To Life 3
Dec 16, 2014
$4.99
N/A (N/A)
3,584 ±1,944
0 ±0
00:00 (00:00)
76
TAKEN
Jul 7, 2015
$1.99
N/A (N/A)
3,309 ±1,868
1,379 ±1,206
00:30 (00:34)
77
Back To Life 2
May 6, 2014
$4.99
N/A (N/A)
4,411 ±2,157
276 ±539
00:04 (00:01)
78
Break the Cube
Jan 27, 2015
$0.99
N/A (N/A)
3,309 ±1,868
551 ±762
00:13 (00:08)
79
Luxury Hotel Emporium
Aug 7, 2015
$4.99
N/A (N/A)
9,650 ±3,191
2,481 ±1,618
00:03 (00:04)
80
Match 3 Revolution
Sep 11, 2015
$3.99
N/A (N/A)
27,847 ±5,421
827 ±934
00:19 (00:07)
81
Bomb The Monsters!
Nov 6, 2015
$3.99
N/A (N/A)
6,617 ±2,642
551 ±762
00:26 (00:09)