Oh No! Bugs!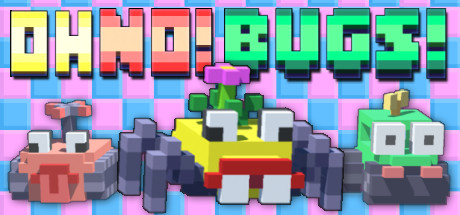 Store | Hub | SteamDB | Site
Developer: Doomster Entertainment Publisher: Doomster Entertainment
Genre: Casual, Indie
Languages: English
Tags: Indie (21), Casual (21), Arcade (11), Co-op (11), Local Co-Op (11), Online Co-Op (10)
Category: Single-player, Online Co-op, Local Co-op, Shared/Split Screen, Steam Achievements, Steam Trading Cards, Partial Controller Support
Release date: Aug 14, 2016
Price: $0.99
Owners: 23,813 ± 4,910
Players in the last 2 weeks: 831 ± 1,627 (3.49%)
Players total: 21,167 ± 4,629 (88.89%)
Followers: 84
Peak concurrent players yesterday: 3
Playtime in the last 2 weeks: 04:55 (average) 04:55 (median)
Playtime total: 03:55 (average) 03:51 (median)

Steam Spy is still in beta, so expect major bugs.
Peak daily concurrent players:
CCU data courtesy of SteamDB. Used with permission.
Hourly concurrent players:
YouTube:
The views data is based on top 50 videos uploaded last week. Actual number of views might be more than the number shown.

The displayed number of videos uploaded yesterday is limited to 50, so if there were more videos uploaded, the number will still show 50.

If the game has commonly used word as its name (like "FEAR" or "Volume") its number of Youtube views might be wrong.
Games similar to this one:
#
Game
Release date

Price

Score rank
(Userscore / Metascore)

Owners

Players

Playtime (Median)

1
Solitaire Beach Season
Oct 10, 2016
$5.99
N/A (N/A)
41,011 ±6,443
36,513 ±6,080
05:20 (05:25)
2
Innoquous 5
May 13, 2016
$4.99
N/A (N/A)
7,408 ±2,738
4,763 ±2,196
03:34 (04:34)
3
Elems
Nov 11, 2016
$0.99
N/A (N/A)
36,513 ±6,080
34,661 ±5,924
04:48 (05:04)
4
Playing History - The Plague
Oct 21, 2015
$3.99
N/A (N/A)
18,786 ±4,361
1,058 ±1,035
03:34 (04:36)
5
The Wizards Who Fell In A Hole
Dec 9, 2016
$1.99
N/A (N/A)
1,165 ±1,316
776 ±1,074
06:40 (06:33)
6
Mr. Triangle's Adventure
Jan 31, 2017
$0.99
N/A (N/A)
44,979 ±6,748
42,334 ±6,546
10:05 (10:40)
7
Piggy Princess
Mar 19, 2016
$3.99
N/A (N/A)
61,648 ±7,900
55,034 ±7,464
04:38 (04:31)
8
Escape from Puzzlegate
Oct 14, 2015
$0.99
N/A (N/A)
9,260 ±3,062
5,027 ±2,256
04:08 (05:02)
9
Astral Breakers
Feb 4, 2016
$4.99
N/A (N/A)
8,202 ±2,881
5,556 ±2,371
04:25 (04:54)
10
simian.interface++
Jun 26, 2016
$1.99
N/A (N/A)
10,583 ±3,273
2,646 ±1,636
00:40 (00:34)
11
The Rollingball's Melody
Oct 19, 2015
$3.99
N/A (N/A)
7,673 ±2,787
5,556 ±2,371
03:43 (03:22)
12
Madrobot X
Sep 21, 2016
$2.99
N/A (N/A)
173,832 ±13,264
155,576 ±12,549
03:41 (03:31)
13
Blockwick 2
Jun 25, 2015
$7.99
100% (100%)
9,525 ±3,105
6,350 ±2,535
06:09 (04:35)
14
Funklift
Jun 8, 2016
$9.99
N/A (N/A)
6,085 ±2,482
3,175 ±1,793
02:50 (03:06)
15
Fly, Glowfly!
Jul 8, 2016
$4.99
N/A (N/A)
4,763 ±2,196
3,175 ±1,793
03:46 (03:31)
16
Mallow Drops
Nov 3, 2016
$9.99
N/A (N/A)
1,529 ±2,118
765 ±1,497
00:27 (00:27)
17
InnerCube
Feb 13, 2015
$3.99
N/A (N/A)
6,615 ±2,588
1,588 ±1,267
00:39 (00:34)
18
Running Gods
Sep 13, 2016
$4.99
N/A (N/A)
9,790 ±3,148
5,292 ±2,314
02:49 (03:05)
19
VR The Diner Duo
Nov 2, 2016
$14.99
97% (97%)
19,844 ±4,482
17,992 ±4,268
04:25 (02:53)
20
Loot Rascals
Mar 7, 2017
$14.99
N/A (N/A/71%)
63,236 ±8,001
17,463 ±4,204
03:39 (02:13)
21
Flat Path
Aug 24, 2016
$0.99
N/A (N/A)
30,163 ±5,526
26,988 ±5,227
04:37 (05:11)
22
Scarab Tales
Jul 1, 2015
$4.99
N/A (N/A)
33,338 ±5,809
26,723 ±5,201
04:07 (04:27)
23
Roche Fusion
Jan 23, 2015
$12
92% (95%/85%)
5,821 ±2,427
3,969 ±2,004
08:10 (36:53)
24
Block King
Feb 10, 2017
$0.99
N/A (N/A)
776 ±1,074
388 ±759
00:06 (00:03)
25
WayOut 2: Hex
Feb 10, 2017
$0.99
89% (94%)
30,692 ±5,574
11,906 ±3,472
02:35 (02:35)
26
Pale Echoes
Dec 10, 2015
$4.99
N/A (N/A)
37,571 ±6,167
6,879 ±2,639
03:24 (03:40)
27
L U N E
Jun 20, 2016
$2.99
N/A (N/A)
3,440 ±1,866
2,381 ±1,552
00:13 (00:16)
28
Holopoint
Apr 4, 2016
$14.99
82% (92%)
48,154 ±6,982
46,038 ±6,827
03:10 (01:00)
29
Cubicolor
Mar 18, 2016
$1.99
78% (91%)
3,969 ±2,004
2,117 ±1,464
00:38 (00:47)
30
Zen Bound 2
Nov 16, 2010
$4.99
74% (90%)
211,932 ±14,646
87,842 ±9,430
01:02 (00:19)
31
RAYGUN COMMANDO VR
Jan 23, 2017
Free
N/A (N/A)
18,521 ±4,330
11,377 ±3,394
00:54 (00:14)
32
Safety First!
Sep 8, 2016
$2.99
71% (89%)
12,965 ±3,623
5,556 ±2,371
04:22 (02:43)
33
Kings of Israel
Dec 21, 2015
$5.99
N/A (N/A)
7,673 ±2,787
5,292 ±2,314
04:04 (04:06)
34
Color Assembler
Jun 3, 2015
$7.99
N/A (N/A)
2,329 ±1,861
1,941 ±1,699
00:48 (00:51)
35
Mahjong World Contest
Oct 7, 2016
$5.99
N/A (N/A)
39,688 ±6,339
34,925 ±5,946
04:49 (04:40)
36
Lightbender
Dec 17, 2015
$2.99
N/A (N/A)
1,323 ±1,157
1,323 ±1,157
01:00 (01:36)
37
Delicious - Emily's Christmas Carol
Nov 4, 2016
$12.99
56% (84%)
4,763 ±2,196
2,910 ±1,716
15:36 (17:24)
38
Super Markup Man
Aug 16, 2016
$3.99
N/A (N/A)
2,117 ±1,464
1,588 ±1,267
02:14 (02:56)
39
Curvatron
Jan 29, 2016
$0.99
54% (83%)
25,929 ±5,123
16,140 ±4,042
04:01 (04:34)
40
LOUD on Planet X
Apr 19, 2016
$7.99
N/A (N/A/72%)
1,588 ±1,267
1,058 ±1,035
01:00 (01:16)
41
Super Intergalactic Gang
Jan 15, 2016
$9.99
N/A (N/A)
7,144 ±2,689
1,058 ±1,035
12:25 (08:21)
42
Veilia
Aug 23, 2016
$3.99
N/A (N/A)
5,027 ±2,256
3,175 ±1,793
02:43 (03:53)
43
Anomaly 1729
Dec 30, 2015
$9.99
N/A (N/A/49%)
7,938 ±2,835
265 ±517
00:14 (00:04)
44
VR Ping Pong
Sep 13, 2016
$9.99
45% (79%)
9,260 ±3,062
5,821 ±2,427
00:58 (00:54)
45
Fragments of Him
May 3, 2016
$9.99
N/A (N/A/69%)
3,440 ±1,866
2,381 ±1,552
00:50 (01:08)
46
Think To Die 2
Oct 14, 2016
Free
39% (76%)
10,583 ±3,273
5,556 ±2,371
02:04 (01:42)
47
ConflictCraft
Dec 8, 2016
$2.99
N/A (N/A)
25,665 ±5,097
23,813 ±4,910
04:18 (04:37)
48
I Know a Tale
Sep 20, 2016
$2.99
N/A (N/A)
1,323 ±1,157
529 ±732
04:31 (03:00)
49
Project Graviton
Feb 15, 2016
$1.99
N/A (N/A)
7,938 ±2,835
4,233 ±2,070
03:23 (03:37)
50
Will of the Gods
Aug 29, 2016
$2.99
N/A (N/A)
2,381 ±1,552
1,058 ±1,035
00:44 (00:54)
51
Midnight
Jan 28, 2016
$2.99
N/A (N/A)
5,556 ±2,371
2,910 ±1,716
01:58 (02:05)
52
Magi Trials
Nov 17, 2016
$5.39
N/A (N/A)
9,790 ±3,148
6,085 ±2,482
02:57 (03:23)
53
Stage Presence
Feb 28, 2017
$9.99
N/A (N/A)
4,498 ±2,134
2,646 ±1,636
02:03 (02:08)
54
Forgotten Tales: Day of the Dead
May 27, 2016
$9.99
N/A (N/A)
6,085 ±2,482
3,704 ±1,936
06:24 (06:12)
55
Ghost Cleaner
Nov 5, 2015
$5.99
N/A (N/A)
2,646 ±1,636
265 ±517
00:13 (00:04)
56
Leave The Nest
May 27, 2016
$2.99
N/A (N/A)
2,646 ±1,636
529 ±732
01:00 (00:39)
57
Minimalism
Feb 8, 2017
$0.99
29% (70%)
43,392 ±6,628
39,688 ±6,339
05:17 (06:07)
58
Space Merchants: Arena
Nov 4, 2016
$6.99
N/A (N/A)
37,571 ±6,167
34,661 ±5,924
04:13 (04:27)
59
Solitaire Royale
Sep 15, 2016
Free
N/A (N/A)
13,758 ±3,732
1,323 ±1,157
51:07 (85:09)
60
Hover 2030
Jun 14, 2016
$1.99
24% (67%)
15,346 ±3,941
10,054 ±3,190
02:43 (02:45)
61
Vector Assault
Dec 10, 2015
$4.99
N/A (N/A)
5,556 ±2,371
3,969 ±2,004
03:12 (03:44)
62
Mini Metal
Apr 22, 2016
$9.99
N/A (N/A)
12,700 ±3,586
4,498 ±2,134
02:41 (03:03)
63
Android John
Jun 28, 2016
$2.99
N/A (N/A)
33,073 ±5,786
24,342 ±4,964
04:58 (05:15)
64
BowMage
Sep 26, 2016
$9.99
N/A (N/A)
765 ±1,497
765 ±1,497
00:07 (00:07)
65
MAGATAMA Earrings
Jun 14, 2016
$6.99
N/A (N/A)
2,329 ±1,861
0 ±0
00:00 (00:00)
66
Chamber 19
Oct 21, 2016
$14.99
N/A (N/A)
9,790 ±3,148
2,381 ±1,552
00:38 (00:37)
67
Moustache Mountain
Mar 31, 2016
$1.99
20% (63%)
12,435 ±3,548
7,144 ±2,689
03:44 (03:36)
68
Sudoku Quest
Jun 3, 2016
$5.99
N/A (N/A)
13,229 ±3,659
7,938 ±2,835
09:48 (04:34)
69
AVSEQ
Aug 23, 2012
$1.99
N/A (N/A)
33,338 ±5,809
11,377 ±3,394
00:33 (00:10)
70
Brain Guzzler
May 14, 2015
$0.99
N/A (N/A)
3,704 ±1,936
794 ±896
01:00 (00:55)
71
Mazement
Mar 7, 2016
$4.99
N/A (N/A)
10,054 ±3,190
265 ±517
00:04 (00:01)
72
Dale Hardshovel HD
Sep 22, 2015
$0.99
N/A (N/A)
25,929 ±5,123
23,019 ±4,827
03:56 (04:01)
73
Simple Ball: Extended Edition
Jul 25, 2016
$0.99
N/A (N/A)
74,348 ±8,676
71,173 ±8,488
03:37 (03:30)
74
Multimirror
Nov 14, 2016
$4.99
N/A (N/A)
156,370 ±12,581
113,507 ±10,719
03:47 (03:30)
75
Moonlight Minions
Oct 22, 2014
$0.99
N/A (N/A)
11,642 ±3,433
1,588 ±1,267
02:34 (03:28)
76
Gold Crusader
Nov 22, 2016
$2.99
N/A (N/A)
2,646 ±1,636
1,323 ±1,157
02:36 (03:18)
77
Diamond Deeps
Jun 1, 2015
$4.99
N/A (N/A)
3,175 ±1,793
794 ±896
00:08 (00:07)
78
Candy Smash VR
Jul 26, 2016
$9.99
N/A (N/A)
3,969 ±2,004
265 ±517
00:13 (00:04)
79
Pinga Ponga
Aug 2, 2016
$0.99
N/A (N/A)
13,758 ±3,732
11,113 ±3,354
04:23 (04:32)
80
Make America Great Again
Sep 15, 2016
$2.99
N/A (N/A)
3,440 ±1,866
529 ±732
00:07 (00:04)
81
Never Ending Night
Sep 30, 2015
$0.99
N/A (N/A)
4,498 ±2,134
265 ±517
00:42 (00:14)
82
Abduction Action! Plus
Sep 1, 2015
$1.99
N/A (N/A)
10,848 ±3,314
1,852 ±1,369
00:53 (00:30)
83
Isaac the Adventurer
Mar 2, 2015
$2.99
N/A (N/A)
15,081 ±3,907
2,646 ±1,636
00:38 (00:08)
84
Battletank LOBA
Mar 17, 2015
$9.99
N/A (N/A)
3,175 ±1,793
1,588 ±1,267
01:16 (01:53)
85
Rotieer
Mar 5, 2015
$4.99
N/A (N/A)
13,758 ±3,732
1,588 ±1,267
00:06 (00:09)
86
Bathory - The Bloody Countess
Jul 6, 2016
$5.99
N/A (N/A)
1,852 ±1,369
1,058 ±1,035
03:08 (03:39)
87
Campfire: One of Us Is the Killer
Dec 7, 2016
$2.99
N/A (N/A)
35,190 ±5,969
33,867 ±5,855
04:18 (04:27)
88
Rock, the Tree Hugger
Jul 30, 2015
$4.99
N/A (N/A)
2,910 ±1,716
265 ±517
00:02 (00:00)
89
Raycatcher
Apr 17, 2009
$4.99
N/A (N/A)
3,969 ±2,004
3,175 ±1,793
00:30 (00:39)
90
Kronos
Feb 3, 2017
$4.99
N/A (N/A)
10,054 ±3,190
1,323 ±1,157
02:51 (00:16)
91
Space Radiance
Jun 8, 2016
$1.99
N/A (N/A)
47,361 ±6,924
42,069 ±6,526
05:17 (05:19)
92
Project: R.E.B.O.O.T 2
Jan 27, 2017
$0.99
N/A (N/A)
201,614 ±14,285
199,232 ±14,200
03:42 (03:31)
93
Shmup Love Boom
Sep 18, 2015
$2.99
N/A (N/A)
5,821 ±2,427
0 ±0
00:00 (00:00)