Project "Fire"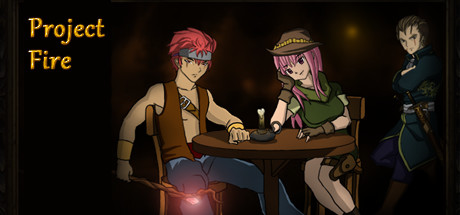 Store | Hub | SteamDB
Developer: Distant Alliance Publisher: Distant Alliance
Genre: Adventure, Free to Play, Indie, RPG
Languages: English, Russian
Tags: Free to Play (27), Adventure (23), RPG (22), Indie (21), RPGMaker (13)
Category: Single-player, Steam Achievements
Release date: Oct 1, 2016
Free
Score rank: 23% Userscore: 66% Old userscore: 66%
Owners: 24,484 ± 4,650
Players in the last 2 weeks: 706 ± 1,383 (2.89%)
Players total: 4,620 ± 2,020 (18.87%)
Followers: 452
Peak concurrent players yesterday: 2
YouTube stats: 15 views and 0 comments for videos uploaded last week, 0 new videos uploaded yesterday.
Playtime in the last 2 weeks: 00:21 (average) 00:21 (median)
Playtime total: 02:00 (average) 00:19 (median)

Steam Spy is still in beta, so expect major bugs.
Peak daily concurrent players:
CCU data courtesy of SteamDB. Used with permission.
Hourly concurrent players:
YouTube:
The views data is based on top 50 videos uploaded last week. Actual number of views might be more than the number shown.

The displayed number of videos uploaded yesterday is limited to 50, so if there were more videos uploaded, the number will still show 50.

If the game has commonly used word as its name (like "FEAR" or "Volume") its number of Youtube views might be wrong.
Games similar to this one:
#
Game
Release date

Price

Score rank
(Userscore / Metascore)

Owners

Players

Playtime (Median)

1
Frequent Flyer
Jan 20, 2017
$0.99
N/A (N/A)
1,386 ±1,106
924 ±903
02:04 (01:40)
2
VR Battle Grid
Nov 8, 2016
Free
N/A (N/A)
36,495 ±5,678
6,930 ±2,474
00:35 (00:11)
3
RED
Jan 14, 2017
Free
92% (95%)
9,470 ±2,892
3,927 ±1,862
00:13 (00:17)
4
Covert Syndrome
Apr 21, 2017
Free
N/A (N/A)
11,318 ±3,162
6,930 ±2,474
00:28 (00:10)
5
HEBEREKE!: March! Red Army Girls' Brigade
Sep 30, 2016
Free
89% (94%)
24,715 ±4,672
4,851 ±2,070
00:25 (00:11)
6
Voices from the Sea
Mar 24, 2015
Free
85% (93%)
178,089 ±12,540
55,898 ±7,027
00:36 (00:16)
7
Echoes+
Jan 15, 2015
Free
78% (91%)
235,142 ±14,409
116,647 ±10,150
00:37 (00:09)
8
Pink Hour
Oct 28, 2015
Free
78% (91%)
144,134 ±11,282
69,988 ±7,862
00:31 (00:08)
9
The Old Tree
Jan 26, 2015
Free
75% (90%)
264,939 ±15,294
144,596 ±11,300
00:17 (00:13)
10
Pink Heaven
Nov 3, 2015
Free
75% (90%)
143,441 ±11,255
64,214 ±7,531
00:33 (00:11)
11
Electric Highways
Oct 28, 2015
Free
71% (89%)
122,421 ±10,398
53,126 ±6,850
00:23 (00:12)
12
Sepia Tears
Jan 8, 2016
Free
71% (89%)
122,652 ±10,408
48,507 ±6,546
01:18 (00:18)
13
CAGE
Nov 14, 2016
Free
N/A (N/A)
17,786 ±3,963
6,930 ±2,474
00:12 (00:07)
14
Aplowcalypse
Dec 14, 2016
Free
N/A (N/A)
10,394 ±3,030
5,082 ±2,118
00:12 (00:06)
15
Galcon 2: Galactic Conquest
Dec 5, 2014
Free
62% (86%)
248,770 ±14,820
127,734 ±10,621
06:15 (00:21)
16
Off-Peak
Oct 21, 2016
Free
59% (85%)
98,168 ±9,311
63,752 ±7,504
00:26 (00:11)
17
The Abbey of Crime Extensum
May 19, 2016
Free
59% (85%)
60,518 ±7,311
18,941 ±4,090
00:25 (00:12)
18
Escape the Game
Oct 13, 2016
Free
57% (84%)
176,241 ±12,475
116,185 ±10,130
00:20 (00:12)
19
Ley Lines
Dec 5, 2016
Free
54% (83%)
16,862 ±3,859
6,699 ±2,432
00:14 (00:10)
20
Mainland
May 8, 2015
Free
52% (82%)
100,247 ±9,409
29,104 ±5,070
00:35 (00:09)
21
The Secret of Tremendous Corporation
Oct 12, 2015
Free
52% (82%)
97,013 ±9,256
27,949 ±4,969
00:20 (00:09)
22
Absent
Aug 31, 2015
Free
49% (81%)
87,081 ±8,770
23,329 ±4,539
00:52 (00:10)
23
Realities
Apr 5, 2016
Free
49% (81%)
166,308 ±12,119
69,064 ±7,810
00:28 (00:12)
24
Comedy Quest
Sep 2, 2015
Free
49% (81%)
91,470 ±8,988
28,642 ±5,030
00:53 (00:13)
25
Trapped With the Dolls VR
Apr 23, 2017
Free
N/A (N/A)
3,927 ±1,862
1,155 ±1,010
00:16 (00:16)
26
MSI Electric City
Aug 9, 2016
Free
49% (81%)
63,059 ±7,463
25,639 ±4,759
00:19 (00:06)
27
Awkward Dimensions Redux
Oct 21, 2016
Free
49% (81%)
191,255 ±12,995
122,421 ±10,398
00:39 (00:18)
28
Rising Angels: Reborn
Sep 12, 2014
Free
47% (80%)
186,173 ±12,822
56,129 ±7,041
01:24 (00:09)
29
Fingerbones
Aug 3, 2015
Free
47% (80%)
254,082 ±14,978
139,745 ±11,109
00:24 (00:18)
30
Take the Dream IX
Apr 1, 2016
Free
45% (79%)
48,969 ±6,577
9,470 ±2,892
00:46 (00:12)
31
Destination Sol
Feb 5, 2015
Free
45% (79%)
406,070 ±18,931
257,547 ±15,079
00:56 (00:14)
32
DED
Mar 3, 2017
Free
43% (78%)
26,563 ±4,844
19,634 ±4,164
00:20 (00:08)
33
Famaze
May 5, 2014
Free
43% (78%)
153,835 ±11,656
40,884 ±6,009
01:05 (00:13)
34
Ludu
Dec 4, 2016
Free
N/A (N/A)
10,625 ±3,063
3,003 ±1,628
00:22 (00:26)
35
Rescue the Great Demon 2
Nov 18, 2016
Free
41% (77%)
81,999 ±8,510
47,583 ±6,483
01:01 (00:16)
36
Quintet
May 11, 2015
Free
39% (76%)
151,987 ±11,585
73,222 ±8,042
00:59 (00:18)
37
SourVR Video Player
Nov 21, 2016
Free
N/A (N/A)
23,560 ±4,562
13,166 ±3,410
04:14 (00:15)
38
Into The Unknown
Nov 9, 2016
Free
N/A (N/A)
21,943 ±4,402
9,008 ±2,821
00:14 (00:08)
39
Get Off My Lawn!
Nov 11, 2014
Free
33% (73%)
359,642 ±17,817
159,148 ±11,855
01:10 (00:18)
40
Think To Die
Sep 22, 2016
Free
33% (73%)
60,980 ±7,339
34,417 ±5,514
00:19 (00:11)
41
Antenna
Apr 7, 2016
Free
32% (72%)
195,874 ±13,151
128,889 ±10,669
01:29 (00:15)
42
GameLooper
Jan 21, 2016
Free
32% (72%)
169,773 ±12,244
103,943 ±9,581
02:09 (00:06)
43
Tactical Genius Online
Jan 20, 2017
Free
30% (71%)
91,932 ±9,011
33,031 ±5,401
01:45 (00:11)
44
Littlstar VR Cinema
Oct 22, 2016
Free
N/A (N/A)
20,789 ±4,285
4,620 ±2,020
04:15 (00:23)
45
VoiceBot
Jun 4, 2015
$8.99
29% (70%)
8,315 ±2,710
6,237 ±2,347
52:25 (00:14)
46
Invisible Apartment
Mar 2, 2015
Free
29% (70%)
176,241 ±12,475
68,371 ±7,771
00:30 (00:06)
47
Immortal Empire
Dec 3, 2015
Free
27% (69%)
116,416 ±10,140
53,588 ±6,880
03:20 (00:22)
48
Bitardia Cards: Memes of 2ch
May 19, 2016
Free
27% (69%)
48,738 ±6,561
14,321 ±3,556
00:23 (00:11)
49
PHAT PHROG
Oct 27, 2016
Free
N/A (N/A)
17,324 ±3,912
3,696 ±1,806
00:15 (00:03)
50
Ghoul Kid
Apr 26, 2016
Free
26% (68%)
71,836 ±7,965
31,183 ±5,248
00:57 (00:06)
51
The Divergent Series: Allegiant VR
Mar 17, 2016
Free
25% (67%)
77,149 ±8,255
22,636 ±4,471
00:25 (00:13)
52
REALITY
Nov 30, 2016
Free
23% (66%)
15,938 ±3,752
6,468 ±2,390
00:43 (00:13)
53
Linkrealms
May 19, 2016
Free
22% (65%)
27,949 ±4,969
10,625 ±3,063
05:45 (00:11)
54
Zombie Vikings: Stab-a-thon
Dec 22, 2016
Free
N/A (N/A)
20,789 ±4,285
12,704 ±3,350
00:16 (00:11)
55
Six Feet Under
Sep 20, 2016
Free
N/A (N/A)
20,327 ±4,237
1,848 ±1,277
00:12 (00:16)
56
Nyctophilia
Sep 23, 2015
Free
20% (63%)
114,568 ±10,059
44,580 ±6,275
00:40 (00:12)
57
Soccer Manager
Feb 9, 2016
Free
20% (63%)
176,010 ±12,467
118,726 ±10,240
04:28 (00:19)
58
The NADI Project
Jun 1, 2016
Free
18% (62%)
73,915 ±8,080
33,724 ±5,458
00:29 (00:08)
59
Kitten Squad
Jan 4, 2017
Free
N/A (N/A)
9,239 ±2,857
6,006 ±2,303
00:38 (00:13)
60
Walkover
Mar 23, 2015
Free
17% (61%)
96,551 ±9,234
26,563 ±4,844
00:40 (00:07)
61
Emporea: Realms of War and Magic
Jun 8, 2016
Free
17% (61%)
149,216 ±11,479
86,850 ±8,758
11:38 (00:19)
62
Warhammer: Vermintide VR - Hero Trials
Dec 20, 2016
Free
16% (60%)
25,177 ±4,716
14,321 ±3,556
00:32 (00:13)
63
Angels & Demigods - SciFi VR Visual Novel
Sep 28, 2016
Free
15% (59%)
23,791 ±4,584
4,851 ±2,070
00:11 (00:09)
64
Beyond Divinity
Oct 29, 2012
$5.99
15% (58%/73%)
392,211 ±18,606
54,050 ±6,909
02:30 (00:07)
65
PooShooter: Toilet Invaders
Oct 3, 2016
Free
N/A (N/A)
22,867 ±4,494
4,389 ±1,969
00:14 (00:06)
66
Escape
Apr 20, 2015
Free
15% (58%)
141,593 ±11,182
63,059 ±7,463
00:20 (00:07)
67
One Manga Day
May 4, 2015
Free
14% (57%)
148,523 ±11,453
58,901 ±7,213
00:27 (00:14)
68
Codename: Rogue Fleet
Jan 15, 2016
Free
14% (57%)
97,244 ±9,267
41,808 ±6,077
00:21 (00:10)
69
Shadow Hunter
Apr 20, 2015
Free
13% (56%)
68,833 ±7,797
9,239 ±2,857
01:17 (00:08)
70
Forgotten Myths CCG
Mar 21, 2016
Free
12% (55%)
51,047 ±6,715
10,394 ±3,030
01:48 (00:14)
71
Vinyl
Jul 1, 2016
Free
12% (55%)
61,442 ±7,367
27,025 ±4,886
00:30 (00:06)
72
Curse of Mermos
Jun 23, 2015
Free
12% (55%)
157,993 ±11,812
74,608 ±8,118
00:21 (00:06)
73
Elemental Heroes
Mar 3, 2016
Free
12% (55%)
81,768 ±8,498
32,569 ±5,363
03:15 (00:18)
74
Heroes of Scene
Aug 26, 2015
Free
10% (52%)
252,696 ±14,937
147,599 ±11,417
01:09 (00:16)
75
Eclipse --- Defending the motherland
May 26, 2016
Free
N/A (N/A)
74,146 ±8,092
31,876 ±5,306
01:13 (00:06)
76
Rustbucket Rumble
May 4, 2015
Free
10% (52%)
253,851 ±14,971
139,745 ±11,109
00:33 (00:10)
77
Uebergame
Oct 26, 2015
Free
9% (50%)
139,283 ±11,091
69,526 ±7,836
00:12 (00:05)
78
Kingdoms CCG
Jan 22, 2015
Free
9% (50%)
95,396 ±9,179
24,946 ±4,694
03:38 (00:20)
79
Clash of the Monsters
Apr 13, 2016
Free
8% (49%)
82,461 ±8,534
38,805 ±5,855
00:12 (00:05)
80
Alteil: Horizons
Oct 27, 2016
Free
8% (48%)
24,253 ±4,628
5,313 ±2,166
14:42 (02:53)
81
Lucent Heart
Feb 11, 2016
Free
8% (48%)
155,221 ±11,708
64,675 ±7,558
01:39 (00:18)
82
Regimental Chess
Apr 29, 2015
Free
7% (47%)
87,081 ±8,770
22,867 ±4,494
00:35 (00:05)
83
SAGA
Aug 4, 2015
Free
7% (46%/61%)
101,633 ±9,474
28,411 ±5,009
05:30 (00:15)
84
Twisted Worlds
Jun 17, 2016
Free
7% (46%)
60,980 ±7,339
22,867 ±4,494
01:04 (00:16)
85
Spartans Vs Zombies Defense
Jan 6, 2015
Free
6% (45%)
171,621 ±12,311
72,991 ±8,029
01:09 (00:25)
86
TDP5 Arena 3D
Mar 26, 2015
Free
6% (45%)
175,086 ±12,434
64,906 ±7,572
00:48 (00:13)
87
The Journey Home
Aug 22, 2016
Free
N/A (N/A)
27,718 ±4,948
4,389 ±1,969
00:18 (00:15)
88
Gladiators Online: Death Before Dishonor
Nov 4, 2015
Free
6% (43%)
160,996 ±11,924
82,923 ±8,558
02:14 (00:18)
89
Jaunt VR - Experience Cinematic Virtual Reality
Mar 28, 2016
Free
N/A (N/A)
45,273 ±6,324
9,932 ±2,962
00:25 (00:10)
90
Dungeon-Party
Mar 13, 2013
Free
4% (39%)
355,253 ±17,708
42,501 ±6,127
00:36 (00:12)
91
WAR7
Oct 21, 2016
Free
N/A (N/A)
18,710 ±4,065
2,079 ±1,355
00:12 (00:16)
92
Galaxy Combat Wargames
Sep 29, 2016
Free
N/A (N/A)
20,327 ±4,237
3,003 ±1,628
00:10 (00:11)
93
Alganon
May 19, 2015
Free
3% (37%)
106,253 ±9,687
23,791 ±4,584
02:38 (00:24)
94
Berserk: The Cataclysm
Sep 22, 2016
Free
N/A (N/A)
24,253 ±4,628
5,082 ±2,118
01:09 (00:36)
95
HIT
Feb 9, 2015
Free
3% (34%)
302,127 ±16,331
109,255 ±9,823
00:13 (00:05)
96
Confrontation
Apr 4, 2012
$9.99
3% (34%/51%)
349,710 ±17,569
85,002 ±8,665
02:07 (00:19)
97
Plastic Playground
Apr 18, 2016
Free
2% (31%)
86,157 ±8,723
34,879 ±5,550
00:11 (00:04)
98
MyDream Swift
Apr 6, 2016
$0.99
2% (30%)
5,082 ±2,118
4,389 ±1,969
02:09 (00:44)
99
Wartune
Aug 15, 2016
Free
N/A (N/A)
28,180 ±4,989
4,851 ±2,070
00:22 (00:04)
100
Shadow of Kingdoms
Aug 11, 2015
Free
1% (28%)
82,923 ±8,558
21,943 ±4,402
00:44 (00:09)
101
Jacob
Jul 18, 2016
Free
0% (18%)
34,186 ±5,495
5,544 ±2,213
00:04 (00:02)
102
Legends of Persia
Jun 3, 2014
$19.99
N/A (N/A)
46,659 ±6,420
6,468 ±2,390
01:00 (00:09)