Project "Fire"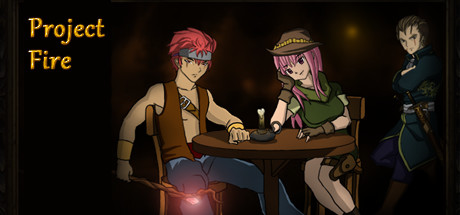 Store | Hub | SteamDB
Developer: Distant Alliance Publisher: Distant Alliance
Genre: Adventure, Free to Play, Indie, RPG
Languages: English, Russian
Tags: Free to Play (27), Adventure (23), RPG (22), Indie (21), RPGMaker (13)
Category: Single-player, Steam Achievements
Release date: Oct 1, 2016
Free
Owners: 19,980 ± 3,987
Players total: 4,162 ± 1,819 (20.83%)
Followers: 434
Peak concurrent players yesterday: 1
Playtime total: 00:39 (average) 00:07 (median)

Steam Spy is still in beta, so expect major bugs.
Peak daily concurrent players:
CCU data courtesy of SteamDB. Used with permission.
Hourly concurrent players:
YouTube:
The views data is based on top 50 videos uploaded last week. Actual number of views might be more than the number shown.

The displayed number of videos uploaded yesterday is limited to 50, so if there were more videos uploaded, the number will still show 50.

If the game has commonly used word as its name (like "FEAR" or "Volume") its number of Youtube views might be wrong.
Games similar to this one:
#
Game
Release date

Price

Score rank
(Userscore / Metascore)

Owners

Players

Playtime (Median)

1
The Preposterous Awesomeness of Everything
Feb 9, 2016
$6.99
N/A (N/A/54%)
1,457 ±1,076
624 ±704
01:10 (01:10)
2
Tex Murphy: The Pandora Directive
Jun 12, 2014
$9.99
N/A (N/A)
38,086 ±5,504
3,330 ±1,627
08:32 (00:27)
3
panGEMic
Dec 28, 2016
Free
N/A (N/A)
4,787 ±1,951
2,497 ±1,409
00:05 (00:05)
4
Voices from the Sea
Mar 24, 2015
Free
85% (93%)
171,284 ±11,671
49,949 ±6,303
01:01 (00:15)
5
Dragon Age™: Origins Awakening
Mar 16, 2010
$9.99
85% (93%/82%)
147,350 ±10,825
48,492 ±6,211
01:11 (00:01)
6
Brief Karate Foolish
Nov 18, 2016
Free
85% (93%)
80,127 ±7,983
54,320 ±6,573
00:11 (00:04)
7
SWARMRIDERS
Jun 15, 2016
Free
81% (92%)
62,645 ±7,059
21,228 ±4,109
00:19 (00:03)
8
Pink Hour
Oct 28, 2015
Free
78% (91%)
150,680 ±10,947
71,594 ±7,546
00:38 (00:08)
9
The Old Tree
Jan 26, 2015
Free
74% (90%)
257,030 ±14,296
135,487 ±10,381
00:16 (00:12)
10
Pink Heaven
Nov 3, 2015
Free
74% (90%)
139,025 ±10,515
60,147 ±6,917
00:18 (00:11)
11
The Knobbly Crook: Chapter I - The Horse You Sailed In On
Jun 9, 2015
Free
74% (90%)
92,614 ±8,583
18,315 ±3,817
00:35 (00:09)
12
Trick and Treat - Visual Novel
Dec 30, 2016
Free
70% (89%)
167,954 ±11,557
119,046 ±9,731
00:58 (00:17)
13
Silver Creek Falls: Chapter 1
Aug 12, 2015
Free
70% (89%)
119,254 ±9,739
37,254 ±5,444
00:34 (00:29)
14
9th Dawn II
Oct 17, 2016
$3.99
N/A (N/A)
3,330 ±1,627
2,706 ±1,467
03:26 (09:53)
15
Electric Highways
Oct 28, 2015
Free
70% (89%)
130,284 ±10,179
57,858 ±6,784
00:29 (00:16)
16
Sepia Tears
Jan 8, 2016
Free
70% (89%)
125,497 ±9,991
49,117 ±6,251
01:12 (00:14)
17
3DMark 11
Oct 2, 2012
$19.99
N/A (N/A)
29,553 ±4,849
27,472 ±4,675
01:38 (00:24)
18
Subspace Continuum
Jul 3, 2015
Free
64% (87%)
123,832 ±9,924
48,284 ±6,197
02:12 (00:05)
19
Galcon 2: Galactic Conquest
Dec 5, 2014
Free
61% (86%)
244,751 ±13,950
130,700 ±10,196
02:32 (00:20)
20
Aplowcalypse
Dec 14, 2016
Free
N/A (N/A)
6,868 ±2,337
4,579 ±1,908
00:12 (00:10)
21
Magicka: Wizards of the Square Tablet
Oct 31, 2013
$4.99
58% (85%)
41,000 ±5,711
23,934 ±4,363
01:47 (00:41)
22
Off-Peak
Oct 21, 2016
Free
58% (85%)
101,980 ±9,006
60,563 ±6,941
00:29 (00:10)
23
CAGE
Nov 14, 2016
Free
N/A (N/A)
15,401 ±3,500
6,036 ±2,191
01:31 (00:11)
24
The Abbey of Crime Extensum
May 19, 2016
Free
55% (84%)
63,269 ±7,094
17,898 ±3,773
00:28 (00:10)
25
Ley Lines
Dec 5, 2016
Free
55% (84%)
11,655 ±3,045
5,203 ±2,034
00:20 (00:18)
26
Black Rose
Mar 15, 2016
Free
53% (83%)
127,162 ±10,057
70,761 ±7,502
00:35 (00:15)
27
MyDream
Feb 20, 2015
Free
53% (83%)
13,112 ±3,229
3,538 ±1,677
02:01 (00:06)
28
The Secret of Tremendous Corporation
Oct 12, 2015
Free
53% (83%)
92,822 ±8,592
25,183 ±4,476
00:20 (00:09)
29
Mainland
May 8, 2015
Free
53% (83%)
101,355 ±8,979
30,594 ±4,933
00:46 (00:08)
30
Ultimate Tic-Tac-Toe
Apr 28, 2015
Free
50% (82%)
251,827 ±14,150
131,117 ±10,212
00:39 (00:12)
31
the static speaks my name
Aug 10, 2015
Free
48% (81%)
302,193 ±15,500
188,975 ±12,259
00:19 (00:13)
32
Realities
Apr 5, 2016
Free
48% (81%)
151,305 ±10,970
64,726 ±7,175
00:19 (00:10)
33
Absent
Aug 31, 2015
Free
46% (80%)
95,112 ±8,698
24,558 ±4,420
01:37 (00:19)
34
Celestial Command
Nov 20, 2014
$10.99
46% (80%)
14,985 ±3,452
14,360 ±3,380
02:00 (01:05)
35
Comedy Quest
Sep 2, 2015
Free
46% (80%)
91,365 ±8,525
26,015 ±4,549
00:45 (00:11)
36
Apotheon Arena
Dec 8, 2015
Free
46% (80%)
283,670 ±15,018
190,431 ±12,306
00:50 (00:12)
37
Dev Guy
May 20, 2015
Free
46% (80%)
287,208 ±15,111
145,061 ±10,741
00:43 (00:16)
38
Rising Angels: Reborn
Sep 12, 2014
Free
44% (79%)
187,101 ±12,198
56,609 ±6,710
01:37 (00:10)
39
Metal Reaper Online
Sep 17, 2015
Free
44% (79%)
202,919 ±12,703
88,244 ±8,378
03:26 (00:24)
40
Ortus Regni
Jun 21, 2016
Free
44% (79%)
49,325 ±6,264
14,569 ±3,404
02:07 (00:28)
41
PHAT PHROG
Oct 27, 2016
Free
N/A (N/A)
14,777 ±3,428
2,914 ±1,522
00:09 (00:05)
42
MSI Electric City
Aug 9, 2016
Free
42% (78%)
53,487 ±6,523
20,188 ±4,007
00:14 (00:07)
43
Famaze
May 5, 2014
Free
42% (78%)
170,035 ±11,629
44,330 ±5,938
00:47 (00:11)
44
Plenty: Skyhearth
Oct 20, 2016
Free
N/A (N/A)
24,766 ±4,439
11,239 ±2,990
00:14 (00:07)
45
Ludu
Dec 4, 2016
Free
N/A (N/A)
7,284 ±2,407
2,289 ±1,349
00:07 (00:08)
46
Rescue the Great Demon 2
Nov 18, 2016
Free
40% (77%)
77,838 ±7,869
50,157 ±6,316
00:38 (00:12)
47
VoiceBot
Jun 4, 2015
$8.99
38% (76%)
8,949 ±2,668
6,244 ±2,228
01:10 (00:15)
48
Littlstar VR Cinema
Oct 22, 2016
Free
N/A (N/A)
18,731 ±3,860
3,954 ±1,773
00:17 (00:10)
49
Quintet
May 11, 2015
Free
38% (76%)
157,964 ±11,208
72,426 ±7,590
01:28 (00:17)
50
The Banner Saga: Factions
Feb 25, 2013
Free
36% (75%/67%)
452,457 ±18,962
125,289 ±9,982
04:22 (00:35)
51
Driver Booster 3 for STEAM
Oct 28, 2015
Free
36% (75%)
105,310 ±9,152
49,741 ±6,290
06:36 (00:46)
52
Into The Unknown
Nov 9, 2016
Free
N/A (N/A)
17,066 ±3,684
7,284 ±2,407
00:12 (00:07)
53
Gobernators (Parodia política peruana)
Oct 1, 2016
Free
N/A (N/A)
14,985 ±3,452
1,041 ±909
00:14 (00:02)
54
Antenna
Apr 7, 2016
Free
31% (72%)
194,386 ±12,433
125,497 ±9,991
00:41 (00:15)
55
Say Goodbye
Jan 3, 2017
Free
29% (71%)
6,868 ±2,337
3,330 ±1,627
01:55 (01:16)
56
REALITY
Nov 30, 2016
Free
N/A (N/A)
13,320 ±3,255
4,787 ±1,951
00:21 (00:22)
57
Invisible Apartment
Mar 2, 2015
Free
28% (70%)
169,619 ±11,614
64,518 ±7,164
00:22 (00:06)
58
Relive
Oct 15, 2015
Free
28% (70%)
72,843 ±7,612
13,112 ±3,229
05:52 (00:22)
59
Ghoul Kid
Apr 26, 2016
Free
25% (68%)
74,299 ±7,688
31,218 ±4,983
00:11 (00:07)
60
Zombie Vikings: Stab-a-thon
Dec 22, 2016
Free
N/A (N/A)
16,858 ±3,662
11,030 ±2,962
00:20 (00:07)
61
Bitardia Cards: Memes of 2ch
May 19, 2016
Free
25% (68%)
49,741 ±6,290
14,569 ±3,404
00:15 (00:08)
62
VRMark
Nov 3, 2016
$19.99
N/A (N/A)
14,777 ±3,428
4,162 ±1,819
00:31 (00:17)
63
The Divergent Series: Allegiant VR
Mar 17, 2016
Free
22% (66%)
75,756 ±7,763
16,858 ±3,662
00:23 (00:14)
64
Avencast: Rise of the Mage
Mar 17, 2010
$9.99
21% (65%/68%)
263,690 ±14,480
65,350 ±7,210
03:05 (00:26)
65
The Spookening
Nov 1, 2016
Free
N/A (N/A)
13,320 ±3,255
2,497 ±1,409
00:13 (00:15)
66
The Infinite Black
Oct 19, 2016
Free
21% (65%)
36,838 ±5,413
19,772 ±3,966
01:55 (00:08)
67
Linkrealms
May 19, 2016
Free
21% (65%)
23,934 ±4,363
10,406 ±2,877
05:08 (00:29)
68
Nova Blitz
Oct 25, 2016
Free
21% (65%)
16,442 ±3,616
4,162 ±1,819
00:52 (00:32)
69
The Gate
Apr 27, 2015
Free
20% (64%)
118,629 ±9,714
34,964 ±5,274
11:09 (00:29)
70
Nyctophilia
Sep 23, 2015
Free
20% (64%)
105,934 ±9,179
33,924 ±5,195
00:33 (00:10)
71
March of War: FaceOff - M
Jul 16, 2015
Free
N/A (N/A)
116,132 ±9,611
58,690 ±6,833
03:27 (00:28)
72
Soccer Manager
Feb 9, 2016
Free
19% (63%)
161,502 ±11,333
100,939 ±8,960
04:11 (00:18)
73
Angels & Demigods - SciFi VR Visual Novel
Sep 28, 2016
Free
19% (63%)
24,142 ±4,382
7,076 ±2,372
00:24 (00:22)
74
Trimmer Tycoon
Nov 4, 2016
Free
19% (63%)
159,838 ±11,275
132,990 ±10,285
00:25 (00:11)
75
The NADI Project
Jun 1, 2016
Free
19% (63%)
66,807 ±7,290
26,640 ±4,603
00:34 (00:12)
76
To Burn in Memory
Jan 19, 2016
Free
18% (62%)
111,345 ±9,411
47,660 ±6,157
00:52 (00:03)
77
Walkover
Mar 23, 2015
Free
18% (62%)
99,274 ±8,886
25,183 ±4,476
00:53 (00:05)
78
Six Feet Under
Sep 20, 2016
Free
N/A (N/A)
19,563 ±3,945
3,746 ±1,726
00:08 (00:13)
79
Emporea: Realms of War and Magic
Jun 8, 2016
Free
16% (60%)
149,223 ±10,894
84,706 ±8,208
16:02 (00:19)
80
Moon Breakers
May 17, 2012
Free
16% (60%)
352,558 ±16,741
41,624 ±5,754
07:24 (00:14)
81
Street Warriors Online
Dec 16, 2016
$1.99
16% (60%)
451,624 ±18,945
295,533 ±15,328
01:00 (00:20)
82
Warhammer: Vermintide VR - Hero Trials
Dec 20, 2016
Free
15% (59%)
19,772 ±3,966
10,406 ±2,877
00:17 (00:13)
83
Beyond Divinity
Oct 29, 2012
$5.99
15% (59%/73%)
402,924 ±17,896
52,863 ±6,485
01:44 (00:08)
84
ERR - 001
Dec 13, 2016
Free
N/A (N/A)
3,538 ±1,677
1,457 ±1,076
00:08 (00:09)
85
Intruder Alert: Ixian Operations
Jul 21, 2016
Free
N/A (N/A)
33,924 ±5,195
6,036 ±2,191
00:33 (00:08)
86
Escape
Apr 20, 2015
Free
14% (58%)
161,086 ±11,319
72,218 ±7,579
01:13 (00:05)
87
One Manga Day
May 4, 2015
Free
13% (57%)
153,178 ±11,037
62,853 ±7,071
00:35 (00:09)
88
Forgotten Myths CCG
Mar 21, 2016
Free
13% (57%)
52,863 ±6,485
10,198 ±2,848
01:08 (00:11)
89
Shadow Hunter
Apr 20, 2015
Free
13% (57%)
71,594 ±7,546
7,909 ±2,508
00:23 (00:15)
90
Codename: Rogue Fleet
Jan 15, 2016
Free
13% (57%)
104,685 ±9,125
46,827 ±6,103
00:22 (00:09)
91
Ravensword: Shadowlands
Dec 6, 2013
$6.99
13% (56%)
198,548 ±12,565
28,929 ±4,797
01:56 (00:17)
92
Holy Avatar vs. Maidens of the Dead
Feb 20, 2014
$9.99
13% (56%)
71,386 ±7,535
9,157 ±2,699
00:33 (00:08)
93
Vinyl
Jul 1, 2016
Free
13% (56%)
59,523 ±6,881
23,726 ±4,344
00:29 (00:10)
94
Elemental Heroes
Mar 3, 2016
Free
13% (56%)
85,538 ±8,248
34,132 ±5,211
03:44 (00:29)
95
Curse of Mermos
Jun 23, 2015
Free
12% (55%)
160,254 ±11,289
74,091 ±7,677
00:19 (00:05)
96
One Way To Die: Steam Edition
Sep 1, 2015
Free
11% (54%)
164,832 ±11,449
45,579 ±6,021
00:18 (00:02)
97
Heroes of Scene
Aug 26, 2015
Free
10% (52%)
262,442 ±14,445
155,051 ±11,105
00:55 (00:16)
98
Rustbucket Rumble
May 4, 2015
Free
10% (52%)
264,939 ±14,514
138,817 ±10,507
00:35 (00:09)
99
Karos
Dec 24, 2014
Free
10% (52%)
356,721 ±16,839
131,949 ±10,244
00:53 (00:01)
100
PooShooter: Toilet Invaders
Oct 3, 2016
Free
N/A (N/A)
17,274 ±3,707
2,706 ±1,467
01:14 (00:11)
101
Gothic 3: Forsaken Gods Enhanced Edition
Mar 22, 2011
$9.99
9% (51%)
194,802 ±12,446
68,888 ±7,402
04:06 (00:31)
102
Within
Jun 16, 2016
Free
9% (50%)
50,157 ±6,316
12,279 ±3,125
04:53 (00:18)
103
Kingdoms CCG
Jan 22, 2015
Free
9% (50%)
95,112 ±8,698
25,599 ±4,513
06:18 (00:24)
104
Dream Of Mirror Online
Aug 14, 2015
Free
9% (50%)
201,670 ±12,664
68,472 ±7,380
11:32 (00:10)
105
Eclipse --- Defending the motherland
May 26, 2016
Free
N/A (N/A)
72,218 ±7,579
26,640 ±4,603
00:27 (00:07)
106
Uebergame
Oct 26, 2015
Free
8% (49%)
141,315 ±10,601
68,056 ±7,358
00:10 (00:04)
107
Clash of the Monsters
Apr 13, 2016
Free
8% (48%)
79,086 ±7,931
36,838 ±5,413
00:08 (00:04)
108
The Journey Home
Aug 22, 2016
Free
N/A (N/A)
26,223 ±4,567
4,371 ±1,864
00:06 (00:04)
109
Astro Lords: Oort Cloud
Jan 15, 2016
Free
N/A (N/A)
86,995 ±8,318
31,843 ±5,033
00:15 (00:01)
110
SAGA
Aug 4, 2015
Free
7% (46%/61%)
99,066 ±8,877
26,848 ±4,621
02:07 (00:11)
111
TDP5 Arena 3D
Mar 26, 2015
Free
6% (45%)
172,533 ±11,714
56,817 ±6,723
00:50 (00:14)
112
Regimental Chess
Apr 29, 2015
Free
6% (45%)
90,741 ±8,496
22,685 ±4,248
00:22 (00:05)
113
Golden Rush
Sep 23, 2015
Free
6% (44%)
171,076 ±11,664
93,239 ±8,612
03:54 (00:25)
114
Spartans Vs Zombies Defense
Jan 6, 2015
Free
6% (44%)
172,117 ±11,699
65,975 ±7,244
01:06 (00:21)
115
Gladiators Online: Death Before Dishonor
Nov 4, 2015
Free
5% (42%)
154,426 ±11,082
74,299 ±7,688
02:11 (00:19)
116
PCMark 8
Oct 21, 2013
$49.99
N/A (N/A)
37,878 ±5,489
22,685 ±4,248
05:53 (01:02)
117
WAR7
Oct 21, 2016
Free
N/A (N/A)
14,569 ±3,404
2,497 ±1,409
00:10 (00:08)
118
Dangerous
Dec 16, 2014
$19.99
N/A (N/A)
7,284 ±2,407
1,873 ±1,220
00:51 (00:25)
119
Alganon
May 19, 2015
Free
3% (36%)
112,802 ±9,472
23,726 ±4,344
04:16 (00:24)
120
Berserk: The Cataclysm
Sep 22, 2016
Free
N/A (N/A)
20,812 ±4,069
4,995 ±1,993
00:41 (00:36)
121
HIT
Feb 9, 2015
Free
3% (34%)
283,670 ±15,018
88,035 ±8,368
00:16 (00:05)
122
Akaneiro: Demon Hunters
Nov 25, 2014
Free
3% (34%/53%)
77,213 ±7,837
24,975 ±4,457
01:34 (00:31)
123
BattleSpace
Jan 7, 2015
Free
2% (32%)
134,863 ±10,357
37,670 ±5,474
01:26 (00:01)
124
Plastic Playground
Apr 18, 2016
Free
2% (30%)
85,330 ±8,238
30,386 ±4,916
00:06 (00:02)
125
Galaxy Combat Wargames
Sep 29, 2016
Free
N/A (N/A)
15,401 ±3,500
1,665 ±1,150
00:13 (00:11)
126
24 Hours 'til Rescue
Feb 19, 2016
$3.99
N/A (N/A)
10,822 ±2,934
1,873 ±1,220
00:08 (00:07)
127
Confrontation
Apr 4, 2012
$9.99
2% (29%/51%)
362,964 ±16,986
91,365 ±8,525
01:46 (00:17)
128
Shadow of Kingdoms
Aug 11, 2015
Free
1% (27%)
89,909 ±8,457
23,726 ±4,344
01:49 (00:07)
129
Lonath Online
Oct 16, 2015
$6.99
N/A (N/A)
9,157 ±2,699
1,665 ±1,150
00:12 (00:14)
130
HACK_IT
May 5, 2016
$4.99
1% (20%)
2,706 ±1,467
2,289 ±1,349
00:41 (00:31)
131
Jacob
Jul 18, 2016
Free
0% (18%)
37,670 ±5,474
7,909 ±2,508
00:10 (00:05)
132
Legends of Persia
Jun 3, 2014
$19.99
N/A (N/A)
39,127 ±5,579
4,162 ±1,819
00:25 (00:19)