Sleengster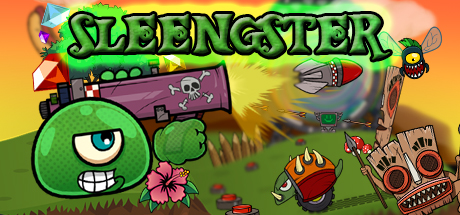 Store | Hub | SteamDB
Developer: Zonitron Productions Publisher: Zonitron Productions
Genre: Adventure, Casual
Languages: English, French, Italian, German, Spanish, Arabic, Bulgarian, Czech, Danish, Dutch, Finnish, Greek, Hungarian, Japanese, Korean, Norwegian, Polish, Portuguese, Portuguese-Brazil, Romanian, Russian, Simplified Chinese, Swedish, Thai, Traditional Chinese, Turkish, Ukrainian
Tags: Casual (34), Adventure (22), Platformer (18), Indie (16), 2D (15), Singleplayer (14), Family Friendly (14), Action (14), Physics (14), Stylized (13), Fantasy (13), Puzzle (13), Great Soundtrack (13), Puzzle-Platformer (12), Difficult (11), Atmospheric (11)
Category: Single-player, Steam Achievements, Steam Trading Cards, Partial Controller Support
Release date: Dec 2, 2016
Price: $1.99
Score rank: 11% Userscore: 53% Old userscore: 48%
Followers: 444
Peak concurrent players yesterday: 237
YouTube stats: 101 views and 0 comments for videos uploaded last week, 0 new videos uploaded yesterday.

Steam Spy is still in beta, so expect major bugs.
Peak daily concurrent players:
CCU data courtesy of SteamDB. Used with permission.
Hourly concurrent players:
YouTube:
The views data is based on top 50 videos uploaded last week. Actual number of views might be more than the number shown.

The displayed number of videos uploaded yesterday is limited to 50, so if there were more videos uploaded, the number will still show 50.

If the game has commonly used word as its name (like "FEAR" or "Volume") its number of Youtube views might be wrong.
Games similar to this one:
#
Game
Release date

Price

Score rank
(Userscore / Metascore)

Owners

Players

Playtime (Median)

1
Factorio
Feb 25, 2016
$20
99% (98%)
1,198,755 ±34,797
1,176,796 ±34,478
90:12 (32:02)
2
Rec Room
Jun 28, 2016
Free
97% (97%)
445,267 ±21,223
286,526 ±17,027
06:33 (00:47)
3
Rakuen
May 10, 2017
$9.99
97% (97%/84%)
24,605 ±4,991
14,816 ±3,873
05:05 (05:17)
4
The Binding of Isaac: Rebirth
Nov 4, 2014
$14.99
97% (97%)
2,087,966 ±45,884
2,036,111 ±45,313
111:16 (39:35)
5
Bit Blaster XL
Jan 22, 2016
$0.99
97% (97%)
321,449 ±18,035
226,734 ±15,148
02:15 (00:47)
6
Wallpaper Engine
Oct 10, 2016
$3.99
95% (96%)
4,456,373 ±66,876
4,412,455 ±66,549
19:52 (04:34)
7
Clone Drone in the Danger Zone
Mar 16, 2017
$14.99
95% (96%)
64,554 ±8,084
62,967 ±7,984
17:11 (07:31)
8
Game Dev Tycoon
Aug 29, 2013
$9.99
92% (95%/68%)
1,406,176 ±37,680
1,353,791 ±36,974
13:28 (07:57)
9
Cook, Serve, Delicious!
Oct 8, 2013
$9.99
92% (95%)
505,324 ±22,608
332,826 ±18,351
09:47 (03:38)
10
VR Photo Viewer
Jun 22, 2017
$14.99
N/A (N/A)
2,117 ±1,463
1,852 ±1,369
02:07 (02:30)
11
DISTRAINT: Deluxe Edition
Oct 21, 2015
$4.99
89% (94%/76%)
249,487 ±15,889
155,566 ±12,548
03:16 (02:36)
12
Universe Sandbox
Aug 24, 2015
$24.99
86% (93%)
371,188 ±19,379
356,108 ±18,981
12:21 (03:08)
13
Rise to Ruins
Oct 27, 2014
$9.99
86% (93%)
101,065 ±10,114
85,984 ±9,329
09:01 (03:17)
14
Prison Architect
Oct 6, 2015
$29.99
86% (93%/83%)
2,417,617 ±49,358
2,196,438 ±47,056
29:12 (11:12)
15
Slash It 2
Jan 24, 2017
$4.99
86% (93%)
104,769 ±10,298
75,137 ±8,721
03:15 (03:09)
16
20XX
Aug 16, 2017
$14.99
86% (93%)
102,388 ±10,180
94,980 ±9,805
09:51 (03:30)
17
Rusty Lake Hotel
Jan 29, 2016
$1.99
86% (93%/65%)
76,195 ±8,782
58,469 ±7,693
03:06 (02:25)
18
Oh...Sir!! The Insult Simulator
Oct 25, 2016
$1.99
82% (92%/64%)
237,582 ±15,506
183,610 ±13,632
03:04 (01:52)
19
Software Inc.
May 1, 2015
$13.99
82% (92%)
102,123 ±10,167
99,742 ±10,048
19:38 (09:36)
20
Conquest of Elysium 4
Nov 16, 2015
$24.99
82% (92%)
11,906 ±3,471
10,318 ±3,232
56:59 (19:55)
21
American Truck Simulator
Feb 2, 2016
$19.99
78% (91%/76%)
998,742 ±31,768
941,860 ±30,852
57:17 (16:11)
22
Genital Jousting
Jan 18, 2018
$6.99
78% (91%/68%)
269,594 ±16,517
231,496 ±15,306
01:19 (00:44)
23
Another Adventure
Mar 10, 2017
$1.99
78% (91%)
61,115 ±7,865
55,030 ±7,464
01:26 (01:15)
24
GRIP
Feb 2, 2016
$19.99
78% (91%)
33,600 ±5,832
30,954 ±5,598
04:39 (01:48)
25
SimplePlanes
Dec 17, 2015
$12.99
78% (91%/67%)
456,114 ±21,480
267,742 ±16,460
16:06 (02:31)
26
Paint the Town Red
Oct 13, 2015
$14.99
78% (91%)
232,026 ±15,323
228,586 ±15,209
12:46 (06:07)
27
My Summer Car
Oct 24, 2016
$14.99
74% (90%)
324,095 ±18,109
318,275 ±17,945
28:31 (11:01)
28
Picross Touch
Aug 24, 2016
Free
74% (90%)
67,465 ±8,264
45,770 ±6,807
18:02 (01:56)
29
Human: Fall Flat
Jul 22, 2016
$14.99
74% (90%/70%)
2,482,700 ±50,014
2,310,996 ±48,262
06:10 (04:19)
30
Kiya
Dec 12, 2016
Free
N/A (N/A)
6,350 ±2,535
1,058 ±1,035
00:05 (00:04)
31
Niche - a genetics survival game
Sep 21, 2017
$17.99
71% (89%)
69,846 ±8,408
66,406 ±8,199
20:31 (04:35)
32
Catlateral Damage
May 27, 2015
$9.99
71% (89%)
62,173 ±7,933
51,855 ±7,245
03:16 (01:16)
33
A Normal Lost Phone
Jan 26, 2017
$2.99
71% (89%/71%)
28,044 ±5,328
19,843 ±4,482
02:03 (01:23)
34
BIT.TRIP RUNNER
Feb 28, 2011
$9.99
71% (89%)
766,452 ±27,836
545,538 ±23,489
02:38 (01:13)
35
Plantera
Jan 28, 2016
$0.59
68% (88%)
197,367 ±14,133
145,247 ±12,125
17:22 (03:37)
36
GoNNER
Oct 12, 2016
$9.99
68% (88%/81%)
186,785 ±13,749
63,232 ±8,000
02:16 (01:14)
37
Planet Coaster
Nov 17, 2016
$44.99
68% (88%/84%)
1,389,243 ±37,453
1,298,497 ±36,213
24:03 (07:39)
38
Parkitect
May 5, 2016
$19.99
68% (88%)
69,317 ±8,377
66,936 ±8,231
09:16 (03:20)
39
Lobotomy Corporation | Monster Management Simulation
Dec 16, 2016
$19.99
68% (88%)
59,792 ±7,780
55,295 ±7,482
20:59 (04:44)
40
Pavlov VR
Feb 27, 2017
$9.99
65% (87%)
76,460 ±8,798
70,375 ±8,440
08:10 (01:48)
41
Ratz Instagib
Jul 27, 2016
$8.99
65% (87%)
110,325 ±10,567
76,195 ±8,782
03:21 (02:03)
42
Once in Yaissor
Nov 9, 2016
$0.99
62% (86%)
86,249 ±9,344
81,487 ±9,082
05:56 (06:31)
43
Judgment: Apocalypse Survival Simulation
Apr 11, 2016
$19.99
62% (86%)
42,595 ±6,566
38,891 ±6,274
21:30 (07:14)
44
Amazing Frog?
Nov 21, 2014
$15.99
62% (86%)
71,433 ±8,503
69,317 ±8,377
41:49 (09:24)
45
ASTRONEER
Dec 15, 2016
$19.99
62% (86%)
1,019,907 ±32,102
992,657 ±31,672
13:23 (07:45)
46
Super Galaxy Squadron EX Turbo
Jan 23, 2015
$11.99
59% (85%)
95,773 ±9,846
23,282 ±4,855
03:06 (02:11)
47
ANIMALITY
Feb 2, 2017
$1.59
N/A (N/A)
175,408 ±13,324
160,592 ±12,749
03:29 (03:30)
48
Cube Destroyer
Feb 15, 2016
$2.99
59% (85%)
192,605 ±13,962
144,718 ±12,103
07:36 (03:22)
49
HardCube
Jun 30, 2016
$1.99
59% (85%)
203,188 ±14,340
186,255 ±13,730
04:31 (03:31)
50
Idling to Rule the Gods
May 27, 2016
Free
59% (85%)
79,106 ±8,948
48,680 ±7,020
231:29 (10:59)
51
Project Starship
Apr 5, 2016
$0.99
56% (84%)
347,906 ±18,762
275,679 ±16,702
03:46 (03:36)
52
Turbo Pug DX
Sep 26, 2016
$0.99
56% (84%)
752,165 ±27,576
473,046 ±21,875
03:25 (03:33)
53
Jalopy
Apr 22, 2016
$14.99
56% (84%)
102,123 ±10,167
95,509 ±9,832
10:41 (03:59)
54
State of Anarchy
Apr 27, 2016
$0.99
56% (84%)
380,977 ±19,633
299,226 ±17,400
03:37 (03:31)
55
The Professor Presents: #GotHandles
Apr 13, 2017
Free
N/A (N/A)
9,789 ±3,148
5,027 ±2,256
00:12 (00:08)
56
12 orbits
Oct 24, 2016
$1.99
54% (83%)
17,461 ±4,204
12,964 ±3,622
03:06 (02:00)
57
Murder Miners
Jul 25, 2014
$0.99
54% (83%)
535,220 ±23,266
324,360 ±18,116
04:15 (01:22)
58
Surgeon Simulator
Apr 19, 2013
$9.99
54% (83%/71%)
1,792,444 ±42,526
1,547,719 ±39,526
03:47 (01:50)
59
Breathing Fear
Oct 7, 2016
$2.99
54% (83%)
24,605 ±4,991
16,139 ±4,042
03:56 (04:41)
60
Ben and Ed - Blood Party
Feb 13, 2018
$14.99
54% (83%)
47,887 ±6,962
44,712 ±6,728
04:36 (02:57)
61
Blueshift
Dec 21, 2016
Free
54% (83%)
42,066 ±6,526
29,367 ±5,452
00:20 (00:09)
62
Weapon Shop Fantasy
Mar 27, 2017
$6.99
51% (82%)
67,465 ±8,264
62,173 ±7,933
13:53 (07:15)
63
Guts and Glory
Feb 15, 2017
$9.99
51% (82%)
144,189 ±12,081
87,572 ±9,415
02:47 (01:14)
64
Another Brick in the Mall
Nov 3, 2016
$12.99
51% (82%)
70,110 ±8,424
67,200 ±8,248
11:33 (06:01)
65
Angels Fall First
Oct 1, 2015
$17.99
51% (82%)
59,263 ±7,745
53,178 ±7,337
05:44 (02:19)
66
Ultimate Booster Experience
Jul 14, 2016
$3.24
47% (80%)
23,017 ±4,827
19,049 ±4,391
18:04 (00:30)
67
Mini Thief
Jun 13, 2016
$3.99
47% (80%)
27,780 ±5,303
18,784 ±4,361
01:53 (00:41)
68
The Spatials: Galactology
Jul 7, 2016
$12.99
47% (80%)
21,430 ±4,658
9,260 ±3,061
09:24 (02:27)
69
Space Farmers
Apr 17, 2014
$9.99
45% (79%)
437,065 ±21,027
227,263 ±15,165
04:42 (02:02)
70
Oriental Empires
Sep 14, 2017
$29.99
45% (79%/74%)
52,913 ±7,319
47,358 ±6,924
10:55 (04:11)
71
Microsoft Flight Simulator X: Steam Edition
Dec 18, 2014
$24.99
45% (79%)
993,980 ±31,693
879,687 ±29,818
75:39 (05:26)
72
I am Bread
Apr 9, 2015
$12.99
43% (78%/60%)
605,066 ±24,736
463,787 ±21,660
02:30 (01:06)
73
Jet Racing Extreme
Jul 14, 2015
$3.99
43% (78%)
337,588 ±18,482
225,676 ±15,112
05:11 (06:29)
74
Tribal Pass
Aug 26, 2016
$4.99
43% (78%)
167,736 ±13,029
150,539 ±12,344
04:02 (04:01)
75
Shark Attack Deathmatch 2
May 28, 2015
$2.99
43% (78%)
104,240 ±10,272
76,989 ±8,828
01:55 (00:37)
76
Steep
Dec 2, 2016
$29.99
39% (76%/72%)
264,567 ±16,362
253,720 ±16,023
13:32 (06:24)
77
Master Spy
Sep 8, 2015
$9.99
39% (76%/68%)
71,169 ±8,488
15,874 ±4,009
04:01 (01:28)
78
Chompy Chomp Chomp
May 16, 2014
$1.99
37% (75%)
244,989 ±15,746
146,306 ±12,169
03:37 (03:38)
79
Tomato Way
Dec 7, 2016
$3.99
37% (75%)
159,799 ±12,718
151,068 ±12,365
03:45 (03:31)
80
Need For Drink
Nov 3, 2017
$1.39
35% (74%)
41,802 ±6,505
32,542 ±5,739
01:01 (00:34)
81
Uncompromising Trash
Feb 11, 2017
$0.99
35% (74%)
198,161 ±14,162
179,377 ±13,474
03:57 (03:31)
82
Tokyo 42
May 31, 2017
$19.99
35% (74%/70%)
15,080 ±3,907
11,376 ±3,393
03:26 (02:14)
83
Office Battle
Dec 2, 2015
$0.99
32% (72%)
141,279 ±11,958
113,764 ±10,731
04:19 (03:54)
84
Shoppe Keep
May 20, 2016
$9.99
30% (71%)
308,750 ±17,675
164,825 ±12,916
07:40 (03:22)
85
Construction Simulator 2015
Nov 18, 2014
$14.99
30% (71%)
398,438 ±20,077
388,649 ±19,829
29:10 (09:31)
86
The Deer
Mar 28, 2016
$0.99
30% (71%)
665,122 ±25,933
499,768 ±22,483
03:29 (03:30)
87
Ninja Stealth
Sep 29, 2016
$1.99
30% (71%)
50,532 ±7,152
30,690 ±5,574
05:07 (04:33)
88
Life Beetle
Apr 18, 2017
$0.49
30% (71%)
90,747 ±9,584
77,783 ±8,873
03:41 (03:30)
89
Drop Hunt - Adventure Puzzle
Feb 23, 2017
$0.49
N/A (N/A)
157,418 ±12,622
143,660 ±12,058
04:56 (03:32)
90
PuppyStory
Mar 23, 2017
$0.99
N/A (N/A)
204,511 ±14,387
174,614 ±13,294
04:33 (04:31)
91
Tank Blast
Jul 13, 2016
$0.49
29% (70%)
112,706 ±10,681
79,106 ±8,948
03:25 (03:30)
92
Survive in Space
May 20, 2016
$4.99
27% (69%)
126,728 ±11,326
70,375 ±8,440
03:40 (03:30)
93
Ampu-Tea
May 30, 2014
$4.99
26% (68%)
255,572 ±16,082
189,166 ±13,837
03:13 (03:04)
94
Power-Up
Aug 29, 2014
$2.99
N/A (N/A)
135,723 ±11,721
91,276 ±9,612
05:33 (05:51)
95
Kings under the hill
Feb 1, 2017
$0.99
N/A (N/A)
147,629 ±12,224
142,866 ±12,025
03:49 (03:31)
96
Running Through Russia
May 21, 2017
$0.99
24% (67%)
28,573 ±5,378
21,695 ±4,686
01:51 (00:48)
97
House of Caravan
Apr 16, 2015
$4.99
24% (67%)
116,674 ±10,867
83,868 ±9,214
03:37 (03:07)
98
Zooicide
Jun 30, 2017
$4.99
23% (66%)
34,394 ±5,901
11,376 ±3,393
01:51 (00:19)
99
Unalive
Jan 5, 2017
$0.99
22% (65%)
259,805 ±16,214
244,989 ±15,746
06:35 (06:33)
100
Jumping Tank
Jan 20, 2017
$0.99
N/A (N/A)
368,278 ±19,303
347,112 ±18,740
04:15 (04:01)
101
Broken Blue
Dec 9, 2016
Free
N/A (N/A)
5,820 ±2,427
2,910 ±1,716
00:09 (00:12)
102
Elements II: Hearts of Light
Apr 1, 2016
$4.99
N/A (N/A)
333,884 ±18,380
266,948 ±16,436
03:55 (03:41)
103
Anoxemia
Jan 16, 2015
$3.99
N/A (N/A)
144,718 ±12,103
96,038 ±9,860
04:57 (04:28)
104
MovieWriterPro
Dec 3, 2013
$29.99
N/A (N/A)
1,214 ±1,371
1,214 ±1,371
58:58 (80:26)
105
Hard Room
Jan 21, 2016
$2.99
20% (63%)
279,119 ±16,806
204,775 ±14,396
03:58 (03:53)
106
Train Simulator
Sep 17, 2015
$24.99
20% (63%)
1,102,452 ±33,374
953,501 ±31,042
60:56 (08:22)
107
Heckabomb
Feb 27, 2015
$5.99
N/A (N/A)
202,394 ±14,312
144,983 ±12,114
03:23 (03:27)
108
Mad Dagger
Apr 1, 2017
$0.99
18% (62%)
169,059 ±13,081
157,418 ±12,622
04:33 (04:31)
109
Grass Simulator
Apr 1, 2015
$4.99
18% (62%)
25,398 ±5,071
19,049 ±4,391
01:58 (01:19)
110
The Tower Of Elements
Aug 5, 2015
$0.99
N/A (N/A)
457,702 ±21,517
333,090 ±18,358
04:08 (04:01)
111
Train Fever
Sep 4, 2014
$19.99
17% (61%/67%)
205,569 ±14,424
188,637 ±13,817
41:46 (07:27)
112
Streamline
Sep 30, 2016
$19.99
15% (59%)
579,403 ±24,207
253,985 ±16,032
03:27 (02:31)
113
Spirit Realm
Jul 21, 2017
Free
N/A (N/A)
6,879 ±2,639
2,117 ±1,463
00:05 (00:06)
114
RaceRoom Racing Experience
Feb 12, 2013
Free
13% (57%)
4,096,826 ±64,145
1,677,886 ±41,149
06:07 (00:26)
115
Absoloot
Mar 15, 2017
$3.99
12% (55%)
161,651 ±12,791
141,279 ±11,958
03:38 (03:30)
116
Dear RED - Extended
Apr 12, 2016
$2.99
N/A (N/A)
230,174 ±15,262
206,098 ±14,442
03:36 (03:31)
117
Cosmic Dust & Rust
May 17, 2016
$0.99
11% (54%)
417,752 ±20,558
329,916 ±18,270
03:35 (03:31)
118
Snowman
Jan 27, 2017
$0.99
11% (54%)
318,010 ±17,938
206,363 ±14,452
03:35 (04:00)
119
ESports Club
Jun 29, 2017
$8.99
11% (54%)
22,224 ±4,743
21,430 ±4,658
06:35 (03:23)
120
Beastiarium
Dec 5, 2016
$4.94
N/A (N/A)
97,890 ±9,954
91,276 ±9,612
03:25 (03:30)
121
Gone In November
Aug 18, 2016
$0.99
11% (53%)
184,668 ±13,671
170,911 ±13,152
03:38 (03:30)
122
Final Quest
Aug 17, 2016
$0.99
N/A (N/A)
307,956 ±17,652
250,810 ±15,931
03:43 (03:31)
123
Mouse in Lab
Feb 1, 2017
$0.99
N/A (N/A)
184,933 ±13,681
132,548 ±11,583
03:06 (03:30)
124
Shroud of the Avatar: Forsaken Virtues
Nov 24, 2014
$39.99
10% (52%)
37,833 ±6,189
33,600 ±5,832
43:37 (05:37)
125
Endorlight
Apr 26, 2016
$2.99
9% (50%)
500,826 ±22,507
339,969 ±18,547
04:30 (04:26)
126
Invasion
Sep 18, 2015
$0.49
9% (50%)
316,687 ±17,901
197,896 ±14,152
04:26 (04:31)
127
Creature Clicker - Capture, Train, Ascend!
Apr 28, 2017
$1.49
9% (50%)
151,862 ±12,398
145,247 ±12,125
03:47 (03:30)
128
Make it indie!
Apr 1, 2015
$0.99
8% (49%)
365,897 ±19,240
303,459 ±17,523
03:27 (03:30)
129
Clergy Splode
Sep 17, 2015
$0.99
8% (49%)
412,990 ±20,440
333,619 ±18,373
03:46 (03:31)
130
Neon Hardcorps
May 30, 2016
$0.99
8% (48%)
404,259 ±20,223
304,253 ±17,546
03:41 (03:30)
131
Drayt Empire
Jul 16, 2016
$0.99
8% (48%)
341,027 ±18,575
277,796 ±16,766
03:47 (03:30)
132
BoneBone: Rise of the Deathlord
Jun 17, 2016
$1.99
N/A (N/A)
178,318 ±13,434
159,799 ±12,718
03:54 (03:31)
133
Sparkle ZERO
Mar 14, 2016
$4.99
7% (47%)
76,460 ±8,798
46,035 ±6,826
02:56 (03:13)
134
Insincere
May 12, 2016
$3.99
7% (47%)
326,741 ±18,182
264,567 ±16,362
04:02 (03:43)
135
Lup
Apr 1, 2016
$0.99
7% (47%)
523,579 ±23,012
383,887 ±19,707
03:48 (03:31)
136
Victory: The Age of Racing
Feb 12, 2016
Free
6% (45%)
450,029 ±21,336
334,678 ±18,402
02:49 (00:23)
137
Remain
Dec 21, 2016
$4.99
N/A (N/A)
98,948 ±10,008
94,451 ±9,778
03:39 (03:30)
138
Trump Simulator 2017
Feb 11, 2017
$0.99
6% (44%)
125,934 ±11,290
116,145 ±10,843
03:53 (03:30)
139
ZRoll
Apr 17, 2017
$0.99
N/A (N/A)
231,232 ±15,297
221,443 ±14,970
03:37 (03:30)
140
The Next Door
Mar 22, 2016
$0.99
N/A (N/A)
234,407 ±15,402
172,763 ±13,223
03:43 (03:30)
141
//N.P.P.D. RUSH//- The milk of Ultraviolet
Feb 13, 2014
$3.99
5% (41%)
182,022 ±13,573
130,432 ±11,490
03:07 (03:27)
142
Retention
Jan 13, 2015
N/A
5% (41%)
333,884 ±18,380
280,706 ±16,854
03:38 (03:30)
143
The Lost Valley
Apr 20, 2015
$4.99
4% (40%)
268,007 ±16,468
249,487 ±15,889
03:30 (03:30)
144
Krampus
Oct 18, 2016
$4.99
N/A (N/A)
137,310 ±11,789
121,701 ±11,099
03:32 (03:30)
145
Fall of Civilization
Sep 19, 2016
$6.99
N/A (N/A)
284,410 ±16,964
236,788 ±15,480
04:06 (03:48)
146
Altar Guardian
Oct 24, 2016
$0.49
N/A (N/A)
148,951 ±12,278
136,252 ±11,743
05:02 (03:30)
147
Magdalena
Feb 22, 2016
$2.99
3% (37%)
244,989 ±15,746
222,237 ±14,997
03:41 (03:31)
148
Final Quest II
Oct 18, 2016
$0.99
N/A (N/A)
291,024 ±17,160
252,133 ±15,973
03:50 (03:31)
149
Rise of the Ancients
May 31, 2016
$0.99
3% (36%)
229,380 ±15,236
204,246 ±14,377
04:01 (03:39)
150
STARUSHKO LUB
Oct 24, 2016
$0.99
3% (35%)
227,528 ±15,174
197,367 ±14,133
05:12 (05:31)
151
Conclusion
Aug 5, 2016
$1.99
3% (35%)
205,040 ±14,405
196,574 ±14,105
03:32 (03:30)
152
Shard Games
Jul 29, 2016
$7.99
N/A (N/A)
114,029 ±10,743
100,271 ±10,075
04:35 (04:31)
153
Sleeping Valley
Oct 8, 2016
$3.99
N/A (N/A)
279,383 ±16,814
243,402 ±15,694
03:35 (03:30)
154
Invisible Mind
Aug 10, 2016
$4.99
N/A (N/A)
213,241 ±14,690
186,520 ±13,739
06:25 (06:32)
155
Forbidden Planet
Jan 11, 2016
$3.99
2% (33%)
358,753 ±19,052
315,629 ±17,871
03:48 (03:31)
156
Time Of Silence
Dec 6, 2016
$0.49
N/A (N/A)
143,396 ±12,047
128,051 ±11,385
04:11 (03:30)
157
The Last Hope
Aug 29, 2016
$1.99
2% (31%)
429,393 ±20,842
347,377 ±18,747
03:32 (03:30)
158
The face of hope: Underground
Oct 28, 2016
$0.99
1% (28%)
244,989 ±15,746
233,878 ±15,384
03:42 (03:30)
159
Blood of Magic
Dec 18, 2015
$9.99
N/A (N/A)
4,450 ±2,626
2,023 ±1,770
00:27 (00:25)
160
Unexpected Day
Feb 1, 2017
$0.49
1% (27%)
196,574 ±14,105
174,879 ±13,304
03:28 (03:30)
161
Arcade Tale
Mar 31, 2017
$0.99
1% (27%)
88,630 ±9,472
85,720 ±9,315
03:40 (03:30)
162
Wooden House
Sep 5, 2016
$2.99
1% (25%)
167,736 ±13,029
157,947 ±12,644
04:16 (04:01)
163
Totem
Aug 30, 2016
$0.51
N/A (N/A)
151,597 ±12,387
128,580 ±11,408
03:33 (03:30)