SWAM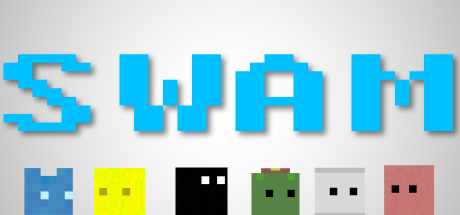 Store | Hub | SteamDB
Developer: Paul O'Bar Publisher: ArcadeSheep
Genre: Action, Adventure, Casual, Indie
Languages: English
Tags: Casual (21), Action (21), Indie (21), Adventure (20)
Category: Single-player, Partial Controller Support
Release date: Jan 5, 2017
Price: $3.99
Owners: 694 ± 1,359
Followers: 58
YouTube stats: 3 views and 0 comments for videos uploaded last week, 0 new videos uploaded yesterday.

Steam Spy is still in beta, so expect major bugs.
Peak daily concurrent players:
CCU data courtesy of SteamDB. Used with permission.
Hourly concurrent players:
YouTube:
The views data is based on top 50 videos uploaded last week. Actual number of views might be more than the number shown.

The displayed number of videos uploaded yesterday is limited to 50, so if there were more videos uploaded, the number will still show 50.

If the game has commonly used word as its name (like "FEAR" or "Volume") its number of Youtube views might be wrong.
Games similar to this one:
#
Game
Release date

Price

Score rank
(Userscore / Metascore)

Owners

Players

Playtime (Median)

1
Multimirror
Nov 14, 2016
$4.99
N/A (N/A)
153,204 ±11,769
108,046 ±9,884
03:37 (03:30)
2
Running Gods
Sep 13, 2016
$4.99
N/A (N/A)
7,802 ±2,656
3,310 ±1,730
03:37 (06:08)
3
Funklift
Jun 8, 2016
$9.99
N/A (N/A)
7,329 ±2,574
5,201 ±2,168
02:14 (02:28)
4
Astral Breakers
Feb 4, 2016
$4.99
N/A (N/A)
11,585 ±3,236
7,329 ±2,574
04:28 (04:55)
5
Two Steps Back
Aug 6, 2015
$2.99
N/A (N/A)
8,511 ±2,774
4,019 ±1,906
04:12 (04:09)
6
The Rollingball's Melody
Oct 19, 2015
$3.99
N/A (N/A)
8,984 ±2,850
4,729 ±2,067
03:18 (03:18)
7
The Orb Chambers II
Aug 1, 2016
$6.99
N/A (N/A)
167,153 ±12,293
137,363 ±11,144
04:44 (04:20)
8
Innoquous 5
May 13, 2016
$4.99
N/A (N/A)
6,856 ±2,490
4,729 ±2,067
04:32 (05:26)
9
Fairyland: Fairy Power
Nov 10, 2016
$2.99
N/A (N/A)
108,992 ±9,927
101,427 ±9,576
04:13 (03:31)
10
Fly, Glowfly!
Jul 8, 2016
$4.99
N/A (N/A)
5,438 ±2,217
4,256 ±1,961
03:01 (05:08)
11
Piggy Princess
Mar 19, 2016
$3.99
N/A (N/A)
58,161 ±7,252
50,122 ±6,732
04:24 (04:31)
12
Solitaire Beach Season
Oct 10, 2016
$5.99
N/A (N/A)
10,403 ±3,067
6,147 ±2,357
07:30 (04:37)
13
Blockwick 2
Jun 25, 2015
$7.99
100% (100%)
10,166 ±3,032
6,856 ±2,490
08:45 (04:44)
14
Wave Mechanics
Aug 3, 2015
$0.99
N/A (N/A)
10,876 ±3,136
2,601 ±1,533
04:33 (01:41)
15
InnerCube
Feb 13, 2015
$3.99
N/A (N/A)
12,294 ±3,334
2,364 ±1,462
00:40 (01:14)
16
Sweet Candy Mahjong
Sep 29, 2016
$4.99
N/A (N/A)
57,215 ±7,193
34,755 ±5,606
03:20 (03:20)
17
The Wizards Who Fell In A Hole
Dec 9, 2016
$1.99
N/A (N/A)
1,059 ±1,196
0 ±0
00:00 (00:00)
18
Delicious - Emily's Christmas Carol
Nov 4, 2016
$12.99
N/A (N/A)
4,965 ±2,119
4,492 ±2,015
09:05 (23:43)
19
Samurai of Hyuga Book 2
Sep 16, 2016
$5.99
N/A (N/A)
2,601 ±1,533
1,419 ±1,132
05:11 (04:34)
20
Scarab Tales
Jul 1, 2015
$4.99
N/A (N/A)
8,748 ±2,812
946 ±924
05:18 (07:02)
21
Sally's Law
Aug 24, 2016
$3.99
89% (94%)
6,383 ±2,402
3,546 ±1,790
01:44 (01:41)
22
Holopoint
Apr 4, 2016
$14.99
86% (93%)
55,560 ±7,088
53,196 ±6,935
02:26 (01:12)
23
Ookibloks
Oct 8, 2015
$1.99
N/A (N/A)
18,678 ±4,109
13,003 ±3,429
03:43 (04:10)
24
Block King
Feb 10, 2017
$0.99
N/A (N/A)
1,182 ±1,033
236 ±462
00:04 (00:01)
25
Flat Path
Aug 24, 2016
$0.99
N/A (N/A)
9,930 ±2,996
6,147 ±2,357
03:20 (03:51)
26
L U N E
Jun 20, 2016
$2.99
N/A (N/A)
2,837 ±1,601
1,419 ±1,132
00:08 (00:08)
27
Kings of Israel
Dec 21, 2015
$5.99
N/A (N/A)
6,383 ±2,402
3,783 ±1,849
03:22 (03:58)
28
Warka Flarka Flim Flam
Dec 22, 2016
$1.99
N/A (N/A)
1,412 ±1,381
706 ±976
00:14 (00:13)
29
Forgotten Tales: Day of the Dead
May 27, 2016
$9.99
N/A (N/A)
8,038 ±2,696
5,201 ±2,168
05:26 (06:10)
30
Pirate Pop Plus
Nov 4, 2016
$4.99
N/A (N/A/65%)
82,749 ±8,650
18,914 ±4,135
02:47 (01:23)
31
Safety First!
Sep 8, 2016
$2.99
71% (89%)
16,077 ±3,813
8,984 ±2,850
02:41 (01:44)
32
Lightbender
Dec 17, 2015
$2.99
N/A (N/A)
1,412 ±1,381
1,059 ±1,196
00:25 (00:34)
33
Color Assembler
Jun 3, 2015
$7.99
N/A (N/A)
1,419 ±1,132
946 ±924
01:11 (00:47)
34
Kubz VR
Sep 5, 2016
$3.99
N/A (N/A)
5,911 ±2,312
946 ±924
00:10 (00:08)
35
GEO Master
May 6, 2016
$2.99
N/A (N/A)
2,117 ±1,691
1,412 ±1,381
10:14 (20:20)
36
Delicious - Emily's New Beginning
Nov 24, 2016
$12.99
N/A (N/A)
2,128 ±1,387
1,891 ±1,307
05:46 (09:56)
37
Radium
Mar 13, 2015
$2.99
56% (84%)
55,087 ±7,058
39,483 ±5,975
03:12 (03:30)
38
Flix and Chill
Feb 27, 2017
$0.99
54% (83%)
16,786 ±3,896
10,639 ±3,101
15:31 (02:12)
39
VR Ping Pong
Sep 13, 2016
$9.99
49% (81%)
7,802 ±2,656
4,729 ±2,067
00:53 (00:35)
40
Midnight
Jan 28, 2016
$2.99
N/A (N/A)
4,019 ±1,906
1,891 ±1,307
02:21 (02:50)
41
Think To Die 2
Oct 14, 2016
$4.99
N/A (N/A)
11,348 ±3,203
7,329 ±2,574
02:08 (02:22)
42
Globe Rush
Sep 2, 2016
$2.99
N/A (N/A)
1,891 ±1,307
1,182 ±1,033
03:04 (03:16)
43
Atlantis: Pearls of the Deep
Sep 6, 2016
$6.99
N/A (N/A)
6,147 ±2,357
2,601 ±1,533
09:47 (24:05)
44
Tentacult!
Sep 23, 2016
$3.99
N/A (N/A)
2,128 ±1,387
1,655 ±1,223
00:29 (00:35)
45
Will of the Gods
Aug 29, 2016
$2.99
N/A (N/A)
3,074 ±1,667
2,128 ±1,387
00:41 (00:30)
46
Magi Trials
Nov 17, 2016
$8.99
N/A (N/A)
11,821 ±3,269
7,802 ±2,656
02:29 (02:28)
47
Leave The Nest
May 27, 2016
$2.99
N/A (N/A)
2,837 ±1,601
1,419 ±1,132
02:18 (02:16)
48
Football Mogul 15
Sep 6, 2016
$14.99
N/A (N/A)
26,953 ±4,937
946 ±924
02:25 (01:56)
49
Stage Presence
Feb 28, 2017
$9.99
N/A (N/A)
5,438 ±2,217
2,364 ±1,462
01:26 (02:13)
50
Minimalism
Feb 8, 2017
$0.99
27% (69%)
16,313 ±3,841
10,166 ±3,032
09:27 (04:38)
51
Chamber 19
Oct 21, 2016
$14.99
N/A (N/A)
4,729 ±2,067
1,419 ±1,132
00:29 (00:12)
52
Solitaire Royale
Sep 15, 2016
Free
N/A (N/A)
16,077 ±3,813
1,655 ±1,223
13:46 (00:33)
53
TacoFace
Dec 21, 2016
$0.99
N/A (N/A)
6,856 ±2,490
236 ±462
00:54 (00:18)
54
Underground Keeper
Aug 15, 2016
$6.99
N/A (N/A)
1,419 ±1,132
473 ±653
01:52 (01:12)
55
MAGATAMA Earrings
Jun 14, 2016
$6.99
N/A (N/A)
946 ±924
236 ±462
00:22 (00:07)
56
Our Wonderful World
Nov 29, 2016
$0.99
N/A (N/A)
78,730 ±8,437
72,583 ±8,101
03:39 (03:30)
57
Android John
Jun 28, 2016
$2.99
N/A (N/A)
13,240 ±3,460
1,182 ±1,033
00:34 (00:32)
58
Car Mechanic Manager
Sep 23, 2015
$0.49
N/A (N/A)
12,058 ±3,302
2,364 ±1,462
02:08 (02:46)
59
AVSEQ
Aug 23, 2012
$1.99
N/A (N/A)
36,173 ±5,719
12,058 ±3,302
05:18 (00:08)
60
Black Hat Cooperative
Jul 29, 2016
$9.99
N/A (N/A)
4,019 ±1,906
3,074 ±1,667
00:53 (00:59)
61
Simple Ball: Extended Edition
Jul 25, 2016
$0.99
N/A (N/A)
70,928 ±8,008
65,963 ±7,723
03:36 (03:30)
62
Domain Defense
Jul 14, 2016
$9.99
N/A (N/A)
5,438 ±2,217
4,019 ±1,906
05:41 (08:38)
63
Day D: Tower Rush
Jul 7, 2016
$6.99
N/A (N/A)
30,499 ±5,251
22,933 ±4,554
04:45 (04:09)
64
STATIC: Investigator Training
Apr 14, 2015
$7.99
N/A (N/A)
6,147 ±2,357
236 ±462
00:22 (00:07)
65
Diorama Battle of NINJA3D
Sep 19, 2016
$6.99
N/A (N/A)
2,777 ±2,719
0 ±0
00:00 (00:00)
66
StarForce 2193: The Hotep Controversy
Aug 16, 2016
$0.99
N/A (N/A)
946 ±924
236 ±462
00:05 (00:01)
67
Abduction Action! Plus
Sep 1, 2015
$1.99
N/A (N/A)
13,713 ±3,521
1,655 ±1,223
00:33 (00:36)
68
Never Ending Night
Sep 30, 2015
$0.99
N/A (N/A)
7,566 ±2,615
236 ±462
00:14 (00:04)
69
Gold Crusader
Nov 22, 2016
$2.99
N/A (N/A)
2,117 ±1,691
1,059 ±1,196
02:07 (02:23)
70
Make America Great Again
Sep 15, 2016
$2.99
N/A (N/A)
6,620 ±2,446
1,182 ±1,033
01:22 (02:14)
71
Reptilian Rebellion
Aug 7, 2016
$0.99
N/A (N/A)
35,227 ±5,644
28,371 ±5,065
03:51 (04:00)
72
Riot of the numbers
Jan 19, 2017
$0.49
N/A (N/A)
62,416 ±7,512
59,816 ±7,354
03:48 (03:37)
73
Pinga Ponga
Aug 2, 2016
$0.99
N/A (N/A)
14,186 ±3,581
11,112 ±3,170
03:59 (04:16)
74
Crazy Steam Bros 2
Apr 2, 2015
$0.99
N/A (N/A)
5,438 ±2,217
3,310 ±1,730
05:48 (03:43)
75
Puzzle Ball
Oct 1, 2015
$2.99
N/A (N/A)
30,972 ±5,292
25,770 ±4,827
04:50 (05:09)
76
Inside: Before Birth
Feb 11, 2016
$3.99
N/A (N/A)
1,419 ±1,132
1,182 ±1,033
00:30 (00:38)
77
Dream Dealer
Oct 1, 2016
$3.99
N/A (N/A)
62,416 ±7,512
59,816 ±7,354
06:25 (06:02)
78
Isaac the Adventurer
Mar 2, 2015
$2.99
N/A (N/A)
15,368 ±3,728
946 ±924
00:10 (00:10)
79
World of Cinema - Movie Tycoon
Apr 2, 2015
$4.99
N/A (N/A)
1,412 ±1,381
1,412 ±1,381
01:37 (02:02)
80
Rotieer
Mar 5, 2015
$4.99
N/A (N/A)
16,786 ±3,896
1,655 ±1,223
00:29 (00:41)
81
Hotel Blind
Apr 5, 2016
$1.99
N/A (N/A)
6,620 ±2,446
946 ±924
00:18 (00:21)
82
1943 Megami Strike
Feb 24, 2016
$8.99
1% (28%)
946 ±924
709 ±800
02:34 (02:23)
83
Campfire: One of Us Is the Killer
Dec 7, 2016
$2.99
N/A (N/A)
1,419 ±1,132
1,419 ±1,132
01:44 (01:37)
84
Exowar
Mar 23, 2015
$6.99
N/A (N/A)
72,583 ±8,101
1,891 ±1,307
00:11 (00:07)
85
Shiny Gauntlet
Aug 3, 2016
$3.99
N/A (N/A)
5,438 ±2,217
3,546 ±1,790
02:14 (02:35)
86
Kronos
Feb 3, 2017
$4.99
N/A (N/A)
10,876 ±3,136
709 ±800
00:36 (00:34)
87
Rock, the Tree Hugger
Jul 30, 2015
$4.99
N/A (N/A)
4,729 ±2,067
236 ±462
00:45 (00:15)