Crimson Trigger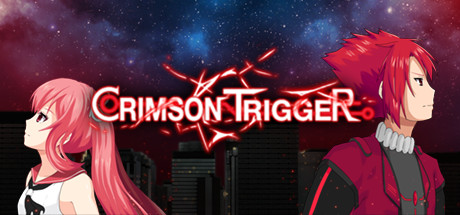 Store | Hub | SteamDB
Developer: AT The Gate Team Publisher: AT The Gate Team
Genre: Action, Adventure, Indie
Languages: English
Tags: Action (32), Indie (31), Adventure (31), Platformer (13), Side Scroller (11), Anime (11), Fantasy (11), Difficult (10), Cute (10)
Category: Single-player, Steam Achievements, Full controller support, Steam Trading Cards, Steam Cloud
Release date: Jan 30, 2017
Price: $7.19 40%
Peak concurrent players yesterday: 1
YouTube stats: 8 views and 3 comments for videos uploaded last week, 1 new videos uploaded yesterday.

Steam Spy is still in beta, so expect major bugs.
Peak daily concurrent players:
CCU data courtesy of SteamDB. Used with permission.
Hourly concurrent players:
YouTube:
The views data is based on top 50 videos uploaded last week. Actual number of views might be more than the number shown.

The displayed number of videos uploaded yesterday is limited to 50, so if there were more videos uploaded, the number will still show 50.

If the game has commonly used word as its name (like "FEAR" or "Volume") its number of Youtube views might be wrong.
Games similar to this one:
#
Game
Release date

Price

Score rank
(Userscore / Metascore)

Owners

Players

Playtime (Median)

1
Spud!
Mar 3, 2015
$2.39
N/A (N/A)
3,216 ±1,571
0 ±0
00:00 (00:00)
2
PD Particles 9
Sep 16, 2016
$3.99
N/A (N/A)
804 ±785
0 ±0
00:00 (00:00)
3
cloudphobia
Dec 7, 2016
$2.99
N/A (N/A)
5,225 ±2,003
201 ±392
00:06 (00:02)
4
The Preposterous Awesomeness of Everything
Feb 9, 2016
$2.09
N/A (N/A/54%)
3,216 ±1,571
603 ±680
02:05 (02:04)
5
Challenge of the Five Realms: Spellbound in the World of Nhagardia
Apr 1, 2015
$1.74
N/A (N/A)
9,245 ±2,664
0 ±0
00:00 (00:00)
6
Candlelight
Mar 15, 2016
$4.99
N/A (N/A)
6,431 ±2,222
603 ±680
03:53 (03:48)
7
Laser Disco Defenders
Oct 6, 2016
$4.99
N/A (N/A)
2,337 ±2,288
1,753 ±1,981
02:04 (03:05)
8
HAUNTED: Halloween '85 (Original NES Game)
Oct 30, 2016
$7.99
N/A (N/A)
897 ±1,013
0 ±0
00:00 (00:00)
9
Monsters!
Oct 25, 2016
$2.49
N/A (N/A)
584 ±1,144
0 ±0
00:00 (00:00)
10
Sprite Lamp
Sep 25, 2014
$17.49
N/A (N/A)
62,303 ±6,917
14,470 ±3,334
00:38 (00:02)
11
Hauntsters
Dec 22, 2015
$4.99
N/A (N/A)
3,618 ±1,667
402 ±555
00:12 (00:07)
12
MadSpace: To Hell and Beyond
May 1, 2015
$1.19
N/A (N/A)
4,221 ±1,800
603 ±680
00:37 (00:37)
13
Precursors
Feb 3, 2017
$5.99
N/A (N/A)
28,338 ±4,665
2,010 ±1,242
01:01 (00:06)
14
Mimic Arena
May 17, 2016
$7.99
N/A (N/A)
6,833 ±2,291
201 ±392
00:09 (00:03)
15
Square Arena
Jun 19, 2016
$1.49
N/A (N/A)
1,005 ±878
804 ±785
03:33 (02:51)
16
Snow Games VR
Feb 1, 2017
Free
N/A (N/A)
2,211 ±1,303
1,206 ±962
05:41 (05:56)
17
CrossCode
May 15, 2015
$16.99
97% (97%)
84,411 ±8,051
44,818 ±5,867
10:12 (04:28)
18
Crawl
Apr 11, 2017
$10.49
97% (97%)
183,694 ±11,876
117,371 ±9,494
06:14 (02:42)
19
Cosmic Sugar VR
Nov 27, 2016
Free
95% (96%)
46,024 ±5,945
26,931 ±4,548
00:46 (00:06)
20
Beyond Reality
Jan 8, 2016
$0.99
N/A (N/A)
5,426 ±2,041
2,010 ±1,242
02:12 (02:15)
21
Floating Point
Jun 6, 2014
Free
92% (95%)
938,570 ±26,821
418,437 ±17,920
01:09 (00:15)
22
Chroma Squad
Apr 30, 2015
$10.49
92% (95%/75%)
298,855 ±15,146
165,204 ±11,263
06:18 (03:26)
23
Besiege
Jan 28, 2015
$4.79
92% (95%)
1,894,423 ±38,062
1,781,875 ±36,919
12:17 (03:41)
24
Dimensional Rift
Feb 8, 2017
Free
N/A (N/A)
5,426 ±2,041
3,216 ±1,571
00:28 (00:20)
25
Divinity: Original Sin 2
Sep 15, 2016
$44.99
89% (94%)
154,552 ±10,894
133,450 ±10,123
15:24 (07:40)
26
One Way Heroics
Feb 28, 2014
$2.44
89% (94%)
394,521 ±17,401
266,698 ±14,309
07:04 (01:49)
27
Fallout 2: A Post Nuclear Role Playing Game
Aug 19, 2009
$2.49
89% (94%/86%)
921,486 ±26,577
392,712 ±17,361
11:31 (01:10)
28
Secrets of Grindea
Jul 13, 2015
$14.99
89% (94%)
139,278 ±10,342
135,660 ±10,207
13:30 (08:57)
29
Vagante
Dec 16, 2014
$14.99
86% (93%)
50,446 ±6,224
49,843 ±6,187
17:32 (06:02)
30
Fallout: A Post Nuclear Role Playing Game
Aug 19, 2009
$2.49
86% (93%/89%)
898,977 ±26,251
604,543 ±21,534
06:01 (01:07)
31
Lily's Day Off
Jan 6, 2017
$0.98
86% (93%)
2,211 ±1,303
1,206 ±962
02:09 (02:13)
32
Low Magic Age
Jan 10, 2017
$3.39
86% (93%)
9,647 ±2,722
8,441 ±2,546
11:18 (06:47)
33
Totemori
Feb 10, 2017
Free
82% (92%)
43,813 ±5,801
36,980 ±5,329
00:22 (00:09)
34
Fairy Fencer F Advent Dark Force | ADVENT DARK FORCE | F ADVENT DARK FORCE
Feb 14, 2017
$9.99
82% (92%)
32,559 ±5,001
19,093 ±3,829
16:59 (07:41)
35
The Long Dark
Sep 22, 2014
$13.99
82% (92%)
999,667 ±27,679
913,246 ±26,458
19:34 (05:12)
36
Battlerite
Sep 20, 2016
$13.39
82% (92%)
618,411 ±21,780
599,720 ±21,449
26:36 (10:16)
37
Last Mage Standing
Dec 15, 2016
$1.49
N/A (N/A)
897 ±1,013
897 ±1,013
00:06 (00:07)
38
Lucid9: Inciting Incident
Apr 14, 2016
Free
82% (92%)
100,690 ±8,794
37,985 ±5,401
03:25 (00:29)
39
Settled
Feb 29, 2016
$0.99
N/A (N/A)
10,250 ±2,806
804 ±785
08:52 (07:47)
40
Blackwake
Feb 24, 2017
$15.99
78% (91%)
250,821 ±13,877
242,983 ±13,658
10:20 (05:13)
41
Cannon Brawl
Sep 19, 2014
$4.94
78% (91%)
43,411 ±5,774
38,387 ±5,430
07:13 (04:06)
42
Beholder
Nov 9, 2016
$4.29
78% (91%/75%)
356,335 ±16,538
260,066 ±14,130
05:03 (02:58)
43
Golf With Your Friends
Jan 29, 2016
$4.19
78% (91%)
1,180,146 ±30,067
1,098,750 ±29,014
07:13 (04:02)
44
Grimm
Jan 6, 2014
Free
74% (90%)
573,593 ±20,977
364,374 ±16,723
03:13 (03:02)
45
PULSAR: Lost Colony
Sep 15, 2015
$16.24
74% (90%)
95,867 ±8,580
91,043 ±8,362
12:11 (07:41)
46
Thread Studio
Sep 29, 2016
Free
N/A (N/A)
19,897 ±3,909
2,211 ±1,303
00:30 (00:43)
47
Carpe Diem
Nov 30, 2015
Free
74% (90%)
280,365 ±14,671
188,518 ±12,031
00:30 (00:08)
48
Descent: Road to Legend
Jun 1, 2016
Free
74% (90%)
55,671 ±6,539
17,284 ±3,643
07:09 (00:16)
49
Party Jousting
Mar 1, 2016
Free
74% (90%)
173,042 ±11,527
99,082 ±8,723
00:36 (00:05)
50
TrackMania Nations Forever
Apr 16, 2008
Free
74% (90%)
2,306,630 ±41,978
1,639,784 ±35,422
07:50 (01:11)
51
You Have 10 Seconds
Aug 2, 2016
Free
74% (90%)
248,409 ±13,810
196,758 ±12,291
00:33 (00:08)
52
Pub Encounter
Apr 12, 2016
$6.29
70% (89%)
2,010 ±1,242
1,608 ±1,111
02:56 (03:20)
53
Viridi
Aug 19, 2015
Free
70% (89%/46%)
643,734 ±22,221
494,005 ±19,469
03:46 (00:11)
54
Hammerwatch
Aug 12, 2013
$1.99
70% (89%/72%)
885,712 ±26,057
685,538 ±22,930
06:21 (02:53)
55
TowerClimb
Sep 22, 2015
$8.99
70% (89%)
7,034 ±2,324
6,632 ±2,257
07:59 (02:01)
56
BARRIER X
May 27, 2016
$0.68
70% (89%)
252,429 ±13,921
170,028 ±11,426
02:46 (03:00)
57
You Have 10 Seconds 2
Aug 25, 2016
Free
70% (89%)
152,141 ±10,809
108,327 ±9,121
00:40 (00:19)
58
ShellShock Live
Mar 11, 2015
$4.19
67% (88%)
861,997 ±25,706
834,463 ±25,293
26:23 (09:28)
59
CUPID - A free to play Visual Novel
Mar 4, 2016
Free
67% (88%)
151,940 ±10,801
72,352 ±7,454
01:57 (00:37)
60
Jacob Jones and the Bigfoot Mystery : Episode 2
Sep 23, 2014
$3.99
N/A (N/A)
1,608 ±1,111
201 ±392
01:39 (00:33)
61
Space Engineers
Oct 23, 2013
$9.99
67% (88%)
2,198,906 ±40,991
1,990,893 ±39,014
50:40 (08:46)
62
Delver
Sep 6, 2013
$7.99
67% (88%)
139,278 ±10,342
107,524 ±9,087
02:45 (01:13)
63
Art of War: Red Tides
Dec 22, 2016
Free
64% (87%)
578,014 ±21,057
447,780 ±18,537
04:55 (00:44)
64
Dragon Knight
Nov 22, 2016
$2.39
64% (87%)
27,735 ±4,615
20,098 ±3,929
01:40 (01:14)
65
Nimble Writer
Apr 21, 2015
$7.49
64% (87%)
5,627 ±2,079
5,627 ±2,079
267:45 (22:30)
66
Max Gentlemen
Aug 21, 2014
Free
64% (87%)
265,292 ±14,271
122,999 ±9,719
00:27 (00:08)
67
Pilot Brothers 2
Dec 31, 2014
$1.24
N/A (N/A)
13,265 ±3,192
1,809 ±1,178
01:01 (01:22)
68
Disgaea PC
Feb 24, 2016
$7.99
64% (87%/74%)
130,234 ±10,000
101,695 ±8,837
16:00 (03:13)
69
Magicite
Jun 9, 2014
$4.99
64% (87%)
440,545 ±18,387
404,168 ±17,612
13:08 (06:26)
70
UnderRail
Dec 18, 2015
$7.49
64% (87%/72%)
110,940 ±9,230
62,705 ±6,940
19:30 (02:39)
71
Empyrion - Galactic Survival
Aug 5, 2015
$9.99
64% (87%)
335,835 ±16,055
311,115 ±15,454
56:24 (10:50)
72
FINAL FANTASY XIV Online
Feb 18, 2014
$15.99
62% (86%/83%)
641,523 ±22,182
533,598 ±20,233
242:51 (41:12)
73
Tyranny
Nov 10, 2016
$22.49
62% (86%/80%)
202,385 ±12,466
177,665 ±11,680
25:38 (14:39)
74
Knights of Pen and Paper +1 Edition
Jun 18, 2013
$2.49
59% (85%)
430,496 ±18,176
293,831 ±15,019
06:32 (03:00)
75
Stonehearth
Jun 3, 2015
$19.99
59% (85%)
199,170 ±12,366
191,533 ±12,127
23:49 (11:36)
76
Kenshi
$17.99
59% (85%)
139,881 ±10,364
131,641 ±10,054
33:35 (06:28)
77
Razenroth
Aug 28, 2015
$0.49
56% (84%)
43,612 ±5,788
27,936 ±4,632
04:45 (05:04)
78
Grand Pigeon's Duty
Aug 5, 2016
$0.62
56% (84%)
93,053 ±8,454
81,396 ±7,906
04:10 (04:30)
79
The Bellows
Sep 13, 2016
Free
56% (84%)
81,195 ±7,897
35,975 ±5,256
00:36 (00:11)
80
FINAL FANTASY IV
Sep 17, 2014
$7.99
54% (83%)
173,645 ±11,547
105,916 ±9,019
19:38 (05:01)
81
Exanima
Apr 29, 2015
$14.99
54% (83%)
70,744 ±7,371
67,529 ±7,202
13:11 (04:24)
82
Road Redemption
Sep 18, 2014
$17.99
54% (83%)
91,043 ±8,362
81,999 ±7,936
04:26 (01:51)
83
Codename CURE
Jul 17, 2015
Free
51% (82%)
1,812,022 ±37,228
1,225,567 ±30,638
02:19 (00:38)
84
Stellar Tactics
Sep 22, 2016
$19.99
51% (82%)
7,637 ±2,422
6,632 ±2,257
17:25 (04:10)
85
Spaceport Hope
Apr 15, 2016
$0.49
49% (81%)
126,415 ±9,853
75,367 ±7,608
03:21 (03:09)
86
How To Make Your Grandpa Happy
Oct 25, 2016
Free
N/A (N/A)
13,265 ±3,192
201 ±392
00:01 (00:00)
87
7 Days to Die
Dec 13, 2013
$9.99
46% (80%)
2,305,224 ±41,965
2,213,979 ±41,131
71:16 (14:18)
88
Rising World
Dec 3, 2014
$11.24
46% (80%)
106,720 ±9,053
100,087 ±8,767
17:08 (04:43)
89
Planet Centauri
Jun 3, 2016
$13.49
46% (80%)
27,534 ±4,599
25,926 ±4,462
09:00 (05:04)
90
Disney High School Musical 3: Senior Year Dance
Feb 24, 2015
$4.99
N/A (N/A)
1,753 ±1,981
584 ±1,144
00:12 (00:12)
91
Small Radios Big Televisions
Nov 8, 2016
$7.19
N/A (N/A/67%)
85,818 ±8,118
11,255 ±2,940
00:59 (00:26)
92
TerraTech
Feb 6, 2015
$13.39
46% (80%)
213,037 ±12,789
208,415 ±12,650
22:53 (07:47)
93
Age of Enigma: The Secret of the Sixth Ghost
May 11, 2015
$1.99
N/A (N/A)
12,863 ±3,143
804 ±785
01:45 (01:30)
94
The Storm Guard: Darkness is Coming
Aug 25, 2016
$13.39
44% (79%)
2,814 ±1,470
2,010 ±1,242
14:21 (20:24)
95
Guild Quest
Jan 26, 2017
Free
44% (79%)
322,771 ±15,740
282,174 ±14,718
12:18 (00:29)
96
FINAL FANTASY VI
Dec 16, 2015
$7.99
44% (79%)
112,749 ±9,305
65,318 ±7,083
15:11 (03:09)
97
Joe Dever's Lone Wolf HD Remastered
Nov 27, 2014
$3.74
42% (78%/78%)
68,534 ±7,255
38,588 ±5,444
06:29 (05:02)
98
Cubicle Quest
Feb 25, 2015
$0.49
42% (78%)
159,376 ±11,063
104,911 ±8,976
03:32 (03:11)
99
Stranded Deep
Jan 23, 2015
$10.49
42% (78%)
818,585 ±25,052
803,110 ±24,815
12:00 (04:48)
100
Wolcen: Lords of Mayhem
Mar 24, 2016
$14.99
40% (77%)
49,843 ±6,187
44,014 ±5,814
03:46 (01:39)
101
NVIDIA VR Funhouse
Jul 14, 2016
Free
38% (76%)
208,817 ±12,662
134,656 ±10,169
01:01 (00:19)
102
IKEA VR Experience
Apr 4, 2016
Free
38% (76%)
177,866 ±11,686
85,215 ±8,090
00:34 (00:04)
103
Duke Grabowski, Mighty Swashbuckler
Oct 6, 2016
$1.88
N/A (N/A)
3,216 ±1,571
2,613 ±1,416
03:14 (03:35)
104
Lost In Woods 2
Sep 26, 2016
$0.59
N/A (N/A)
90,239 ±8,325
80,190 ±7,848
03:51 (04:00)
105
Tree of Life
May 27, 2015
$19.99
38% (76%)
83,406 ±8,003
81,597 ±7,916
56:41 (13:30)
106
Dropzone
Feb 15, 2017
Free
38% (76%)
196,356 ±12,279
138,072 ±10,297
02:33 (00:38)
107
Krita Gemini
Jun 10, 2014
$9.99
36% (75%)
2,613 ±1,416
2,613 ±1,416
12:53 (09:03)
108
Tony Tough and the Night of Roasted Moths
May 7, 2015
$2.49
N/A (N/A/68%)
4,221 ±1,800
201 ±392
17:17 (05:45)
109
Septerra Core
Sep 27, 2013
$4.99
36% (75%/72%)
327,193 ±15,848
119,582 ±9,583
03:32 (02:37)
110
Heavy Metal Machines
Jan 31, 2017
Free
36% (75%)
380,653 ±17,092
204,194 ±12,521
01:06 (00:24)
111
Erusal
Aug 11, 2016
$1.99
N/A (N/A)
5,828 ±2,116
0 ±0
00:00 (00:00)
112
Witches, Heroes and Magic
Jun 29, 2015
$1.49
N/A (N/A)
9,245 ±2,664
201 ±392
00:13 (00:04)
113
Fishing Planet
Aug 11, 2015
Free
36% (75%)
2,268,243 ±41,629
1,553,564 ±34,482
10:27 (00:42)
114
Three Heroes
Sep 16, 2015
$0.49
35% (74%)
149,126 ±10,701
100,489 ±8,785
03:44 (04:02)
115
Killing Room
Oct 20, 2016
$5.99
35% (74%)
39,392 ±5,500
35,372 ±5,212
04:04 (02:19)
116
Atom Fishing II
Nov 29, 2016
Free
33% (73%)
133,651 ±10,131
99,886 ±8,758
20:48 (00:19)
117
Governor of Poker 3
Feb 19, 2016
Free
33% (73%)
424,266 ±18,044
345,080 ±16,275
08:39 (01:00)
118
Planet in the Shadows
Apr 15, 2016
$2.59
N/A (N/A)
3,588 ±2,026
598 ±827
00:24 (00:24)
119
Call of Cthulhu: Prisoner of Ice
Nov 4, 2015
$1.49
N/A (N/A)
1,206 ±962
201 ±392
00:03 (00:01)
120
Teria
Jan 17, 2017
$1.49
N/A (N/A)
4,422 ±1,843
201 ±392
07:09 (02:23)
121
Medieval Engineers
Feb 19, 2015
$11.99
30% (71%)
267,301 ±14,325
238,160 ±13,522
09:04 (02:00)
122
Nancy Drew Dossier: Lights, Camera, Curses!
Jul 17, 2009
$4.19
N/A (N/A)
11,858 ±3,018
3,417 ±1,620
03:32 (04:00)
123
Perpetuum
Oct 17, 2014
$2.49
27% (69%)
24,720 ±4,357
21,304 ±4,045
21:27 (02:51)
124
Gods and Idols
Dec 12, 2016
Free
25% (68%)
97,475 ±8,652
73,960 ±7,537
02:20 (00:13)
125
Envy the Dead
Sep 12, 2016
$0.49
25% (68%)
58,083 ±6,679
48,637 ±6,112
03:29 (03:29)
126
The Hero Project: Redemption Season
Apr 8, 2016
$3.95
24% (67%)
3,015 ±1,521
2,412 ±1,361
04:29 (02:34)
127
Lop Nor Zombie VR (HTC Vive)
Sep 30, 2016
$2.99
N/A (N/A)
5,024 ±1,964
1,407 ±1,039
01:12 (02:08)
128
DayZ
Dec 16, 2013
$29.74
23% (66%)
3,612,991 ±52,454
3,581,839 ±52,229
82:49 (21:07)
129
The Quivering
Jan 28, 2015
$2.39
N/A (N/A)
7,034 ±2,324
201 ±392
00:21 (00:07)
130
Might & Magic X - Legacy
Jan 23, 2014
$8.49
23% (66%/70%)
166,812 ±11,318
128,626 ±9,939
41:07 (12:14)
131
Conan Exiles
Jan 30, 2017
$19.99
23% (66%)
531,789 ±20,199
521,338 ±20,000
43:51 (14:34)
132
Interfectorem
Nov 4, 2016
$2.49
N/A (N/A)
804 ±785
201 ±392
00:16 (00:05)
133
EPCH
May 17, 2016
$7.49
N/A (N/A)
2,010 ±1,242
1,407 ±1,039
16:21 (16:55)
134
Marble Mayhem: Fragile Ball
Jul 7, 2015
$0.49
22% (65%)
264,689 ±14,255
179,876 ±11,752
03:15 (03:10)
135
Audition Online
Jun 3, 2015
Free
22% (65%)
442,354 ±18,424
173,042 ±11,527
08:18 (00:24)
136
RoShamBo
Jul 14, 2016
Free
21% (64%)
184,900 ±11,915
115,965 ±9,437
01:13 (00:18)
137
Call to Arms
Nov 21, 2016
Free
19% (63%)
280,566 ±14,676
170,631 ±11,446
10:16 (01:51)
138
Nomad
Jun 26, 2015
Free
19% (63%)
302,674 ±15,243
232,934 ±13,373
04:40 (00:34)
139
H1Z1 : Just Survive
Jan 15, 2015
$9.99
19% (63%)
2,801,640 ±46,236
2,740,141 ±45,729
61:29 (15:31)
140
Skara - The Blade Remains
Oct 27, 2014
Free
18% (62%)
267,301 ±14,325
111,945 ±9,272
01:24 (00:29)
141
The Archetype
Sep 16, 2015
$1.99
N/A (N/A)
17,485 ±3,664
1,206 ±962
00:20 (00:26)
142
Black Rainbow
Apr 30, 2014
$2.79
N/A (N/A)
7,235 ±2,357
201 ±392
01:49 (00:36)
143
Savage Lands
Mar 5, 2015
$5.99
17% (61%)
488,378 ±19,358
296,845 ±15,095
06:03 (01:37)
144
LogoMaker 4
Dec 4, 2013
$14.99
16% (60%)
2,211 ±1,303
2,010 ±1,242
15:54 (14:52)
145
Beyond Divinity
Oct 29, 2012
$0.59
15% (59%/73%)
393,918 ±17,387
57,882 ±6,667
02:06 (00:07)
146
BLOCKADE 3D
Dec 19, 2014
Free
15% (59%)
3,835,273 ±54,029
2,872,184 ±46,810
06:28 (00:50)
147
Burgers
Sep 3, 2015
$2.99
N/A (N/A)
123,200 ±9,727
89,837 ±8,306
04:37 (04:10)
148
Metal War Online: Retribution
Dec 2015
Free
13% (56%)
434,114 ±18,252
307,095 ±15,354
03:00 (00:17)
149
Frozen Free Fall: Snowball Fight
Sep 15, 2015
Free
13% (56%)
221,277 ±13,034
112,548 ±9,297
10:11 (00:25)
150
Survival: Postapocalypse Now
Apr 16, 2015
$1.24
13% (56%)
144,504 ±10,534
129,229 ±9,962
08:54 (02:15)
151
Clicker Guild
Dec 16, 2016
Free
12% (55%)
147,920 ±10,658
113,754 ±9,346
06:29 (00:58)
152
Warriors of Vilvatikta
Aug 26, 2016
$0.49
N/A (N/A)
156,160 ±10,950
109,332 ±9,163
03:17 (03:30)
153
Pirate Hell
Nov 7, 2014
$5.99
N/A (N/A)
2,211 ±1,303
804 ±785
01:20 (01:30)
154
D.W.A.R.F.S.
Mar 20, 2014
$0.89
N/A (N/A)
4,623 ±1,884
402 ±555
02:25 (01:36)
155
ASA: A Space Adventure - Remastered Edition
Mar 4, 2015
$3.59
N/A (N/A)
2,010 ±1,242
1,005 ±878
01:49 (00:49)
156
Premium Pool
Mar 14, 2016
Free
N/A (N/A)
254,238 ±13,971
181,082 ±11,792
01:19 (00:17)
157
Rolling Sun
Jun 3, 2015
$0.49
10% (51%)
160,984 ±11,118
110,739 ±9,222
02:52 (03:10)
158
Judgement
Sep 15, 2015
$4.99
N/A (N/A)
10,049 ±2,778
804 ±785
01:59 (01:48)
159
Rover The Dragonslayer
Jun 2, 2016
$1.99
N/A (N/A)
11,255 ±2,940
402 ±555
01:08 (00:45)
160
The Minims
Apr 1, 2016
$3.99
N/A (N/A/73%)
598 ±827
598 ±827
29:00 (28:59)
161
Battle Ranch: Pigs vs Plants
Feb 2, 2015
$0.49
9% (50%)
139,278 ±10,342
104,107 ±8,941
04:31 (03:30)
162
High Profits
Jan 12, 2017
Free
7% (47%)
152,342 ±10,816
134,455 ±10,161
17:47 (00:45)
163
Campaign Clicker
Oct 5, 2016
Free
6% (45%)
107,122 ±9,070
75,568 ±7,618
04:03 (00:13)
164
Pilot Brothers 3: Back Side of the Earth
Jan 22, 2015
$1.24
N/A (N/A)
7,235 ±2,357
603 ±680
00:03 (00:02)
165
HOMEBOUND
Feb 16, 2017
$2.24
6% (44%)
2,412 ±1,361
1,407 ±1,039
01:33 (01:58)
166
Piata
Sep 1, 2016
Free
N/A (N/A)
30,750 ±4,860
5,828 ±2,116
00:46 (00:06)
167
Daylight's End VR Edition
Aug 26, 2016
Free
N/A (N/A)
30,951 ±4,876
5,225 ±2,003
00:06 (00:04)
168
Elansar
Jan 11, 2016
$1.49
N/A (N/A)
2,814 ±1,470
201 ±392
01:57 (00:39)
169
Jurassic Survival
Aug 1, 2016
$8.99
N/A (N/A)
8,843 ±2,606
603 ±680
00:07 (00:05)
170
Nicolas Eymerich The Inquisitor Book II : The Village
Jan 22, 2015
$0.99
N/A (N/A)
22,108 ±4,121
804 ±785
05:54 (05:12)
171
Otherland MMO
Sep 12, 2016
Free
3% (37%)
51,651 ±6,298
20,902 ±4,007
02:03 (00:24)
172
Dungeon Lurk II - Leona
Oct 27, 2014
$9.99
N/A (N/A)
11,456 ±2,966
1,407 ±1,039
00:14 (00:20)
173
The Lost City Of Malathedra
Mar 31, 2015
$0.79
N/A (N/A)
4,221 ±1,800
201 ±392
00:01 (00:00)
174
Plan Z Chapter 1
Jun 5, 2016
$0.99
N/A (N/A)
598 ±827
299 ±584
00:03 (00:01)
175
Alone K.W.
Feb 29, 2016
$0.49
N/A (N/A)
2,010 ±1,242
1,206 ±962
00:11 (00:12)
176
Space Rift NON-VR - Episode 1
Dec 13, 2016
$4.49
N/A (N/A)
2,010 ±1,242
0 ±0
00:00 (00:00)
177
Devoured Time
Aug 8, 2016
$10.99
N/A (N/A)
2,613 ±1,416
0 ±0
00:00 (00:00)
178
Drunk Wizards
Jun 6, 2016
$7.99
N/A (N/A)
25,524 ±4,428
1,407 ±1,039
00:01 (00:00)