Sayaka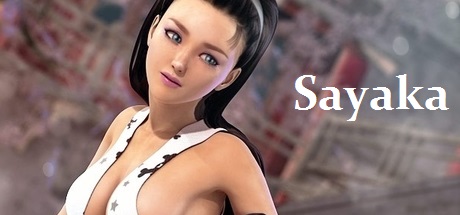 Store | Hub | SteamDB
Developer: RyuVsCloud Publisher: RyuVsCloud
Genre: Violent, Action, Adventure
Languages: English
Tags: Action (36), Adventure (35), Violent (25), Sexual Content (21), Female Protagonist (19), Side Scroller (11), Nudity (6)
Category: Single-player, Steam Achievements, Steam Trading Cards, Partial Controller Support
Release date: Jan 4, 2017
Price: $0.99
Score rank: 0% Userscore: 20% Old userscore: 22%
Followers: 429
Peak concurrent players yesterday: 1
YouTube stats: 20 views and 0 comments for videos uploaded last week, 0 new videos uploaded yesterday.

Steam Spy is still in beta, so expect major bugs.
Peak daily concurrent players:
CCU data courtesy of SteamDB. Used with permission.
Hourly concurrent players:
YouTube:
The views data is based on top 50 videos uploaded last week. Actual number of views might be more than the number shown.

The displayed number of videos uploaded yesterday is limited to 50, so if there were more videos uploaded, the number will still show 50.

If the game has commonly used word as its name (like "FEAR" or "Volume") its number of Youtube views might be wrong.
Games similar to this one:
#
Game
Release date

Price

Score rank
(Userscore / Metascore)

Owners

Players

Playtime (Median)

1
Tinertia
Sep 3, 2015
$11.99
N/A (N/A)
6,019 ±2,403
4,514 ±2,081
04:33 (02:50)
2
illumine
Sep 29, 2016
$5.99
N/A (N/A)
7,022 ±2,595
4,013 ±1,962
03:52 (03:33)
3
Decisive Campaigns: Barbarossa
Apr 29, 2016
$49.99
N/A (N/A)
4,514 ±2,081
3,260 ±1,768
10:47 (10:08)
4
Strania - The Stella Machina -
Nov 24, 2015
$14.99
N/A (N/A)
3,009 ±1,699
2,257 ±1,471
00:36 (00:41)
5
Airtone
Jun 8, 2017
$29.99
92% (95%)
3,260 ±1,768
3,260 ±1,768
03:22 (03:23)
6
Super Mutant Alien Assault
Jul 11, 2016
$9.99
N/A (N/A)
3,260 ±1,768
2,508 ±1,551
05:09 (05:30)
7
Fragile Allegiance
Jun 30, 2015
$4.99
N/A (N/A)
2,006 ±1,387
1,505 ±1,201
01:02 (01:59)
8
Wing IDE 5
Apr 30, 2014
$79.99
N/A (N/A)
1,134 ±1,281
1,134 ±1,281
113:04 (158:12)
9
Kittypocalypse
Aug 15, 2016
$14.99
74% (90%)
6,019 ±2,403
5,267 ±2,248
02:11 (01:31)
10
Danmaku Unlimited 3
Mar 9, 2017
$9.99
71% (89%)
4,263 ±2,022
3,260 ±1,768
02:01 (02:01)
11
Mystik Belle
May 22, 2015
$14.99
65% (87%)
4,765 ±2,138
1,254 ±1,096
01:47 (01:32)
12
Viking Saga: New World
Nov 5, 2015
$3.99
N/A (N/A)
752 ±849
502 ±693
09:50 (06:33)
13
Overdriven Reloaded
Oct 7, 2016
$7.99
N/A (N/A)
1,254 ±1,096
502 ±693
00:41 (00:27)
14
Eldritch Hunter
Jan 27, 2017
$4.99
N/A (N/A)
6,019 ±2,403
3,260 ±1,768
03:05 (03:14)
15
Sudden Strike 2 Gold
May 22, 2017
$5.99
N/A (N/A)
34,358 ±5,741
14,546 ±3,736
02:59 (00:25)
16
Legends of Pixelia
Sep 14, 2015
$4.99
N/A (N/A)
3,024 ±2,092
1,890 ±1,654
05:48 (07:19)
17
Sumoman
Mar 28, 2017
$16.99
56% (84%)
10,533 ±3,179
7,775 ±2,731
03:04 (01:28)
18
Tank Warfare: Tunisia 1943
May 1, 2017
$39.99
51% (82%)
4,514 ±2,081
3,260 ±1,768
06:55 (03:12)
19
BULLET SOUL / - -
Apr 6, 2017
$14.99
N/A (N/A/76%)
4,013 ±1,962
2,759 ±1,627
04:37 (03:43)
20
TOKYO WARFARE
Jul 29, 2016
$14.99
49% (81%)
5,016 ±2,193
4,765 ±2,138
03:15 (03:50)
21
Caladrius Blaze
Jan 11, 2017
$24.99
49% (81%)
8,778 ±2,902
6,521 ±2,501
02:13 (00:46)
22
Viking Saga: The Cursed Ring
Oct 29, 2015
$2.99
N/A (N/A)
1,505 ±1,201
1,254 ±1,096
18:05 (24:45)
23
Deputy Dangle
Jul 29, 2016
$9.99
N/A (N/A)
1,505 ±1,201
1,003 ±981
05:41 (06:26)
24
Kalaban
Dec 29, 2016
$9.99
N/A (N/A)
6,019 ±2,403
2,759 ±1,627
03:34 (03:57)
25
Dungeon Punks
Aug 24, 2016
$14.99
N/A (N/A)
1,756 ±1,297
752 ±849
00:57 (00:56)
26
8-Bit Armies: Arena
Feb 10, 2017
$4.99
39% (76%)
7,273 ±2,641
6,270 ±2,452
16:08 (07:51)
27
Firefight
Jul 11, 2016
$9.99
N/A (N/A)
1,512 ±1,479
1,134 ±1,281
01:46 (02:26)
28
Automata Empire
Apr 8, 2016
$8.99
N/A (N/A)
3,511 ±1,835
3,260 ±1,768
02:10 (02:13)
29
Front Defense
Jul 7, 2017
$19.99
27% (69%/60%)
4,514 ±2,081
3,511 ±1,835
03:36 (01:24)
30
1775: Rebellion
Sep 29, 2016
$24.99
N/A (N/A)
2,257 ±1,471
1,756 ±1,297
04:30 (07:21)
31
JET HERO
Feb 16, 2017
$0.99
N/A (N/A)
6,771 ±2,549
4,765 ±2,138
06:06 (05:45)
32
Deathlike: Awakening
Apr 28, 2017
$9.99
N/A (N/A)
1,890 ±1,654
1,134 ±1,281
00:12 (00:18)
33
JUMP
Jul 30, 2015
$9.99
N/A (N/A)
1,525 ±2,112
1,525 ±2,112
00:05 (00:08)
34
Crimson Earth
Jun 10, 2017
$3.99
17% (61%)
60,441 ±7,615
55,676 ±7,308
07:14 (07:14)
35
Cults and Daggers
Feb 12, 2015
$29.99
N/A (N/A)
1,756 ±1,297
1,756 ±1,297
02:34 (03:25)
36
3D Chess
Dec 6, 2016
$9.99
N/A (N/A)
4,263 ±2,022
2,508 ±1,551
02:33 (04:29)
37
Defence to death
May 11, 2017
$1.99
N/A (N/A)
89,281 ±9,255
86,774 ±9,124
04:12 (04:06)
38
Inner Chains
May 18, 2017
$19.99
7% (47%/40%)
5,016 ±2,193
3,511 ±1,835
03:04 (02:00)
39
Direct Hit: Missile War
Aug 7, 2014
$9.99
N/A (N/A)
1,134 ±1,281
756 ±1,046
03:25 (03:24)
40
Xmas Zombie Rampage
Dec 21, 2016
$9.99
N/A (N/A)
1,505 ±1,201
502 ±693
00:23 (00:15)