Anime! Oi history!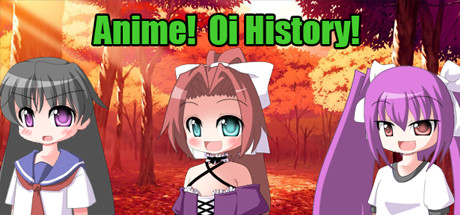 Store | Hub | SteamDB
Developer: DigM Publishing Publisher: DigM Publishing
Genre: Adventure, Casual, Indie, Simulation
Languages: English
Tags: Indie (21), Adventure (21), Casual (21), Simulation (20), Anime (6)
Category: Single-player, Steam Trading Cards
Release date: Jan 19, 2017
Price: $0.99
Followers: 76

Steam Spy is still in beta, so expect major bugs.
Peak daily concurrent players:
CCU data courtesy of SteamDB. Used with permission.
Hourly concurrent players:
YouTube:
The views data is based on top 50 videos uploaded last week. Actual number of views might be more than the number shown.

The displayed number of videos uploaded yesterday is limited to 50, so if there were more videos uploaded, the number will still show 50.

If the game has commonly used word as its name (like "FEAR" or "Volume") its number of Youtube views might be wrong.
Games similar to this one:
#
Game
Release date

Price

Score rank
(Userscore / Metascore)

Owners

Players

Playtime (Median)

1
Playing History - The Plague
Oct 21, 2015
$3.99
N/A (N/A)
19,874 ±4,459
2,877 ±1,696
00:36 (00:40)
2
Arkhelom 3D
May 29, 2015
$3.99
N/A (N/A)
38,703 ±6,223
1,831 ±1,353
00:17 (00:02)
3
The Orb Chambers II
Aug 1, 2016
$6.99
N/A (N/A)
163,180 ±12,776
135,983 ±11,663
04:58 (04:24)
4
Escape from Puzzlegate
Oct 14, 2015
$1.99
N/A (N/A)
9,414 ±3,069
6,276 ±2,506
04:17 (04:41)
5
Astral Breakers
Feb 4, 2016
$4.99
N/A (N/A)
6,538 ±2,557
4,446 ±2,109
04:16 (04:53)
6
Multimirror
Nov 14, 2016
$4.99
N/A (N/A)
150,889 ±12,286
112,447 ±10,606
03:30 (03:30)
7
Heart of Ember CH1
Jul 27, 2015
$1.99
N/A (N/A)
5,753 ±2,399
262 ±511
00:01 (00:00)
8
Marblize
Nov 25, 2016
$11.99
N/A (N/A)
6,015 ±2,453
3,923 ±1,981
05:44 (03:10)
9
Fly, Glowfly!
Jul 8, 2016
$4.99
N/A (N/A)
4,184 ±2,046
3,400 ±1,844
02:49 (03:20)
10
Innoquous 5
May 13, 2016
$4.99
N/A (N/A)
6,799 ±2,608
4,184 ±2,046
03:59 (03:54)
11
Running Gods
Sep 13, 2016
$4.99
N/A (N/A)
7,061 ±2,658
5,230 ±2,287
06:14 (05:00)
12
Mondrian - Abstraction in Beauty
Sep 21, 2015
$4.99
N/A (N/A)
14,383 ±3,793
11,768 ±3,431
04:11 (04:35)
13
Funklift
Jun 8, 2016
$9.99
N/A (N/A)
8,630 ±2,938
4,707 ±2,170
04:26 (03:16)
14
The Wizards Who Fell In A Hole
Dec 9, 2016
$1.99
N/A (N/A)
1,183 ±1,337
789 ±1,091
00:19 (00:19)
15
WORLD END ECONOMiCA episode.03
Dec 21, 2016
$12.99
97% (97%)
87,081 ±9,334
2,354 ±1,534
16:26 (39:01)
16
Bad Sector HDD
Oct 14, 2016
$0.99
N/A (N/A)
2,354 ±1,534
1,831 ±1,353
04:18 (08:00)
17
My Little Kitties
Jun 21, 2016
$9.99
N/A (N/A)
2,615 ±1,617
1,308 ±1,143
00:10 (00:08)
18
L U N E
Jun 20, 2016
$2.99
N/A (N/A)
1,569 ±1,253
1,308 ±1,143
00:16 (00:21)
19
Holopoint
Apr 4, 2016
$14.99
82% (92%)
48,902 ±6,995
45,502 ±6,747
02:25 (00:54)
20
RAYGUN COMMANDO VR
Jan 23, 2017
Free
N/A (N/A)
19,874 ±4,459
13,337 ±3,653
00:43 (00:12)
21
Kings of Israel
Dec 21, 2015
$5.99
N/A (N/A)
7,845 ±2,801
5,230 ±2,287
07:38 (04:28)
22
Safety First!
Sep 8, 2016
$2.99
70% (89%)
12,029 ±3,469
7,061 ±2,658
01:25 (01:22)
23
Cut the Rope
Mar 22, 2013
$4.99
N/A (N/A)
5,492 ±2,344
3,923 ±1,981
29:57 (18:48)
24
Kubz VR
Sep 5, 2016
$3.99
N/A (N/A)
4,707 ±2,170
785 ±886
01:50 (00:54)
25
Light Repair Team #4
Apr 5, 2016
$7.99
N/A (N/A)
3,138 ±1,772
2,092 ±1,446
01:22 (01:44)
26
Delicious - Emily's Christmas Carol
Nov 4, 2016
$12.99
61% (86%)
3,400 ±1,844
2,354 ±1,534
19:47 (23:49)
27
Lightbender
Dec 17, 2015
$2.99
N/A (N/A)
2,366 ±1,890
1,577 ±1,543
07:48 (09:47)
28
Spell Casting: Meowgically Enhanced Edition
Sep 2, 2016
$3.99
N/A (N/A)
3,400 ±1,844
2,092 ±1,446
05:09 (06:05)
29
Robo Miner
Jun 11, 2015
$2.99
N/A (N/A)
5,492 ±2,344
523 ±723
02:55 (01:56)
30
Ballistic Tanks
Sep 20, 2016
$4.99
56% (84%)
7,584 ±2,754
6,015 ±2,453
01:40 (00:48)
31
Super Markup Man
Aug 16, 2016
$3.99
N/A (N/A)
2,354 ±1,534
2,354 ±1,534
00:50 (01:02)
32
Veilia
Aug 23, 2016
$3.99
N/A (N/A)
6,015 ±2,453
4,707 ±2,170
03:37 (03:04)
33
Anomaly 1729
Dec 30, 2015
$9.99
N/A (N/A/49%)
7,845 ±2,801
262 ±511
00:01 (00:00)
34
Soko Match
Sep 16, 2016
$0.99
N/A (N/A)
2,354 ±1,534
1,569 ±1,253
01:39 (02:39)
35
Atlantis: Pearls of the Deep
Sep 6, 2016
$6.99
N/A (N/A)
4,707 ±2,170
3,138 ±1,772
12:12 (03:36)
36
Dragon Rage
Jul 22, 2016
$6.99
37% (75%)
4,184 ±2,046
3,661 ±1,914
00:45 (00:34)
37
Project Graviton
Feb 15, 2016
$1.99
N/A (N/A)
10,722 ±3,275
6,015 ±2,453
02:00 (02:02)
38
Tentacult!
Sep 23, 2016
$3.99
N/A (N/A)
789 ±1,091
394 ±771
00:18 (00:09)
39
ConflictCraft
Dec 8, 2016
$2.99
N/A (N/A)
22,751 ±4,771
21,966 ±4,688
04:20 (04:39)
40
CRACKHEAD
Nov 10, 2016
$0.99
N/A (N/A)
531,379 ±23,048
429,392 ±20,720
03:26 (03:30)
41
Brushwood Buddies
Feb 17, 2016
$2.99
N/A (N/A)
16,998 ±4,124
11,506 ±3,393
04:27 (03:04)
42
Will of the Gods
Aug 29, 2016
$2.99
N/A (N/A)
1,569 ±1,253
1,569 ±1,253
01:00 (01:14)
43
Blaite
Jan 2, 2017
$0.99
33% (73%)
88,127 ±9,390
73,222 ±8,559
03:42 (03:29)
44
Build 'n Bump
Jul 22, 2015
$2.99
N/A (N/A)
9,676 ±3,111
6,276 ±2,506
04:07 (03:36)
45
Astral Gun
Feb 2, 2016
$1.99
N/A (N/A)
789 ±1,091
394 ±771
00:39 (00:19)
46
WonderCat Adventures
Sep 11, 2015
$2.99
N/A (N/A)
5,753 ±2,399
4,707 ±2,170
03:40 (02:51)
47
Solitaire Royale
Sep 15, 2016
Free
N/A (N/A)
20,920 ±4,575
2,092 ±1,446
07:00 (09:27)
48
MAGATAMA Earrings
Jun 14, 2016
$6.99
N/A (N/A)
789 ±1,091
0 ±0
00:00 (00:00)
49
Forgotten Tales: Day of the Dead
May 27, 2016
$9.99
N/A (N/A)
7,322 ±2,706
5,230 ±2,287
08:40 (11:30)
50
Android John
Jun 28, 2016
$2.99
N/A (N/A)
23,012 ±4,798
15,429 ±3,929
05:10 (05:18)
51
Mini Metal
Apr 22, 2016
$9.99
N/A (N/A)
8,368 ±2,893
2,092 ±1,446
04:16 (07:15)
52
BowMage
Sep 26, 2016
$9.99
N/A (N/A)
784 ±1,536
0 ±0
00:00 (00:00)
53
Black Hat Cooperative
Jul 29, 2016
$9.99
N/A (N/A)
3,923 ±1,981
3,400 ±1,844
00:45 (00:41)
54
Power of Love
Jul 21, 2015
$0.49
N/A (N/A)
35,826 ±5,987
27,458 ±5,241
03:33 (03:54)
55
Deadlands Noir - That Old Time Religion
Jul 3, 2015
$0.99
N/A (N/A)
13,598 ±3,688
8,368 ±2,893
05:41 (03:19)
56
Redemption: Eternal Quest
Aug 28, 2015
$1.99
N/A (N/A)
160,303 ±12,663
146,443 ±12,104
03:47 (03:30)
57
Disposable Heroes
Mar 22, 2016
$4.99
N/A (N/A)
12,814 ±3,580
6,799 ±2,608
03:43 (03:38)
58
Songs2See
Nov 26, 2013
$14.99
10% (52%)
5,753 ±2,399
4,969 ±2,229
00:44 (00:29)
59
Spellbind : Luppe's tale
Mar 4, 2016
$2.99
N/A (N/A)
9,153 ±3,026
7,322 ±2,706
04:05 (04:01)
60
Dexodonex
Dec 7, 2016
$4.99
N/A (N/A)
113,493 ±10,656
109,571 ±10,470
03:39 (03:30)
61
Abduction Action! Plus
Sep 1, 2015
$1.99
N/A (N/A)
12,552 ±3,544
2,092 ±1,446
35:34 (00:14)
62
Diorama Battle of NINJA3D
Sep 19, 2016
$6.99
N/A (N/A)
1,569 ±1,253
1,046 ±1,023
04:24 (05:50)
63
SuperMoose
Nov 5, 2016
$1.99
N/A (N/A)
7,584 ±2,754
4,707 ±2,170
04:38 (03:15)
64
Color Chemistry
Feb 25, 2016
$1.99
N/A (N/A)
8,630 ±2,938
6,799 ±2,608
04:28 (03:24)
65
Rotieer
Mar 5, 2015
$4.99
N/A (N/A)
13,075 ±3,617
0 ±0
00:00 (00:00)
66
BattleQuiz
Sep 3, 2015
$2.99
N/A (N/A)
3,923 ±1,981
262 ±511
00:10 (00:03)
67
Bathory - The Bloody Countess
Jul 6, 2016
$5.99
N/A (N/A)
3,138 ±1,772
3,138 ±1,772
04:19 (03:55)
68
Campfire: One of Us Is the Killer
Dec 7, 2016
$2.99
N/A (N/A)
24,320 ±4,933
23,797 ±4,879
04:04 (04:20)
69
Galactic Fighter
Dec 5, 2016
$0.49
N/A (N/A)
125,000 ±11,183
111,924 ±10,582
03:29 (03:30)
70
Plith
Jun 2, 2016
$2.99
N/A (N/A)
13,860 ±3,724
5,230 ±2,287
02:19 (02:24)
71
Bloxitivity
Jan 21, 2016
$11.99
N/A (N/A)
6,276 ±2,506
4,969 ±2,229
05:25 (03:11)
72
Shmup Love Boom
Sep 18, 2015
$2.99
N/A (N/A)
6,538 ±2,557
0 ±0
00:00 (00:00)
73
Radial Impact
Aug 3, 2015
$0.99
N/A (N/A)
8,107 ±2,848
262 ±511
00:02 (00:00)