Titan Attacks!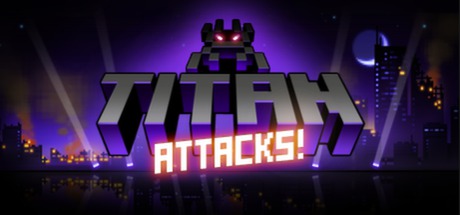 Store | Hub | SteamDB | Site
Developer: Puppygames Publisher: Puppy Games
Genre: Action, Casual, Indie
Languages: English
Tags: Indie (55), Arcade (52), Action (48), Casual (43), Retro (32), Shooter (31), 2D (19), Sci-fi (16), Pixel Graphics (13), Singleplayer (13), Shoot 'Em Up (10), Aliens (5)
Category: Single-player, Steam Achievements, Steam Trading Cards, Partial Controller Support, Steam Cloud, Steam Leaderboards
Release date: Feb 3, 2012
Price: $9.99
Score rank: 81% Userscore: 92% Old userscore: 90%
Owners: 140,234 ± 10,398
Players in the last 2 weeks: 915 ± 1,033 (0.65%)
Players total: 82,123 ± 7,957 (58.56%)
Followers: 811
Peak concurrent players yesterday: 9
YouTube stats: 3 views and 0 comments for videos uploaded last week, 0 new videos uploaded yesterday.
Playtime in the last 2 weeks: 00:28 (average) 00:33 (median)
Playtime total: 03:03 (average) 01:33 (median)

Steam Spy is still in beta, so expect major bugs.
Peak daily concurrent players:
CCU data courtesy of SteamDB. Used with permission.
Hourly concurrent players:
YouTube:
The views data is based on top 50 videos uploaded last week. Actual number of views might be more than the number shown.

The displayed number of videos uploaded yesterday is limited to 50, so if there were more videos uploaded, the number will still show 50.

If the game has commonly used word as its name (like "FEAR" or "Volume") its number of Youtube views might be wrong.
Games similar to this one:
#
Game
Release date

Price

Score rank
(Userscore / Metascore)

Owners

Players

Playtime (Median)

1
Chicken Invaders 4
Jun 6, 2014
$4.99
97% (97%)
13,721 ±3,253
11,703 ±3,004
14:43 (05:36)
2
Escape Goat
Oct 9, 2013
$4.99
97% (97%)
38,741 ±5,466
28,652 ±4,700
02:53 (02:08)
3
I and Me
May 4, 2016
$9.99
95% (96%)
5,851 ±2,124
5,044 ±1,972
02:18 (02:12)
4
Critter Crunch
Sep 11, 2012
$6.99
92% (95%)
45,803 ±5,943
22,599 ±4,174
06:40 (01:13)
5
Super Puzzle Platformer Deluxe
May 24, 2013
$7.99
92% (95%)
71,832 ±7,442
36,118 ±5,277
04:42 (01:19)
6
Velocibox
Sep 8, 2014
$7.99
89% (94%)
76,473 ±7,679
44,189 ±5,837
03:10 (02:10)
7
Season of 12 Colors
Mar 14, 2016
$2.99
89% (94%)
18,362 ±3,763
13,923 ±3,276
02:34 (02:17)
8
Transcripted
$7.99
N/A (N/A/78%)
30,266 ±4,831
14,326 ±3,324
02:46 (01:03)
9
6180 the moon
Sep 19, 2014
$3.99
81% (92%)
19,572 ±3,885
15,335 ±3,439
02:56 (01:44)
10
Stray Cat Crossing
Aug 28, 2015
$2.99
81% (92%)
18,362 ±3,763
11,098 ±2,925
03:36 (01:40)
11
Unmechanical
Aug 8, 2012
$9.99
81% (92%/74%)
88,983 ±8,283
33,898 ±5,113
03:19 (02:08)
12
Inside My Radio
May 11, 2015
$14.99
77% (91%/68%)
22,801 ±4,193
10,089 ±2,789
03:01 (02:13)
13
Canabalt
Apr 30, 2015
$2.99
74% (90%)
32,082 ±4,974
13,923 ±3,276
01:48 (01:02)
14
Ultratron
Mar 18, 2013
$9.99
74% (90%)
87,772 ±8,227
57,708 ±6,671
02:42 (01:37)
15
That Dragon, Cancer
Jan 11, 2016
$9.99
74% (90%/78%)
33,697 ±5,097
20,379 ±3,964
02:04 (01:45)
16
Ephemerid: A Musical Adventure
Feb 3, 2015
$1.99
70% (89%)
9,887 ±2,761
5,650 ±2,087
02:06 (01:37)
17
Bermuda
Mar 17, 2015
$2.99
N/A (N/A)
78,894 ±7,799
31,073 ±4,895
03:23 (02:45)
18
Lumini
Sep 3, 2015
$12.99
N/A (N/A/69%)
9,282 ±2,675
4,237 ±1,807
01:36 (01:56)
19
Lumino City
Dec 2, 2014
$19.99
70% (89%/70%)
187,248 ±12,015
46,408 ±5,982
02:39 (01:16)
20
Retro/Grade
Mar 20, 2013
$9.99
67% (88%)
80,912 ±7,899
39,750 ±5,536
02:39 (01:53)
21
Old Man's Journey
May 17, 2017
$7.99
67% (88%/76%)
8,475 ±2,556
5,650 ±2,087
01:15 (01:02)
22
Ballpoint Universe - Infinite
Dec 17, 2013
$3.99
64% (87%)
130,347 ±10,025
71,630 ±7,432
03:13 (02:04)
23
Choice Chamber
Jul 16, 2015
$9.99
64% (87%)
143,866 ±10,532
45,803 ±5,943
03:05 (01:32)
24
Chariot
Nov 12, 2014
$14.99
61% (86%/76%)
56,699 ±6,612
26,231 ±4,497
04:26 (02:06)
25
Spellsworn
Nov 2, 2015
$9.99
61% (86%)
14,730 ±3,370
8,475 ±2,556
03:18 (03:09)
26
Echo of the Wilds
Jun 10, 2014
$8.99
59% (85%)
29,056 ±4,733
17,353 ±3,658
03:10 (01:55)
27
Boogeyman 2
Feb 7, 2017
$7.99
59% (85%)
5,448 ±2,049
2,623 ±1,422
01:45 (01:46)
28
Super Galaxy Squadron EX Turbo
Jan 23, 2015
$11.99
59% (85%)
90,395 ±8,349
22,801 ±4,193
02:25 (02:01)
29
Ben and Ed - Blood Party
May 18, 2017
$14.99
59% (85%)
31,073 ±4,895
29,257 ±4,750
03:34 (02:43)
30
It came from space, and ate our brains
Mar 19, 2015
$9.99
56% (84%)
83,939 ±8,045
44,189 ±5,837
04:40 (04:09)
31
Madballs in Babo:Invasion
Sep 17, 2009
$4.99
56% (84%/79%)
96,852 ±8,642
69,007 ±7,294
06:11 (01:54)
32
Mega Coin Squad
Aug 15, 2014
$14.99
N/A (N/A/56%)
12,510 ±3,106
7,667 ±2,431
02:09 (01:34)
33
Mini Thief
Jun 13, 2016
$3.99
54% (83%)
21,388 ±4,061
12,712 ±3,131
01:27 (00:49)
34
The Novelist
Dec 10, 2013
$14.99
54% (83%/66%)
146,489 ±10,627
57,708 ±6,671
03:37 (01:39)
35
OTTTD
Aug 6, 2014
$3.99
54% (83%)
48,628 ±6,123
28,652 ±4,700
05:33 (02:02)
36
Road Not Taken
Aug 5, 2014
$14.99
54% (83%/75%)
61,743 ±6,900
41,969 ±5,689
02:56 (01:15)
37
The Sun and Moon
Nov 14, 2014
$6.99
51% (82%)
32,889 ±5,036
10,896 ±2,898
00:49 (00:14)
38
Instant Dungeon!
Nov 25, 2014
$1.99
51% (82%)
15,133 ±3,416
12,308 ±3,081
01:55 (01:01)
39
Three Fourths Home: Extended Edition
Mar 20, 2015
$4.99
N/A (N/A/77%)
23,204 ±4,230
10,492 ±2,844
02:58 (02:41)
40
NaissanceE
Feb 13, 2014
$14.99
49% (81%/66%)
63,963 ±7,023
26,836 ±4,549
02:53 (00:59)
41
Cherry Tree High I! My! Girls!
Nov 20, 2014
$1.99
49% (81%)
67,595 ±7,219
24,617 ±4,357
02:54 (01:39)
42
The Kindred
Feb 24, 2016
$14.99
N/A (N/A)
3,228 ±1,577
2,220 ±1,308
07:34 (03:52)
43
Combat Core
Aug 18, 2016
$15.99
N/A (N/A)
3,632 ±1,673
1,614 ±1,115
00:47 (00:36)
44
Tobari and the Night of the Curious Moon
May 26, 2015
$9.99
N/A (N/A)
4,641 ±1,891
2,825 ±1,476
03:00 (02:39)
45
Polyball
Jun 4, 2015
$14.99
N/A (N/A)
10,492 ±2,844
7,264 ±2,366
03:10 (02:53)
46
Amphora
Nov 12, 2014
$13.99
47% (80%)
5,044 ±1,972
3,228 ±1,577
01:59 (02:05)
47
Actual Sunlight
Apr 3, 2014
$4.99
45% (79%/77%)
15,133 ±3,416
9,483 ±2,704
01:58 (01:19)
48
NEO AQUARIUM - The King of Crustaceans -
Jun 8, 2015
$3.59
45% (79%)
33,898 ±5,113
11,905 ±3,030
01:55 (01:17)
49
Sugar Cube: Bittersweet Factory
Nov 7, 2012
$6.99
42% (78%)
56,901 ±6,624
32,688 ±5,020
02:45 (01:22)
50
ReignMaker
Apr 16, 2014
$14.99
N/A (N/A)
58,717 ±6,729
30,872 ±4,879
04:17 (01:34)
51
Master Spy
Sep 8, 2015
$9.99
40% (77%/68%)
14,931 ±3,393
8,071 ±2,495
01:25 (01:20)
52
Monsters and Monocles
Aug 16, 2016
$14.99
40% (77%)
3,228 ±1,577
2,825 ±1,476
03:44 (03:35)
53
Dwarf Tower
Dec 23, 2014
$0.99
39% (76%)
23,810 ±4,285
14,528 ±3,347
02:37 (01:17)
54
1979 Revolution: Black Friday
Apr 4, 2016
$5.99
39% (76%/80%)
24,415 ±4,339
14,326 ±3,324
02:09 (01:57)
55
A Druid's Duel
Feb 25, 2015
$3.99
39% (76%/70%)
19,169 ±3,845
8,676 ±2,586
03:47 (01:57)
56
The Wonderful End of the World
Jul 17, 2008
$9.99
37% (75%)
126,110 ±9,861
78,087 ±7,759
02:20 (01:15)
57
Really Big Sky
Feb 24, 2012
$4.99
37% (75%)
578,289 ±21,105
324,455 ±15,813
01:58 (01:16)
58
RONIN
Jun 30, 2015
$12.99
33% (73%/70%)
124,697 ±9,805
61,743 ±6,900
04:27 (02:25)
59
Cavern Kings
Sep 30, 2014
$9.99
33% (73%)
8,273 ±2,526
7,667 ±2,431
10:14 (06:32)
60
The Purge Day
Nov 25, 2016
$2.99
N/A (N/A)
4,843 ±1,932
3,228 ±1,577
00:48 (00:24)
61
Beyond Eyes
Aug 11, 2015
$14.99
33% (73%/60%)
110,573 ±9,233
32,889 ±5,036
02:30 (02:14)
62
One More Line
Aug 28, 2015
$1.34
31% (72%)
13,721 ±3,253
9,080 ±2,646
02:17 (01:23)
63
Disorder
Jan 12, 2015
$3.99
31% (72%/61%)
11,098 ±2,925
5,448 ±2,049
02:30 (02:40)
64
Concursion
Jun 6, 2014
$4.99
N/A (N/A/66%)
27,441 ±4,600
9,483 ±2,704
03:03 (01:36)
65
Volt
Apr 14, 2014
$1.99
25% (68%)
59,927 ±6,798
35,513 ±5,233
02:22 (01:22)
66
Warring States
Oct 6, 2014
$19.99
N/A (N/A)
6,659 ±2,266
3,228 ±1,577
05:56 (03:44)
67
Farlight Explorers
Mar 11, 2015
$9.89
24% (67%)
5,246 ±2,011
5,246 ±2,011
10:47 (07:19)
68
Super Treasure Arena
Sep 15, 2016
$7.99
N/A (N/A)
1,816 ±1,183
1,211 ±966
00:49 (01:16)
69
Rush Bros.
May 24, 2013
$9.99
23% (66%)
172,518 ±11,532
118,846 ±9,572
02:44 (01:20)
70
Rhythm Destruction
Jun 16, 2014
$4.99
N/A (N/A)
56,699 ±6,612
32,688 ±5,020
02:16 (01:54)
71
Three Dead Zed
Jul 7, 2014
$5.99
N/A (N/A)
79,298 ±7,819
25,424 ±4,428
02:59 (02:11)
72
The Masterplan
Jun 4, 2015
$19.99
22% (65%/68%)
96,247 ±8,615
43,584 ±5,797
04:48 (02:46)
73
Montague's Mount
Nov 19, 2013
$9.99
20% (63%/39%)
76,877 ±7,699
34,100 ±5,128
02:15 (01:23)
74
Rabbit Hole 3D: Steam Edition
Apr 25, 2014
$2.99
20% (63%)
66,182 ±7,144
39,750 ±5,536
02:28 (01:23)
75
Orbit HD
Mar 18, 2015
$0.99
20% (63%)
20,783 ±4,003
13,721 ±3,253
01:51 (01:21)
76
Pro Wrestling X
Nov 18, 2014
$9.99
18% (62%)
2,421 ±1,366
2,220 ±1,308
01:10 (01:10)
77
Party of Sin
Dec 13, 2012
$5.99
N/A (N/A)
76,069 ±7,659
42,978 ±5,757
03:00 (01:49)
78
Ukrainian Ninja
Dec 23, 2014
$1.99
N/A (N/A)
10,089 ±2,789
7,869 ±2,463
02:23 (02:18)
79
Grass Simulator
Apr 1, 2015
$4.99
16% (60%)
20,178 ±3,944
16,142 ±3,528
01:36 (00:42)
80
Disillusions Manga Horror
Jan 16, 2015
$0.99
15% (59%)
33,293 ±5,067
19,572 ±3,885
02:51 (01:39)
81
Canyon Capers
Apr 25, 2014
$6.99
N/A (N/A)
335,351 ±16,076
203,793 ±12,534
03:01 (02:02)
82
Evertown
Jan 11, 2016
$2.99
12% (54%)
12,712 ±3,131
2,421 ±1,366
01:28 (02:22)
83
Oblitus
Feb 27, 2015
$14.99
11% (53%/69%)
10,694 ±2,871
7,466 ±2,399
02:01 (00:39)
84
Team Indie
Oct 8, 2014
$12.99
N/A (N/A)
80,912 ±7,899
13,519 ±3,229
03:24 (02:48)
85
Star Horizon
May 28, 2015
$4.99
8% (48%)
18,765 ±3,804
6,659 ±2,266
02:24 (01:54)
86
Vernon's Legacy
Sep 23, 2016
$11.99
7% (46%)
7,062 ±2,333
3,834 ±1,719
02:26 (02:53)
87
//N.P.P.D. RUSH//- The milk of Ultraviolet
Feb 13, 2014
$3.99
5% (40%)
116,425 ±9,474
71,630 ±7,432
02:26 (01:37)
88
Bad Hotel
Oct 16, 2013
$4.99
N/A (N/A)
104,520 ±8,977
48,830 ±6,136
01:52 (01:17)
89
One Late Night: Deadline
Dec 22, 2014
$9.99
1% (26%)
8,676 ±2,586
2,825 ±1,476
01:35 (01:03)
90
One Day For Ched
Sep 12, 2014
$3.99
N/A (N/A)
39,952 ±5,550
4,036 ±1,764
00:11 (00:08)