Rush Bros.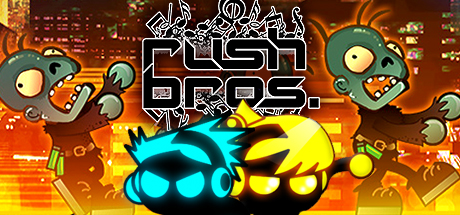 Store | Hub | SteamDB | Site
Developer: XYLA Entertainment Publisher: Digital Tribe
Genre: Action, Indie, Racing
Languages: English, German, French, Italian, Spanish, Russian, Portuguese, Hungarian, Turkish, Finnish, Czech, Portuguese-Brazil
Tags: Indie (48), Racing (41), Platformer (39), Action (33), Music (32), Multiplayer (12), 2D (9), Local Co-Op (9), Local Multiplayer (8)
Category: Single-player, Multi-player, Shared/Split Screen, Cross-Platform Multiplayer, Steam Achievements, Full controller support, Steam Trading Cards, Steam Cloud, Steam Leaderboards
Release date: May 24, 2013
Price: $0.99 90%
Score rank: 24% Userscore: 67% Old userscore: 62%
Owners: 157,753 ± 11,164
Players in the last 2 weeks: 620 ± 857 (0.39%)
Players total: 108,132 ± 9,243 (68.55%)
Followers: 587
Peak concurrent players yesterday: 2
Playtime in the last 2 weeks: 01:28 (average) 01:28 (median)
Playtime total: 02:30 (average) 01:19 (median)

Steam Spy is still in beta, so expect major bugs.
Peak daily concurrent players:
CCU data courtesy of SteamDB. Used with permission.
Hourly concurrent players:
YouTube:
The views data is based on top 50 videos uploaded last week. Actual number of views might be more than the number shown.

The displayed number of videos uploaded yesterday is limited to 50, so if there were more videos uploaded, the number will still show 50.

If the game has commonly used word as its name (like "FEAR" or "Volume") its number of Youtube views might be wrong.
Games similar to this one:
#
Game
Release date

Price

Score rank
(Userscore / Metascore)

Owners

Players

Playtime (Median)

1
Escape Goat
Oct 9, 2013
$4.99
97% (97%)
46,520 ±6,063
36,802 ±5,393
02:26 (01:38)
2
Abode
Dec 1, 2016
$9.99
92% (95%)
8,477 ±2,588
3,515 ±1,666
01:12 (01:32)
3
Papo & Yo
Apr 18, 2013
$14.99
92% (95%/70%)
352,515 ±16,685
99,655 ±8,874
02:28 (01:13)
4
Lovely Planet
Jul 31, 2014
$5.99
89% (94%/61%)
252,446 ±14,121
155,685 ±11,091
02:44 (02:05)
5
Mimpi Dreams
Mar 22, 2016
$7.99
89% (94%)
5,376 ±2,061
3,308 ±1,617
02:05 (02:06)
6
The Adventures of Fei Duanmu
Mar 9, 2017
$3.19
89% (94%)
10,131 ±2,829
8,890 ±2,650
02:46 (02:05)
7
Icarus Starship Command Simulator
May 26, 2017
$3.99
N/A (N/A)
2,895 ±1,512
1,034 ±903
01:16 (01:26)
8
Dino Run DX
Sep 29, 2015
$5.99
86% (93%)
31,220 ±4,967
21,709 ±4,142
03:07 (02:13)
9
Zero G Arena
Nov 3, 2016
$2.99
86% (93%)
63,680 ±7,094
38,456 ±5,513
00:44 (00:20)
10
Shaolin vs Wutang
May 9, 2016
$12.99
86% (93%)
4,755 ±1,938
3,928 ±1,762
02:48 (01:41)
11
Press X to Not Die
Oct 9, 2015
$2.99
82% (92%)
35,768 ±5,316
22,536 ±4,220
02:19 (01:13)
12
Titan Attacks!
Feb 3, 2012
$9.99
82% (92%)
137,905 ±10,438
81,461 ±8,023
03:20 (01:36)
13
Switchcars
Mar 4, 2016
$6.02
82% (92%)
81,254 ±8,013
24,190 ±4,372
01:12 (00:22)
14
Candle
Nov 11, 2016
$14.99
82% (92%/80%)
16,127 ±3,570
7,443 ±2,425
05:12 (03:56)
15
Eets Munchies
Mar 11, 2014
$6.99
N/A (N/A)
515,436 ±20,171
201,378 ±12,613
02:07 (00:46)
16
Ultratron
Mar 18, 2013
$9.99
78% (91%)
87,043 ±8,293
54,169 ±6,543
02:35 (01:22)
17
Pavlov VR
Feb 27, 2017
$9.99
78% (91%)
20,882 ±4,062
17,988 ±3,770
06:07 (03:08)
18
Replica
Jul 11, 2016
$2.99
74% (90%)
78,773 ±7,890
70,296 ±7,453
02:25 (01:42)
19
An Octave Higher
Mar 27, 2015
$11.99
74% (90%)
14,266 ±3,357
7,650 ±2,458
04:29 (03:28)
20
Project Nimbus
Nov 5, 2014
$14.99
74% (90%)
24,190 ±4,372
20,469 ±4,022
01:40 (01:02)
21
BIT.TRIP RUNNER
Feb 28, 2011
$9.99
70% (89%)
787,110 ±24,919
552,652 ±20,886
02:32 (01:14)
22
Catlateral Damage
May 27, 2015
$9.99
70% (89%)
51,482 ±6,378
40,317 ±5,644
02:37 (01:01)
23
Please, Don't Touch Anything 3D
Dec 7, 2016
$5.99
70% (89%)
9,924 ±2,800
8,270 ±2,556
01:46 (01:38)
24
INK
Aug 5, 2015
$4.99
67% (88%/68%)
210,061 ±12,882
91,592 ±8,507
02:46 (01:06)
25
Boogeyman 2
Feb 7, 2017
$3.99
67% (88%)
2,274 ±1,340
1,654 ±1,143
02:02 (02:06)
26
Bunker Punks
Mar 30, 2016
$4.94
67% (88%)
8,270 ±2,556
7,236 ±2,391
02:00 (01:30)
27
Choice Chamber
Jul 16, 2015
$9.99
67% (88%)
129,841 ±10,129
40,730 ±5,673
02:15 (00:44)
28
Uncraft World
Sep 25, 2015
$9.99
64% (87%)
12,405 ±3,131
10,544 ±2,886
03:32 (03:08)
29
HOARD
Apr 4, 2011
$9.99
64% (87%/65%)
390,144 ±17,552
188,352 ±12,198
02:15 (00:47)
30
Horizon Shift
May 29, 2015
$4.99
N/A (N/A)
129,428 ±10,112
78,153 ±7,858
03:15 (03:08)
31
Ninja Pizza Girl
Sep 30, 2015
$6.99
64% (87%/82%)
112,887 ±9,444
20,675 ±4,042
01:51 (01:25)
32
The Purring Quest
Nov 12, 2015
$9.99
59% (85%)
33,908 ±5,176
21,916 ±4,161
02:47 (01:32)
33
NaissanceE
Feb 13, 2014
$14.99
51% (82%/66%)
62,233 ±7,013
21,296 ±4,102
01:41 (00:36)
34
The Novelist
Dec 10, 2013
$14.99
51% (82%/66%)
135,630 ±10,352
54,583 ±6,567
02:06 (01:27)
35
Ultimate Booster Experience
Jul 14, 2016
$4.99
49% (81%)
11,785 ±3,052
10,751 ±2,915
03:28 (00:44)
36
The Guest
Mar 10, 2016
$9.99
46% (80%/68%)
15,920 ±3,547
11,992 ±3,078
03:10 (02:43)
37
Back to Bed
Aug 6, 2014
$5.99
42% (78%/57%)
119,503 ±9,717
50,861 ±6,340
02:28 (01:44)
38
The Dark Legions
Jul 9, 2016
$0.99
N/A (N/A)
9,924 ±2,800
4,962 ±1,980
05:20 (02:48)
39
Can't Drive This
Sep 25, 2016
$9.99
36% (75%)
12,819 ±3,183
10,131 ±2,829
01:03 (00:57)
40
Yatagarasu Attack on Cataclysm
Jul 7, 2015
$14.99
33% (73%)
15,920 ±3,547
14,266 ±3,357
08:45 (02:23)
41
Survivor Squad
Jan 21, 2015
$2.99
25% (68%)
147,208 ±10,784
101,309 ±8,947
03:30 (01:56)
42
Running Through Russia
May 21, 2017
$0.74
18% (62%)
10,338 ±2,858
7,857 ±2,491
01:30 (00:58)
43
Autocraft
Oct 15, 2014
$9.99
17% (61%)
23,363 ±4,297
19,228 ±3,898
04:57 (02:02)
44
Catch a Lover
Apr 6, 2017
$4.89
10% (51%)
9,097 ±2,681
8,477 ±2,588
00:45 (00:26)