Rush Bros.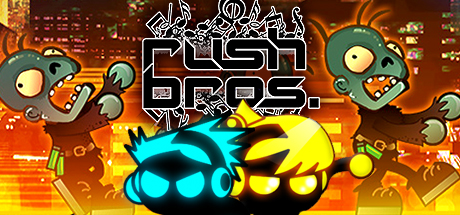 Store | Hub | SteamDB | Site
Developer: XYLA Entertainment Publisher: Digital Tribe
Genre: Action, Indie, Racing
Languages: English, German, French, Italian, Spanish, Russian, Portuguese, Hungarian, Turkish, Finnish, Czech, Portuguese-Brazil
Tags: Indie (48), Racing (41), Platformer (39), Action (33), Music (32), Multiplayer (13), Local Co-Op (9), 2D (9), Local Multiplayer (8), Singleplayer (5)
Category: Single-player, Multi-player, Shared/Split Screen, Cross-Platform Multiplayer, Steam Achievements, Full controller support, Steam Trading Cards, Steam Cloud, Steam Leaderboards
Release date: May 24, 2013
Price: $0.99 90%
Score rank: 20% Userscore: 65% Old userscore: 61%
Owners: 100,000..200,000
Followers: 596
Peak concurrent players yesterday: 4
Playtime total: 02:33 (average) 01:47 (median)

Steam Spy is still in beta, so expect major bugs.
Owners data:
Audience in 2 weeks:
Total audience:
Peak daily concurrent players:
CCU data courtesy of SteamDB. Used with permission.
Hourly concurrent players:
YouTube:
The views data is based on top 50 videos uploaded last week. Actual number of views might be more than the number shown.

The displayed number of videos uploaded yesterday is limited to 50, so if there were more videos uploaded, the number will still show 50.

If the game has commonly used word as its name (like "FEAR" or "Volume") its number of Youtube views might be wrong.
Games similar to this one:
#
Game
Release date

Price

Score rank
(Userscore / Metascore)

1
Escape Goat
Oct 9, 2013
$4.99
N/A (N/A)
2
Chicken Invaders 4
Jun 6, 2014
$4.99
94% (96%)
3
I and Me
May 4, 2016
$9.99
N/A (N/A)
4
Transcripted
$7.99
N/A (N/A/78%)
5
Critter Crunch
Sep 11, 2012
$6.99
N/A (N/A)
6
Velocibox
Sep 8, 2014
$7.99
88% (94%)
7
Season of 12 Colors
Mar 14, 2016
$2.99
N/A (N/A)
8
Super Puzzle Platformer Deluxe
May 24, 2013
$7.99
N/A (N/A)
9
6180 the moon
Sep 19, 2014
$3.99
78% (92%)
10
Titan Attacks!
Feb 3, 2012
$9.99
N/A (N/A)
11
Unmechanical
Aug 8, 2012
$9.99
N/A (N/A/74%)
12
Stray Cat Crossing
Aug 28, 2015
$2.99
N/A (N/A)
13
Inside My Radio
May 11, 2015
$14.99
N/A (N/A/68%)
14
Canabalt
Apr 30, 2015
$2.99
74% (91%)
15
That Dragon, Cancer
Jan 11, 2016
$9.99
70% (90%/78%)
16
Ultratron
Mar 18, 2013
$9.99
N/A (N/A)
17
Ephemerid: A Musical Adventure
Feb 3, 2015
$1.99
N/A (N/A)
18
Lumini
Sep 3, 2015
$12.99
N/A (N/A/69%)
19
Bermuda
Mar 17, 2015
$2.99
N/A (N/A)
20
Old Man's Journey
May 17, 2017
$7.99
66% (89%/76%)
21
Retro/Grade
Mar 20, 2013
$9.99
63% (88%)
22
Lumino City
Dec 2, 2014
$14.99
63% (88%/70%)
23
Choice Chamber
Jul 16, 2015
$9.99
60% (87%)
24
Ballpoint Universe - Infinite
Dec 17, 2013
$3.99
N/A (N/A)
25
Spellsworn
Mar 13, 2018
Free
57% (86%)
26
Super Galaxy Squadron EX Turbo
Jan 23, 2015
$11.99
N/A (N/A)
27
Polyball
Dec 1, 2017
$14.99
N/A (N/A)
28
Chariot
Nov 12, 2014
$14.99
51% (84%/76%)
29
Road Not Taken
Aug 5, 2014
$14.99
51% (84%/75%)
30
Three Fourths Home: Extended Edition
Mar 20, 2015
$4.99
N/A (N/A/77%)
31
Ben and Ed - Blood Party
Feb 13, 2018
$14.99
N/A (N/A)
32
The Sun and Moon
Nov 14, 2014
$6.99
N/A (N/A)
33
Madballs in Babo:Invasion
Sep 17, 2009
$4.99
48% (83%/79%)
34
Echo of the Wilds
Jun 10, 2014
$8.99
48% (83%)
35
Instant Dungeon!
Nov 25, 2014
$1.99
N/A (N/A)
36
Mega Coin Squad
Aug 15, 2014
$14.99
N/A (N/A/56%)
37
Cherry Tree High I! My! Girls!
Nov 20, 2014
$3.99
44% (81%)
38
Boogeyman 2
Feb 7, 2017
$4.99
N/A (N/A)
39
The Novelist
Dec 10, 2013
$9.99
N/A (N/A/66%)
40
NaissanceE
Feb 13, 2014
$14.99
N/A (N/A/66%)
41
Mini Thief
Jun 13, 2016
$3.99
N/A (N/A)
42
It came from space, and ate our brains
Mar 19, 2015
$9.99
42% (80%)
43
OTTTD
Aug 6, 2014
$7.99
42% (80%)
44
Amphora
Nov 12, 2014
$13.99
42% (80%)
45
Tobari and the Night of the Curious Moon
May 26, 2015
$9.99
N/A (N/A)
46
NEO AQUARIUM - The King of Crustaceans -
Jun 8, 2015
$8.99
38% (78%)
47
Combat Core
Aug 18, 2016
$15.99
N/A (N/A)
48
Sugar Cube: Bittersweet Factory
Nov 7, 2012
$6.99
N/A (N/A)
49
A Druid's Duel
Feb 25, 2015
$7.99
N/A (N/A/70%)
50
Actual Sunlight
Apr 3, 2014
$4.99
N/A (N/A/77%)
51
Dwarf Tower
Dec 23, 2014
$0.99
N/A (N/A)
52
Concursion
Jun 6, 2014
$4.99
N/A (N/A/66%)
53
ReignMaker
Apr 16, 2014
$14.99
N/A (N/A)
54
Master Spy
Sep 8, 2015
$9.99
34% (76%/68%)
55
1979 Revolution: Black Friday
Apr 4, 2016
$5.99
34% (76%/80%)
56
The Wonderful End of the World
Jul 17, 2008
$9.99
32% (75%)
57
Warring States
Jan 29, 2018
$18.99
N/A (N/A)
58
RONIN
Jun 30, 2015
$12.99
N/A (N/A/70%)
59
Really Big Sky
Feb 24, 2012
$4.99
30% (74%)
60
Beyond Eyes
Aug 11, 2015
$14.99
29% (73%/60%)
61
Disorder
Jan 12, 2015
$3.99
N/A (N/A/61%)
62
The Purge Day
Nov 25, 2016
$2.99
N/A (N/A)
63
Super Treasure Arena
Sep 15, 2016
$7.99
N/A (N/A)
64
One More Line
Aug 28, 2015
$2.99
N/A (N/A)
65
Cavern Kings
Sep 30, 2014
$9.99
N/A (N/A)
66
The Kindred
Feb 24, 2016
N/A
23% (69%)
67
Rhythm Destruction
Jun 16, 2014
$4.99
N/A (N/A)
68
Volt
Apr 14, 2014
$2.99
N/A (N/A)
69
Farlight Explorers
Mar 11, 2015
$14.99
18% (64%)
70
Orbit HD
Mar 18, 2015
$0.99
18% (64%)
71
The Masterplan
Jun 4, 2015
$19.99
18% (64%/68%)
72
Rabbit Hole 3D: Steam Edition
Apr 25, 2014
$2.99
N/A (N/A)
73
Montague's Mount
Nov 19, 2013
$4.99
N/A (N/A/39%)
74
Grass Simulator
Apr 1, 2015
$4.99
17% (63%)
75
Three Dead Zed
Jul 7, 2014
$5.99
N/A (N/A)
76
Pro Wrestling X
Nov 18, 2014
$9.99
N/A (N/A)
77
Party of Sin
Dec 13, 2012
$5.99
N/A (N/A)
78
Canyon Capers
Apr 25, 2014
$6.99
N/A (N/A)
79
Disillusions Manga Horror
Jan 16, 2015
$0.99
N/A (N/A)
80
Evertown
Jan 11, 2016
$2.99
N/A (N/A)
81
Team Indie
Oct 8, 2014
$12.99
N/A (N/A)
82
Oblitus
Feb 27, 2015
$14.99
N/A (N/A/69%)
83
Vernon's Legacy
Sep 23, 2016
$11.99
N/A (N/A)
84
Star Horizon
May 28, 2015
$4.99
N/A (N/A)
85
Ukrainian Ninja
Dec 23, 2014
Free
N/A (N/A)
86
//N.P.P.D. RUSH//- The milk of Ultraviolet
Feb 13, 2014
$3.99
N/A (N/A)
87
Bad Hotel
Oct 16, 2013
$4.99
N/A (N/A)
88
One Late Night: Deadline
Dec 22, 2014
$7.99
N/A (N/A)
89
One Day For Ched
Sep 12, 2014
$3.99
N/A (N/A)