App

Battle for Blood - Epic battles within 30 seconds!
Battle for Blood - Epic battles within 30 seconds!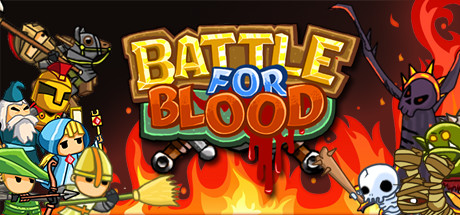 Store | Hub | SteamDB
Developer: YFC games Publisher: YFC games
Genre: Casual, Free to Play, Indie, Strategy
Languages: English, Traditional Chinese
Tags: Casual (44), Free to Play (41), Strategy (33), Indie (27), Tower Defense (19), Match 3 (17)
Category: Single-player, Steam Achievements, Steam Leaderboards
Release date: Jul 8, 2015
Free
Score rank: 30% Userscore: 71% Old userscore: 71%
Owners: 172,417 ± 12,359
Players in the last 2 weeks: 685 ± 1,341 (0.4%)
Players total: 88,989 ± 8,880 (51.61%)
Followers: 1,050
Peak concurrent players yesterday: 5
Playtime in the last 2 weeks: 02:03 (average) 02:03 (median)
Playtime total: 03:15 (average) 00:50 (median)

Steam Spy is still in beta, so expect major bugs.
Peak daily concurrent players:
CCU data courtesy of SteamDB. Used with permission.
Hourly concurrent players:
YouTube:
The views data is based on top 50 videos uploaded last week. Actual number of views might be more than the number shown.

The displayed number of videos uploaded yesterday is limited to 50, so if there were more videos uploaded, the number will still show 50.

If the game has commonly used word as its name (like "FEAR" or "Volume") its number of Youtube views might be wrong.
Games similar to this one:
#
Game
Release date

Price

Score rank
(Userscore / Metascore)

Owners

Players

Playtime (Median)

1
KAMUI
Dec 11, 2014
$7.99
N/A (N/A)
46,580 ±6,425
13,209 ±3,421
00:35 (00:20)
2
Copy Kitty
Aug 11, 2016
$9.99
N/A (N/A)
6,489 ±2,398
1,854 ±1,281
26:27 (36:41)
3
Ahnayro: The Dream World
Dec 1, 2016
$5.99
N/A (N/A)
17,844 ±3,977
4,171 ±1,922
03:04 (03:46)
4
Circa Infinity
Sep 8, 2015
$9.99
97% (97%/80%)
9,733 ±2,937
6,489 ±2,398
03:02 (02:30)
5
Armed with Wings: Rearmed
May 28, 2015
$7.99
95% (96%)
19,466 ±4,153
5,794 ±2,266
01:36 (01:10)
6
Raptor Valley
Sep 9, 2016
$8.99
N/A (N/A)
6,721 ±2,440
2,086 ±1,359
00:21 (00:22)
7
Critter Crunch
Sep 11, 2012
$6.99
92% (95%)
45,885 ±6,377
24,797 ±4,688
03:34 (01:31)
8
NightSky
Mar 1, 2011
$9.99
92% (95%/78%)
557,343 ±22,211
202,544 ±13,395
01:19 (00:23)
9
oO
Jul 6, 2015
$0.99
89% (94%)
45,653 ±6,361
29,431 ±5,107
01:45 (00:25)
10
Sora
Jan 5, 2016
$8.99
89% (94%/74%)
10,660 ±3,073
8,343 ±2,719
03:48 (01:38)
11
Critical Annihilation
Feb 12, 2016
$9.99
85% (93%)
8,343 ±2,719
7,184 ±2,523
02:26 (01:16)
12
10 Second Ninja
Mar 5, 2014
$9.99
85% (93%/72%)
75,780 ±8,195
44,958 ±6,312
01:50 (00:52)
13
Lightfish
Oct 19, 2011
$4.99
N/A (N/A)
52,837 ±6,843
21,320 ±4,347
04:35 (00:23)
14
Who Is Mike - A Visual Novel
Sep 29, 2015
Free
82% (92%)
77,866 ±8,307
18,308 ±4,028
00:43 (00:22)
15
Slavistan
Jul 29, 2016
$1.99
78% (91%)
16,454 ±3,818
12,978 ±3,391
00:56 (00:24)
16
Another Perspective
Aug 8, 2014
$5.99
78% (91%)
59,790 ±7,279
13,209 ±3,421
01:01 (00:33)
17
Expand
Sep 30, 2015
$5.99
78% (91%)
57,704 ±7,151
11,124 ±3,140
00:44 (00:19)
18
Eets Munchies
Mar 11, 2014
$6.99
N/A (N/A)
517,483 ±21,403
206,947 ±13,540
01:38 (00:46)
19
Cats are Liquid
Jul 25, 2016
$0.99
78% (91%)
12,746 ±3,361
9,270 ±2,866
01:52 (00:46)
20
WayOut
Nov 4, 2016
$0.99
75% (90%)
29,431 ±5,107
20,625 ±4,275
02:16 (01:35)
21
The Misadventures of P.B. Winterbottom
Apr 20, 2010
$4.99
71% (89%/79%)
162,684 ±12,006
102,431 ±9,527
01:28 (00:40)
22
Corporate Lifestyle Simulator
Mar 12, 2014
$4.99
71% (89%)
109,846 ±9,866
22,711 ±4,486
01:02 (00:18)
23
Gunman Clive
Jan 3, 2014
$1.99
71% (89%)
51,447 ±6,752
28,504 ±5,026
01:28 (00:25)
24
Binaries
Apr 4, 2016
$9.99
N/A (N/A)
5,794 ±2,266
3,476 ±1,755
03:22 (02:15)
25
Proto Raider
Aug 28, 2015
$0.99
68% (88%)
25,955 ±4,796
3,476 ±1,755
00:32 (00:26)
26
Super Indie Karts
May 6, 2015
$9.99
68% (88%)
5,098 ±2,125
3,708 ±1,812
00:44 (00:34)
27
Jack Lumber
Apr 30, 2013
$4.99
N/A (N/A)
155,268 ±11,729
51,447 ±6,752
01:50 (00:53)
28
OlliOlli2: Welcome to Olliwood
Aug 11, 2015
$14.99
65% (87%/82%)
68,596 ±7,797
29,895 ±5,147
02:32 (00:46)
29
Domino Sky
Apr 5, 2016
$3.99
59% (85%)
10,660 ±3,073
5,794 ±2,266
01:54 (02:04)
30
Reflections
Jun 26, 2015
$9.99
N/A (N/A)
14,136 ±3,539
3,244 ±1,695
01:06 (00:47)
31
New Retro Arcade: Neon
Aug 1, 2016
$19.99
59% (85%)
14,600 ±3,597
12,746 ±3,361
01:49 (00:39)
32
Fovos VR
Jan 3, 2017
Free
N/A (N/A)
9,270 ±2,866
5,330 ±2,173
01:00 (00:31)
33
Instant Dungeon!
Nov 25, 2014
$1.99
55% (83%)
15,759 ±3,737
11,819 ±3,236
02:14 (01:07)
34
BIT.TRIP BEAT
Nov 2, 2010
$9.99
55% (83%)
313,549 ±16,664
222,937 ±14,053
01:47 (00:52)
35
Jet Set Knights
Apr 7, 2016
$3.99
N/A (N/A)
3,940 ±1,868
3,013 ±1,634
01:51 (01:26)
36
The Sun and Moon
Nov 14, 2014
$6.99
52% (82%)
31,517 ±5,285
7,416 ±2,563
01:15 (00:24)
37
Swarm Arena
Aug 19, 2010
$4.99
N/A (N/A)
25,955 ±4,796
16,917 ±3,872
01:49 (00:29)
38
Snowball!
Dec 16, 2016
$2.99
N/A (N/A)
3,476 ±1,755
1,159 ±1,013
00:43 (00:56)
39
NaissanceE
Feb 13, 2014
$14.99
52% (82%/66%)
64,193 ±7,542
26,187 ±4,817
01:44 (00:36)
40
Electronic Super Joy: Groove City
Jun 6, 2014
$4.99
50% (81%)
97,796 ±9,309
43,104 ±6,180
00:51 (00:26)
41
Mini Thief
Jun 13, 2016
$3.99
50% (81%)
14,368 ±3,568
9,501 ±2,902
01:20 (00:56)
42
Ultimate Booster Experience
Jul 14, 2016
$4.99
50% (81%)
12,978 ±3,391
11,819 ±3,236
02:29 (00:27)
43
Where is my Heart?
May 29, 2014
$7.99
N/A (N/A/74%)
43,568 ±6,214
9,965 ±2,972
00:50 (00:28)
44
Retro Game Crunch
May 19, 2014
$9.99
47% (80%)
149,938 ±11,526
21,784 ±4,394
01:53 (00:34)
45
NEO AQUARIUM - The King of Crustaceans -
Jun 8, 2015
$8.99
47% (80%)
30,127 ±5,167
15,063 ±3,654
02:03 (00:47)
46
Runeous: Part One
May 31, 2016
Free
47% (80%)
35,225 ±5,587
3,244 ±1,695
00:31 (00:27)
47
Mega Coin Squad
Aug 15, 2014
$14.99
N/A (N/A/56%)
7,416 ±2,563
5,794 ±2,266
02:37 (01:09)
48
Steel Storm: Burning Retribution
May 11, 2011
$14.99
45% (79%/55%)
396,049 ±18,727
157,122 ±11,799
02:05 (00:36)
49
Snapshot
Aug 30, 2012
$9.99
N/A (N/A/74%)
310,304 ±16,578
101,040 ±9,462
00:53 (00:20)
50
BIT.TRIP VOID
Dec 19, 2012
$9.99
43% (78%)
53,069 ±6,858
28,273 ±5,005
01:37 (00:41)
51
Space Moth DX
Jan 22, 2016
$4.99
N/A (N/A)
23,638 ±4,577
12,282 ±3,299
01:41 (01:22)
52
Incredipede
Mar 18, 2013
$9.99
43% (78%/74%)
173,807 ±12,409
55,387 ±7,006
01:28 (00:22)
53
1000 Amps
Feb 22, 2012
$4.99
41% (77%)
39,628 ±5,926
20,857 ±4,299
03:25 (00:29)
54
ComPet - Beast Battles
Nov 29, 2016
Free
N/A (N/A)
11,124 ±3,140
3,940 ±1,868
01:30 (00:56)
55
Dwarf Tower
Dec 23, 2014
$0.99
39% (76%)
24,101 ±4,621
17,844 ±3,977
02:13 (01:16)
56
The Joylancer: Legendary Motor Knight
Nov 7, 2014
$9.99
N/A (N/A)
40,323 ±5,978
8,806 ±2,793
00:44 (00:26)
57
Colour Bind
Sep 24, 2012
$9.99
N/A (N/A)
11,819 ±3,236
5,794 ±2,266
02:09 (00:39)
58
Bob Came in Pieces
Jan 22, 2010
$6.99
32% (72%/73%)
64,656 ±7,569
40,787 ±6,012
02:14 (00:34)
59
Scraps: Modular Vehicle Combat
Jul 7, 2015
$14.99
32% (72%)
5,562 ±2,220
3,013 ±1,634
01:47 (01:00)
60
Fortify
Apr 8, 2016
$4.99
30% (71%)
5,562 ±2,220
5,098 ±2,125
04:16 (01:00)
61
Karmaflow: The Rock Opera Videogame - Act I & Act II
May 6, 2015
$4.99
29% (70%/47%)
23,174 ±4,532
4,867 ±2,076
01:49 (01:02)
62
Orbit HD
Mar 18, 2015
$0.99
25% (67%)
24,565 ±4,666
17,149 ±3,898
01:33 (00:58)
63
Amazing Princess Sarah
Aug 18, 2014
$4.99
23% (66%)
6,489 ±2,398
5,098 ±2,125
06:07 (03:08)
64
Signal Ops
Nov 18, 2013
$9.99
23% (66%/61%)
8,806 ±2,793
4,403 ±1,975
02:31 (01:12)
65
Mutant Storm: Reloaded
Mar 21, 2012
$4.99
N/A (N/A)
24,565 ±4,666
6,257 ±2,355
02:13 (00:22)
66
Zack Zero
Apr 29, 2013
$2.99
22% (65%)
75,780 ±8,195
43,336 ±6,197
02:32 (01:12)
67
CURSE
Sep 2, 2016
$6.99
N/A (N/A)
9,733 ±2,937
2,317 ±1,433
01:15 (01:30)
68
Grass Simulator
Apr 1, 2015
$4.99
17% (61%)
24,565 ±4,666
19,466 ±4,153
01:51 (01:13)
69
Contract
Jan 5, 2016
$2.99
N/A (N/A)
10,428 ±3,040
1,622 ±1,199
01:23 (01:14)
70
Dream
Jul 31, 2015
$8.99
17% (61%/59%)
90,612 ±8,961
67,901 ±7,757
02:04 (01:02)
71
Evertown
Jan 11, 2016
$2.99
N/A (N/A)
14,136 ±3,539
2,317 ±1,433
01:02 (01:13)
72
Disillusions Manga Horror
Jan 16, 2015
$0.99
15% (59%)
35,688 ±5,624
25,492 ±4,753
02:47 (01:51)
73
BIT.TRIP CORE
Oct 2, 2012
$9.99
15% (58%)
53,533 ±6,888
29,431 ±5,107
01:32 (00:38)
74
Yon Paradox
May 6, 2016
$0.89
N/A (N/A)
4,635 ±2,026
1,622 ±1,199
01:30 (02:45)
75
Sentinel
Apr 22, 2014
Free
15% (58%)
39,860 ±5,943
4,867 ±2,076
01:06 (00:17)
76
Fatale
Nov 4, 2009
$6.99
12% (54%)
13,441 ±3,451
4,635 ±2,026
00:42 (00:55)
77
SOL: Exodus
Jan 25, 2012
$7.99
N/A (N/A/57%)
57,472 ±7,137
21,784 ±4,394
01:23 (00:46)
78
Oblitus
Feb 27, 2015
$14.99
12% (54%/69%)
8,575 ±2,756
5,794 ±2,266
02:05 (00:50)
79
Montas
Mar 24, 2014
$9.99
7% (47%)
34,298 ±5,513
5,794 ±2,266
01:04 (00:53)
80
Maia
Dec 3, 2013
$24.99
6% (45%)
38,701 ±5,856
34,530 ±5,532
02:17 (00:58)
81
Scribble Space
Jun 1, 2015
$1.99
6% (45%)
17,381 ±3,925
11,819 ±3,236
01:44 (01:37)
82
In Space We Brawl
Jul 17, 2015
$8.99
N/A (N/A)
3,013 ±1,634
1,622 ±1,199
02:35 (01:58)
83
The Flock
Aug 21, 2015
$16.99
6% (44%/36%)
23,870 ±4,599
7,648 ±2,603
00:57 (00:42)
84
CO-OP : Decrypted
Aug 17, 2015
$9.99
N/A (N/A)
13,441 ±3,451
2,549 ±1,503
00:38 (00:41)
85
Dead Sky
Nov 22, 2013
$1.99
4% (38%)
34,530 ±5,532
13,209 ±3,421
02:17 (00:33)
86
Flight of the Icarus
May 12, 2010
$4.99
4% (38%)
75,780 ±8,195
47,276 ±6,473
00:51 (00:23)
87
4PM
Jul 9, 2014
$2.99
3% (37%/41%)
11,819 ±3,236
2,549 ±1,503
00:31 (00:30)
88
1... 2... 3... KICK IT! (Drop That Beat Like an Ugly Baby)
$9.99
2% (32%)
92,002 ±9,029
65,815 ±7,637
01:46 (00:33)
89
Undead Overlord
Jul 18, 2014
$14.99
2% (32%)
3,013 ±1,634
2,549 ±1,503
00:33 (00:26)
90
bit Dungeon+
Mar 22, 2016
$3.99
2% (29%)
19,235 ±4,129
4,635 ±2,026
00:51 (00:39)
91
The Interview
Feb 4, 2015
$1.99
1% (28%)
5,098 ±2,125
2,317 ±1,433
00:26 (00:37)
92
The Note
Jul 23, 2015
$5.99
N/A (N/A)
157,817 ±11,825
7,184 ±2,523
06:38 (00:14)
93
Joana's Life
Sep 1, 2016
$5.99
N/A (N/A)
78,793 ±8,356
4,403 ±1,975
00:28 (00:22)
94
BlackShadows
Sep 11, 2015
$2.99
N/A (N/A)
63,498 ±7,501
4,171 ±1,922
45:16 (00:16)