App

Battle for Blood - Epic battles within 30 seconds!
Battle for Blood - Epic battles within 30 seconds!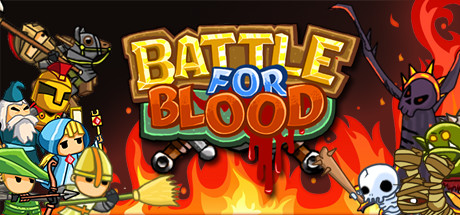 Store | Hub | SteamDB
Developer: YFC games Publisher: YFC games
Genre: Casual, Free to Play, Indie, Strategy
Languages: English, Traditional Chinese
Tags: Casual (44), Free to Play (41), Strategy (33), Indie (27), Tower Defense (19), Match 3 (17)
Category: Single-player, Steam Achievements, Steam Leaderboards
Release date: Jul 8, 2015
Free
Score rank: 31% Userscore: 72% Old userscore: 72%
Owners: 173,418 ± 11,661
Players in the last 2 weeks: 3,066 ± 2,685 (1.77%)
Players total: 84,554 ± 8,144 (48.76%)
Followers: 1,054
Peak concurrent players yesterday: 8
Playtime in the last 2 weeks: 03:23 (average) 00:40 (median)
Playtime total: 03:06 (average) 00:41 (median)

Steam Spy is still in beta, so expect major bugs.
Peak daily concurrent players:
CCU data courtesy of SteamDB. Used with permission.
Hourly concurrent players:
YouTube:
The views data is based on top 50 videos uploaded last week. Actual number of views might be more than the number shown.

The displayed number of videos uploaded yesterday is limited to 50, so if there were more videos uploaded, the number will still show 50.

If the game has commonly used word as its name (like "FEAR" or "Volume") its number of Youtube views might be wrong.
Games similar to this one:
#
Game
Release date

Price

Score rank
(Userscore / Metascore)

Owners

Players

Playtime (Median)

1
Racket: Nx
Jan 31, 2017
$19.99
100% (99%)
4,925 ±1,965
4,515 ±1,882
04:12 (01:44)
2
Nevrosa: Prelude
Feb 23, 2017
Free
99% (98%)
18,060 ±3,764
9,441 ±2,721
00:30 (00:18)
3
The Price of Freedom
Dec 22, 2016
Free
97% (97%)
34,889 ±5,231
18,471 ±3,806
00:22 (00:14)
4
Circa Infinity
Sep 8, 2015
$2.99
97% (97%/80%)
8,004 ±2,505
7,593 ±2,440
01:55 (00:41)
5
Surge
May 24, 2016
Free
92% (95%)
86,812 ±8,251
35,710 ±5,292
00:20 (00:06)
6
Raptor Valley
Sep 9, 2016
$2.24
N/A (N/A)
7,388 ±2,407
3,078 ±1,554
00:15 (00:16)
7
KAMUI
Dec 11, 2014
$3.99
N/A (N/A)
42,277 ±5,758
13,340 ±3,235
00:53 (00:17)
8
Pipejob
Oct 15, 2016
$7.49
N/A (N/A)
1,026 ±897
616 ±695
02:08 (02:05)
9
TinkerQuarry
Jun 12, 2017
Free
N/A (N/A)
3,284 ±1,605
1,231 ±982
00:07 (00:09)
10
Smash Party VR
Dec 18, 2016
Free
N/A (N/A)
7,799 ±2,473
5,541 ±2,085
00:56 (00:09)
11
NightSky
Mar 1, 2011
$1.99
92% (95%/78%)
570,536 ±21,142
208,923 ±12,799
01:20 (00:24)
12
Super Puzzle Platformer Deluxe
May 24, 2013
$1.59
92% (95%)
59,927 ±6,856
32,837 ±5,075
04:40 (01:23)
13
oO
Jul 6, 2015
$0.86
89% (94%)
43,303 ±5,828
26,885 ±4,592
01:21 (00:37)
14
Vilmonic
Jun 15, 2016
$8.99
N/A (N/A)
3,078 ±1,554
821 ±802
00:31 (00:19)
15
The Cat and the Coup
Jun 15, 2011
Free
86% (93%)
113,902 ±9,451
19,497 ±3,910
00:15 (00:13)
16
Bloo Kid 2
Oct 1, 2015
$1.99
N/A (N/A)
72,651 ±7,549
13,956 ±3,308
01:54 (00:11)
17
Zero G Arena
Nov 3, 2016
$2.99
86% (93%)
69,983 ±7,409
42,688 ±5,786
01:43 (00:27)
18
Lightfish
Oct 19, 2011
$0.99
N/A (N/A)
54,796 ±6,556
20,523 ±4,012
01:31 (00:29)
19
God Of Arrows VR
Nov 2, 2016
$3.99
N/A (N/A)
3,694 ±1,702
1,437 ±1,061
00:24 (00:39)
20
Orborun
Sep 5, 2014
$5.99
N/A (N/A)
193,326 ±12,312
37,762 ±5,442
00:52 (00:14)
21
Straima
Sep 25, 2015
$3.49
N/A (N/A)
7,388 ±2,407
4,925 ±1,965
02:34 (01:18)
22
Oh...Sir! Prototype
Dec 21, 2015
Free
78% (91%/64%)
163,362 ±11,318
99,536 ±8,835
00:13 (00:07)
23
Expand
Sep 30, 2015
$4.19
78% (91%)
55,001 ±6,568
10,672 ±2,893
00:50 (00:20)
24
Dynamite Jack
May 10, 2012
$4.99
74% (90%)
160,489 ±11,218
58,695 ±6,785
00:50 (00:13)
25
Trash TV
Feb 23, 2015
$1.74
N/A (N/A)
27,911 ±4,679
5,336 ±2,046
00:48 (00:42)
26
Ghost Town Mine Ride & Shootin' Gallery
Oct 28, 2016
$6.74
74% (90%)
9,030 ±2,661
8,004 ±2,505
01:18 (00:52)
27
GunGirl 2
Sep 1, 2016
Free
74% (90%)
23,396 ±4,284
4,105 ±1,794
02:23 (00:15)
28
The Misadventures of P.B. Winterbottom
Apr 20, 2010
$4.99
70% (89%/79%)
179,780 ±11,873
108,977 ±9,245
01:22 (00:35)
29
Dead End Road
Jul 8, 2016
$0.74
70% (89%)
5,131 ±2,006
4,310 ±1,838
01:21 (01:15)
30
Corporate Lifestyle Simulator
Mar 12, 2014
$2.49
70% (89%)
114,723 ±9,485
28,937 ±4,764
00:47 (00:20)
31
Gunman Clive
Jan 3, 2014
$1.99
70% (89%)
56,643 ±6,665
30,169 ±4,864
01:12 (00:24)
32
Choice Chamber
Jul 16, 2015
$3.99
67% (88%)
130,936 ±10,133
45,356 ±5,964
03:10 (01:35)
33
Irrational Exuberance: Prologue
Apr 5, 2016
Free
67% (88%)
114,107 ±9,460
58,285 ±6,761
00:20 (00:07)
34
Creeper World 2: Anniversary Edition
Nov 16, 2016
$2.49
N/A (N/A)
2,668 ±1,446
2,052 ±1,268
11:14 (07:00)
35
Probability 0
Jun 12, 2014
$4.54
N/A (N/A)
13,340 ±3,235
3,899 ±1,749
01:10 (00:50)
36
Blade Ballet
Aug 9, 2016
$3.74
N/A (N/A)
6,773 ±2,305
4,720 ±1,924
03:06 (01:47)
37
Motte Island
Apr 7, 2014
$4.99
N/A (N/A)
18,060 ±3,764
2,668 ±1,446
00:49 (00:41)
38
Decent Icons
Apr 7, 2016
$1.33
N/A (N/A)
2,873 ±1,501
2,668 ±1,446
27:22 (01:39)
39
HOARD
Apr 4, 2011
$2.49
64% (87%/65%)
403,069 ±17,774
195,583 ±12,384
02:05 (00:45)
40
Blueshift
Dec 21, 2016
Free
61% (86%)
30,374 ±4,881
20,112 ±3,972
00:41 (00:12)
41
Luxuria Superbia
Jan 28, 2014
$5.24
59% (85%)
43,303 ±5,828
9,646 ±2,750
00:20 (00:09)
42
Combat Core
Aug 18, 2016
$11.99
N/A (N/A)
3,694 ±1,702
1,642 ±1,134
01:04 (00:57)
43
Slip
Apr 28, 2014
$0.99
59% (85%)
20,728 ±4,032
8,004 ±2,505
01:21 (00:30)
44
Four Sided Fantasy
Aug 30, 2016
$1.99
N/A (N/A)
5,746 ±2,123
3,284 ±1,605
01:40 (01:24)
45
Hyperspace Invaders II: Pixel Edition
Sep 4, 2015
$0.49
56% (84%)
38,993 ±5,530
15,597 ±3,498
00:36 (00:12)
46
Multiwinia
Sep 19, 2008
$1.49
56% (84%/76%)
657,143 ±22,688
139,966 ±10,477
02:03 (00:18)
47
New Retro Arcade: Neon
Aug 1, 2016
$13.39
56% (84%)
10,672 ±2,893
8,414 ±2,569
01:46 (01:07)
48
A Walk in the Dark
Nov 7, 2013
$3.49
53% (83%/67%)
20,933 ±4,052
11,903 ±3,055
02:11 (00:52)
49
Gimbal
Nov 19, 2013
$3.74
53% (83%)
28,527 ±4,730
9,646 ±2,750
05:41 (01:05)
50
Moonshot
Dec 21, 2015
$4.99
N/A (N/A)
3,694 ±1,702
3,078 ±1,554
00:56 (00:51)
51
DubWars
Jul 19, 2016
$9.99
53% (83%)
19,292 ±3,890
13,956 ±3,308
02:01 (00:35)
52
HassleHeart
Feb 19, 2015
$0.5
N/A (N/A)
16,624 ±3,611
3,489 ±1,654
00:07 (00:03)
53
Swarm Arena
Aug 19, 2010
$0.49
N/A (N/A)
27,706 ±4,662
19,086 ±3,869
01:26 (00:35)
54
NaissanceE
Feb 13, 2014
$3.74
51% (82%/66%)
71,009 ±7,463
27,090 ±4,610
01:54 (00:41)
55
OlliOlli
Jul 22, 2014
$3.24
51% (82%/78%)
196,404 ±12,410
98,099 ±8,771
01:31 (00:26)
56
The Sun and Moon
Nov 14, 2014
$2.37
51% (82%)
35,299 ±5,262
9,851 ±2,780
01:22 (00:16)
57
AaaaaAAaaaAAAaaAAAAaAAAAA!!! for the Awesome
Nov 23, 2011
$2.49
51% (82%)
270,492 ±14,562
144,071 ±10,629
00:47 (00:17)
58
Indie Game Battle
Oct 29, 2015
$4.99
N/A (N/A)
87,633 ±8,290
9,030 ±2,661
02:39 (00:09)
59
Luckslinger
Jul 16, 2015
$3.49
N/A (N/A/76%)
17,650 ±3,721
5,336 ±2,046
00:59 (00:54)
60
Ultimate Booster Experience
Jul 14, 2016
$3.49
49% (81%)
13,135 ±3,210
12,314 ±3,108
06:34 (01:02)
61
Glitchspace
May 5, 2016
$3.24
49% (81%)
13,750 ±3,284
8,825 ±2,631
01:03 (00:48)
62
Electronic Super Joy: Groove City
Jun 6, 2014
$4.99
46% (80%)
85,580 ±8,193
35,299 ±5,262
01:06 (00:36)
63
Runeous: Part One
May 31, 2016
Free
46% (80%)
36,326 ±5,338
3,694 ±1,702
00:19 (00:25)
64
Amphora
Nov 12, 2014
$4.19
46% (80%)
4,105 ±1,794
2,463 ±1,390
01:12 (01:50)
65
Hangeki
Aug 11, 2014
$9.99
N/A (N/A)
1,847 ±1,203
1,642 ±1,134
00:32 (00:43)
66
Where is my Heart?
May 29, 2014
$7.99
N/A (N/A/74%)
43,098 ±5,814
13,135 ±3,210
00:37 (00:21)
67
Shark Attack Deathmatch 2
May 28, 2015
$1.49
44% (79%)
87,838 ±8,300
65,673 ±7,177
01:27 (00:34)
68
Steel Storm: Burning Retribution
May 11, 2011
$7.49
44% (79%/55%)
387,267 ±17,422
165,209 ±11,382
02:10 (00:32)
69
The Hurricane of the Varstray -Collateral hazard-
Dec 21, 2015
$1.99
42% (78%)
4,515 ±1,882
2,668 ±1,446
01:57 (00:56)
70
Master Spy
Sep 8, 2015
$1.49
42% (78%/68%)
16,008 ±3,543
7,593 ±2,440
02:31 (01:28)
71
The Polynomial - Space of the music
Oct 15, 2010
$1.74
42% (78%)
150,433 ±10,861
125,805 ±9,933
00:41 (00:16)
72
Dyad
Apr 24, 2013
$14.99
42% (78%/80%)
35,505 ±5,277
21,139 ±4,072
00:35 (00:17)
73
Incredipede
Mar 18, 2013
$1.99
42% (78%/74%)
169,109 ±11,516
57,464 ±6,714
00:59 (00:24)
74
ULTRAWORLD EXODUS
Dec 4, 2014
Free
N/A (N/A)
15,392 ±3,475
1,231 ±982
00:21 (00:31)
75
Miner Warfare
Jun 11, 2015
$0.74
42% (78%)
13,545 ±3,259
10,261 ±2,837
01:55 (01:24)
76
Legend of Numbers
Jun 2, 2016
Free
40% (77%)
47,203 ±6,085
11,288 ±2,975
02:47 (00:32)
77
1000 Amps
Feb 22, 2012
$3.99
40% (77%)
38,583 ±5,501
20,933 ±4,052
01:31 (00:27)
78
Proxy Blade Zero
Jul 28, 2014
$1.69
40% (77%)
24,627 ±4,395
9,030 ±2,661
00:59 (00:17)
79
Steno Arcade
Mar 30, 2016
Free
38% (76%)
66,494 ±7,222
26,885 ±4,592
00:06 (00:03)
80
Soviet City
Mar 31, 2016
$10.19
38% (76%)
1,437 ±1,061
1,026 ±897
00:42 (00:59)
81
Starseed Pilgrim
Apr 16, 2013
$4.49
38% (76%/83%)
303,328 ±15,420
92,148 ±8,501
01:31 (00:13)
82
Three Kingdoms: The Last Warlord
May 26, 2017
$9.99
38% (76%)
5,541 ±2,085
5,541 ±2,085
06:11 (02:31)
83
bob's game
Feb 21, 2017
Free
N/A (N/A)
10,467 ±2,865
1,231 ±982
00:08 (00:10)
84
A Dump in the Dark
Jan 12, 2017
$1.24
N/A (N/A)
1,231 ±982
616 ±695
00:11 (00:08)
85
In the Darkness of the Sea
Feb 1, 2017
Free
N/A (N/A)
1,847 ±1,203
616 ±695
00:05 (00:04)
86
Cards of Cthulhu
Oct 11, 2016
$2.39
N/A (N/A)
2,463 ±1,390
1,847 ±1,203
00:55 (01:10)
87
Elegy for a Dead World
Dec 10, 2014
$5.09
35% (74%)
115,954 ±9,536
28,732 ±4,747
00:39 (00:24)
88
Trauma
Aug 8, 2011
$3.49
35% (74%/62%)
240,528 ±13,733
93,584 ±8,567
00:42 (00:14)
89
Noct
Oct 21, 2015
$4.99
33% (73%)
68,341 ±7,321
24,627 ±4,395
00:53 (00:28)
90
The Uncertain: VR Experience
Apr 25, 2017
Free
N/A (N/A)
15,392 ±3,475
6,978 ±2,339
00:09 (00:04)
91
ASTROKILL
May 27, 2016
$4.99
N/A (N/A)
12,109 ±3,082
1,437 ±1,061
00:10 (00:11)
92
Cube & Star: An Arbitrary Love
Feb 14, 2014
$2.49
N/A (N/A)
31,400 ±4,963
7,799 ±2,473
00:51 (00:21)
93
Devilry
Jun 30, 2015
$4.99
N/A (N/A)
2,873 ±1,501
1,642 ±1,134
02:10 (01:33)
94
Leadwerks Game Launcher
Aug 24, 2015
Free
N/A (N/A)
72,856 ±7,559
10,261 ±2,837
00:53 (00:06)
95
Dr.Green
Jan 2, 2015
$2.99
N/A (N/A)
3,694 ±1,702
1,847 ±1,203
02:08 (00:20)
96
Bass Blocks
Sep 15, 2015
$4.99
N/A (N/A)
821 ±802
205 ±401
01:39 (00:33)
97
Disorder
Jan 12, 2015
$1.99
31% (72%/61%)
12,314 ±3,108
8,004 ±2,505
03:29 (01:20)
98
The Nest
Jun 14, 2016
$8.99
31% (72%)
12,314 ±3,108
10,672 ±2,893
02:44 (00:37)
99
Throbax TD
Nov 5, 2015
$2.39
N/A (N/A)
821 ±802
410 ±567
03:04 (02:02)
100
Space Warp
Nov 4, 2014
$4.99
N/A (N/A)
15,392 ±3,475
2,873 ±1,501
00:32 (00:26)
101
Drifter
Mar 4, 2014
$8.99
28% (70%)
12,314 ±3,108
9,030 ±2,661
02:04 (00:47)
102
Bad Bots
May 17, 2013
$0.74
28% (70%/49%)
27,911 ±4,679
9,441 ±2,721
01:22 (00:50)
103
Euclidean
Sep 25, 2015
$2.49
25% (68%/62%)
20,318 ±3,992
11,903 ±3,055
01:35 (00:24)
104
Astro Tripper
Sep 15, 2011
$4.99
N/A (N/A)
28,527 ±4,730
9,441 ±2,721
00:41 (00:16)
105
CDF Starfighter VR
May 26, 2017
$16.99
21% (64%)
3,078 ±1,554
2,873 ±1,501
02:36 (01:06)
106
Bard to the Future
Feb 27, 2015
$2.49
N/A (N/A)
29,553 ±4,815
5,746 ±2,123
00:56 (00:23)
107
Spirit Run - Fire vs. Ice
Feb 12, 2015
$0.89
N/A (N/A)
7,799 ±2,473
1,231 ±982
00:13 (00:02)
108
Grass Simulator
Apr 1, 2015
$0.99
17% (61%)
20,933 ±4,052
17,444 ±3,699
01:57 (00:39)
109
Avalon Lords: Dawn Rises
Apr 28, 2016
Free
17% (61%)
44,124 ±5,883
11,288 ±2,975
01:09 (00:09)
110
Visibility
May 25, 2015
Free
15% (59%)
30,579 ±4,897
3,899 ±1,749
00:18 (00:43)
111
BIT.TRIP CORE
Oct 2, 2012
$2.99
14% (58%)
49,460 ±6,228
24,012 ±4,340
01:29 (00:50)
112
Sentinel
Apr 22, 2014
Free
14% (58%)
38,993 ±5,530
4,925 ±1,965
00:35 (00:30)
113
Northern Regime
Feb 17, 2017
$10.99
N/A (N/A)
4,720 ±1,924
410 ±567
00:30 (00:20)
114
Descent: Underground
Oct 22, 2015
$14.99
13% (56%)
43,919 ±5,869
32,426 ±5,043
04:33 (00:31)
115
Gunslingers
Dec 17, 2015
Free
12% (55%)
102,409 ±8,962
36,736 ±5,368
10:39 (00:25)
116
Pregnancy
Mar 2, 2015
$0.49
12% (55%)
6,978 ±2,339
4,310 ±1,838
00:37 (00:25)
117
Iron Madness
Mar 2, 2016
Free
12% (55%)
47,818 ±6,124
6,567 ±2,269
00:11 (00:03)
118
SOL: Exodus
Jan 25, 2012
$7.99
N/A (N/A/57%)
58,490 ±6,773
22,780 ±4,227
01:06 (00:43)
119
Hold the door!
Sep 2, 2016
Free
N/A (N/A)
25,448 ±4,468
5,336 ±2,046
00:21 (00:10)
120
Catch a Lover
Apr 6, 2017
$4.89
10% (51%)
8,414 ±2,569
7,388 ±2,407
01:21 (00:40)
121
Perraw - FPS Clone War Alpha
Jan 29, 2016
$0.64
10% (51%)
3,899 ±1,749
2,052 ±1,268
01:35 (01:27)
122
AsteroidsHD
Mar 4, 2016
$0.99
N/A (N/A)
13,135 ±3,210
1,437 ±1,061
03:42 (00:04)
123
EmbodyMe Beta
Mar 22, 2017
Free
N/A (N/A)
3,489 ±1,654
1,231 ±982
00:04 (00:04)
124
Soccer Rage
Jun 2, 2015
$9.99
8% (49%)
13,340 ±3,235
4,310 ±1,838
00:32 (00:23)
125
TRIP Steam Edition
Jun 19, 2015
$1.79
N/A (N/A)
34,068 ±5,169
6,157 ±2,197
00:06 (00:03)
126
Maia
Dec 3, 2013
$12.49
6% (45%)
32,631 ±5,059
30,169 ±4,864
03:03 (00:47)
127
Dropship Down
Jul 21, 2016
Free
N/A (N/A)
2,668 ±1,446
1,026 ±897
01:43 (02:40)
128
Victory: The Age of Racing
Feb 12, 2016
Free
6% (44%)
392,398 ±17,537
277,469 ±14,749
03:09 (00:23)
129
The Flock
Aug 21, 2015
$4.24
6% (43%/36%)
28,527 ±4,730
8,414 ±2,569
00:47 (00:39)
130
Murder
Oct 21, 2015
$0.59
5% (42%)
4,720 ±1,924
1,231 ±982
00:31 (00:22)
131
Shrooms
May 8, 2015
$14.99
N/A (N/A)
616 ±695
410 ±567
00:10 (00:06)
132
SpellKnights
Jul 13, 2016
Free
4% (38%)
66,289 ±7,211
21,754 ±4,131
00:32 (00:07)
133
AMOK
Mar 22, 2016
$0.49
3% (37%)
13,956 ±3,308
2,258 ±1,330
07:09 (00:20)
134
Flight of the Icarus
May 12, 2010
$0.49
3% (37%)
71,830 ±7,506
46,997 ±6,071
00:53 (00:26)
135
So Many Cubes
Oct 6, 2016
$0.49
N/A (N/A)
63,621 ±7,064
3,284 ±1,605
00:50 (00:17)
136
Dark Night
Jan 11, 2016
$1.99
N/A (N/A)
25,448 ±4,468
1,231 ±982
05:27 (05:29)
137
Phantom Soldier
Mar 29, 2017
$0.49
3% (36%)
8,414 ±2,569
4,720 ±1,924
01:17 (01:06)
138
Stranded
May 20, 2014
$1.59
2% (30%)
21,959 ±4,150
12,314 ±3,108
01:42 (00:50)
139
Recruits
Jul 31, 2014
$9.99
1% (28%)
6,567 ±2,269
2,668 ±1,446
01:07 (01:13)
140
One Late Night: Deadline
Dec 22, 2014
$1.99
1% (27%)
8,620 ±2,600
2,873 ±1,501
00:39 (00:48)
141
The Note
Jul 23, 2015
$5.99
N/A (N/A)
156,590 ±11,081
8,414 ±2,569
02:14 (00:04)
142
Joana's Life
Sep 1, 2016
$2.99
N/A (N/A)
90,301 ±8,416
2,873 ±1,501
00:42 (00:21)
143
C-RUSH
Feb 17, 2014
$0.99
N/A (N/A)
24,012 ±4,340
4,515 ±1,882
00:51 (00:09)
144
AI: Rampage
Jan 27, 2016
$0.49
1% (21%)
120,264 ±9,712
7,799 ±2,473
01:01 (00:04)
145
BlackShadows
Sep 11, 2015
$2.99
N/A (N/A)
55,822 ±6,617
4,720 ±1,924
01:19 (00:13)
146
Zone 22
Jul 31, 2015
$5.99
N/A (N/A)
3,284 ±1,605
410 ±567
00:26 (00:17)
147
Eternity's Child
Jul 31, 2008
$4.99
N/A (N/A)
15,597 ±3,498
3,284 ±1,605
00:17 (00:15)
148
Rift's Cave
Dec 1, 2014
$9.99
N/A (N/A)
12,314 ±3,108
2,052 ±1,268
00:17 (00:17)