Blast Em!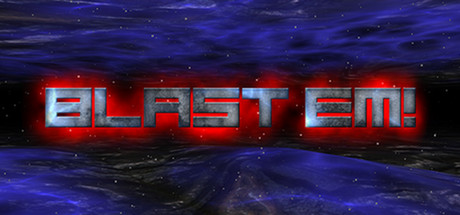 Store | Hub | SteamDB | Site
Developer: Xiotex Studios Ltd Publisher: Xiotex Studios Ltd
Genre: Action, Indie
Languages: English
Tags: Action (31), Indie (30), Shoot 'Em Up (12), Retro (10)
Category: Single-player, Steam Achievements, Steam Leaderboards
Release date: Jan 22, 2014
Price: $1.49 50%
Score rank: 11% Userscore: 53% Old userscore: 47%
Owners: 106,611 ± 9,027
Players in the last 2 weeks: 597 ± 1,168 (0.56%)
Players total: 11,601 ± 2,978 (10.88%)
Followers: 140
Peak concurrent players yesterday: 2
Playtime in the last 2 weeks: 00:02 (average) 00:02 (median)
Playtime total: 01:37 (average) 00:07 (median)

Steam Spy is still in beta, so expect major bugs.
Peak daily concurrent players:
CCU data courtesy of SteamDB. Used with permission.
Hourly concurrent players:
YouTube:
The views data is based on top 50 videos uploaded last week. Actual number of views might be more than the number shown.

The displayed number of videos uploaded yesterday is limited to 50, so if there were more videos uploaded, the number will still show 50.

If the game has commonly used word as its name (like "FEAR" or "Volume") its number of Youtube views might be wrong.
Games similar to this one:
#
Game
Release date

Price

Score rank
(Userscore / Metascore)

Owners

Players

Playtime (Median)

1
Oats Studios - Volume 1 Assets
Jun 14, 2017
$4.99
N/A (N/A)
4,600 ±1,875
3,600 ±1,659
00:03 (00:01)
2
UBERMOSH Vol.3
Aug 15, 2016
$0.49
95% (96%)
29,403 ±4,741
7,801 ±2,442
00:29 (00:18)
3
Oddworld: Abe's Exoddus
Aug 28, 2008
$0.74
92% (95%)
387,041 ±17,194
146,015 ±10,564
04:44 (00:20)
4
Overload Playable Teaser 2.0
Mar 7, 2016
Free
92% (95%)
71,408 ±7,388
26,603 ±4,509
00:23 (00:11)
5
The Apogee Throwback Pack
Jul 1, 2013
$2.49
92% (95%)
49,005 ±6,120
25,203 ±4,389
01:08 (00:21)
6
Jagged Alliance 1: Gold Edition
Apr 23, 2014
$2.49
N/A (N/A)
37,204 ±5,333
6,001 ±2,141
23:28 (00:27)
7
THOTH
Oct 7, 2016
$1.99
N/A (N/A)
88,009 ±8,202
10,001 ±2,765
00:41 (00:09)
8
UBERMOSH:BLACK
Feb 17, 2016
$0.49
86% (93%)
31,403 ±4,899
8,201 ±2,503
00:41 (00:08)
9
NiGHTS Into Dreams
Dec 17, 2012
$1.59
82% (92%)
264,628 ±14,219
49,405 ±6,145
01:44 (00:19)
10
Tom Clancy's Ghost Recon Island Thunder
Jul 15, 2008
$1.69
N/A (N/A/82%)
100,811 ±8,778
16,402 ±3,541
01:47 (00:40)
11
Secret Agent
May 5, 2014
$1.24
N/A (N/A)
59,406 ±6,738
3,200 ±1,564
01:29 (00:22)
12
Hammerfight
Oct 28, 2009
$4.99
78% (91%)
506,654 ±19,669
161,417 ±11,106
02:31 (00:12)
13
Tom Clancy's Ghost Recon Desert Siege
Jul 15, 2008
$1.69
N/A (N/A/82%)
100,011 ±8,743
15,202 ±3,409
01:28 (00:22)
14
Hero of Many
Sep 15, 2014
$6.99
78% (91%)
25,603 ±4,424
5,201 ±1,994
00:46 (00:26)
15
ThreadSpace: Hyperbol
Jul 12, 2007
$2.49
N/A (N/A)
23,002 ±4,193
3,400 ±1,612
00:49 (00:12)
16
Requiem: Avenging Angel
Jul 7, 2016
$2.49
N/A (N/A)
3,400 ±1,612
400 ±553
00:14 (00:06)
17
Intrusion 2
Sep 11, 2012
$2.99
70% (89%/80%)
377,240 ±16,975
153,416 ±10,828
01:40 (00:26)
18
INVASION!
Oct 12, 2016
Free
70% (89%)
48,005 ±6,057
22,202 ±4,119
00:16 (00:08)
19
Master of Orion 1
Feb 25, 2016
$5.99
N/A (N/A)
127,413 ±9,868
29,803 ±4,773
09:44 (00:05)
20
Mind OVR Matter
May 22, 2017
$3.99
N/A (N/A)
6,801 ±2,280
2,000 ±1,236
00:13 (00:15)
21
Rise of the Triad: Dark War
May 5, 2014
$6.99
N/A (N/A)
57,806 ±6,647
4,000 ±1,748
00:21 (00:15)
22
Lugaru HD
Oct 8, 2010
$2.49
64% (87%)
176,419 ±11,611
55,606 ±6,519
01:18 (00:15)
23
Hocus Pocus
May 5, 2014
$1.24
N/A (N/A)
59,606 ±6,750
6,001 ±2,141
00:55 (00:25)
24
Blue Effect VR
Feb 8, 2017
$7.49
61% (86%)
6,001 ±2,141
5,601 ±2,069
00:44 (00:39)
25
Grand Theft Auto
Jan 4, 2008
Free
61% (86%)
626,066 ±21,861
191,420 ±12,094
03:41 (00:05)
26
Grand Theft Auto 2
Jan 4, 2008
Free
61% (86%)
626,066 ±21,861
158,617 ±11,010
04:56 (00:10)
27
ALLTYNEX Second
Dec 11, 2014
$3.99
N/A (N/A)
37,804 ±5,375
10,401 ±2,819
10:26 (00:12)
28
Moorhuhn Invasion (Crazy Chicken Invasion)
Feb 20, 2015
$0.99
N/A (N/A)
11,801 ±3,003
2,000 ±1,236
00:05 (00:02)
29
Acan's Call: Act 1
Aug 11, 2016
Free
61% (86%)
59,806 ±6,761
29,203 ±4,725
08:57 (00:16)
30
SHOWTIME 2073
Feb 12, 2016
$0.99
61% (86%)
26,403 ±4,492
9,001 ±2,623
00:22 (00:08)
31
Final DOOM
Aug 3, 2007
$2.49
61% (86%)
406,243 ±17,615
129,814 ±9,960
01:40 (00:04)
32
SHOCK TROOPERS
May 18, 2016
$3.99
N/A (N/A)
26,603 ±4,509
3,000 ±1,514
00:47 (01:01)
33
Call of Tomsk-7
Aug 10, 2015
$0.64
59% (85%)
30,003 ±4,789
11,001 ±2,900
00:59 (00:24)
34
Spermination
Apr 29, 2015
$0.89
59% (85%)
25,403 ±4,406
17,802 ±3,689
02:41 (00:27)
35
Worms
Oct 19, 2011
$1.59
59% (85%)
294,231 ±14,993
60,606 ±6,806
00:59 (00:04)
36
VRMultigames
Jul 25, 2016
Free
59% (85%)
48,005 ±6,057
17,002 ±3,605
00:23 (00:09)
37
Square Brawl
Oct 22, 2015
$4.99
59% (85%)
13,601 ±3,224
5,401 ±2,031
02:14 (00:41)
38
Spear of Destiny
Aug 3, 2007
$1.79
56% (84%)
239,025 ±13,514
43,005 ±5,733
01:46 (00:06)
39
Zenohell
Oct 14, 2015
$2.49
N/A (N/A)
24,603 ±4,336
1,800 ±1,173
00:06 (00:07)
40
BANZAI PECAN: The Last Hope For the Young Century
Jan 26, 2015
$5.99
N/A (N/A)
21,802 ±4,082
2,400 ±1,354
04:05 (07:51)
41
ARCADE GAME SERIES: GALAGA
Apr 19, 2016
$0.99
56% (84%)
74,808 ±7,562
13,601 ±3,224
03:53 (00:11)
42
Felt Tip Circus
Apr 5, 2016
$3.99
N/A (N/A)
25,003 ±4,372
3,800 ±1,704
00:31 (00:18)
43
QUAKE II Mission Pack: The Reckoning
Aug 3, 2007
$1.79
N/A (N/A)
293,831 ±14,983
18,002 ±3,709
00:33 (00:01)
44
TWINKLE STAR SPRITES
May 26, 2016
$3.99
N/A (N/A)
27,803 ±4,610
4,000 ±1,748
01:11 (03:32)
45
Litil Divil
Mar 19, 2014
$0.99
N/A (N/A)
325,634 ±15,772
44,805 ±5,852
01:04 (00:03)
46
Capsized
Apr 29, 2011
$2.49
51% (82%/80%)
520,455 ±19,935
219,623 ±12,954
01:38 (00:19)
47
Pixel-Warfare: Pro
Sep 20, 2016
$0.99
N/A (N/A)
18,802 ±3,791
2,600 ±1,409
00:39 (00:11)
48
NAM
Nov 6, 2014
$1.74
49% (81%)
45,405 ±5,891
10,001 ±2,765
00:25 (00:09)
49
Glare
Oct 10, 2013
$9.99
N/A (N/A/69%)
17,802 ±3,689
5,601 ±2,069
00:25 (00:21)
50
Daedalus - No Escape
Oct 28, 2014
$0.99
49% (81%)
19,602 ±3,871
5,001 ±1,955
00:23 (00:19)
51
Dragon's Lair 2: Time Warp
Oct 24, 2013
$4.99
N/A (N/A)
7,001 ±2,313
3,000 ±1,514
00:58 (00:21)
52
Glass Wing
Jun 24, 2015
$1.19
N/A (N/A)
79,008 ±7,771
6,001 ±2,141
00:24 (00:07)
53
Eradicator
Nov 6, 2014
$1.74
N/A (N/A)
28,003 ±4,626
5,001 ±1,955
01:02 (00:16)
54
STAR WARS - X-Wing Alliance
Apr 28, 2015
$3.99
46% (80%)
293,031 ±14,962
61,006 ±6,829
02:05 (00:12)
55
Zoo Empire
Sep 3, 2015
$1.74
N/A (N/A/59%)
9,001 ±2,623
3,000 ±1,514
03:39 (03:31)
56
Earthworm Jim 2
Nov 4, 2009
$13.99
N/A (N/A)
21,402 ±4,045
7,801 ±2,442
00:22 (00:16)
57
Urban Chaos
Oct 15, 2013
$1.39
44% (79%)
11,001 ±2,900
3,000 ±1,514
00:44 (00:24)
58
Ricochet
Nov 1, 2000
$0.99
44% (79%)
7,600,604 ±75,529
901,095 ±26,219
04:16 (00:03)
59
Curse: The Eye of Isis
Aug 22, 2014
$0.98
N/A (N/A/63%)
32,403 ±4,977
5,001 ±1,955
00:39 (00:08)
60
Attractio
Jan 18, 2016
$1.99
N/A (N/A)
73,608 ±7,501
6,201 ±2,177
01:49 (00:26)
61
Descent: FreeSpace The Great War
May 7, 2014
$6.99
42% (78%)
17,602 ±3,668
12,201 ±3,054
02:54 (00:27)
62
War on Folvos
Aug 8, 2014
$0.99
N/A (N/A)
51,405 ±6,268
3,600 ±1,659
01:33 (00:14)
63
Scrap Garden - The Day Before
Oct 7, 2016
Free
40% (77%)
144,815 ±10,520
94,810 ±8,513
00:37 (00:16)
64
ARCADE GAME SERIES: DIG DUG
Apr 19, 2016
$0.99
N/A (N/A)
73,208 ±7,480
11,601 ±2,978
00:21 (00:08)
65
TOXIKK
Sep 10, 2016
Free
38% (76%)
613,865 ±21,648
383,841 ±17,123
01:18 (00:24)
66
Alien Carnage / Halloween Harry
May 5, 2014
Free
N/A (N/A)
53,806 ±6,413
4,000 ±1,748
00:10 (00:09)
67
MDK
Sep 17, 2009
$6.99
38% (76%)
15,402 ±3,431
8,801 ±2,593
01:59 (00:21)
68
Death Dojo
Nov 8, 2016
Free
N/A (N/A)
18,602 ±3,771
8,001 ±2,473
00:56 (00:08)
69
Tomb Raider V: Chronicles
Nov 28, 2012
$1.39
35% (74%)
534,257 ±20,197
56,406 ±6,566
03:03 (00:10)
70
Mighty Gunvolt
Sep 29, 2015
$1.24
35% (74%)
28,603 ±4,676
8,801 ±2,593
00:36 (00:16)
71
THE LAST BLADE
Aug 31, 2016
$4.99
N/A (N/A)
14,802 ±3,363
4,200 ±1,792
00:48 (00:41)
72
STAR WARS X-Wing vs TIE Fighter - Balance of Power Campaigns
Apr 28, 2015
$3.99
33% (73%)
285,430 ±14,767
50,805 ±6,232
02:23 (00:08)
73
Crewsaders
Nov 17, 2016
$1.49
N/A (N/A)
5,601 ±2,069
1,600 ±1,106
00:20 (00:33)
74
BoxesWithGuns
Apr 14, 2015
$1.99
N/A (N/A)
27,403 ±4,577
3,000 ±1,514
00:13 (00:09)
75
Orake 2D MMORPG
Jun 16, 2017
Free
31% (72%)
66,807 ±7,146
34,804 ±5,158
03:55 (00:06)
76
Bierzerkers
Feb 25, 2016
$4.99
30% (71%)
208,422 ±12,620
100,211 ±8,752
00:53 (00:14)
77
STAR WARS: Rebel Assault I + II
Mar 29, 2016
$3.99
N/A (N/A)
127,013 ±9,852
18,802 ±3,791
00:39 (00:15)
78
Arctic Adventure
May 5, 2014
Free
N/A (N/A)
54,006 ±6,425
1,600 ±1,106
00:04 (00:05)
79
Earth 2150 Trilogy
Nov 1, 2013
$1.04
27% (69%/78%)
244,826 ±13,677
56,406 ±6,566
01:58 (00:06)
80
Tex Murphy: Mean Streets
Jun 12, 2014
$1.49
N/A (N/A)
44,805 ±5,852
5,201 ±1,994
00:57 (00:10)
81
Nexuiz
May 10, 2012
$9.99
27% (69%/54%)
301,032 ±15,165
114,612 ±9,359
01:05 (00:19)
82
Data Jammers: FastForward
Oct 24, 2011
Free
25% (68%)
76,208 ±7,632
13,001 ±3,152
00:35 (00:12)
83
Iron Storm
May 8, 2014
$0.98
N/A (N/A/69%)
46,605 ±5,968
7,201 ±2,346
00:11 (00:01)
84
Daikatana
Oct 1, 2013
$1.39
22% (65%)
224,024 ±13,083
24,203 ±4,301
00:49 (00:10)
85
Momento Temporis: Light from the Deep
Oct 27, 2016
$3.49
N/A (N/A)
6,601 ±2,246
1,600 ±1,106
10:23 (10:14)
86
Redline
Oct 23, 2014
$1.74
N/A (N/A)
25,603 ±4,424
3,600 ±1,659
01:09 (00:14)
87
Fowl Space
Mar 21, 2012
$0.49
16% (60%)
26,603 ±4,509
10,001 ±2,765
00:27 (00:14)
88
World War II: Panzer Claws
Sep 27, 2013
$4.99
15% (59%/61%)
309,233 ±15,370
37,804 ±5,375
02:25 (00:06)
89
The Secret of Pineview Forest
Oct 31, 2016
Free
15% (59%)
21,602 ±4,063
7,801 ±2,442
00:24 (00:15)
90
Cold War
Jan 8, 2014
$1.24
14% (57%/64%)
34,604 ±5,143
10,201 ±2,792
00:51 (00:20)
91
Haegemonia: Legions of Iron
May 1, 2014
$1.99
N/A (N/A)
72,408 ±7,439
22,402 ±4,138
00:36 (00:01)
92
SHOCK TROOPERS 2nd Squad
Sep 28, 2016
$3.99
N/A (N/A)
11,601 ±2,978
1,600 ±1,106
00:34 (00:22)
93
ProtoGalaxy
Oct 6, 2010
Free
N/A (N/A)
137,415 ±10,248
14,602 ±3,341
00:18 (00:10)
94
Tank Universal
Aug 21, 2008
$0.99
13% (56%)
112,212 ±9,261
28,603 ±4,676
02:12 (00:25)
95
Naval Warfare
May 25, 2011
$0.5
13% (56%/57%)
125,613 ±9,798
33,404 ±5,053
00:40 (00:16)
96
Shadowcrypt
Sep 15, 2014
$1.99
N/A (N/A)
3,600 ±1,659
2,600 ±1,409
00:17 (00:15)
97
Blood II: The Chosen + Expansion
Jul 14, 2014
$1.49
12% (55%/72%)
14,602 ±3,341
9,201 ±2,652
01:04 (00:24)
98
CT Special Forces: Fire for Effect
Mar 13, 2014
$0.99
N/A (N/A)
133,414 ±10,098
10,201 ±2,792
02:59 (00:15)
99
Spheroid
Aug 31, 2015
$0.59
N/A (N/A)
116,212 ±9,424
6,001 ±2,141
00:23 (00:04)
100
Tomb Raider VI: The Angel of Darkness
Nov 28, 2012
$1.39
11% (53%)
535,657 ±20,224
72,808 ±7,460
04:17 (00:13)
101
Fastigium
Dec 18, 2016
Free
N/A (N/A)
11,801 ±3,003
5,001 ±1,955
00:18 (00:07)
102
Muv-Luv VR
Jun 16, 2016
Free
N/A (N/A)
40,204 ±5,543
6,601 ±2,246
00:22 (00:08)
103
World War III: Black Gold
Sep 27, 2013
$4.99
10% (51%/71%)
249,226 ±13,799
34,004 ±5,098
01:48 (00:07)
104
Space Hack
Aug 5, 2014
$0.99
10% (51%/63%)
573,661 ±20,928
106,611 ±9,027
03:14 (00:05)
105
Booster Trooper
Apr 23, 2010
$0.99
10% (51%)
44,805 ±5,852
24,803 ±4,354
02:36 (00:14)
106
Earthworm Jim 3D
Nov 4, 2009
$13.99
9% (50%)
21,402 ±4,045
7,601 ±2,410
01:01 (00:14)
107
Space Bit Attack
Apr 5, 2016
$2.49
N/A (N/A)
2,600 ±1,409
1,200 ±957
00:06 (00:07)
108
Marine Sharpshooter II: Jungle Warfare
Apr 3, 2014
$0.99
N/A (N/A/52%)
209,022 ±12,638
30,803 ±4,852
00:29 (00:07)
109
STAR WARS Starfighter
Jul 8, 2009
$1.49
8% (48%/71%)
870,092 ±25,765
187,020 ±11,955
01:25 (00:12)
110
Tom Clancy's Rainbow Six Lockdown
May 13, 2008
$3.39
8% (48%/59%)
77,208 ±7,682
22,002 ±4,101
04:31 (00:34)
111
Blinding Dark
Aug 12, 2014
$9.99
N/A (N/A)
21,602 ±4,063
4,000 ±1,748
02:09 (00:32)
112
Desert Thunder
Mar 19, 2014
$0.99
N/A (N/A)
166,218 ±11,270
14,602 ±3,341
01:48 (00:07)
113
Dead Island Retro Revenge
May 31, 2016
$2.49
7% (46%)
38,604 ±5,432
7,001 ±2,313
00:23 (00:07)
114
Master of Orion 3
Aug 25, 2016
$4.99
N/A (N/A/64%)
109,612 ±9,153
22,402 ±4,138
03:56 (00:07)
115
Dark Void Zero
Apr 12, 2010
$0.99
6% (44%)
37,404 ±5,347
21,002 ±4,007
00:47 (00:18)
116
Portal 2 Sixense Perceptual Pack
Sep 20, 2013
Free
6% (43%)
619,065 ±21,739
224,824 ±13,107
00:13 (00:01)
117
Crouching Pony Hidden Dragon
Jul 14, 2014
$9.99
N/A (N/A)
29,003 ±4,708
4,400 ±1,834
00:26 (00:17)
118
Etherlords
Feb 13, 2014
$3.34
5% (41%/77%)
85,609 ±8,089
15,202 ±3,409
01:13 (00:07)
119
Huntsman: The Orphanage (Halloween Edition)
Sep 13, 2013
$9.99
N/A (N/A)
140,015 ±10,344
15,402 ±3,431
00:40 (00:13)
120
BlackSoul: Extended Edition
Feb 26, 2014
$6.99
N/A (N/A)
30,403 ±4,821
4,000 ±1,748
00:29 (00:21)
121
Heli Heroes
Nov 1, 2013
$4.99
3% (36%)
219,023 ±12,937
21,602 ±4,063
00:19 (00:05)
122
OCEAN CITY RACING: Redux
Nov 14, 2014
$1.49
3% (35%)
67,207 ±7,167
19,602 ±3,871
00:51 (00:14)
123
Sniper Art of Victory
Jan 31, 2014
$0.59
3% (34%)
162,817 ±11,155
48,605 ±6,095
02:18 (00:20)
124
Chernobyl Commando
Jun 6, 2014
$0.99
2% (32%)
63,607 ±6,973
14,202 ±3,295
01:15 (00:13)
125
Rabiez: Epidemic
Mar 4, 2016
$0.49
N/A (N/A)
119,013 ±9,537
5,801 ±2,105
00:10 (00:02)
126
Manhunter
May 30, 2014
$0.74
2% (30%)
76,208 ±7,632
21,602 ±4,063
01:17 (00:16)
127
Tiestru
Aug 20, 2014
$9.99
N/A (N/A)
30,203 ±4,805
3,200 ±1,564
00:18 (00:07)
128
NightZ
Feb 14, 2017
$0.49
1% (28%)
3,200 ±1,564
1,800 ±1,173
00:09 (00:13)
129
Street Fighter V CFN Beta
Mar 28, 2017
Free
1% (27%)
504,053 ±19,619
119,813 ±9,569
01:08 (00:14)
130
Hyper Fighters
Jan 23, 2014
$0.99
N/A (N/A)
197,621 ±12,289
24,603 ±4,336
00:11 (00:06)
131
Garshasp: Temple of the Dragon
Sep 24, 2012
$0.99
1% (24%)
47,205 ±6,007
9,001 ±2,623
00:33 (00:09)
132
Chaos Domain
May 1, 2014
$0.99
N/A (N/A)
372,639 ±16,871
65,607 ±7,081
09:44 (00:07)