Blast Em!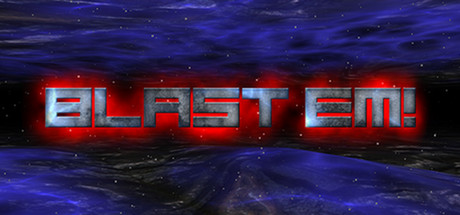 Store | Hub | SteamDB | Site
Developer: Xiotex Studios Ltd Publisher: Xiotex Studios Ltd
Genre: Action, Indie
Languages: English
Tags: Action (31), Indie (30), Shoot 'Em Up (12), Retro (10)
Category: Single-player, Steam Achievements, Steam Leaderboards
Release date: Jan 22, 2014
Price: $2.99
Score rank: 12% Userscore: 54% Old userscore: 48%
Owners: 109,523 ± 10,008
Players in the last 2 weeks: 839 ± 1,643 (0.77%)
Players total: 11,718 ± 3,274 (10.7%)
Followers: 137
Peak concurrent players yesterday: 1
Playtime in the last 2 weeks: 00:02 (average) 00:02 (median)
Playtime total: 01:13 (average) 00:04 (median)

Steam Spy is still in beta, so expect major bugs.
Peak daily concurrent players:
CCU data courtesy of SteamDB. Used with permission.
Hourly concurrent players:
YouTube:
The views data is based on top 50 videos uploaded last week. Actual number of views might be more than the number shown.

The displayed number of videos uploaded yesterday is limited to 50, so if there were more videos uploaded, the number will still show 50.

If the game has commonly used word as its name (like "FEAR" or "Volume") its number of Youtube views might be wrong.
Games similar to this one:
#
Game
Release date

Price

Score rank
(Userscore / Metascore)

Owners

Players

Playtime (Median)

1
Little Big Adventure 2
Oct 20, 2015
$3.99
100% (99%)
15,544 ±3,770
5,261 ±2,193
03:32 (00:55)
2
Overload Playable Teaser 2.0
Mar 7, 2016
Free
95% (96%)
69,110 ±7,950
24,392 ±4,723
00:15 (00:09)
3
Realms of the Haunting
Apr 24, 2014
$9.99
95% (96%)
418,485 ±19,555
36,109 ±5,747
00:34 (00:08)
4
REVOLVER360 RE:ACTOR
Oct 24, 2014
$9.99
95% (96%)
68,153 ±7,895
30,848 ±5,312
02:03 (00:31)
5
UBERMOSH Vol.3
Aug 15, 2016
$1.19
95% (96%)
22,000 ±4,486
7,413 ±2,604
00:22 (00:20)
6
THOTH
Oct 7, 2016
$9.99
N/A (N/A)
83,697 ±8,749
10,522 ±3,102
00:52 (00:23)
7
Atlas Reactor VR Character Viewer
Apr 5, 2016
Free
N/A (N/A)
49,262 ±6,712
10,522 ±3,102
00:24 (00:08)
8
Grand Theft Auto 2
Jan 4, 2008
Free
95% (96%)
617,684 ±23,752
164,764 ±12,274
00:57 (00:09)
9
Crystal Caves
May 5, 2014
$4.99
N/A (N/A)
55,957 ±7,154
3,348 ±1,750
01:33 (01:13)
10
UBERMOSH:BLACK
Feb 17, 2016
$0.49
92% (95%)
24,392 ±4,723
6,217 ±2,384
00:26 (00:19)
11
The Apogee Throwback Pack
Jul 1, 2013
$9.99
92% (95%)
53,566 ±6,999
28,696 ±5,123
01:26 (00:30)
12
Run or Die
Dec 11, 2014
$4.99
92% (95%)
15,544 ±3,770
10,283 ±3,067
01:27 (00:56)
13
A-10 VR
Apr 5, 2016
$4.99
92% (95%)
11,239 ±3,206
9,805 ±2,994
02:00 (01:43)
14
Command HQ
Nov 6, 2014
$6.99
N/A (N/A)
20,566 ±4,337
2,391 ±1,479
00:36 (00:29)
15
Space Ace
Aug 27, 2013
$9.99
89% (94%)
9,087 ±2,883
5,739 ±2,291
01:44 (00:52)
16
Alien Zombie Megadeath
Oct 18, 2011
$4.99
N/A (N/A)
33,718 ±5,553
10,044 ±3,031
02:33 (00:17)
17
Kohan: Ahriman's Gift
Aug 24, 2011
$9.99
N/A (N/A/79%)
15,305 ±3,741
6,457 ±2,430
18:08 (01:11)
18
PAC-MAN 256
Jun 21, 2016
$4.99
86% (93%)
141,567 ±11,378
55,479 ±7,123
01:57 (00:40)
19
NyxQuest: Kindred Spirits
Sep 27, 2010
$2.99
86% (93%)
29,653 ±5,208
14,587 ±3,652
02:02 (00:36)
20
X-COM: Terror From the Deep
May 4, 2007
$4.99
86% (93%)
646,380 ±24,296
99,241 ±9,527
11:44 (00:31)
21
HoloBall
Apr 25, 2016
$14.99
86% (93%)
27,022 ±4,971
23,674 ±4,653
01:07 (00:34)
22
Zenodyne R
May 29, 2016
$9.99
N/A (N/A)
17,457 ±3,996
2,870 ±1,620
01:58 (03:22)
23
Quar: Battle for Gate 18
Apr 4, 2016
$19.99
N/A (N/A)
20,326 ±4,312
3,587 ±1,811
02:03 (00:40)
24
Below Kryll
Sep 7, 2015
$4.99
83% (92%)
5,739 ±2,291
2,870 ±1,620
00:38 (01:01)
25
NiGHTS Into Dreams
Dec 17, 2012
$7.99
83% (92%)
259,222 ±15,394
48,783 ±6,679
01:06 (00:20)
26
Tom Clancy's Ghost Recon Island Thunder
Jul 15, 2008
$4.99
N/A (N/A/82%)
95,175 ±9,329
17,218 ±3,968
02:15 (00:20)
27
Kung Fury: Street Rage
May 28, 2015
$2.99
79% (91%)
90,154 ±9,080
72,936 ±8,167
01:56 (00:28)
28
Z.A.R.
May 1, 2015
$5.99
N/A (N/A)
20,087 ±4,286
1,435 ±1,145
01:17 (02:17)
29
Thunder Wolves
May 15, 2013
$9.99
79% (91%/69%)
129,611 ±10,887
38,261 ±5,915
02:07 (00:41)
30
Hero of Many
Sep 15, 2014
$6.99
79% (91%)
21,761 ±4,461
3,348 ±1,750
01:23 (00:59)
31
Tom Clancy's Ghost Recon Desert Siege
Jul 15, 2008
$4.99
N/A (N/A/82%)
94,697 ±9,306
14,826 ±3,682
03:10 (00:23)
32
Grand Theft Auto
Jan 4, 2008
Free
79% (91%)
617,684 ±23,752
199,677 ±13,512
00:43 (00:05)
33
Hammerfight
Oct 28, 2009
$4.99
79% (91%)
524,182 ±21,883
165,003 ±12,283
01:56 (00:12)
34
Conflict Desert Storm
May 28, 2012
$6.99
75% (90%/56%)
25,348 ±4,815
17,457 ±3,996
04:34 (01:01)
35
Ember Kaboom
Jun 3, 2016
$4.99
N/A (N/A)
22,239 ±4,510
2,391 ±1,479
00:21 (00:29)
36
Master of Orion 1
Feb 25, 2016
$5.99
N/A (N/A)
127,219 ±10,786
17,696 ±4,023
01:44 (00:05)
37
INVASION!
Oct 12, 2016
Free
75% (90%)
37,544 ±5,860
17,935 ±4,050
00:19 (00:07)
38
UFHO2
Jun 2, 2015
Free
N/A (N/A)
41,848 ±6,187
2,630 ±1,551
00:21 (00:14)
39
SHOWTIME 2073
Feb 12, 2016
$1.99
72% (89%)
23,435 ±4,630
6,217 ±2,384
00:17 (00:16)
40
Flotilla
Apr 2010
$9.99
72% (89%/72%)
102,589 ±9,686
53,566 ±6,999
01:19 (00:24)
41
Alien Shooter
May 27, 2009
$4.99
69% (88%)
96,371 ±9,388
38,979 ±5,971
01:17 (00:34)
42
ORCS
May 20, 2016
$0.99
69% (88%)
14,348 ±3,622
9,565 ±2,958
02:05 (00:54)
43
ALLTYNEX Second
Dec 11, 2014
$7.99
N/A (N/A)
38,261 ±5,915
10,761 ±3,137
00:47 (00:18)
44
Choplifter HD
Jan 11, 2012
$9.99
69% (88%/65%)
90,632 ±9,104
31,327 ±5,353
02:48 (00:43)
45
VRMultigames
Jul 25, 2016
Free
N/A (N/A)
48,305 ±6,647
16,261 ±3,856
00:33 (00:14)
46
Archon Classic
Nov 2, 2010
$9.99
69% (88%)
27,022 ±4,971
9,087 ±2,883
03:16 (00:32)
47
Legacy of Kain: Defiance
Dec 6, 2012
$6.99
69% (88%/70%)
280,026 ±15,999
55,240 ±7,108
02:17 (00:22)
48
Zero Punctuation: Hatfall - Hatters Gonna Hat Edition
Nov 20, 2015
$4.99
69% (88%)
8,848 ±2,845
7,891 ±2,686
01:59 (00:48)
49
Comanche 4
Jun 18, 2009
$9.99
N/A (N/A/74%)
24,631 ±4,746
11,478 ±3,240
05:53 (00:54)
50
Vertigo
Dec 22, 2016
$14.99
66% (87%)
3,348 ±1,750
2,870 ±1,620
01:30 (01:26)
51
Litil Divil
Mar 19, 2014
$9.99
N/A (N/A)
316,614 ±17,012
45,914 ±6,480
00:35 (00:03)
52
MDK 2
Sep 17, 2009
$9.99
66% (87%/83%)
20,326 ±4,312
8,370 ±2,767
02:05 (00:34)
53
Lugaru HD
Oct 8, 2010
$9.99
66% (87%)
189,633 ±13,167
60,740 ±7,453
01:10 (00:17)
54
Xmas Shooting - Scramble!!
Dec 16, 2016
$4.99
N/A (N/A)
2,870 ±1,620
1,674 ±1,237
00:24 (00:30)
55
Another World 20th Anniversary Edition
Apr 4, 2013
$9.99
66% (87%)
163,090 ±12,212
68,153 ±7,895
01:10 (00:25)
56
Rise of the Triad: Dark War
May 5, 2014
$6.99
N/A (N/A)
57,153 ±7,230
4,783 ±2,091
00:25 (00:09)
57
Serious Sam Double D XXL
Aug 30, 2011
$9.99
63% (86%)
503,378 ±21,445
115,263 ±10,267
01:31 (00:24)
58
Final DOOM
Aug 3, 2007
$4.99
63% (86%)
403,898 ±19,212
125,306 ±10,704
01:13 (00:04)
59
Shrouded in Sanity
May 27, 2016
$5.99
63% (86%)
4,304 ±1,984
2,870 ±1,620
02:15 (00:49)
60
Moorhuhn Invasion (Crazy Chicken Invasion)
Feb 20, 2015
$3.99
N/A (N/A)
10,761 ±3,137
2,152 ±1,403
00:12 (00:11)
61
Acan's Call: Act 1
Aug 11, 2016
Free
63% (86%)
52,849 ±6,952
19,370 ±4,209
00:23 (00:15)
62
Tron 2.0
Oct 10, 2014
$9.99
60% (85%/84%)
37,066 ±5,822
21,044 ±4,387
02:44 (00:46)
63
SHOGUN: Total War - Collection
Jun 25, 2015
$9.99
60% (85%)
158,785 ±12,049
26,544 ±4,927
15:33 (01:02)
64
Delta Force 2
Jun 18, 2009
$4.99
60% (85%)
20,566 ±4,337
8,848 ±2,845
03:35 (00:45)
65
Worms
Oct 19, 2011
$7.99
58% (84%)
292,700 ±16,357
66,479 ±7,797
01:42 (00:04)
66
A Legend of Luca
Apr 5, 2016
$19.99
58% (84%)
13,392 ±3,500
11,000 ±3,172
00:54 (00:27)
67
Blue Effect VR
Feb 8, 2017
$14.99
58% (84%)
5,978 ±2,338
5,022 ±2,143
01:22 (01:38)
68
Crysis Warhead
Sep 17, 2008
$19.99
58% (84%/84%)
902,493 ±28,700
222,873 ±14,274
02:51 (00:11)
69
Call of Tomsk-7
Aug 10, 2015
$0.99
58% (84%)
24,870 ±4,769
11,239 ±3,206
00:47 (00:29)
70
Ground Control II: Operation Exodus
Jul 8, 2015
$4.99
55% (83%/80%)
18,413 ±4,104
8,848 ±2,845
03:34 (00:46)
71
Felt Tip Circus
Apr 5, 2016
$2.71
N/A (N/A)
21,761 ±4,461
3,348 ±1,750
00:25 (00:12)
72
Sonic the Hedgehog 4 - Episode II
May 15, 2012
$9.99
55% (83%/54%)
247,265 ±15,035
60,023 ±7,409
02:59 (00:51)
73
ARCADE GAME SERIES: GALAGA
Apr 19, 2016
$3.99
55% (83%)
68,632 ±7,923
14,826 ±3,682
00:52 (00:14)
74
VERSUS SQUAD
Oct 26, 2016
$7.99
55% (83%)
6,935 ±2,518
5,022 ±2,143
01:46 (01:11)
75
Deathmatch Classic
Jun 1, 2001
$4.99
52% (82%)
7,559,751 ±82,354
831,470 ±27,550
01:18 (00:07)
76
Xotic
Sep 16, 2011
$9.99
52% (82%/67%)
106,176 ±9,854
32,283 ±5,434
01:19 (00:28)
77
Earthworm Jim 2
Nov 4, 2009
$19.99
N/A (N/A)
28,218 ±5,080
11,239 ±3,206
00:29 (00:14)
78
NAM
Nov 6, 2014
$6.99
52% (82%)
46,870 ±6,547
11,478 ±3,240
00:56 (00:08)
79
Karateka
Dec 3, 2012
$9.99
52% (82%/48%)
33,240 ±5,514
13,152 ±3,468
01:31 (00:58)
80
Wyrmsun
May 22, 2015
Free
52% (82%)
58,110 ±7,290
16,500 ±3,885
01:09 (00:17)
81
Explodemon
Mar 25, 2014
$8.99
N/A (N/A)
34,914 ±5,651
6,935 ±2,518
01:48 (00:17)
82
Trials on Tatooine
Jul 18, 2016
Free
52% (82%)
157,589 ±12,004
104,263 ±9,765
00:36 (00:17)
83
DESYNC
Feb 28, 2017
$14.99
50% (81%/69%)
4,304 ±1,984
3,587 ±1,811
04:30 (03:06)
84
Kingpin Life of Crime
Aug 19, 2009
$6.99
50% (81%)
12,674 ±3,405
9,805 ±2,994
02:53 (00:35)
85
POSTAL
Mar 21, 2013
$1.99
50% (81%/56%)
354,158 ±17,991
209,242 ±13,831
01:50 (00:38)
86
Daedalus - No Escape
Oct 28, 2014
$4.99
50% (81%)
22,000 ±4,486
5,022 ±2,143
01:02 (00:17)
87
Dragon's Lair
May 17, 2013
$9.99
50% (81%)
52,610 ±6,936
42,088 ±6,204
01:06 (00:34)
88
Stargunner
May 5, 2014
Free
N/A (N/A)
70,784 ±8,046
2,391 ±1,479
00:23 (00:06)
89
Commandos: Beyond the Call of Duty
Mar 15, 2007
$0.74
50% (81%)
487,356 ±21,101
103,067 ±9,708
02:30 (00:08)
90
Cultures - 8th Wonder of the World
Mar 26, 2015
$4.99
50% (81%)
59,305 ±7,365
17,935 ±4,050
05:09 (00:37)
91
ABRACA - Imagic Games
Mar 31, 2016
$14.99
N/A (N/A)
10,761 ±3,137
2,870 ±1,620
00:55 (00:31)
92
STAR WARS - X-Wing Alliance
Apr 28, 2015
$9.99
48% (80%)
258,026 ±15,358
54,762 ±7,077
02:36 (00:15)
93
Mold on Pizza
Sep 25, 2015
$5.99
48% (80%)
8,131 ±2,727
5,739 ±2,291
03:03 (02:42)
94
iBomber Attack
Nov 1, 2012
$5.99
48% (80%)
60,262 ±7,424
19,848 ±4,261
02:09 (00:34)
95
ARCADE GAME SERIES: PAC-MAN
Apr 19, 2016
$3.99
48% (80%)
66,718 ±7,811
14,826 ±3,682
00:14 (00:06)
96
Disciples Sacred Lands Gold
Oct 7, 2014
$1.99
48% (80%)
24,631 ±4,746
7,652 ±2,645
15:33 (00:59)
97
Ricochet
Nov 1, 2000
$4.99
45% (79%)
7,549,229 ±82,298
881,927 ±28,372
00:57 (00:03)
98
Eradicator
Nov 6, 2014
$6.99
N/A (N/A)
22,479 ±4,534
4,544 ±2,038
00:39 (00:16)
99
STAR WARS SHADOWS OF THE EMPIRE
Feb 7, 2017
$5.99
45% (79%)
59,066 ±7,350
10,283 ±3,067
01:09 (00:33)
100
AquaNox
Apr 20, 2010
$4.99
45% (79%/67%)
139,654 ±11,300
22,479 ±4,534
02:01 (00:26)
101
MDK
Sep 17, 2009
$9.99
44% (78%)
20,566 ±4,337
12,196 ±3,340
02:17 (00:27)
102
Descent: FreeSpace The Great War
May 7, 2014
$9.99
44% (78%)
21,044 ±4,387
13,392 ±3,500
02:31 (00:30)
103
Gunjack
Apr 5, 2016
$9.99
44% (78%)
22,479 ±4,534
17,696 ±4,023
01:50 (00:36)
104
Vertical Drop Heroes HD
Jul 25, 2014
$6.99
44% (78%/70%)
247,026 ±15,027
78,197 ±8,457
02:48 (00:32)
105
Alien Breed 2: Assault
Sep 22, 2010
$9.99
41% (77%/63%)
495,008 ±21,266
129,132 ±10,867
01:41 (00:30)
106
For The Glory: A Europa Universalis Game
Nov 11, 2009
$9.99
N/A (N/A)
27,500 ±5,015
11,478 ±3,240
14:48 (00:23)
107
Zeit
Jan 12, 2011
$9.99
N/A (N/A/72%)
12,674 ±3,405
7,413 ±2,604
01:24 (00:30)
108
Larva Mortus
Mar 19, 2009
$4.99
41% (77%/64%)
154,959 ±11,903
38,501 ±5,934
01:28 (00:26)
109
Scrap Garden - The Day Before
Oct 7, 2016
Free
41% (77%)
133,198 ±11,036
88,241 ±8,983
00:27 (00:15)
110
Soldiers: Heroes of World War II
Jul 3, 2014
$4.99
41% (77%/77%)
68,871 ±7,936
29,174 ±5,165
05:42 (00:29)
111
Cinemaware Anthology: 1986-1991
Nov 14, 2014
$9.99
N/A (N/A)
13,631 ±3,531
7,413 ±2,604
01:18 (00:45)
112
Bionic Commando: Rearmed
Jul 28, 2009
$9.99
39% (76%/86%)
429,963 ±19,821
115,263 ±10,267
01:25 (00:22)
113
Black & White Bushido
Oct 2, 2015
$9.99
39% (76%)
11,478 ±3,240
6,696 ±2,474
01:00 (00:38)
114
Children of Orc
Dec 20, 2016
Free
N/A (N/A)
16,739 ±3,913
8,848 ±2,845
00:35 (00:17)
115
Hordelicious
Jul 10, 2015
$3.99
39% (76%)
33,479 ±5,533
7,652 ±2,645
00:42 (00:16)
116
Project Freedom
Oct 14, 2009
$2.99
39% (76%)
23,913 ±4,677
8,370 ±2,767
02:37 (00:27)
117
Legacy of Kain: Soul Reaver 2
Dec 6, 2012
$6.99
37% (75%/77%)
312,309 ±16,896
50,696 ±6,809
02:16 (00:21)
118
Alien Breed 3: Descent
Nov 17, 2010
$9.99
37% (75%/64%)
312,788 ±16,909
39,696 ±6,025
02:11 (00:22)
119
STAR WARS: Rebel Assault I + II
Mar 29, 2016
$9.99
N/A (N/A)
89,197 ±9,032
14,109 ±3,592
00:26 (00:10)
120
Patrician III
Nov 18, 2010
$4.99
37% (75%/75%)
145,872 ±11,549
64,805 ±7,699
10:01 (00:42)
121
Vegas: Make It Big
Dec 21, 2006
$1.24
37% (75%)
50,696 ±6,809
18,652 ±4,130
02:22 (00:59)
122
Tango Fiesta
Sep 24, 2015
$12.99
N/A (N/A)
24,392 ±4,723
7,652 ±2,645
01:28 (01:00)
123
Tomb Raider V: Chronicles
Nov 28, 2012
$6.99
35% (74%)
546,183 ±22,337
48,783 ±6,679
02:57 (00:10)
124
Spell Fighter VR
Mar 23, 2016
Free
35% (74%)
102,828 ±9,697
54,523 ±7,061
01:00 (00:18)
125
DisneyPixar Finding Nemo
Feb 24, 2015
$9.99
N/A (N/A)
6,935 ±2,518
2,630 ±1,551
00:54 (01:07)
126
Insanity's Blade
Dec 4, 2014
$5.99
35% (74%)
26,544 ±4,927
10,761 ±3,137
01:37 (00:34)
127
Kraven Manor
Sep 26, 2014
$5.99
35% (74%/58%)
179,829 ±12,823
28,218 ±5,080
01:36 (00:30)
128
UFO: Aftermath
Apr 23, 2014
$3.99
34% (73%)
77,240 ±8,405
12,435 ±3,372
07:56 (01:03)
129
Happy Empire
Aug 19, 2016
$4.99
N/A (N/A)
7,652 ±2,645
1,196 ±1,045
00:27 (00:44)
130
Death Dojo
Nov 8, 2016
Free
N/A (N/A)
17,935 ±4,050
8,609 ±2,806
00:37 (00:23)
131
Half-Life Deathmatch: Source
May 1, 2006
$9.99
34% (73%)
6,824,413 ±78,321
410,354 ±19,365
02:10 (00:11)
132
Victoria I Complete
Aug 20, 2010
$9.99
34% (73%)
174,329 ±12,625
44,001 ±6,344
07:25 (00:10)
133
V ARRR
Jun 10, 2016
$1.99
N/A (N/A)
2,630 ±1,551
1,913 ±1,322
00:35 (00:44)
134
UFO: Aftershock
Apr 16, 2014
$3.99
34% (73%)
71,501 ±8,086
12,435 ±3,372
12:41 (00:16)
135
Deathtrap Dungeon
Oct 3, 2013
$6.99
N/A (N/A)
8,131 ±2,727
3,109 ±1,686
00:42 (00:49)
136
Unreal 2: The Awakening
Mar 17, 2008
$14.99
32% (72%/75%)
296,766 ±16,470
59,784 ±7,394
02:31 (00:29)
137
THE LAST BLADE
Aug 31, 2016
$9.99
N/A (N/A)
12,913 ±3,436
4,783 ±2,091
00:31 (00:25)
138
Insecticide Part 1
Jul 1, 2008
$1.99
32% (72%/65%)
126,024 ±10,735
22,479 ±4,534
115:05 (00:11)
139
War in a Box: Paper Tanks
Jul 4, 2014
$4.99
32% (72%)
51,175 ±6,841
14,109 ±3,592
01:03 (00:27)
140
Cuban Missile Crisis
Mar 25, 2015
$4.99
32% (72%)
25,587 ±4,837
9,326 ±2,920
08:35 (01:13)
141
Aztaka
Nov 5, 2009
$9.99
30% (71%)
34,914 ±5,651
9,326 ±2,920
02:05 (00:30)
142
Bierzerkers
Feb 25, 2016
$4.99
30% (71%)
211,634 ±13,910
99,719 ±9,549
00:46 (00:15)
143
STAR WARS X-Wing vs TIE Fighter - Balance of Power Campaigns
Apr 28, 2015
$9.99
30% (71%)
250,852 ±15,143
42,088 ±6,204
01:41 (00:07)
144
Slain: Back from Hell
Mar 24, 2016
$12.99
30% (71%/74%)
30,370 ±5,270
22,239 ±4,510
01:53 (00:48)
145
Nexuiz
May 10, 2012
$9.99
30% (71%/54%)
287,439 ±16,209
108,089 ±9,942
00:56 (00:20)
146
HeXen: Deathkings of the Dark Citadel
Aug 3, 2007
$4.99
N/A (N/A)
182,459 ±12,916
21,044 ±4,387
00:29 (00:03)
147
The Guild Gold Edition
Sep 9, 2014
$9.99
30% (71%/82%)
131,285 ±10,957
41,609 ±6,169
04:13 (00:37)
148
Crow
Oct 6, 2014
$4.99
N/A (N/A)
24,392 ±4,723
4,065 ±1,928
00:17 (00:17)
149
Cthulhu Realms
Jul 1, 2016
Free
29% (70%)
90,393 ±9,092
21,044 ±4,387
01:16 (00:21)
150
Blood Omen 2: Legacy of Kain
Sep 24, 2013
$6.99
29% (70%)
242,960 ±14,903
50,457 ±6,793
02:17 (00:28)
151
STAR WARS: TIE Fighter Special Edition
Apr 28, 2015
$9.99
27% (69%)
155,198 ±11,913
41,370 ±6,151
02:33 (00:19)
152
Void Destroyer
Jan 20, 2015
$12.99
27% (69%)
93,501 ±9,247
33,240 ±5,514
02:31 (00:32)
153
Strike Vector
Jan 28, 2014
$11.99
27% (69%/73%)
182,938 ±12,933
132,720 ±11,016
02:54 (00:45)
154
Tex Murphy: Mean Streets
Jun 12, 2014
$5.99
N/A (N/A)
37,305 ±5,841
5,022 ±2,143
00:52 (00:08)
155
Earth 2150 Trilogy
Nov 1, 2013
$6.99
27% (69%/78%)
228,134 ±14,442
54,283 ±7,046
02:46 (00:07)
156
Iron Storm
May 8, 2014
$2.99
N/A (N/A/69%)
46,392 ±6,514
6,217 ±2,384
00:02 (00:01)
157
Brigade E5: New Jagged Union
Apr 30, 2014
$3.99
N/A (N/A/41%)
21,044 ±4,387
6,935 ±2,518
29:31 (01:11)
158
Warfare
Jul 20, 2009
$12.99
N/A (N/A)
44,001 ±6,344
6,696 ±2,474
00:46 (00:19)
159
Data Jammers: FastForward
Oct 24, 2011
Free
26% (68%)
76,523 ±8,366
11,000 ±3,172
01:08 (00:11)
160
Resilience: Wave Survival
Dec 23, 2015
$5.99
25% (67%)
7,891 ±2,686
6,217 ±2,384
01:22 (00:49)
161
STAR WARS - X-Wing Special Edition
Apr 28, 2015
$9.99
25% (67%)
148,981 ±11,672
35,153 ±5,670
01:54 (00:16)
162
Watchmen: The End is Nigh Part 2
Jul 29, 2009
$4.99
24% (66%/44%)
32,044 ±5,414
9,565 ±2,958
02:04 (01:17)
163
Daikatana
Oct 1, 2013
$6.99
24% (66%)
228,851 ±14,464
27,979 ±5,059
00:50 (00:14)
164
Foreign Legion: Multi Massacre
Jul 9, 2012
$6.99
24% (66%)
76,045 ±8,339
32,522 ±5,454
01:17 (00:29)
165
Mytheon
Dec 8, 2015
$3.39
22% (65%)
4,783 ±2,091
2,870 ±1,620
05:58 (00:43)
166
Haegemonia: The Solon Heritage
May 1, 2014
$4.99
N/A (N/A)
66,718 ±7,811
16,261 ±3,856
01:05 (00:15)
167
Plain Sight
Apr 5, 2010
$4.99
22% (65%/76%)
178,872 ±12,789
117,654 ±10,373
01:28 (00:34)
168
Double Dragon IV
Jan 30, 2017
$6.99
22% (65%/50%)
5,739 ±2,291
5,500 ±2,243
01:28 (01:09)
169
Stick 'Em Up 2: Paper Adventures
Jul 27, 2015
$2.99
22% (65%)
15,544 ±3,770
7,891 ±2,686
01:33 (00:42)
170
Bombshell
Jan 29, 2016
$34.99
21% (64%)
10,761 ±3,137
8,370 ±2,767
03:16 (00:50)
171
Memoir '44 Online
Oct 12, 2011
Free
21% (64%)
322,592 ±17,171
36,348 ±5,766
03:57 (01:05)
172
Achron
Aug 29, 2011
$19.99
N/A (N/A/54%)
11,000 ±3,172
6,457 ±2,430
04:13 (01:23)
173
Alone in the Dark: The New Nightmare
Oct 29, 2013
$6.99
21% (64%/66%)
17,218 ±3,968
7,652 ±2,645
00:40 (00:19)
174
DogFighter
Jun 14, 2010
$2.99
20% (63%)
275,961 ±15,883
140,372 ±11,329
01:41 (00:30)
175
Blight of the Immortals
Oct 25, 2016
Free
N/A (N/A)
22,479 ±4,534
3,587 ±1,811
30:57 (01:23)
176
STAR WARS Jedi Knight - Mysteries of the Sith
Sep 16, 2009
$2.99
20% (63%)
880,731 ±28,353
165,003 ±12,283
01:01 (00:05)
177
Foreign Legion: Buckets of Blood
Aug 4, 2009
$4.99
20% (63%)
86,088 ±8,873
57,392 ±7,245
01:44 (00:39)
178
Overruled!
Sep 15, 2015
$12.99
N/A (N/A)
38,501 ±5,934
9,087 ±2,883
02:11 (02:13)
179
Robin Hood: The Legend of Sherwood
Aug 26, 2011
$7.99
19% (62%/80%)
110,719 ±10,062
45,914 ±6,480
02:40 (00:20)
180
Alpha Zylon
Jul 15, 2014
$4.99
17% (61%)
7,413 ±2,604
2,630 ±1,551
00:32 (00:18)
181
Pound of Ground
Nov 5, 2010
$9.99
17% (61%)
20,326 ±4,312
10,522 ±3,102
01:39 (00:39)
182
Aegis
Oct 6, 2016
$2.99
N/A (N/A)
10,522 ±3,102
1,196 ±1,045
00:41 (00:37)
183
Fowl Space
Mar 21, 2012
$4.99
17% (61%)
27,022 ±4,971
9,565 ±2,958
00:23 (00:16)
184
No Pineapple Left Behind
Feb 18, 2016
$9.99
N/A (N/A/59%)
9,326 ±2,920
1,435 ±1,145
00:33 (00:31)
185
The Secret of Pineview Forest
Oct 31, 2016
Free
16% (60%)
21,283 ±4,412
9,805 ±2,994
01:03 (00:12)
186
Exodus from the Earth
Oct 24, 2008
$14.99
16% (60%)
14,587 ±3,652
5,022 ±2,143
06:18 (01:06)
187
Redline
Oct 23, 2014
$6.99
N/A (N/A)
21,283 ±4,412
2,870 ±1,620
00:59 (00:11)
188
Cannon Fodder 3
Aug 6, 2012
$14.99
N/A (N/A/49%)
39,218 ±5,989
12,435 ±3,372
01:16 (00:25)
189
World War II: Panzer Claws
Sep 27, 2013
$4.99
16% (60%/61%)
291,266 ±16,317
33,718 ±5,553
00:36 (00:05)
190
Yar's Revenge
Apr 28, 2011
$9.99
N/A (N/A/56%)
5,500 ±2,243
1,913 ±1,322
00:59 (00:55)
191
UFO: Afterlight
Jan 6, 2014
$6.99
16% (59%/71%)
325,462 ±17,247
43,044 ±6,274
06:27 (00:16)
192
Wasteland Angel
Sep 1, 2011
$9.99
15% (58%)
95,175 ±9,329
23,674 ±4,653
02:10 (00:25)
193
Cold War
Jan 8, 2014
$4.99
15% (58%/64%)
37,783 ±5,878
9,565 ±2,958
01:54 (01:27)
194
War of Beach
Oct 15, 2015
Free
15% (58%)
127,459 ±10,796
61,458 ±7,497
09:56 (00:24)
195
Scooby Doo! & Looney Tunes Cartoon Universe: Adventure
Jul 16, 2014
$19.99
N/A (N/A)
4,783 ±2,091
1,913 ±1,322
00:26 (00:31)
196
Haegemonia: Legions of Iron
May 1, 2014
$4.99
N/A (N/A)
75,327 ±8,300
19,370 ±4,209
01:16 (00:01)
197
Commandos 3: Destination Berlin
Mar 15, 2007
$0.74
14% (57%/72%)
549,291 ±22,400
185,807 ±13,034
01:12 (00:12)
198
Oil Rush
Jan 25, 2012
$7.99
13% (56%/67%)
380,463 ±18,647
121,958 ±10,561
01:34 (00:18)
199
Rush for Glory
Jun 16, 2014
$14.99
N/A (N/A)
60,262 ±7,424
8,370 ±2,767
01:23 (01:33)
200
Naval Warfare
May 25, 2011
$2.99
13% (56%/57%)
114,545 ±10,235
30,848 ±5,312
00:44 (00:18)
201
Helldorado
Apr 30, 2009
$7.99
N/A (N/A/65%)
37,305 ±5,841
9,805 ±2,994
06:19 (01:19)
202
Cuban Missile Crisis: Ice Crusade
Mar 25, 2015
$4.99
N/A (N/A)
18,892 ±4,157
2,630 ±1,551
04:16 (00:07)
203
Tank Universal
Aug 21, 2008
$4.99
13% (56%)
122,915 ±10,602
32,522 ±5,454
01:56 (00:20)
204
ProtoGalaxy
Oct 6, 2010
Free
N/A (N/A)
137,741 ±11,223
15,544 ±3,770
00:32 (00:13)
205
Painkiller: Recurring Evil
Feb 29, 2012
$9.99
12% (55%/38%)
159,263 ±12,068
22,479 ±4,534
02:19 (00:28)
206
Blood II: The Chosen + Expansion
Jul 14, 2014
$4.99
12% (55%/72%)
14,348 ±3,622
8,848 ±2,845
01:29 (00:20)
207
B.A.D Battle Armor Division
Aug 18, 2015
$5.99
N/A (N/A)
3,587 ±1,811
1,674 ±1,237
01:47 (01:49)
208
BC Kings
Jun 16, 2009
$4.99
12% (54%)
23,913 ±4,677
10,044 ±3,031
04:22 (00:35)
209
CT Special Forces: Fire for Effect
Mar 13, 2014
$9.99
N/A (N/A)
122,915 ±10,602
9,805 ±2,994
00:58 (00:26)
210
X-COM: Interceptor
Sep 4, 2008
$4.99
11% (53%)
613,379 ±23,669
55,718 ±7,138
01:21 (00:11)
211
Painkiller Redemption
Feb 25, 2011
$4.99
11% (53%/43%)
203,982 ±13,656
35,153 ±5,670
01:51 (00:31)
212
X-COM: Enforcer
Sep 4, 2008
$4.99
11% (53%/65%)
613,379 ±23,669
64,327 ±7,670
01:00 (00:16)
213
Earth 2140
Nov 15, 2013
$4.99
11% (53%)
96,132 ±9,376
17,457 ±3,996
01:52 (00:12)
214
Legendary
Dec 1, 2008
$2.99
11% (53%/50%)
291,744 ±16,330
128,176 ±10,826
01:41 (00:37)
215
Theatre of War
Jul 9, 2010
$3.99
11% (53%/66%)
109,045 ±9,986
44,957 ±6,412
04:20 (00:42)
216
Warhammer: Arcane Magic
Mar 3, 2016
$3.99
N/A (N/A)
12,913 ±3,436
3,109 ±1,686
00:39 (00:51)
217
Tomb Raider VI: The Angel of Darkness
Nov 28, 2012
$6.99
10% (52%)
551,444 ±22,444
67,197 ±7,839
02:38 (00:10)
218
Fastigium
Dec 18, 2016
Free
N/A (N/A)
12,435 ±3,372
5,739 ±2,291
01:01 (00:14)
219
ZAMB! Biomutant Extermination
Jun 20, 2014
$4.99
N/A (N/A)
5,261 ±2,193
1,913 ±1,322
04:26 (10:05)
220
Space Trader: Merchant Marine
Oct 23, 2008
$4.99
10% (52%)
178,155 ±12,763
55,718 ±7,138
01:44 (00:13)
221
Gods vs Humans
Oct 10, 2014
$4.99
N/A (N/A)
27,261 ±4,993
4,783 ±2,091
00:44 (00:41)
222
Space Hack
Aug 5, 2014
$4.99
10% (51%/63%)
562,444 ±22,667
104,741 ±9,787
01:14 (00:04)
223
Desperados 2: Cooper's Revenge
Mar 12, 2008
$9.99
N/A (N/A/66%)
75,327 ±8,300
16,739 ±3,913
04:19 (00:22)
224
The Club
Feb 20, 2008
$14.99
10% (51%/67%)
25,826 ±4,860
9,326 ±2,920
01:23 (00:28)
225
Booster Trooper
Apr 23, 2010
$4.99
10% (51%)
48,783 ±6,679
27,261 ±4,993
10:15 (00:18)
226
World War III: Black Gold
Sep 27, 2013
$4.99
10% (51%/71%)
228,134 ±14,442
35,153 ±5,670
01:43 (00:08)
227
Pixel Hunter
Jul 17, 2014
$2.99
10% (51%)
36,348 ±5,766
7,652 ±2,645
00:30 (00:12)
228
Earthworm Jim 3D
Nov 4, 2009
$19.99
9% (50%)
28,218 ±5,080
8,609 ±2,806
01:03 (00:17)
229
Project Root
May 1, 2014
$9.99
9% (50%)
45,675 ±6,463
6,935 ±2,518
02:20 (00:36)
230
World War II GI
Nov 13, 2015
$6.99
N/A (N/A)
8,609 ±2,806
1,435 ±1,145
01:17 (02:13)
231
Red Faction II
Aug 6, 2009
$9.99
9% (50%/64%)
511,030 ±21,607
117,176 ±10,351
02:10 (00:17)
232
ALPAGES : THE FIVE BOOKS
Oct 23, 2015
$0.99
8% (49%)
17,935 ±4,050
3,109 ±1,686
00:13 (00:06)
233
Marine Sharpshooter II: Jungle Warfare
Apr 3, 2014
$9.99
N/A (N/A/52%)
211,395 ±13,902
30,609 ±5,291
00:29 (00:07)
234
XIII Century Gold Edition
Aug 28, 2009
$4.99
8% (48%)
82,740 ±8,699
17,696 ±4,023
00:46 (00:14)
235
Real Warfare 1242
Nov 30, 2011
$3.99
N/A (N/A)
54,523 ±7,061
12,196 ±3,340
02:13 (01:37)
236
Tom Clancy's Rainbow Six Lockdown
May 13, 2008
$9.99
7% (47%/59%)
74,849 ±8,274
20,087 ±4,286
02:29 (00:43)
237
Dark Void
Jan 19, 2010
$9.99
7% (47%/57%)
44,718 ±6,395
20,805 ±4,362
01:54 (00:47)
238
Blinding Dark
Aug 12, 2014
$9.99
N/A (N/A)
18,174 ±4,077
2,630 ±1,551
00:17 (00:20)
239
Deformers
Apr 20, 2017
$29.99
N/A (N/A)
6,217 ±2,384
2,391 ±1,479
01:16 (01:09)
240
Babel Rising
Aug 7, 2012
Free
7% (47%)
23,913 ±4,677
19,131 ±4,183
01:23 (00:49)
241
Dead Island Retro Revenge
May 31, 2016
$4.99
7% (46%)
33,240 ±5,514
7,413 ±2,604
00:16 (00:06)
242
Alone in the Dark
Oct 29, 2013
$9.99
7% (46%/55%)
52,370 ±6,921
15,305 ±3,741
01:42 (00:22)
243
Evolution RTS
Apr 7, 2014
Free
7% (46%)
158,546 ±12,040
54,762 ±7,077
02:15 (00:13)
244
Desert Thunder
Mar 19, 2014
$9.99
N/A (N/A)
124,828 ±10,684
9,087 ±2,883
00:22 (00:11)
245
Dark Void Zero
Apr 12, 2010
$4.99
6% (45%)
38,979 ±5,971
21,044 ±4,387
01:34 (00:17)
246
Galactic Civilizations I: Ultimate Edition
Aug 14, 2012
$9.99
6% (45%/83%)
373,528 ±18,476
53,327 ±6,984
05:47 (00:16)
247
Master of Orion 3
Aug 25, 2016
$9.99
N/A (N/A/64%)
111,915 ±10,116
18,892 ±4,157
02:00 (00:10)
248
Heavy Fire: Shattered Spear
Oct 23, 2015
$3.99
N/A (N/A)
6,696 ±2,474
4,544 ±2,038
03:37 (01:03)
249
Greed: Black Border
Jan 13, 2010
$4.99
6% (44%)
117,176 ±10,351
40,175 ±6,062
02:24 (00:36)
250
Etherlords
Feb 13, 2014
$4.99
6% (43%/77%)
94,936 ±9,318
16,739 ±3,913
00:55 (00:11)
251
Sacraboar
Nov 6, 2009
$8.99
N/A (N/A)
50,457 ±6,793
10,761 ±3,137
02:21 (00:11)
252
Portal 2 Sixense Perceptual Pack
Sep 20, 2013
Free
5% (42%)
546,661 ±22,347
220,482 ±14,198
00:03 (00:01)
253
Devils & Demons
Oct 6, 2015
$9.99
N/A (N/A)
22,000 ±4,486
4,304 ±1,984
10:54 (02:29)
254
Crouching Pony Hidden Dragon
Jul 14, 2014
$9.99
N/A (N/A)
24,631 ±4,746
4,783 ±2,091
00:14 (00:14)
255
Reign: Conflict of Nations
Jul 12, 2010
$3.99
N/A (N/A/60%)
75,566 ±8,313
17,696 ±4,023
03:38 (00:15)
256
Bunch of Heroes
Sep 21, 2011
$4.99
5% (41%)
161,176 ±12,140
109,284 ±9,997
01:30 (00:39)
257
Damnation
May 22, 2009
$9.99
5% (41%/41%)
78,436 ±8,469
24,153 ±4,700
02:45 (00:28)
258
Twin Sector
Sep 16, 2009
$4.99
5% (41%/49%)
86,806 ±8,910
25,109 ±4,792
01:58 (00:33)
259
Cabelas African Adventures
Oct 16, 2013
$29.99
N/A (N/A)
8,609 ±2,806
4,304 ±1,984
01:41 (00:56)
260
Burn Zombie Burn!
Aug 12, 2010
$9.99
5% (41%/72%)
99,480 ±9,538
47,109 ±6,564
01:28 (00:28)
261
Two Worlds II Castle Defense
Jun 14, 2011
$3.99
5% (41%)
231,721 ±14,555
44,479 ±6,378
01:03 (00:23)
262
Storm over the Pacific
Jun 13, 2014
$9.99
N/A (N/A)
13,392 ±3,500
3,348 ±1,750
26:25 (01:00)
263
Desert Gunner
Mar 18, 2014
$1.24
N/A (N/A)
6,696 ±2,474
2,391 ±1,479
11:46 (23:06)
264
Conflict: Denied Ops
Feb 8, 2008
$5.99
4% (39%/58%)
65,762 ±7,755
16,022 ±3,828
02:50 (00:28)
265
Huntsman: The Orphanage (Halloween Edition)
Sep 13, 2013
$9.99
N/A (N/A)
122,437 ±10,581
18,413 ±4,104
00:38 (00:15)
266
Star Wolves 2
Mar 2, 2010
$3.99
4% (38%)
76,762 ±8,379
12,674 ±3,405
03:48 (01:49)
267
Down To One
Jan 7, 2016
$0.99
4% (38%)
110,241 ±10,041
79,153 ±8,508
01:30 (00:31)
268
Disciples III - Resurrection
Oct 11, 2011
$14.99
3% (37%/63%)
147,546 ±11,615
31,087 ±5,332
12:52 (00:56)
269
Dead Horde
Jul 27, 2011
$9.99
3% (37%)
111,915 ±10,116
72,936 ±8,167
02:07 (00:45)
270
Heli Heroes
Nov 1, 2013
$4.99
3% (36%)
202,786 ±13,616
19,131 ±4,183
00:13 (00:05)
271
Dark Raid
Jun 3, 2014
$3.99
N/A (N/A)
22,718 ±4,558
2,870 ±1,620
00:39 (00:23)
272
Ironclads: High Seas
Apr 28, 2010
$9.99
N/A (N/A)
35,153 ±5,670
4,304 ±1,984
01:18 (00:10)
273
Global Ops: Commando Libya
Oct 26, 2011
$4.99
3% (35%/37%)
68,153 ±7,895
16,261 ±3,856
00:56 (00:16)
274
OCEAN CITY RACING: Redux
Nov 14, 2014
$2.99
3% (35%)
66,240 ±7,783
16,500 ±3,885
04:01 (00:23)
275
Arena Wars 2
Oct 12, 2012
$3.99
3% (34%)
59,784 ±7,394
30,609 ±5,291
01:15 (00:18)
276
STAR WARS: The Clone Wars - Republic Heroes
Oct 6, 2009
$19.99
2% (32%/46%)
499,073 ±21,353
98,045 ±9,469
01:19 (00:06)
277
Miner Wars 2081
Nov 28, 2012
$9.99
2% (31%/52%)
95,415 ±9,341
52,131 ±6,905
02:40 (00:45)
278
Chernobyl Commando
Jun 6, 2014
$9.99
2% (30%)
51,653 ±6,873
11,957 ±3,307
00:59 (00:17)
279
Manhunter
May 30, 2014
$4.99
2% (30%)
64,088 ±7,656
18,652 ±4,130
01:19 (00:17)
280
Painkiller: Resurrection
Oct 27, 2009
$9.99
2% (29%/38%)
170,264 ±12,477
20,566 ±4,337
02:52 (00:35)
281
Sam Glyph: Private Eye!
Oct 9, 2014
$1.99
N/A (N/A)
6,217 ±2,384
717 ±810
00:11 (00:10)
282
Future Wars
Jul 15, 2010
$4.99
1% (28%)
96,610 ±9,399
30,848 ±5,312
01:56 (00:11)
283
Tiestru
Aug 20, 2014
$9.99
N/A (N/A)
25,348 ±4,815
2,152 ±1,403
01:19 (03:02)
284
Shadow Harvest: Phantom Ops
Apr 5, 2011
$9.99
N/A (N/A/34%)
37,544 ±5,860
22,479 ±4,534
02:53 (00:40)
285
Garshasp: Temple of the Dragon
Sep 24, 2012
$4.99
1% (25%)
45,436 ±6,446
9,326 ±2,920
00:48 (00:20)
286
Cargo 3
Dec 8, 2014
$4.99
1% (23%)
14,109 ±3,592
3,348 ±1,750
01:36 (00:30)
287
Deep Black: Reloaded
Apr 18, 2012
$29.99
1% (23%/39%)
11,957 ±3,307
6,217 ±2,384
03:25 (00:19)
288
Hyper Fighters
Jan 23, 2014
$9.99
N/A (N/A)
188,916 ±13,143
21,283 ±4,412
00:10 (00:05)
289
Razor2: Hidden Skies
Jul 19, 2010
$9.99
1% (22%/61%)
73,175 ±8,181
20,326 ±4,312
01:10 (00:20)
290
All Aspect Warfare
Aug 17, 2009
$9.99
N/A (N/A)
2,391 ±1,479
1,674 ±1,237
00:14 (00:13)
291
Star Raiders
May 11, 2011
$9.99
N/A (N/A)
6,935 ±2,518
4,544 ±2,038
00:55 (00:25)
292
Chaos Domain
May 1, 2014
$9.99
N/A (N/A)
368,506 ±18,352
65,762 ±7,755
00:59 (00:07)
293
What The Heck, Dude?
Jan 10, 2017
$4.99
0% (15%)
2,391 ±1,479
2,152 ±1,403
00:41 (01:01)
294
Ironclads: American Civil War
Apr 28, 2010
$9.99
N/A (N/A)
33,240 ±5,514
6,457 ±2,430
01:54 (00:23)
295
Battle For The Sun
Jul 22, 2015
$4.99
N/A (N/A)
8,609 ±2,806
1,674 ±1,237
00:44 (00:49)
296
Tryst
Sep 14, 2012
$14.99
N/A (N/A/50%)
15,065 ±3,712
6,457 ±2,430
01:01 (00:49)