Who's That Flying?!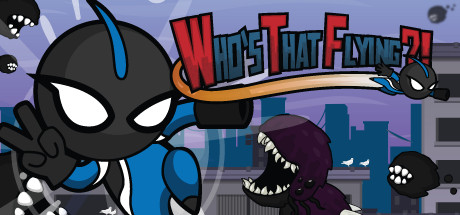 Store | Hub | SteamDB | Site
Developer: Mediatonic Publisher: Kalypso Media Digital
Genre: Action, Casual, Indie
Languages: English
Tags: Action (29), Indie (26), Casual (25), Shoot 'Em Up (12)
Category: Single-player, Steam Achievements, Full controller support, Partial Controller Support, Steam Cloud, Steam Leaderboards
Release date: Jan 31, 2011
Price: $5.99
Score rank: 30% Userscore: 71% Old userscore: 71% Metascore: 76%
Owners: 32,964 ± 5,468
Players total: 18,735 ± 4,122 (56.83%)
Followers: 236
Peak concurrent players yesterday: 2
Playtime total: 01:39 (average) 00:28 (median)

Steam Spy is still in beta, so expect major bugs.
Peak daily concurrent players:
CCU data courtesy of SteamDB. Used with permission.
Hourly concurrent players:
YouTube:
The views data is based on top 50 videos uploaded last week. Actual number of views might be more than the number shown.

The displayed number of videos uploaded yesterday is limited to 50, so if there were more videos uploaded, the number will still show 50.

If the game has commonly used word as its name (like "FEAR" or "Volume") its number of Youtube views might be wrong.
Games similar to this one:
#
Game
Release date

Price

Score rank
(Userscore / Metascore)

Owners

Players

Playtime (Median)

1
Lazerbait
Oct 13, 2016
Free
99% (98%)
51,461 ±6,832
24,426 ±4,707
01:05 (00:27)
2
Mini Ghost
Apr 28, 2017
$1.99
97% (97%)
17,786 ±4,016
9,723 ±2,969
02:12 (01:26)
3
Oats Studios - Volume 1 Assets
Jun 14, 2017
Free
95% (96%)
16,838 ±3,908
11,383 ±3,213
00:04 (00:01)
4
Putt-Putt Saves the Zoo
Jul 3, 2014
$6.99
95% (96%)
41,738 ±6,153
26,086 ±4,864
04:00 (00:50)
5
Crystal Caves
May 5, 2014
$4.99
N/A (N/A)
62,844 ±7,550
7,114 ±2,540
02:20 (00:16)
6
Noitu Love 2: Devolution
Apr 23, 2012
$1.99
92% (95%/80%)
62,844 ±7,550
42,687 ±6,222
01:56 (00:58)
7
Overload Playable Teaser 2.0
Mar 7, 2016
Free
92% (95%)
84,425 ±8,750
33,438 ±5,507
00:20 (00:08)
8
Jagged Alliance 1: Gold Edition
Apr 23, 2014
$9.99
N/A (N/A)
39,841 ±6,011
9,960 ±3,005
07:40 (02:10)
9
The Apogee Throwback Pack
Jul 1, 2013
$9.99
92% (95%)
51,935 ±6,863
24,663 ±4,730
03:01 (00:16)
10
Realms of the Haunting
Apr 24, 2014
$9.99
92% (95%)
520,066 ±21,709
50,750 ±6,784
04:16 (00:06)
11
Alien Zombie Megadeath
Oct 18, 2011
$4.99
N/A (N/A)
30,592 ±5,267
10,672 ±3,111
00:46 (00:17)
12
Command HQ
Nov 6, 2014
$6.99
N/A (N/A)
23,715 ±4,638
3,320 ±1,735
02:12 (01:13)
13
NyxQuest: Kindred Spirits
Sep 27, 2010
$2.54
89% (94%)
34,624 ±5,604
19,446 ±4,200
01:32 (00:36)
14
Rune Classic
Jun 13, 2012
$9.99
89% (94%)
108,614 ±9,925
33,675 ±5,526
02:55 (00:55)
15
Mighty Switch Force! Hyper Drive Edition
Jun 25, 2015
$4.99
89% (94%/85%)
13,992 ±3,562
11,383 ±3,213
04:36 (02:02)
16
Platypus
Aug 15, 2014
$1.39
89% (94%)
66,164 ±7,746
42,212 ±6,187
02:58 (02:33)
17
Star Trek : 25th Anniversary
May 7, 2015
$9.99
89% (94%)
10,672 ±3,111
7,352 ±2,582
02:19 (01:22)
18
Zenodyne R
May 29, 2016
$9.99
N/A (N/A)
32,964 ±5,468
3,083 ±1,672
00:09 (00:13)
19
MURI
Dec 6, 2013
$3.99
86% (93%)
35,572 ±5,680
20,869 ±4,351
02:38 (01:22)
20
Monster Bash
May 5, 2014
$4.99
N/A (N/A)
57,390 ±7,215
5,454 ±2,224
00:49 (00:08)
21
Heretic: Shadow of the Serpent Riders
Aug 3, 2007
$4.99
86% (93%)
215,331 ±13,973
56,678 ±7,170
02:25 (00:11)
22
Atlas Reactor VR Character Viewer
Apr 5, 2016
Free
N/A (N/A)
55,256 ±7,079
11,620 ±3,246
00:11 (00:06)
23
Quar: Battle for Gate 18
Apr 4, 2016
$12.99
N/A (N/A)
27,984 ±5,038
3,320 ±1,735
01:07 (01:05)
24
Tom Clancy's Ghost Recon Desert Siege
Jul 15, 2008
$4.99
N/A (N/A/82%)
105,531 ±9,783
14,940 ±3,681
01:51 (00:11)
25
Delta Force: Black Hawk Down
Jun 18, 2009
$3.74
86% (93%/77%)
47,667 ±6,575
22,055 ±4,472
05:29 (01:27)
26
Tom Clancy's Ghost Recon Island Thunder
Jul 15, 2008
$4.99
N/A (N/A/82%)
105,531 ±9,783
16,600 ±3,880
01:58 (00:38)
27
Delta Force Black Hawk Down: Team Sabre
Jun 18, 2009
$2.49
86% (93%)
35,098 ±5,642
17,075 ±3,935
09:27 (02:09)
28
UBERMOSH:BLACK
Feb 17, 2016
$0.99
86% (93%)
30,829 ±5,288
11,146 ±3,179
01:10 (00:13)
29
Decisive Campaigns: Case Blue
May 7, 2015
$39.99
N/A (N/A)
3,320 ±1,735
2,846 ±1,606
37:34 (87:57)
30
Sayonara Umihara Kawase
Oct 5, 2015
$6.74
81% (92%)
14,229 ±3,592
6,640 ±2,454
02:33 (01:17)
31
HoloBall
Apr 25, 2016
$7.49
81% (92%)
28,695 ±5,101
24,663 ±4,730
02:18 (00:39)
32
Raptor: Call of the Shadows (1994 Classic Edition)
May 5, 2014
$4.99
N/A (N/A)
64,030 ±7,620
10,197 ±3,041
01:48 (00:16)
33
Rad Rodgers: World One
Dec 1, 2016
$5.99
N/A (N/A/72%)
7,589 ±2,623
4,032 ±1,912
01:17 (01:13)
34
Battle Dome
Jun 8, 2017
$1.94
78% (91%)
18,498 ±4,096
15,177 ±3,710
02:53 (01:46)
35
Witch and Hero()
Apr 21, 2016
$4.99
N/A (N/A)
3,083 ±1,672
2,846 ±1,606
03:32 (03:35)
36
NiGHTS Into Dreams
Dec 17, 2012
$7.99
78% (91%)
291,693 ±16,262
57,153 ±7,200
01:46 (00:22)
37
Marlow Briggs and the Mask of Death
Sep 20, 2013
$4.99
78% (91%)
121,183 ±10,483
58,339 ±7,274
02:21 (00:45)
38
Cosmic Trip
Nov 3, 2016
$19.99
74% (90%)
17,549 ±3,989
15,415 ±3,739
01:38 (01:07)
39
Hive
Mar 20, 2014
$9.99
74% (90%)
22,766 ±4,544
17,786 ±4,016
03:04 (02:40)
40
Bird Assassin
Aug 27, 2014
$1.99
74% (90%)
16,600 ±3,880
9,486 ±2,933
01:04 (00:56)
41
Shadow Man
Oct 18, 2013
$4.99
74% (90%)
81,342 ±8,589
21,818 ±4,448
05:15 (00:26)
42
Eterium
Apr 15, 2014
$4.99
N/A (N/A)
136,835 ±11,139
12,095 ±3,312
00:47 (00:13)
43
Unbox: Newbie's Adventure
Sep 5, 2016
$5.99
74% (90%/68%)
77,310 ±8,373
36,995 ±5,793
02:41 (01:33)
44
Marc Eck's Getting Up: Contents Under Pressure
Dec 13, 2013
$14.99
74% (90%/69%)
48,378 ±6,624
27,035 ±4,952
04:44 (01:27)
45
Intrusion 2
Sep 11, 2012
$9.99
74% (90%/80%)
388,449 ±18,764
166,004 ±12,269
01:58 (00:29)
46
Tornuffalo
Dec 12, 2016
$0.99
N/A (N/A)
3,901 ±2,302
2,483 ±1,836
00:05 (00:04)
47
Armed and Dangerous
Jul 8, 2009
$2.03
74% (90%/78%)
23,715 ±4,638
11,620 ±3,246
01:50 (00:50)
48
JUDGEMENT SILVERSWORD - Resurrection -
Sep 18, 2015
$4.99
N/A (N/A)
5,454 ±2,224
3,794 ±1,855
00:36 (00:27)
49
Thunder Wolves
May 15, 2013
$9.99
71% (89%/69%)
131,143 ±10,905
45,295 ±6,409
01:40 (00:30)
50
Adventures of Pip
Jun 4, 2015
$14.99
71% (89%/72%)
26,323 ±4,886
12,806 ±3,408
02:46 (01:18)
51
Hero of Many
Sep 15, 2014
$6.99
71% (89%)
26,086 ±4,864
6,403 ±2,410
02:07 (01:21)
52
Secret Agent
May 5, 2014
$4.99
N/A (N/A)
64,504 ±7,649
4,506 ±2,021
01:37 (00:26)
53
Grey Cubes
May 15, 2015
$0.99
71% (89%)
33,675 ±5,526
12,569 ±3,376
02:44 (01:14)
54
Rot Gut
Jul 12, 2016
$1.99
71% (89%)
11,620 ±3,246
5,217 ±2,175
00:43 (00:31)
55
Flotilla
Apr 2010
$4.99
68% (88%/72%)
104,345 ±9,728
54,307 ±7,018
01:40 (00:32)
56
Stalingrad
Mar 25, 2015
$4.99
68% (88%)
26,086 ±4,864
10,435 ±3,076
05:09 (02:30)
57
Little Big Adventure - Enhanced Edition
Oct 20, 2015
$5.99
68% (88%)
14,940 ±3,681
8,063 ±2,704
03:50 (01:18)
58
QUAKE Mission Pack 2: Dissolution of Eternity
Aug 3, 2007
$1.79
68% (88%)
337,936 ±17,503
22,766 ±4,544
03:50 (00:11)
59
Tethered
Feb 27, 2017
$12.49
68% (88%)
10,435 ±3,076
8,300 ±2,744
05:13 (02:08)
60
Hocus Pocus
May 5, 2014
$4.99
N/A (N/A)
62,844 ±7,550
6,877 ±2,497
01:51 (00:10)
61
SHOCK TROOPERS
May 18, 2016
$7.99
N/A (N/A)
31,066 ±5,308
3,794 ±1,855
02:18 (01:04)
62
Archon Classic
Nov 2, 2010
$9.99
68% (88%)
25,612 ±4,820
8,063 ±2,704
02:43 (00:49)
63
Legacy of Kain: Defiance
Dec 6, 2012
$6.99
68% (88%/70%)
290,032 ±16,215
60,710 ±7,420
01:54 (00:20)
64
Zombie Shooter
May 27, 2009
$2.49
68% (88%)
142,289 ±11,359
55,730 ±7,109
01:45 (00:45)
65
Ground Control Anthology
Jul 8, 2015
$4.99
N/A (N/A/86%)
13,992 ±3,562
4,506 ±2,021
01:31 (00:50)
66
Knight Squad
Nov 16, 2015
$14.99
65% (87%)
107,903 ±9,892
36,995 ±5,793
03:19 (02:08)
67
THOTH
Oct 7, 2016
$7.99
65% (87%)
85,373 ±8,799
10,197 ±3,041
00:32 (00:10)
68
Tiny Barbarian DX
Dec 3, 2013
$29.99
65% (87%)
27,509 ±4,995
18,735 ±4,122
02:48 (01:46)
69
Raiden IV: OverKill
Sep 2, 2015
$14.99
65% (87%)
45,532 ±6,426
33,675 ±5,526
02:52 (01:16)
70
LASTFIGHT
May 19, 2016
$14.99
N/A (N/A)
3,557 ±1,796
2,846 ±1,606
00:59 (00:53)
71
Zero Punctuation: Hatfall - Hatters Gonna Hat Edition
Nov 20, 2015
$4.99
65% (87%)
10,909 ±3,145
10,435 ±3,076
02:26 (01:27)
72
Vertigo
Dec 22, 2016
$14.99
65% (87%)
7,826 ±2,664
7,352 ±2,582
02:46 (02:07)
73
Choplifter HD
Jan 11, 2012
$4.99
65% (87%/65%)
83,002 ±8,676
31,541 ±5,348
02:51 (01:09)
74
Eradicator
Nov 6, 2014
$6.99
N/A (N/A)
23,241 ±4,591
4,980 ±2,125
00:18 (00:14)
75
Ring Runner: Flight of the Sages
Nov 19, 2013
$0.99
62% (86%/75%)
164,344 ±12,208
92,488 ±9,159
02:53 (01:06)
76
Kohan: Immortal Sovereigns
Aug 24, 2011
$9.99
N/A (N/A/87%)
17,549 ±3,989
9,486 ±2,933
06:38 (02:06)
77
Another World 20th Anniversary Edition
Apr 4, 2013
$9.99
62% (86%)
177,150 ±12,674
79,682 ±8,501
01:24 (00:40)
78
Castle of Shikigami
Jun 15, 2017
$11.99
N/A (N/A)
2,846 ±1,606
2,609 ±1,538
02:15 (04:25)
79
Worms
Oct 19, 2011
$1.99
62% (86%)
316,356 ±16,935
70,433 ±7,992
00:27 (00:04)
80
Shrouded in Sanity
May 27, 2016
$2.39
62% (86%)
8,774 ±2,821
5,692 ±2,272
04:42 (02:53)
81
Moorhuhn Invasion (Crazy Chicken Invasion)
Feb 20, 2015
$3.99
N/A (N/A)
11,146 ±3,179
2,609 ±1,538
00:08 (00:11)
82
Grand Theft Auto 2
Jan 4, 2008
Free
59% (85%)
633,186 ±23,951
172,407 ±12,503
01:01 (00:09)
83
Spermination
Apr 29, 2015
$2.99
59% (85%)
28,221 ±5,059
17,786 ±4,016
01:14 (00:27)
84
Battle Academy
Apr 16, 2014
$4.94
59% (85%)
40,315 ±6,047
17,075 ±3,935
26:33 (02:52)
85
Droid Assault
Jan 9, 2013
$9.99
59% (85%)
83,951 ±8,726
52,410 ±6,894
02:50 (01:16)
86
Call of Duty: United Offensive
Oct 13, 2006
$12.99
59% (85%/87%)
212,485 ±13,880
109,563 ±9,968
10:35 (01:34)
87
ARCADE GAME SERIES: GALAGA
Apr 19, 2016
$3.99
59% (85%)
110,037 ±9,990
33,675 ±5,526
00:48 (00:11)
88
Call of Tomsk-7
Aug 10, 2015
$0.99
59% (85%)
26,086 ±4,864
12,095 ±3,312
01:11 (00:38)
89
Acan's Call: Act 1
Aug 11, 2016
Free
56% (84%)
67,113 ±7,802
31,066 ±5,308
15:22 (00:13)
90
Litil Divil
Mar 19, 2014
$9.99
N/A (N/A)
384,418 ±18,667
50,750 ±6,784
00:11 (00:02)
91
ALLTYNEX Second
Dec 11, 2014
$7.99
N/A (N/A)
40,078 ±6,029
10,909 ±3,145
00:45 (00:18)
92
METAL SLUG 2
Apr 14, 2016
$6.99
56% (84%)
53,833 ±6,987
14,703 ±3,652
01:34 (01:07)
93
Bear Simulator
Feb 26, 2016
$14.99
54% (83%)
13,043 ±3,439
12,095 ±3,312
09:44 (03:45)
94
Felt Tip Circus
Apr 5, 2016
$2.71
N/A (N/A)
29,406 ±5,164
2,846 ±1,606
00:15 (00:18)
95
Aces Wild: Manic Brawling Action!
Jan 31, 2014
$9.99
54% (83%)
56,916 ±7,185
19,446 ±4,200
01:42 (00:24)
96
Imperium Galactica II
Jan 19, 2017
$3.29
54% (83%)
11,383 ±3,213
8,774 ±2,821
07:05 (00:45)
97
Strike Suit Infinity
Apr 30, 2013
$6.99
54% (83%/66%)
213,196 ±13,904
118,100 ±10,349
02:12 (00:56)
98
Rise of the Triad: Dark War
May 5, 2014
$6.99
N/A (N/A)
62,844 ±7,550
5,217 ±2,175
00:36 (00:09)
99
Karateka
Dec 3, 2012
$9.99
54% (83%/48%)
32,489 ±5,428
12,569 ±3,376
01:32 (00:53)
100
Ground Control II: Operation Exodus
Jul 8, 2015
$4.99
51% (82%/80%)
19,446 ±4,200
8,774 ±2,821
02:59 (02:34)
101
Seven Kingdoms 2 HD
Feb 4, 2015
$9.99
51% (82%)
41,027 ±6,100
18,260 ±4,070
07:26 (00:37)
102
Commandos: Beyond the Call of Duty
Mar 15, 2007
$0.74
51% (82%)
538,564 ±22,091
124,029 ±10,606
02:44 (00:11)
103
Space Empires IV Deluxe
Feb 7, 2006
$9.99
51% (82%/79%)
75,176 ±8,257
34,149 ±5,565
15:48 (00:38)
104
Capsized
Apr 29, 2011
$9.99
51% (82%/80%)
540,935 ±22,140
231,931 ±14,501
01:27 (00:19)
105
POSTAL
Mar 21, 2013
$1.99
51% (82%/56%)
379,675 ±18,551
227,900 ±14,375
02:00 (00:44)
106
Glass Wing
Jun 24, 2015
$1.19
N/A (N/A)
88,456 ±8,957
6,640 ±2,454
00:30 (00:11)
107
A Legend of Luca
Apr 5, 2016
$9.99
51% (82%)
12,332 ±3,344
9,486 ±2,933
02:23 (00:38)
108
SHOWTIME 2073
Feb 12, 2016
$0.99
51% (82%)
27,984 ±5,038
7,352 ±2,582
00:16 (00:13)
109
Overkill VR: Action Shooter FPS
Mar 10, 2017
$19.99
51% (82%)
11,383 ±3,213
9,723 ±2,969
03:28 (01:18)
110
Codename: Panzers, Phase One
Feb 18, 2016
$14.99
51% (82%/81%)
24,189 ±4,684
16,600 ±3,880
12:26 (02:35)
111
ARCADE GAME SERIES: DIG DUG
Apr 19, 2016
$3.99
51% (82%)
106,242 ±9,816
25,375 ±4,797
00:17 (00:07)
112
Deathmatch Classic
Jun 1, 2001
$0.99
51% (82%)
8,008,738 ±84,528
852,074 ±27,778
02:46 (00:08)
113
Zombie Shooter 2
Nov 18, 2009
$4.99
51% (82%)
163,632 ±12,181
50,750 ±6,784
04:20 (00:52)
114
Dwarfs!?
May 4, 2011
$2.49
49% (81%)
385,129 ±18,684
193,039 ±13,230
02:56 (00:53)
115
NAM
Nov 6, 2014
$6.99
49% (81%)
45,295 ±6,409
11,383 ±3,213
00:26 (00:04)
116
Urban Chaos
Oct 15, 2013
$6.99
49% (81%)
10,197 ±3,041
3,320 ±1,735
02:10 (02:08)
117
What The Box?
Sep 12, 2016
$4.99
49% (81%)
52,410 ±6,894
47,904 ±6,591
01:27 (00:43)
118
Wyrmsun
May 22, 2015
Free
49% (81%)
59,050 ±7,318
15,177 ±3,710
00:46 (00:19)
119
Daedalus - No Escape
Oct 28, 2014
$4.99
49% (81%)
20,869 ±4,351
5,454 ±2,224
01:15 (00:53)
120
Xotic
Sep 16, 2011
$9.99
47% (80%/67%)
102,922 ±9,661
34,149 ±5,565
00:54 (00:27)
121
QUAKE III: Team Arena
Aug 3, 2007
$14.99
47% (80%/69%)
397,224 ±18,975
68,536 ±7,884
01:37 (00:07)
122
GIGANTIC ARMY
Mar 6, 2014
$5.99
47% (80%)
76,599 ±8,335
35,809 ±5,699
02:05 (01:09)
123
Gunjack
Apr 5, 2016
$9.99
47% (80%)
19,683 ±4,225
13,755 ±3,532
03:17 (00:35)
124
The Initial
Jul 17, 2017
$9.99
47% (80%)
23,241 ±4,591
20,632 ±4,326
01:41 (00:57)
125
Dragon's Lair
May 17, 2013
$9.99
47% (80%)
54,307 ±7,018
43,872 ±6,308
01:44 (00:32)
126
VERSUS SQUAD
Oct 26, 2016
$7.99
47% (80%)
13,280 ±3,470
11,146 ±3,179
05:22 (01:56)
127
Zenohell
Oct 14, 2015
$9.99
N/A (N/A)
38,655 ±5,921
3,557 ±1,796
00:18 (00:33)
128
Galcon Fusion
Feb 11, 2010
$9.99
47% (80%/68%)
179,284 ±12,750
67,113 ±7,802
03:33 (00:48)
129
Explodemon
Mar 25, 2014
$8.99
N/A (N/A)
40,315 ±6,047
10,909 ±3,145
00:59 (00:26)
130
TWINKLE STAR SPRITES
May 26, 2016
$7.99
N/A (N/A)
31,304 ±5,328
6,166 ±2,365
01:35 (00:41)
131
NecroVisioN: Lost Company
Feb 19, 2010
$1.74
47% (80%)
115,254 ±10,224
18,735 ±4,122
02:39 (00:54)
132
SEGA Mega Drive and Genesis Classics
Jun 1, 2010
N/A
45% (79%)
2,504,050 ±47,538
1,293,882 ±34,214
03:11 (00:27)
133
Curse: The Eye of Isis
Aug 22, 2014
$2.99
45% (79%/63%)
32,015 ±5,389
5,217 ±2,175
04:25 (00:03)
134
iBomber Attack
Nov 1, 2012
$5.99
45% (79%)
61,184 ±7,449
20,869 ±4,351
03:47 (00:33)
135
Jet Gunner
Aug 4, 2014
$0.99
45% (79%)
143,475 ±11,407
95,334 ±9,298
02:06 (01:15)
136
Dark Sector
Mar 24, 2009
$9.99
45% (79%/66%)
76,125 ±8,309
31,304 ±5,328
04:40 (01:58)
137
STAR WARS SHADOWS OF THE EMPIRE
Feb 7, 2017
$5.99
45% (79%)
75,176 ±8,257
15,889 ±3,796
01:25 (00:46)
138
LocoCycle
Feb 14, 2014
$9.99
45% (79%)
16,363 ±3,852
8,063 ±2,704
03:07 (02:23)
139
Descent: FreeSpace The Great War
May 7, 2014
$9.99
45% (79%)
19,683 ±4,225
13,043 ±3,439
01:54 (00:24)
140
Emmerholt: Prologue
Feb 14, 2017
Free
45% (79%)
8,537 ±2,782
5,217 ±2,175
00:26 (00:15)
141
ARCADE GAME SERIES: PAC-MAN
Apr 19, 2016
$3.99
45% (79%)
111,697 ±10,065
29,644 ±5,185
00:25 (00:08)
142
STAR WARS - X-Wing Alliance
Apr 28, 2015
$9.99
43% (78%)
319,913 ±17,030
64,267 ±7,635
02:38 (00:11)
143
Reprisal Universe
Sep 15, 2014
$6.99
43% (78%)
60,473 ±7,406
35,098 ±5,642
01:53 (00:25)
144
Alien Shooter 2 Conscription
May 18, 2012
$9.99
N/A (N/A)
86,322 ±8,848
18,972 ±4,148
02:26 (01:12)
145
Raptor: Call of The Shadows - 2015 Edition
Feb 13, 2015
$4.99
43% (78%)
33,201 ±5,487
16,838 ±3,908
02:31 (00:29)
146
Cinemaware Anthology: 1986-1991
Nov 14, 2014
$9.99
N/A (N/A)
15,415 ±3,739
8,774 ±2,821
01:59 (00:16)
147
AquaNox
Apr 20, 2010
$0.99
41% (77%/67%)
142,289 ±11,359
25,612 ±4,820
01:49 (00:25)
148
Arkshot
May 19, 2016
$4.99
N/A (N/A)
9,960 ±3,005
6,166 ±2,365
02:51 (03:30)
149
GALAK-Z
Oct 29, 2015
$19.99
41% (77%/78%)
212,248 ±13,873
78,496 ±8,437
04:35 (02:00)
150
Dragon's Lair 2: Time Warp
Oct 24, 2013
$9.99
N/A (N/A)
8,774 ±2,821
4,032 ±1,912
00:36 (00:29)
151
VRMultigames
Jul 25, 2016
Free
39% (76%)
55,967 ±7,125
20,869 ±4,351
00:33 (00:11)
152
Scrap Garden - The Day Before
Oct 7, 2016
Free
39% (76%)
148,455 ±11,603
102,211 ±9,628
00:29 (00:15)
153
Age of Wonders II: The Wizard's Throne
Oct 2010
$2.49
39% (76%/86%)
85,611 ±8,811
36,284 ±5,737
11:17 (01:18)
154
Alien Carnage / Halloween Harry
May 5, 2014
N/A
N/A (N/A)
56,441 ±7,155
6,640 ±2,454
00:15 (00:12)
155
Total Extreme Wrestling
Mar 19, 2015
$19.99
39% (76%)
7,114 ±2,540
4,269 ±1,967
55:00 (13:51)
156
Woah Dave!
Oct 30, 2014
$4.99
39% (76%)
19,209 ±4,174
10,197 ±3,041
02:20 (00:54)
157
Gemini: Heroes Reborn
Jan 18, 2016
$14.99
39% (76%/54%)
47,430 ±6,559
4,980 ±2,125
02:21 (00:49)
158
Rayman Raving Rabbids
Jun 13, 2008
$4.99
39% (76%/58%)
15,652 ±3,768
9,723 ±2,969
01:55 (01:14)
159
Cubemen
Mar 16, 2012
$3.99
39% (76%/74%)
196,359 ±13,343
118,337 ±10,359
02:00 (00:42)
160
Legacy of Kain: Soul Reaver 2
Dec 6, 2012
$6.99
37% (75%/77%)
326,079 ±17,193
47,667 ±6,575
02:28 (00:18)
161
World War I
Apr 9, 2015
$1.24
37% (75%)
43,161 ±6,257
11,857 ±3,279
03:24 (01:04)
162
TEMBO THE BADASS ELEPHANT
Jul 21, 2015
$14.99
37% (75%)
38,181 ±5,885
24,901 ±4,752
02:53 (00:59)
163
Bionic Commando: Rearmed
Jul 28, 2009
$1.99
37% (75%/86%)
434,456 ±19,843
118,100 ±10,349
01:38 (00:22)
164
ORB
Mar 13, 2014
$4.99
37% (75%)
14,466 ±3,622
6,640 ±2,454
01:30 (00:59)
165
Adventure Time: The Secret Of The Nameless Kingdom
Nov 18, 2014
$4.99
37% (75%)
11,857 ±3,279
9,486 ±2,933
03:42 (02:19)
166
Left Alone
Apr 28, 2016
$3.49
37% (75%)
9,012 ±2,859
5,692 ±2,272
02:47 (02:06)
167
UFO: Aftermath
Apr 23, 2014
$3.99
37% (75%)
76,599 ±8,335
14,466 ±3,622
06:41 (00:38)
168
Zero Reflex : Black Eye Edition
Nov 4, 2015
$3.99
35% (74%)
19,446 ±4,200
6,166 ±2,365
01:07 (00:40)
169
Sacred Citadel
Apr 16, 2013
$9.99
35% (74%/61%)
570,579 ±22,737
140,392 ±11,283
02:39 (00:48)
170
Children of Orc
Dec 20, 2016
Free
35% (74%)
18,972 ±4,148
11,383 ±3,213
00:37 (00:18)
171
Adventure Time: Finn and Jake's Epic Quest
Apr 11, 2014
$9.99
35% (74%)
23,715 ±4,638
22,529 ±4,520
03:54 (01:20)
172
Painkiller Overdose
Oct 30, 2007
$4.99
35% (74%/65%)
272,246 ±15,711
71,145 ±8,033
03:11 (00:26)
173
THE LAST BLADE
Aug 31, 2016
$9.99
35% (74%)
19,683 ±4,225
4,506 ±2,021
01:47 (00:28)
174
Praetorians
Apr 11, 2014
$4.99
35% (74%/78%)
75,413 ±8,270
32,252 ±5,408
01:51 (00:22)
175
Insecticide Part 1
Jul 1, 2008
$0.49
33% (73%/65%)
127,823 ±10,767
29,406 ±5,164
01:07 (00:14)
176
Rain Blood Chronicles: Mirage
Nov 11, 2013
$9.99
33% (73%/68%)
16,126 ±3,824
9,960 ±3,005
02:55 (01:11)
177
Tomb Raider V: Chronicles
Nov 28, 2012
$6.99
33% (73%)
577,931 ±22,883
61,421 ±7,464
03:58 (00:10)
178
Lords of the Realm
Dec 3, 2015
$1.99
N/A (N/A)
17,786 ±4,016
5,454 ±2,224
04:29 (00:26)
179
Front Defense
Jul 7, 2017
$19.99
N/A (N/A/60%)
3,557 ±1,796
2,609 ±1,538
01:36 (01:24)
180
STAR WARS X-Wing vs TIE Fighter - Balance of Power Campaigns
Apr 28, 2015
$9.99
33% (73%)
312,799 ±16,839
54,307 ±7,018
04:54 (00:10)
181
Bionic Commando
Jul 28, 2009
$1.99
33% (73%/69%)
251,377 ±15,097
77,785 ±8,399
02:54 (00:52)
182
AquaNox 2: Revelation
Apr 20, 2010
$0.99
33% (73%/59%)
135,886 ±11,101
15,889 ±3,796
05:51 (00:34)
183
Watch This!
Sep 23, 2016
$3.99
33% (73%)
29,881 ±5,206
20,869 ±4,351
03:58 (01:00)
184
Insanity's Blade
Dec 4, 2014
$5.99
33% (73%)
24,901 ±4,752
9,249 ±2,896
02:09 (01:12)
185
UFO: Aftershock
Apr 16, 2014
$3.99
33% (73%)
74,702 ±8,231
11,146 ±3,179
16:38 (01:42)
186
Black & White Bushido
Oct 2, 2015
$12.99
33% (73%)
15,177 ±3,710
9,249 ±2,896
00:49 (00:29)
187
War in a Box: Paper Tanks
Jul 4, 2014
$4.99
31% (72%)
57,390 ±7,215
18,735 ±4,122
01:32 (00:26)
188
Air Brawl
Nov 5, 2015
Free
31% (72%)
189,719 ±13,116
130,669 ±10,886
01:15 (00:24)
189
Half-Life Deathmatch: Source
May 1, 2006
$9.99
31% (72%)
7,525,904 ±81,982
470,502 ±20,649
02:59 (00:11)
190
Crewsaders
Nov 17, 2016
$2.99
N/A (N/A)
3,794 ±1,855
949 ±927
00:08 (00:09)
191
HeXen: Deathkings of the Dark Citadel
Aug 3, 2007
$4.99
31% (72%)
207,031 ±13,701
19,209 ±4,174
00:13 (00:02)
192
BiT Evolution
Jun 9, 2015
$2.49
N/A (N/A)
57,864 ±7,244
17,786 ±4,016
02:27 (01:38)
193
Unreal 2: The Awakening
Mar 17, 2008
$3.74
31% (72%/75%)
318,490 ±16,992
64,267 ±7,635
02:30 (00:33)
194
Hogs of War
Jul 28, 2015
$4.99
31% (72%)
10,672 ±3,111
9,960 ±3,005
05:26 (00:33)
195
Tango Fiesta
Sep 24, 2015
$9.99
N/A (N/A)
25,849 ±4,842
7,114 ±2,540
01:54 (01:53)
196
Chronicles of Teddy
Apr 2, 2015
$14.99
30% (71%)
13,517 ±3,501
9,249 ±2,896
04:26 (02:56)
197
Hero Academy
Aug 10, 2012
$4.99
30% (71%/75%)
229,797 ±14,435
136,123 ±11,111
23:46 (01:37)
198
Iron Storm
May 8, 2014
$2.99
N/A (N/A/69%)
45,770 ±6,443
8,063 ±2,704
00:34 (00:01)
199
Crow
Oct 6, 2014
$9.99
N/A (N/A)
21,581 ±4,424
4,032 ±1,912
00:18 (00:10)
200
Bierzerkers
Feb 25, 2016
$4.99
30% (71%)
209,639 ±13,787
103,634 ±9,695
00:58 (00:14)
201
Pixel-Warfare: Pro
Sep 20, 2016
$0.99
N/A (N/A)
20,632 ±4,326
2,846 ±1,606
01:24 (00:55)
202
Death Dojo
Nov 8, 2016
Free
28% (70%)
18,260 ±4,070
9,960 ±3,005
00:35 (00:16)
203
The Chaos Engine
Aug 29, 2013
$9.99
28% (70%/40%)
94,622 ±9,264
44,584 ±6,359
01:56 (01:19)
204
Blood Omen 2: Legacy of Kain
Sep 24, 2013
$6.99
28% (70%)
246,397 ±14,947
46,244 ±6,476
02:34 (00:34)
205
Toxic Bunny HD
Jul 18, 2014
$5.99
N/A (N/A)
9,249 ±2,896
5,929 ±2,319
02:23 (00:50)
206
The Showdown Effect
Mar 5, 2013
$9.99
27% (69%/67%)
522,912 ±21,768
330,111 ±17,299
03:08 (01:06)
207
STAR WARS: Rebel Assault I + II
Mar 29, 2016
$9.99
27% (69%)
126,163 ±10,696
14,940 ±3,681
01:13 (00:09)
208
Tex Murphy: Mean Streets
Jun 12, 2014
$5.99
N/A (N/A)
42,924 ±6,239
7,114 ±2,540
02:23 (00:08)
209
Victoria I Complete
Aug 20, 2010
$2.49
27% (69%)
177,624 ±12,691
46,481 ±6,493
11:43 (00:12)
210
American Conquest: Fight Back
Aug 26, 2011
$4.99
27% (69%/66%)
111,223 ±10,043
49,327 ±6,689
11:05 (01:29)
211
Earth 2150 Trilogy
Nov 1, 2013
$6.99
27% (69%/78%)
270,112 ±15,649
60,473 ±7,406
01:45 (00:05)
212
STAR WARS - X-Wing Special Edition
Apr 28, 2015
$9.99
27% (69%)
199,442 ±13,448
46,481 ±6,493
02:35 (00:16)
213
Dogfight 1942
Sep 21, 2012
$9.99
25% (68%)
133,277 ±10,994
69,010 ±7,911
03:57 (00:52)
214
Nexuiz
May 10, 2012
$9.99
25% (68%/54%)
291,218 ±16,249
115,728 ±10,245
00:49 (00:17)
215
American Conquest
Aug 26, 2011
$4.99
25% (68%/76%)
119,523 ±10,411
56,441 ±7,155
04:38 (00:47)
216
Strike Vector
Jan 28, 2014
$11.99
25% (68%/73%)
182,130 ±12,851
130,906 ±10,896
02:30 (00:52)
217
Void Destroyer
Jan 20, 2015
$12.99
25% (68%)
106,717 ±9,838
34,387 ±5,585
03:55 (00:46)
218
On My Own
Feb 26, 2016
$4.99
25% (68%)
18,498 ±4,096
6,166 ±2,365
01:25 (00:58)
219
ROM: Extraction
Dec 7, 2016
$19.99
25% (68%)
5,454 ±2,224
3,320 ±1,735
00:48 (01:00)
220
Data Jammers: FastForward
Oct 24, 2011
Free
24% (67%)
77,785 ±8,399
14,466 ±3,622
00:10 (00:06)
221
Watchmen: The End is Nigh
Mar 4, 2009
$4.99
23% (66%/61%)
39,367 ±5,975
22,529 ±4,520
02:48 (01:52)
222
Daikatana
Oct 1, 2013
$6.99
23% (66%)
235,963 ±14,627
30,829 ±5,288
01:07 (00:09)
223
Cthulhu Realms
Jul 1, 2016
Free
23% (66%)
97,468 ±9,402
23,241 ±4,591
02:35 (00:19)
224
Foreign Legion: Multi Massacre
Jul 9, 2012
$1.74
23% (66%)
94,385 ±9,252
45,295 ±6,409
04:09 (00:34)
225
Plain Sight
Apr 5, 2010
$4.99
23% (66%/76%)
179,758 ±12,767
112,645 ±10,107
01:36 (00:38)
226
Steam 360 Video Player
May 10, 2017
Free
N/A (N/A)
45,532 ±6,426
45,532 ±6,426
01:22 (00:19)
227
Scary Girl
Apr 9, 2012
$6.99
N/A (N/A)
14,466 ±3,622
6,877 ±2,497
01:57 (00:57)
228
Planets Under Attack
Sep 27, 2012
$9.99
22% (65%)
253,749 ±15,168
66,876 ±7,788
02:38 (00:49)
229
Crusader Kings Complete
Feb 14, 2012
$9.99
22% (65%/73%)
96,757 ±9,367
34,387 ±5,585
11:36 (00:20)
230
Stick 'Em Up 2: Paper Adventures
Jul 27, 2015
$2.99
22% (65%)
14,229 ±3,592
6,877 ±2,497
05:15 (01:33)
231
Resilience: Wave Survival
Dec 23, 2015
$5.99
21% (64%)
7,352 ±2,582
5,217 ±2,175
00:53 (00:33)
232
Cruel Arena
Aug 18, 2015
$0.99
N/A (N/A)
60,473 ±7,406
30,355 ±5,247
03:11 (02:54)
233
Mytheon
Dec 8, 2015
$5.49
21% (64%)
7,826 ±2,664
5,929 ±2,319
02:05 (01:00)
234
Kings of Kung Fu
Jun 25, 2015
$9.99
21% (64%)
21,106 ±4,375
16,600 ±3,880
02:30 (00:47)
235
Helldorado
Apr 30, 2009
$2.49
N/A (N/A/65%)
39,841 ±6,011
10,672 ±3,111
02:06 (00:32)
236
LA Cops
Mar 13, 2015
$14.99
19% (63%/45%)
18,498 ±4,096
7,589 ±2,623
01:14 (00:59)
237
BloodRayne Betrayal
Apr 30, 2014
$9.99
19% (63%)
88,456 ±8,957
56,678 ±7,170
03:35 (02:51)
238
El Matador
Apr 3, 2014
$3.99
19% (63%/54%)
30,592 ±5,267
9,249 ±2,896
00:58 (00:22)
239
Zanzarah: The Hidden Portal
Aug 20, 2015
$0.79
19% (63%)
63,319 ±7,578
16,600 ±3,880
04:20 (00:54)
240
UFO: Afterlight
Jan 6, 2014
$6.99
19% (63%/71%)
325,130 ±17,168
47,430 ±6,559
06:07 (00:15)
241
Desperados: Wanted Dead or Alive
Nov 20, 2013
$4.99
18% (62%/78%)
101,974 ±9,617
53,358 ±6,957
05:27 (00:22)
242
Attractio
Jan 18, 2016
$19.99
N/A (N/A)
73,279 ±8,152
7,114 ±2,540
00:51 (00:21)
243
Haegemonia: The Solon Heritage
May 1, 2014
$4.99
N/A (N/A)
57,153 ±7,200
10,672 ±3,111
02:23 (00:38)
244
Full Spectrum Warrior
Jul 17, 2007
$2.49
18% (62%/80%)
196,359 ±13,343
40,790 ±6,082
01:14 (00:10)
245
Dinocide
Jan 21, 2016
$9.99
N/A (N/A/51%)
58,576 ±7,289
16,838 ±3,908
03:13 (02:58)
246
Alpha Prime
Nov 7, 2007
$4.99
17% (61%/59%)
320,862 ±17,055
74,702 ±8,231
02:49 (00:41)
247
Robin Hood: The Legend of Sherwood
Aug 26, 2011
$1.99
17% (61%/80%)
118,337 ±10,359
50,750 ±6,784
02:52 (00:22)
248
Alone in the Dark: The New Nightmare
Oct 29, 2013
$6.99
17% (61%/66%)
19,209 ±4,174
8,300 ±2,744
02:16 (00:38)
249
Crown and Council
Apr 22, 2016
Free
17% (61%)
105,294 ±9,772
49,327 ±6,689
03:25 (00:34)
250
Hydrophobia: Prophecy
May 9, 2011
$4.99
17% (61%/64%)
357,145 ±17,993
180,233 ±12,784
01:56 (00:53)
251
Versus: Battle of the Gladiator
Aug 26, 2016
Free
16% (60%)
55,018 ±7,064
37,232 ±5,811
01:49 (00:19)
252
Spheroid
Aug 31, 2015
$0.79
N/A (N/A)
134,226 ±11,033
6,640 ±2,454
00:23 (00:02)
253
Fowl Space
Mar 21, 2012
$4.99
16% (60%)
23,241 ±4,591
10,197 ±3,041
00:23 (00:17)
254
World War II: Panzer Claws
Sep 27, 2013
$4.99
16% (60%/61%)
325,130 ±17,168
42,450 ±6,205
01:54 (00:05)
255
Achron
Aug 29, 2011
$19.99
N/A (N/A/54%)
11,857 ±3,279
8,300 ±2,744
08:11 (01:56)
256
Redline
Oct 23, 2014
$6.99
N/A (N/A)
24,426 ±4,707
3,794 ±1,855
01:02 (00:25)
257
Vector Thrust
Jul 2, 2015
$24.99
14% (58%/57%)
35,809 ±5,699
21,818 ±4,448
04:25 (01:29)
258
Guardians of Orion
Dec 21, 2016
$0.99
14% (58%)
290,032 ±16,215
206,793 ±13,693
03:56 (00:55)
259
Cannon Fodder 3
Aug 6, 2012
$14.99
N/A (N/A/49%)
40,315 ±6,047
13,992 ±3,562
02:11 (00:32)
260
Fastigium
Dec 18, 2016
Free
N/A (N/A)
14,466 ±3,622
7,114 ±2,540
00:42 (00:14)
261
Wasteland Angel
Sep 1, 2011
$0.99
14% (58%)
128,060 ±10,777
31,066 ±5,308
00:46 (00:20)
262
The Ship: Remasted
Oct 31, 2016
$19.99
14% (58%)
62,844 ±7,550
41,264 ±6,118
03:00 (01:03)
263
Blight of the Immortals
Oct 25, 2016
Free
N/A (N/A)
27,272 ±4,973
4,506 ±2,021
02:16 (00:29)
264
Cold War
Jan 8, 2014
$4.99
14% (58%/64%)
27,746 ±5,016
7,589 ±2,623
01:36 (00:22)
265
Dungeon Manager ZV
Oct 16, 2015
$9.99
13% (57%)
2,846 ±1,606
2,371 ±1,466
04:00 (05:12)
266
Revelations 2012
Apr 23, 2012
Free
13% (57%)
24,426 ±4,707
10,672 ±3,111
01:23 (01:07)
267
DisneyPixar Cars 2: The Video Game
Oct 6, 2014
$19.99
N/A (N/A)
12,332 ±3,344
5,692 ±2,272
05:29 (02:55)
268
SHOCK TROOPERS 2nd Squad
Sep 28, 2016
$7.99
N/A (N/A)
15,889 ±3,796
949 ±927
00:45 (00:49)
269
The Secret of Pineview Forest
Oct 31, 2016
Free
13% (56%)
24,901 ±4,752
9,486 ±2,933
00:31 (00:12)
270
Haegemonia: Legions of Iron
May 1, 2014
$4.99
N/A (N/A)
65,216 ±7,691
17,786 ±4,016
00:32 (00:01)
271
Rush for Glory
Jun 16, 2014
$14.99
N/A (N/A)
78,970 ±8,463
14,703 ±3,652
00:48 (00:13)
272
Primal Fears
Jan 8, 2013
$9.99
13% (56%)
64,979 ±7,677
28,458 ±5,080
01:45 (00:40)
273
Pirates of Black Cove
Aug 2, 2011
$9.99
13% (56%/56%)
72,567 ±8,113
41,027 ±6,100
06:14 (01:33)
274
ProtoGalaxy
Oct 6, 2010
Free
N/A (N/A)
151,301 ±11,713
16,363 ±3,852
01:21 (00:10)
275
Naval Warfare
May 25, 2011
$2.99
12% (55%/57%)
123,080 ±10,565
31,541 ±5,348
01:10 (00:19)
276
Gratuitous Tank Battles
May 17, 2012
$2.49
12% (55%/69%)
64,504 ±7,649
34,861 ±5,623
02:38 (00:43)
277
Lost Planet: Extreme Condition Colonies Edition
Feb 11, 2010
$3.99
12% (55%/70%)
51,935 ±6,863
29,644 ±5,185
02:47 (01:14)
278
Frontline : Road to Moscow
Aug 8, 2014
$9.99
N/A (N/A)
14,703 ±3,652
3,557 ±1,796
03:20 (01:49)
279
Serious Sam: The Random Encounter
Oct 24, 2011
$4.99
12% (55%/64%)
545,916 ±22,241
125,689 ±10,676
00:43 (00:14)
280
Painkiller: Recurring Evil
Feb 29, 2012
$9.99
12% (55%/38%)
176,201 ±12,640
29,406 ±5,164
06:21 (00:33)
281
Theatre of War
Jul 9, 2010
$0.99
12% (54%/66%)
107,428 ±9,870
43,161 ±6,257
03:46 (00:45)
282
Virtual Rogue
Apr 8, 2016
$2.99
N/A (N/A)
12,569 ±3,376
5,454 ±2,224
02:22 (02:50)
283
Tomb Raider VI: The Angel of Darkness
Nov 28, 2012
$6.99
11% (53%)
578,405 ±22,893
77,310 ±8,373
03:07 (00:13)
284
Neocolonialism
Dec 1, 2014
$3.99
N/A (N/A)
18,260 ±4,070
3,083 ±1,672
00:41 (00:17)
285
Earth 2140
Nov 15, 2013
$4.99
11% (53%)
96,994 ±9,379
21,343 ±4,400
05:06 (00:09)
286
Blood II: The Chosen + Expansion
Jul 14, 2014
$4.99
11% (53%/72%)
16,838 ±3,908
10,435 ±3,076
01:22 (00:19)
287
CT Special Forces: Fire for Effect
Mar 13, 2014
$9.99
N/A (N/A)
170,035 ±12,417
13,043 ±3,439
08:22 (00:13)
288
Blast Em!
Jan 22, 2014
$3.99
10% (52%)
112,408 ±10,097
9,012 ±2,859
00:20 (00:06)
289
Pixel Hunter
Jul 17, 2014
$2.99
10% (52%)
36,758 ±5,774
8,774 ±2,821
00:43 (00:21)
290
Gods vs Humans
Oct 10, 2014
$4.99
N/A (N/A)
33,201 ±5,487
9,723 ±2,969
01:05 (00:22)
291
Garshasp: The Monster Slayer
May 9, 2011
$4.99
10% (51%/49%)
71,856 ±8,073
26,086 ±4,864
00:55 (00:30)
292
World War III: Black Gold
Sep 27, 2013
$4.99
10% (51%/71%)
298,807 ±16,459
48,378 ±6,624
01:32 (00:08)
293
Painkiller Redemption
Feb 25, 2011
$1.24
9% (50%/43%)
224,580 ±14,270
44,110 ±6,325
03:04 (00:36)
294
Lost Sea
Jul 5, 2016
$14.99
N/A (N/A)
6,640 ±2,454
3,083 ±1,672
01:38 (02:08)
295
Space Hack
Aug 5, 2014
$4.99
9% (50%/63%)
617,772 ±23,658
114,543 ±10,192
00:24 (00:04)
296
ZombieRun
Jun 3, 2015
$2.99
N/A (N/A)
22,766 ±4,544
3,320 ±1,735
00:24 (00:08)
297
Dead Island Retro Revenge
May 31, 2016
$4.99
9% (50%)
68,773 ±7,898
12,095 ±3,312
00:20 (00:07)
298
Real Warfare 1242
Nov 30, 2011
$0.99
N/A (N/A)
52,884 ±6,926
10,909 ±3,145
00:49 (00:21)
299
Dark Void
Jan 19, 2010
$1.99
8% (48%/57%)
53,833 ±6,987
27,984 ±5,038
02:27 (01:01)
300
Evolution RTS
Apr 7, 2014
Free
8% (48%)
165,530 ±12,252
54,307 ±7,018
01:58 (00:13)
301
Arms Dealer
Mar 26, 2015
$5.99
8% (48%)
10,435 ±3,076
7,114 ±2,540
03:42 (01:14)
302
Leviathan: Warships
Apr 30, 2013
$9.99
7% (47%)
284,341 ±16,056
118,337 ±10,359
02:56 (00:43)
303
Fly in the House
Mar 6, 2015
$9.99
7% (47%)
26,561 ±4,908
19,446 ±4,200
03:01 (02:49)
304
Tom Clancy's Rainbow Six Lockdown
May 13, 2008
$9.99
7% (47%/59%)
90,116 ±9,040
23,478 ±4,614
03:03 (00:35)
305
ALPAGES : THE FIVE BOOKS
Oct 23, 2015
$0.99
7% (47%)
18,498 ±4,096
3,320 ±1,735
00:08 (00:06)
306
Marine Sharpshooter II: Jungle Warfare
Apr 3, 2014
$9.99
N/A (N/A/52%)
231,694 ±14,494
30,355 ±5,247
00:20 (00:05)
307
Babel Rising
Aug 7, 2012
N/A
7% (46%)
25,138 ±4,775
19,683 ±4,225
01:23 (00:47)
308
Desert Thunder
Mar 19, 2014
$9.99
N/A (N/A)
187,347 ±13,034
13,992 ±3,562
00:15 (00:08)
309
Master of Magic Chess
May 23, 2017
Free
N/A (N/A)
6,877 ±2,497
4,980 ±2,125
00:13 (00:10)
310
Master of Orion 3
Aug 25, 2016
$9.99
N/A (N/A/64%)
124,503 ±10,626
32,489 ±5,428
04:18 (00:09)
311
Alone in the Dark
Oct 29, 2013
$9.99
6% (45%/55%)
58,339 ±7,274
18,972 ±4,148
02:07 (00:44)
312
Dark Void Zero
Apr 12, 2010
$0.99
6% (45%)
41,975 ±6,170
22,292 ±4,496
00:37 (00:12)
313
One Day : The Sun Disappeared
Aug 25, 2016
$5.99
N/A (N/A)
6,403 ±2,410
4,506 ±2,021
02:45 (03:14)
314
Damnation
May 22, 2009
$1.99
6% (44%/41%)
86,796 ±8,872
24,189 ±4,684
03:09 (00:43)
315
Galactic Civilizations I: Ultimate Edition
Aug 14, 2012
$2.49
6% (44%/83%)
415,247 ±19,400
53,358 ±6,957
07:11 (00:14)
316
World War II GI
Nov 13, 2015
$6.99
N/A (N/A)
8,537 ±2,782
1,660 ±1,227
00:43 (01:37)
317
Theatre of War 3: Korea
Mar 24, 2011
$1.74
5% (43%/49%)
65,927 ±7,733
23,241 ±4,591
08:17 (01:04)
318
Portal 2 Sixense Perceptual Pack
Sep 20, 2013
Free
5% (43%)
747,492 ±26,020
232,880 ±14,531
00:06 (00:01)
319
Onikira - Demon Killer
Aug 27, 2015
$13.99
5% (42%)
49,801 ±6,721
21,818 ±4,448
01:55 (01:06)
320
Bunch of Heroes
Sep 21, 2011
$4.99
5% (42%)
173,355 ±12,538
119,286 ±10,401
01:25 (00:45)
321
Naval War: Arctic Circle
Apr 10, 2012
$19.99
5% (42%/64%)
68,536 ±7,884
36,995 ±5,793
17:18 (01:26)
322
Ancient Space
Sep 23, 2014
$19.99
5% (42%)
51,698 ±6,847
38,655 ±5,921
03:24 (01:14)
323
Smugglers 5: Invasion
Oct 16, 2014
$9.99
N/A (N/A)
21,343 ±4,400
3,083 ±1,672
01:27 (02:01)
324
Cabelas African Adventures
Oct 16, 2013
$5.99
N/A (N/A)
9,249 ±2,896
4,743 ±2,074
02:30 (01:23)
325
Two Worlds II Castle Defense
Jun 14, 2011
$9.99
5% (41%)
219,837 ±14,118
39,841 ±6,011
01:11 (00:21)
326
Reign: Conflict of Nations
Jul 12, 2010
$0.99
N/A (N/A/60%)
73,753 ±8,179
14,703 ±3,652
01:51 (00:15)
327
Guardians of Graxia
Nov 10, 2010
$4.99
5% (41%)
76,362 ±8,322
39,604 ±5,993
02:36 (00:39)
328
Burn Zombie Burn!
Aug 12, 2010
$9.99
4% (40%/72%)
90,591 ±9,064
48,615 ±6,640
01:13 (00:25)
329
Cossacks II: Napoleonic Wars
Aug 26, 2011
$4.99
4% (40%/73%)
120,234 ±10,442
54,070 ±7,003
05:57 (00:39)
330
Obludia
Jul 18, 2014
$4.99
N/A (N/A)
18,260 ±4,070
11,383 ±3,213
02:28 (02:01)
331
Etherlords
Feb 13, 2014
$4.99
4% (40%/77%)
87,745 ±8,921
20,395 ±4,301
00:29 (00:07)
332
Ironclads: Anglo Russian War 1866
Jun 21, 2011
$2.49
N/A (N/A)
36,521 ±5,755
2,609 ±1,538
00:22 (00:16)
333
Star Wolves 2
Mar 2, 2010
$0.99
4% (40%)
75,176 ±8,257
11,620 ±3,246
03:40 (00:42)
334
Deus Ex: Breach
Jan 24, 2017
Free
4% (39%)
50,987 ±6,800
18,260 ±4,070
00:56 (00:18)
335
BlackSoul: Extended Edition
Feb 26, 2014
$6.99
N/A (N/A)
29,169 ±5,143
4,743 ±2,074
02:55 (00:44)
336
Real Warfare 2: Northern Crusades
Nov 18, 2011
$4.99
4% (38%)
48,378 ±6,624
11,620 ±3,246
02:07 (00:54)
337
Cabela's Dangerous Hunts 2013
Oct 22, 2012
$5.99
4% (38%)
13,992 ±3,562
8,774 ±2,821
01:55 (00:40)
338
Heli Heroes
Nov 1, 2013
$4.99
4% (38%)
234,540 ±14,583
18,735 ±4,122
00:14 (00:03)
339
Huntsman: The Orphanage (Halloween Edition)
Sep 13, 2013
$9.99
N/A (N/A)
153,672 ±11,805
24,189 ±4,684
00:27 (00:11)
340
Down To One
Jan 7, 2016
$0.99
3% (37%)
108,140 ±9,903
82,765 ±8,664
01:37 (00:28)
341
Dead Horde
Jul 27, 2011
$1.99
3% (36%)
119,048 ±10,390
81,816 ±8,614
01:23 (00:47)
342
Deformers
Apr 20, 2017
$29.99
3% (36%)
8,063 ±2,704
5,217 ±2,175
01:03 (00:41)
343
OCEAN CITY RACING: Redux
Nov 14, 2014
$2.99
3% (35%)
72,567 ±8,113
18,498 ±4,096
04:56 (00:14)
344
Global Ops: Commando Libya
Oct 26, 2011
$4.99
3% (35%/37%)
69,484 ±7,938
17,786 ±4,016
00:54 (00:24)
345
Dark Raid
Jun 3, 2014
$3.99
N/A (N/A)
26,561 ±4,908
4,032 ±1,912
00:43 (00:27)
346
Sniper Art of Victory
Jan 31, 2014
$2.99
3% (34%)
200,865 ±13,496
68,536 ±7,884
01:16 (00:17)
347
Arena Wars 2
Oct 12, 2012
$3.99
2% (32%)
56,678 ±7,170
31,066 ±5,308
00:24 (00:15)
348
Grizzly Valley
Apr 23, 2016
$4.99
2% (32%)
7,114 ±2,540
5,217 ±2,175
01:42 (01:36)
349
The Game of Life
Jun 10, 2013
$4.99
2% (32%)
8,063 ±2,704
7,589 ±2,623
02:53 (01:24)
350
Chernobyl Commando
Jun 6, 2014
$9.99
2% (30%)
83,476 ±8,701
14,703 ±3,652
00:53 (00:12)
351
Manhunter
May 30, 2014
$4.99
2% (30%)
78,259 ±8,425
19,446 ±4,200
02:29 (00:22)
352
Miner Wars 2081
Nov 28, 2012
$9.99
2% (30%/52%)
91,776 ±9,123
52,884 ±6,926
01:58 (00:37)
353
Future Wars
Jul 15, 2010
$1.24
2% (29%)
94,622 ±9,264
25,612 ±4,820
01:29 (00:10)
354
Shadow Harvest: Phantom Ops
Apr 5, 2011
$9.99
N/A (N/A/34%)
49,090 ±6,673
29,169 ±5,143
02:11 (00:43)
355
Tiestru
Aug 20, 2014
$9.99
N/A (N/A)
27,035 ±4,952
1,660 ±1,227
00:40 (00:49)
356
Hyper Fighters
Jan 23, 2014
$9.99
N/A (N/A)
231,220 ±14,479
28,932 ±5,123
00:07 (00:04)
357
Street Fighter V CFN Beta
Mar 28, 2017
Free
1% (27%)
539,513 ±22,110
117,388 ±10,318
01:18 (00:15)
358
What The Heck, Dude?
Jan 10, 2017
$0.49
1% (26%)
6,166 ±2,365
4,743 ±2,074
01:27 (01:52)
359
Garshasp: Temple of the Dragon
Sep 24, 2012
$4.99
1% (25%)
48,853 ±6,656
8,300 ±2,744
00:24 (00:16)
360
Overlord: Fellowship of Evil
Oct 19, 2015
$4.74
1% (25%)
55,018 ±7,064
15,415 ±3,739
02:06 (00:50)
361
Deep Black: Reloaded
Apr 18, 2012
$29.99
1% (24%/39%)
8,537 ±2,782
4,743 ±2,074
01:23 (00:31)
362
Starlight Inception
Apr 22, 2014
$9.99
N/A (N/A)
7,352 ±2,582
6,403 ±2,410
02:15 (02:00)
363
Cargo 3
Dec 8, 2014
$4.99
1% (22%)
13,992 ±3,562
3,794 ±1,855
00:37 (00:17)
364
Ironclads: American Civil War
Apr 28, 2010
$2.49
N/A (N/A)
37,469 ±5,830
7,352 ±2,582
01:44 (01:24)
365
Genesis Rising
Aug 6, 2007
$4.99
1% (22%/57%)
28,458 ±5,080
13,517 ±3,501
02:19 (01:02)
366
Orc Attack: Flatulent Rebellion
May 15, 2014
$9.99
N/A (N/A)
19,920 ±4,250
3,320 ±1,735
00:46 (00:46)
367
Chaos Domain
May 1, 2014
$9.99
N/A (N/A)
405,998 ±19,183
79,208 ±8,476
00:30 (00:07)