Who's That Flying?!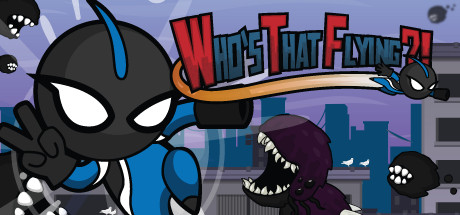 Store | Hub | SteamDB | Site
Developer: Mediatonic Publisher: Kalypso Media Digital
Genre: Action, Casual, Indie
Languages: English
Tags: Action (29), Indie (26), Casual (25), Shoot 'Em Up (12)
Category: Single-player, Steam Achievements, Full controller support, Partial Controller Support, Steam Cloud, Steam Leaderboards
Release date: Jan 31, 2011
Price: $5.99
Score rank: 29% Userscore: 71% Old userscore: 71% Metascore: 76%
Owners: 28,819 ± 4,849
Players total: 17,291 ± 3,756 (60%)
Followers: 223
Peak concurrent players yesterday: 1
YouTube stats: 6 views and 3 comments for videos uploaded last week, 0 new videos uploaded yesterday.
Playtime total: 01:06 (average) 00:32 (median)

Steam Spy is still in beta, so expect major bugs.
Peak daily concurrent players:
CCU data courtesy of SteamDB. Used with permission.
Hourly concurrent players:
YouTube:
The views data is based on top 50 videos uploaded last week. Actual number of views might be more than the number shown.

The displayed number of videos uploaded yesterday is limited to 50, so if there were more videos uploaded, the number will still show 50.

If the game has commonly used word as its name (like "FEAR" or "Volume") its number of Youtube views might be wrong.
Games similar to this one:
#
Game
Release date

Price

Score rank
(Userscore / Metascore)

Owners

Players

Playtime (Median)

1
RIVE: Wreck, Hack, Die, Retry!
Sep 13, 2016
$14.99
94% (96%)
152,207 ±11,143
26,257 ±4,629
01:37 (00:35)
2
Noitu Love 2: Devolution
Apr 23, 2012
$4.99
94% (96%/80%)
68,311 ±7,466
42,695 ±5,902
01:30 (00:41)
3
QUAKE Mission Pack 1: Scourge of Armagon
Aug 3, 2007
$2.99
94% (96%)
311,885 ±15,948
38,852 ±5,631
01:17 (00:07)
4
Overload Playable Teaser 2.0
Mar 7, 2016
Free
94% (96%)
73,862 ±7,763
26,257 ±4,629
00:17 (00:07)
5
THOTH
Oct 7, 2016
$9.99
N/A (N/A)
80,479 ±8,104
10,247 ±2,891
00:53 (00:12)
6
HoloBall
Apr 25, 2016
$14.99
91% (95%)
21,774 ±4,215
19,426 ±3,981
01:09 (00:48)
7
A-10 VR
Apr 5, 2016
$4.99
91% (95%)
10,887 ±2,980
10,033 ±2,861
01:13 (00:26)
8
The Apogee Throwback Pack
Jul 1, 2013
$9.99
91% (95%)
44,616 ±6,034
23,269 ±4,357
03:57 (00:36)
9
Delta Force: Black Hawk Down
Jun 18, 2009
$14.99
91% (95%/77%)
31,594 ±5,078
13,449 ±3,313
03:49 (00:49)
10
UBERMOSH:BLACK
Feb 17, 2016
$1.99
91% (95%)
18,145 ±3,848
4,910 ±2,001
00:26 (00:07)
11
Terminal Velocity
May 5, 2014
$6.99
N/A (N/A)
55,503 ±6,730
4,483 ±1,912
01:48 (01:38)
12
Unbox
Sep 5, 2016
$19.99
88% (94%/68%)
21,134 ±4,153
11,955 ±3,123
02:33 (00:50)
13
Hero of Many
Sep 15, 2014
$6.99
84% (93%)
25,190 ±4,534
6,404 ±2,286
00:59 (00:33)
14
Klang
Sep 22, 2016
$14.99
N/A (N/A/71%)
3,202 ±1,616
2,135 ±1,320
01:00 (01:09)
15
Raptor: Call of the Shadows (1994 Classic Edition)
May 5, 2014
$4.99
N/A (N/A)
56,357 ±6,781
7,472 ±2,469
01:45 (00:29)
16
Delta Force
Jun 18, 2009
$4.99
84% (93%)
21,134 ±4,153
11,528 ±3,067
04:55 (02:14)
17
NiGHTS Into Dreams
Dec 17, 2012
$7.99
84% (93%)
263,640 ±14,664
50,593 ±6,425
01:05 (00:21)
18
Star Trek™ : 25th Anniversary
May 7, 2015
$4.79
N/A (N/A)
10,033 ±2,861
6,404 ±2,286
01:22 (00:48)
19
Comanche 4
Jun 18, 2009
$9.99
N/A (N/A/74%)
26,044 ±4,610
13,876 ±3,365
04:52 (00:34)
20
Crewsaders
Nov 17, 2016
$2.99
N/A (N/A)
2,348 ±1,384
1,281 ±1,022
00:23 (00:29)
21
Kung Fury: Street Rage
May 28, 2015
$2.99
81% (92%)
89,659 ±8,553
72,367 ±7,684
01:40 (00:28)
22
Super Flippin' Phones
Feb 18, 2016
$2.99
N/A (N/A)
4,696 ±1,957
2,135 ±1,320
00:17 (00:14)
23
Monster Bash
May 5, 2014
$4.99
N/A (N/A)
51,020 ±6,452
4,910 ±2,001
01:57 (00:21)
24
Tom Clancy's Ghost Recon® Island Thunder™
Jul 15, 2008
$1.69
N/A (N/A/82%)
98,198 ±8,951
16,437 ±3,662
02:03 (00:18)
25
Thunder Wolves
May 15, 2013
$9.99
77% (91%/69%)
122,961 ±10,016
39,066 ±5,646
01:54 (00:31)
26
Blacksea Odyssey
Jun 1, 2016
$9.99
74% (90%/74%)
16,864 ±3,710
6,404 ±2,286
04:19 (00:43)
27
Realms of the Haunting
Apr 24, 2014
$9.99
74% (90%)
392,151 ±17,882
39,493 ±5,677
01:05 (00:08)
28
Adventures of Pip
Jun 4, 2015
$14.99
74% (90%/72%)
18,999 ±3,937
8,539 ±2,640
01:50 (00:43)
29
Ember Kaboom
Jun 3, 2016
$4.99
N/A (N/A)
23,482 ±4,377
2,135 ±1,320
00:50 (00:55)
30
Zombie Shooter
May 27, 2009
$4.99
74% (90%)
130,432 ±10,316
48,885 ±6,316
01:48 (00:49)
31
Tom Clancy's Ghost Recon® Desert Siege™
Jul 15, 2008
$1.69
N/A (N/A/82%)
97,130 ±8,902
13,022 ±3,260
01:27 (00:19)
32
SHOWTIME 2073
Feb 12, 2016
$0.99
74% (90%)
20,707 ±4,111
5,550 ±2,128
01:48 (00:18)
33
The Path of Greatest Resistance
Feb 17, 2017
$3.99
N/A (N/A)
2,775 ±1,505
2,135 ±1,320
00:53 (01:01)
34
JUDGEMENT SILVERSWORD - Resurrection -
Sep 18, 2015
$4.99
N/A (N/A)
3,202 ±1,616
1,921 ±1,252
01:18 (03:19)
35
Aqua Kitty - Milk Mine Defender
Feb 3, 2014
$6.99
70% (89%)
43,122 ±5,932
24,336 ±4,456
01:54 (00:42)
36
Hammerfight
Oct 28, 2009
$4.99
70% (89%)
528,560 ±20,756
169,711 ±11,767
01:49 (00:09)
37
Intrusion 2
Sep 11, 2012
$9.99
66% (88%/80%)
377,848 ±17,553
160,105 ±11,429
01:34 (00:30)
38
Choplifter HD
Jan 11, 2012
$9.99
66% (88%/65%)
79,839 ±8,071
26,257 ±4,629
05:42 (00:34)
39
Another World – 20th Anniversary Edition
Apr 4, 2013
$9.99
66% (88%)
153,060 ±11,175
66,390 ±7,360
01:07 (00:28)
40
Anarchy Online
Feb 22, 2017
Free
N/A (N/A/72%)
38,852 ±5,631
25,190 ±4,534
02:05 (00:01)
41
Legacy of Kain: Defiance
Dec 6, 2012
$6.99
66% (88%/70%)
282,212 ±15,171
56,784 ±6,807
02:08 (00:21)
42
Alien Zombie Megadeath
Oct 18, 2011
$4.99
N/A (N/A)
29,673 ±4,921
8,112 ±2,573
02:06 (00:22)
43
METAL SLUG 2
Apr 14, 2016
$6.99
66% (88%)
40,133 ±5,723
9,606 ±2,800
01:24 (00:38)
44
Mystik Belle
May 22, 2015
$7.49
66% (88%)
5,550 ±2,128
4,056 ±1,819
01:52 (01:42)
45
Rise of the Triad: Dark War
May 5, 2014
$6.99
N/A (N/A)
55,076 ±6,704
5,123 ±2,044
01:57 (00:28)
46
Lugaru HD
Oct 8, 2010
$9.99
63% (87%)
180,172 ±12,124
55,930 ±6,756
01:15 (00:20)
47
Serious Sam Double D XXL
Aug 30, 2011
$9.99
63% (87%)
501,663 ±20,222
112,074 ±9,563
01:25 (00:25)
48
Blue Effect VR
Feb 8, 2017
$14.99
63% (87%)
3,843 ±1,770
3,202 ±1,616
00:25 (00:28)
49
Hocus Pocus
May 5, 2014
$4.99
N/A (N/A)
56,144 ±6,769
7,899 ±2,539
03:28 (00:21)
50
Square Brawl
Oct 22, 2015
$4.99
60% (86%)
11,741 ±3,095
6,404 ±2,286
02:19 (00:56)
51
Delta Force Land Warrior
Jun 18, 2009
$9.99
60% (86%/74%)
18,145 ±3,848
7,899 ±2,539
15:28 (03:15)
52
Spermination
Apr 29, 2015
$2.99
60% (86%)
18,786 ±3,915
13,022 ±3,260
01:11 (00:30)
53
Tomb Raider III
Nov 28, 2012
$6.99
60% (86%)
732,854 ±24,434
98,838 ±8,980
04:30 (00:14)
54
Attractio
Jan 18, 2016
$19.99
N/A (N/A)
56,357 ±6,781
4,483 ±1,912
00:47 (00:25)
55
Delta Force 2
Jun 18, 2009
$4.99
58% (85%)
23,482 ±4,377
12,168 ±3,151
07:01 (01:19)
56
ARCADE GAME SERIES: GALAGA
Apr 19, 2016
$3.99
58% (85%)
62,975 ±7,168
13,876 ±3,365
00:41 (00:10)
57
SHOCK TROOPERS
May 18, 2016
$7.99
N/A (N/A)
23,909 ±4,417
4,696 ±1,957
00:47 (00:19)
58
TWINKLE STAR SPRITES
May 26, 2016
$7.99
N/A (N/A)
26,257 ±4,629
6,404 ±2,286
00:53 (00:20)
59
Quick Draw
Jan 10, 2017
$9.99
N/A (N/A)
4,269 ±1,866
1,708 ±1,180
00:20 (00:14)
60
BANZAI PECAN: The Last Hope For the Young Century
Jan 26, 2015
$5.99
N/A (N/A)
21,134 ±4,153
3,629 ±1,721
00:19 (00:22)
61
ARCADE GAME SERIES: Ms. PAC-MAN
Apr 19, 2016
$3.99
N/A (N/A)
4,056 ±1,819
1,281 ±1,022
00:21 (00:33)
62
Dragon's Lair 2: Time Warp
Oct 24, 2013
$9.99
N/A (N/A)
10,033 ±2,861
5,337 ±2,087
00:52 (00:35)
63
TRON RUN/r
Feb 16, 2016
$19.99
55% (84%)
12,595 ±3,206
10,033 ±2,861
02:07 (01:04)
64
Aces Wild: Manic Brawling Action!
Jan 31, 2014
$9.99
52% (83%)
54,009 ±6,639
20,707 ±4,111
00:52 (00:26)
65
Watch This!
Sep 23, 2016
$0.99
52% (83%)
19,426 ±3,981
13,662 ±3,339
01:44 (00:55)
66
NAM
Nov 6, 2014
$6.99
52% (83%)
35,650 ±5,394
7,685 ±2,504
00:18 (00:08)
67
Explodemon
Mar 25, 2014
$8.99
N/A (N/A)
33,088 ±5,196
6,404 ±2,286
00:30 (00:23)
68
Glare
Oct 10, 2013
$9.99
N/A (N/A/69%)
18,572 ±3,893
6,831 ±2,361
00:54 (00:24)
69
Capsized
Apr 29, 2011
$9.99
50% (82%/80%)
520,448 ±20,597
225,428 ±13,560
01:11 (00:17)
70
Earthworm Jim 2
Nov 4, 2009
$19.99
N/A (N/A)
23,909 ±4,417
9,393 ±2,768
00:26 (00:10)
71
Felt Tip Circus
Apr 5, 2016
$7.99
N/A (N/A)
25,617 ±4,572
3,843 ±1,770
00:18 (00:16)
72
Kingpin — Life of Crime
Aug 19, 2009
$9.99
48% (81%)
16,864 ±3,710
12,595 ±3,206
03:22 (00:48)
73
Tank Brawl
Apr 20, 2016
$3.99
N/A (N/A)
4,056 ±1,819
854 ±834
00:39 (00:45)
74
BIOS
Dec 13, 2016
$14.99
48% (81%)
4,696 ±1,957
3,629 ±1,721
01:19 (01:21)
75
Black & White Bushido
Oct 2, 2015
$9.99
48% (81%)
13,022 ±3,260
8,539 ±2,640
00:38 (00:34)
76
Xotic
Sep 16, 2011
$9.99
48% (81%/67%)
99,692 ±9,019
33,515 ±5,230
02:01 (00:28)
77
Dragon's Lair
May 17, 2013
$9.99
45% (80%)
49,526 ±6,357
41,200 ±5,798
01:02 (00:34)
78
Adventure Time: Magic Man's Head Games
Apr 5, 2016
$4.99
45% (80%)
4,269 ±1,866
3,416 ±1,669
00:46 (00:42)
79
Karateka
Dec 3, 2012
$9.99
45% (80%/48%)
35,223 ±5,361
13,876 ±3,365
01:13 (00:46)
80
Stargunner
May 5, 2014
Free
N/A (N/A)
73,862 ±7,763
4,910 ±2,001
01:14 (00:30)
81
Cinemaware Anthology: 1986-1991
Nov 14, 2014
$9.99
N/A (N/A)
7,472 ±2,469
5,337 ±2,087
00:31 (00:19)
82
RollerForce
Sep 14, 2016
$4.99
N/A (N/A)
1,494 ±1,104
854 ±834
05:38 (06:42)
83
AquaNox
Apr 20, 2010
$4.99
45% (80%/67%)
132,140 ±10,383
23,482 ±4,377
01:46 (00:26)
84
DESYNC
Feb 28, 2017
$14.99
45% (80%/70%)
5,764 ±2,168
5,337 ±2,087
02:28 (01:24)
85
Kung Fu Strike - The Warrior's Rise
Jul 24, 2012
$9.99
45% (80%)
164,801 ±11,595
74,289 ±7,786
03:33 (00:50)
86
ARCADE GAME SERIES: PAC-MAN
Apr 19, 2016
$3.99
N/A (N/A)
61,053 ±7,058
12,168 ±3,151
00:19 (00:05)
87
Curse: The Eye of Isis
Aug 22, 2014
$1.49
N/A (N/A/63%)
32,661 ±5,163
3,843 ±1,770
00:46 (02:20)
88
iBomber Attack
Nov 1, 2012
$5.99
43% (79%)
59,132 ±6,946
16,864 ±3,710
01:13 (00:29)
89
Descent: FreeSpace – The Great War
May 7, 2014
$9.99
43% (79%)
16,864 ±3,710
10,674 ±2,951
02:44 (00:32)
90
Dark Sector
Mar 24, 2009
$9.99
43% (79%/66%)
75,356 ±7,841
34,369 ±5,296
03:47 (01:16)
91
Raptor: Call of The Shadows - 2015 Edition
Feb 13, 2015
$4.99
43% (79%)
26,898 ±4,685
12,381 ±3,178
02:06 (01:07)
92
TEMBO THE BADASS ELEPHANT
Jul 21, 2015
$14.99
41% (78%)
38,852 ±5,631
23,696 ±4,397
02:25 (00:50)
93
Hordelicious
Jul 10, 2015
$3.99
41% (78%)
31,594 ±5,078
7,258 ±2,433
00:46 (00:26)
94
Urban Chaos
Oct 15, 2013
$6.99
41% (78%)
16,011 ±3,614
7,685 ±2,504
00:59 (00:16)
95
Zeit²
Jan 12, 2011
$4.99
N/A (N/A/72%)
8,539 ±2,640
5,123 ±2,044
01:14 (00:35)
96
Bionic Commando: Rearmed
Jul 28, 2009
$9.99
39% (77%/86%)
423,958 ±18,592
109,939 ±9,471
02:18 (00:24)
97
Alien Breed 2: Assault
Sep 22, 2010
$9.99
39% (77%/63%)
487,360 ±19,932
127,444 ±10,197
01:45 (00:28)
98
LocoCycle
Feb 14, 2014
$9.99
39% (77%)
16,011 ±3,614
6,404 ±2,286
01:29 (01:07)
99
Scrap Garden - The Day Before
Oct 7, 2016
Free
39% (77%)
133,634 ±10,442
83,895 ±8,274
00:30 (00:17)
100
Disney•Pixar Finding Nemo
Feb 24, 2015
$9.99
N/A (N/A)
7,472 ±2,469
4,056 ±1,819
01:17 (00:42)
101
Zero Reflex : Black Eye Edition
Nov 4, 2015
$3.99
39% (77%)
19,213 ±3,959
8,966 ±2,705
01:13 (00:33)
102
Larva Mortus
Mar 19, 2009
$4.99
39% (77%/64%)
155,195 ±11,252
48,458 ±6,288
01:57 (00:20)
103
Chaser
Jul 16, 2010
$4.99
39% (77%/66%)
83,895 ±8,274
33,942 ±5,263
07:50 (00:50)
104
Woah Dave!
Oct 30, 2014
$4.99
37% (76%)
20,280 ±4,068
10,460 ±2,921
01:41 (01:13)
105
Mighty Gunvolt
Sep 29, 2015
$4.99
37% (76%)
26,898 ±4,685
6,404 ±2,286
00:28 (00:16)
106
ARCADE GAME SERIES: DIG DUG
Apr 19, 2016
$3.99
N/A (N/A)
58,705 ±6,921
7,899 ±2,539
00:14 (00:06)
107
AquaNox 2: Revelation
Apr 20, 2010
$4.99
37% (76%/59%)
129,365 ±10,274
19,426 ±3,981
02:38 (00:31)
108
Tomb Raider V: Chronicles
Nov 28, 2012
$6.99
37% (76%)
535,178 ±20,886
61,267 ±7,071
03:23 (00:10)
109
Project Freedom
Oct 14, 2009
$2.99
N/A (N/A)
21,774 ±4,215
7,899 ±2,539
03:22 (00:55)
110
Aztaka
Nov 5, 2009
$9.99
35% (75%)
36,290 ±5,442
9,820 ±2,831
01:58 (00:38)
111
Alien Breed 3: Descent
Nov 17, 2010
$9.99
35% (75%/64%)
307,615 ±15,839
41,414 ±5,813
01:41 (00:16)
112
Sacred Citadel
Apr 16, 2013
$9.99
35% (75%/61%)
499,101 ±20,170
128,298 ±10,231
02:18 (00:40)
113
Legacy of Kain: Soul Reaver 2
Dec 6, 2012
$6.99
35% (75%/77%)
317,862 ±16,100
49,739 ±6,371
02:10 (00:21)
114
Insanity's Blade
Dec 4, 2014
$5.99
35% (75%)
18,145 ±3,848
8,325 ±2,606
01:10 (00:34)
115
Alien Carnage / Halloween Harry
May 5, 2014
Free
N/A (N/A)
50,166 ±6,398
6,618 ±2,324
00:34 (00:07)
116
STAR WARS™: Rebel Assault I + II
Mar 29, 2016
$9.99
N/A (N/A)
82,187 ±8,189
11,314 ±3,038
01:19 (00:20)
117
Litil Divil
Mar 19, 2014
$9.99
N/A (N/A)
302,705 ±15,712
46,324 ±6,148
00:19 (00:03)
118
Half-Life Deathmatch: Source
May 1, 2006
$9.99
33% (74%)
6,887,507 ±74,316
428,228 ±18,685
02:00 (00:11)
119
STAR WARS™ X-Wing vs TIE Fighter - Balance of Power Campaigns™
Apr 28, 2015
$9.99
33% (74%)
258,730 ±14,527
45,470 ±6,091
02:00 (00:09)
120
Ubersoldier II
Mar 25, 2014
$9.99
33% (74%/62%)
36,504 ±5,458
13,662 ±3,339
02:01 (00:45)
121
Death Dojo
Nov 8, 2016
Free
N/A (N/A)
17,078 ±3,733
9,393 ±2,768
00:45 (00:31)
122
STAR WARS™: TIE Fighter Special Edition
Apr 28, 2015
$9.99
32% (73%)
159,251 ±11,398
39,706 ±5,692
06:32 (00:19)
123
SHOCK TROOPERS 2nd Squad
Sep 28, 2016
$7.99
N/A (N/A)
12,168 ±3,151
2,562 ±1,446
00:38 (00:28)
124
Orake 2D MMORPG
Aug 23, 2016
Free
30% (72%)
28,819 ±4,849
8,966 ±2,705
06:37 (00:08)
125
Kraven Manor
Sep 26, 2014
$5.99
30% (72%/58%)
173,981 ±11,914
24,976 ±4,515
01:05 (00:18)
126
Nexuiz
May 10, 2012
$9.99
29% (71%/54%)
296,088 ±15,540
113,781 ±9,635
01:10 (00:20)
127
Blood Omen 2: Legacy of Kain
Sep 24, 2013
$6.99
27% (70%)
241,225 ±14,027
50,807 ±6,439
03:51 (00:29)
128
Elliot Quest
Nov 10, 2014
$9.99
27% (70%)
21,988 ±4,236
8,112 ±2,573
02:22 (00:35)
129
Bombshell
Jan 29, 2016
$34.99
27% (70%)
7,899 ±2,539
5,977 ±2,208
06:01 (05:09)
130
Strike Vector
Jan 28, 2014
$11.99
26% (69%/73%)
186,362 ±12,330
134,275 ±10,467
02:11 (00:49)
131
Scary Girl
Apr 9, 2012
$6.99
N/A (N/A)
13,876 ±3,365
7,685 ±2,504
01:37 (00:56)
132
Tex Murphy: Mean Streets
Jun 12, 2014
$5.99
N/A (N/A)
43,762 ±5,976
7,045 ±2,397
01:53 (00:22)
133
Iron Storm
May 8, 2014
$1.49
N/A (N/A/69%)
45,897 ±6,120
8,539 ±2,640
02:02 (00:01)
134
Data Jammers: FastForward
Oct 24, 2011
Free
23% (67%)
74,929 ±7,819
13,235 ±3,286
01:02 (00:07)
135
Plain Sight
Apr 5, 2010
$4.99
23% (67%/76%)
172,060 ±11,848
110,579 ±9,499
01:36 (00:35)
136
Foreign Legion: Multi Massacre
Jul 9, 2012
$6.99
22% (66%)
81,333 ±8,146
35,223 ±5,361
01:21 (00:35)
137
Redline
Oct 23, 2014
$6.99
N/A (N/A)
17,505 ±3,779
4,056 ±1,819
00:09 (00:09)
138
Alien Shooter: Revisited
May 27, 2009
$4.99
21% (65%)
52,301 ±6,533
19,853 ±4,025
01:46 (00:37)
139
STAR WARS™ Jedi Knight - Mysteries of the Sith™
Sep 16, 2009
$2.99
20% (64%)
904,487 ±27,139
179,958 ±12,116
01:02 (00:05)
140
DogFighter
Jun 14, 2010
$2.99
20% (64%)
285,627 ±15,263
133,848 ±10,450
01:52 (00:30)
141
Foreign Legion: Buckets of Blood
Aug 4, 2009
$4.99
20% (64%)
86,030 ±8,378
61,480 ±7,083
01:37 (00:38)
142
Alone in the Dark: The New Nightmare
Oct 29, 2013
$6.99
20% (64%/66%)
19,213 ±3,959
9,393 ±2,768
00:44 (00:14)
143
Pyramid Raid
Dec 15, 2015
$2.99
N/A (N/A)
63,402 ±7,193
43,122 ±5,932
00:56 (00:07)
144
Daikatana
Oct 1, 2013
$6.99
20% (64%)
217,743 ±13,327
24,549 ±4,476
04:07 (00:17)
145
Code of Princess
Apr 14, 2016
$14.99
19% (63%/53%)
8,325 ±2,606
6,831 ±2,361
02:19 (00:47)
146
Cannon Fodder 3
Aug 6, 2012
$14.99
N/A (N/A/49%)
33,942 ±5,263
11,741 ±3,095
02:02 (00:24)
147
The Secret of Pineview Forest
Oct 31, 2016
Free
17% (61%)
22,415 ±4,277
8,752 ±2,672
00:19 (00:08)
148
Yar's Revenge
Apr 28, 2011
$9.99
N/A (N/A/56%)
4,483 ±1,912
2,135 ±1,320
00:33 (00:09)
149
Cold War
Jan 8, 2014
$1.24
16% (60%/64%)
35,650 ±5,394
13,449 ±3,313
01:26 (00:20)
150
Block Story™
Dec 10, 2015
$2.99
14% (58%)
20,280 ±4,068
9,606 ±2,800
08:07 (00:53)
151
Bierzerkers
Feb 25, 2016
$4.99
14% (58%)
215,395 ±13,255
101,400 ±9,096
00:42 (00:17)
152
Wasteland Angel
Sep 1, 2011
$9.99
14% (58%)
99,479 ±9,009
28,605 ±4,831
01:09 (00:20)
153
Princess Kaguya: Legend of the Moon Warrior
Aug 4, 2015
$10.99
N/A (N/A)
2,562 ±1,446
1,494 ±1,104
01:41 (02:18)
154
Primal Fears
Jan 8, 2013
$9.99
13% (57%)
61,480 ±7,083
28,392 ±4,813
01:31 (00:38)
155
CT Special Forces: Fire for Effect
Mar 13, 2014
$9.99
N/A (N/A)
124,455 ±10,077
10,460 ±2,921
01:22 (00:20)
156
Blood II: The Chosen + Expansion
Jul 14, 2014
$4.99
13% (56%/72%)
14,730 ±3,467
9,820 ±2,831
01:41 (00:36)
157
Naval Warfare
May 25, 2011
$2.99
13% (56%/57%)
117,197 ±9,779
34,796 ±5,329
00:48 (00:14)
158
Fastigium
Dec 18, 2016
Free
N/A (N/A)
12,595 ±3,206
4,269 ±1,866
00:17 (00:11)
159
Painkiller: Recurring Evil
Feb 29, 2012
$9.99
13% (56%/38%)
161,172 ±11,467
27,965 ±4,777
03:19 (00:43)
160
Serious Sam: The Random Encounter
Oct 24, 2011
$4.99
12% (55%/64%)
488,641 ±19,958
106,310 ±9,313
00:33 (00:14)
161
ProtoGalaxy
Oct 6, 2010
Free
N/A (N/A)
144,308 ±10,851
15,370 ±3,541
00:42 (00:08)
162
Muv-Luv VR
Jun 16, 2016
Free
N/A (N/A)
39,279 ±5,661
7,258 ±2,433
00:21 (00:10)
163
Tomb Raider VI: The Angel of Darkness
Nov 28, 2012
$6.99
11% (53%)
539,874 ±20,977
73,862 ±7,763
02:49 (00:17)
164
Pixel Hunter
Jul 17, 2014
$2.99
11% (53%)
31,167 ±5,043
8,325 ±2,606
00:36 (00:11)
165
World War II GI
Nov 13, 2015
$6.99
N/A (N/A)
6,618 ±2,324
1,494 ±1,104
00:47 (01:40)
166
Blast Em!
Jan 22, 2014
$2.99
10% (52%)
105,242 ±9,267
12,168 ±3,151
00:31 (00:04)
167
Painkiller Redemption
Feb 25, 2011
$4.99
10% (52%/43%)
211,552 ±13,137
45,470 ±6,091
03:45 (00:38)
168
Desert Thunder
Mar 19, 2014
$9.99
N/A (N/A)
122,107 ±9,981
9,393 ±2,768
01:10 (00:08)
169
Booster Trooper
Apr 23, 2010
$4.99
9% (51%)
41,841 ±5,843
24,763 ±4,495
01:51 (00:18)
170
Earthworm Jim 3D
Nov 4, 2009
$19.99
9% (50%)
23,909 ±4,417
7,472 ±2,469
00:25 (00:07)
171
Dead Island Retro Revenge
May 31, 2016
$4.99
8% (49%)
30,100 ±4,956
6,618 ±2,324
00:33 (00:19)
172
Young Justice: Legacy
Nov 19, 2013
$2.99
8% (49%)
7,899 ±2,539
5,123 ±2,044
02:39 (01:18)
173
Project Root
May 1, 2014
$9.99
8% (48%)
37,998 ±5,568
3,843 ±1,770
01:20 (00:12)
174
STAR WARS™ Starfighter™
Jul 8, 2009
$5.99
8% (48%/71%)
845,141 ±26,236
181,239 ±12,160
01:10 (00:13)
175
Tom Clancy's Rainbow Six Lockdown™
May 13, 2008
$3.39
7% (47%/59%)
77,704 ±7,963
20,067 ±4,046
02:34 (00:38)
176
Space Hack
Aug 5, 2014
$4.99
7% (47%/63%)
560,368 ±21,371
106,310 ±9,313
00:56 (00:06)
177
Dark Void™
Jan 19, 2010
$9.99
7% (47%/57%)
50,593 ±6,425
27,111 ±4,703
02:23 (00:45)
178
Crouching Pony Hidden Dragon
Jul 14, 2014
$9.99
N/A (N/A)
26,044 ±4,610
5,550 ±2,128
00:22 (00:14)
179
Alone in the Dark
Oct 29, 2013
$9.99
7% (47%/55%)
52,514 ±6,546
15,157 ±3,517
02:20 (00:44)
180
Dark Void™ Zero
Apr 12, 2010
$4.99
7% (46%)
36,077 ±5,426
21,988 ±4,236
00:54 (00:16)
181
Undead Shadows
Feb 2, 2015
$3.99
N/A (N/A)
7,472 ±2,469
1,921 ±1,252
00:13 (00:16)
182
Predator Simulator
May 15, 2015
$2.99
N/A (N/A)
18,572 ±3,893
2,775 ±1,505
04:07 (03:07)
183
Blinding Dark
Aug 12, 2014
$9.99
N/A (N/A)
16,864 ±3,710
2,775 ±1,505
00:36 (00:30)
184
Greed: Black Border
Jan 13, 2010
$4.99
6% (44%)
117,197 ±9,779
39,493 ±5,677
02:40 (00:32)
185
Batman™: Arkham Origins Blackgate - Deluxe Edition
Apr 1, 2014
$19.99
5% (42%)
577,873 ±21,702
119,118 ±9,858
02:59 (00:48)
186
Portal 2 Sixense Perceptual Pack
Sep 20, 2013
Free
5% (42%)
545,638 ±21,089
233,326 ±13,796
00:05 (00:01)
187
Cabela's® African Adventures
Oct 16, 2013
$29.99
N/A (N/A)
7,685 ±2,504
5,550 ±2,128
00:58 (00:43)
188
Huntsman: The Orphanage (Halloween Edition)
Sep 13, 2013
$9.99
5% (41%)
124,668 ±10,085
19,640 ±4,003
00:43 (00:19)
189
Twin Sector
Sep 16, 2009
$4.99
5% (41%/49%)
87,738 ±8,461
33,088 ±5,196
01:42 (00:36)
190
Burn Zombie Burn!
Aug 12, 2010
$9.99
5% (41%/72%)
93,288 ±8,725
44,402 ±6,019
01:22 (00:28)
191
Bunch of Heroes
Sep 21, 2011
$4.99
5% (41%)
174,835 ±11,943
120,399 ±9,911
01:43 (00:46)
192
Dark Raid
Jun 3, 2014
$3.99
N/A (N/A)
25,403 ±4,553
4,056 ±1,819
00:23 (00:31)
193
Red Johnson's Chronicles - 1+2 - Steam Special Edition
Sep 5, 2014
$9.99
N/A (N/A)
18,572 ±3,893
4,910 ±2,001
00:26 (00:14)
194
BlackSoul: Extended Edition
Feb 26, 2014
$6.99
N/A (N/A)
26,684 ±4,666
3,416 ±1,669
01:10 (00:21)
195
Blacklight: Tango Down
Jul 14, 2010
$0.99
4% (39%/65%)
57,638 ±6,858
49,099 ±6,330
02:26 (00:50)
196
Heli Heroes
Nov 1, 2013
$4.99
3% (37%)
203,227 ±12,876
17,505 ±3,779
00:30 (00:05)
197
Dead Horde
Jul 27, 2011
$9.99
3% (37%)
109,085 ±9,434
74,502 ±7,797
01:50 (00:44)
198
OCEAN CITY RACING: Redux
Nov 14, 2014
$1.79
3% (36%)
66,390 ±7,360
20,493 ±4,089
00:33 (00:12)
199
Global Ops: Commando Libya
Oct 26, 2011
$4.99
3% (35%/37%)
69,165 ±7,513
17,718 ±3,802
01:11 (00:15)
200
NightZ
Feb 14, 2017
$0.99
3% (34%)
2,135 ±1,320
1,494 ±1,104
00:17 (00:30)
201
Marine Sharpshooter II: Jungle Warfare
Apr 3, 2014
$9.99
2% (33%/52%)
212,193 ±13,156
30,313 ±4,974
00:37 (00:05)
202
STAR WARS™: The Clone Wars - Republic Heroes™
Oct 6, 2009
$19.99
2% (32%/46%)
510,842 ±20,406
96,490 ±8,873
01:34 (00:06)
203
Manhunter
May 30, 2014
$4.99
2% (31%)
62,761 ±7,156
18,786 ±3,915
02:54 (00:27)
204
Miner Wars 2081
Nov 28, 2012
$9.99
2% (31%/52%)
96,917 ±8,893
52,088 ±6,519
02:02 (00:34)
205
Chaos Domain
May 1, 2014
$9.99
N/A (N/A)
357,781 ±17,081
71,727 ±7,650
00:43 (00:08)
206
Painkiller: Resurrection
Oct 27, 2009
$9.99
2% (30%/38%)
172,487 ±11,862
29,032 ±4,867
04:13 (00:25)
207
Chernobyl Commando
Jun 6, 2014
$9.99
1% (28%)
48,885 ±6,316
10,247 ±2,891
00:54 (00:14)
208
Deep Black: Reloaded
Apr 18, 2012
$29.99
1% (26%/39%)
13,235 ±3,286
6,618 ±2,324
02:57 (00:17)
209
Garshasp: Temple of the Dragon
Sep 24, 2012
$1.49
1% (25%)
43,762 ±5,976
7,899 ±2,539
00:44 (00:12)
210
Razor2: Hidden Skies
Jul 19, 2010
$9.99
1% (22%/61%)
65,750 ±7,325
21,347 ±4,174
00:55 (00:13)
211
Hyper Fighters
Jan 23, 2014
$9.99
1% (21%)
194,901 ±12,609
23,482 ±4,377
00:21 (00:05)
212
Deer Hunt Legends
Jan 16, 2015
$4.99
N/A (N/A)
2,775 ±1,505
1,067 ±933
00:15 (00:14)
213
Jurassic Island: The Dinosaur Zoo
Nov 23, 2015
$3.99
N/A (N/A)
2,989 ±1,561
2,562 ±1,446
01:11 (00:30)