Stick it to The Man!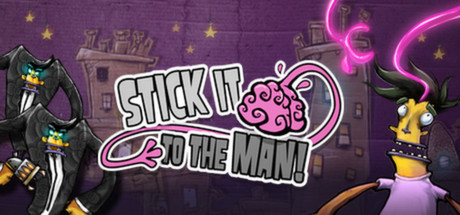 Store | Hub | SteamDB | Site
Developer: Zoink Games Publisher: Ripstone
Genre: Action, Adventure, Indie
Languages: English, French, Italian, German, Spanish, Japanese
Tags: Adventure (47), Indie (37), Comedy (31), Action (31), Platformer (30), Puzzle (18), Funny (10), 2D (8), Singleplayer (7)
Category: Single-player, Steam Achievements, Steam Trading Cards, Partial Controller Support, Steam Cloud
Release date: Dec 13, 2013
Price: $2.39 70%
Score rank: 86% Userscore: 93% Old userscore: 94% Metascore: 83%
Owners: 45,422 ± 6,479
Players in the last 2 weeks: 690 ± 1,350 (1.52%)
Players total: 21,744 ± 4,483 (47.87%)
Followers: 1,417
Peak concurrent players yesterday: 2
Playtime in the last 2 weeks: 08:33 (average) 08:33 (median)
Playtime total: 02:43 (average) 02:02 (median)

Steam Spy is still in beta, so expect major bugs.
Peak daily concurrent players:
CCU data courtesy of SteamDB. Used with permission.
Hourly concurrent players:
YouTube:
The views data is based on top 50 videos uploaded last week. Actual number of views might be more than the number shown.

The displayed number of videos uploaded yesterday is limited to 50, so if there were more videos uploaded, the number will still show 50.

If the game has commonly used word as its name (like "FEAR" or "Volume") its number of Youtube views might be wrong.
Games similar to this one:
#
Game
Release date

Price

Score rank
(Userscore / Metascore)

Owners

Players

Playtime (Median)

1
Little Big Adventure 2
Oct 20, 2015
$3.99
99% (98%)
19,570 ±4,252
7,731 ±2,673
07:04 (05:29)
2
Bleed 2
Feb 8, 2017
$6.99
95% (96%/83%)
7,248 ±2,588
5,074 ±2,165
07:45 (06:42)
3
The Dishwasher: Vampire Smile
May 12, 2017
$5.99
95% (96%)
9,906 ±3,025
7,007 ±2,544
06:14 (04:39)
4
Noitu Love 2: Devolution
Apr 23, 2012
$4.99
92% (95%/80%)
55,086 ±7,135
35,999 ±5,768
01:48 (00:55)
5
Odallus: The Dark Call
Jul 15, 2015
$3.89
92% (95%/80%)
115,245 ±10,319
58,468 ±7,350
02:53 (01:56)
6
Battle Bruise
May 3, 2017
$0.49
89% (94%)
18,120 ±4,092
10,631 ±3,134
02:28 (02:30)
7
Flywrench
Aug 24, 2015
$6.99
89% (94%)
6,282 ±2,409
5,074 ±2,165
02:00 (01:46)
8
Supercharged Robot VULKAISER
Jun 4, 2015
$2.49
89% (94%)
36,965 ±5,845
16,429 ±3,896
01:57 (01:09)
9
Guns, Gore & Cannoli
Apr 30, 2015
$9.99
89% (94%/74%)
47,596 ±6,632
40,106 ±6,088
05:16 (02:37)
10
Mighty Switch Force! Hyper Drive Edition
Jun 25, 2015
$9.99
89% (94%/85%)
16,429 ±3,896
10,872 ±3,170
01:39 (01:00)
11
RIVE: Wreck, Hack, Die, Retry!
Sep 13, 2016
$5.99
86% (93%)
274,704 ±15,930
72,481 ±8,184
03:24 (01:28)
12
MURI
Dec 6, 2013
$3.99
86% (93%)
39,381 ±6,033
21,503 ±4,458
01:59 (01:17)
13
Wonder Boy: The Dragon's Trap
Jun 8, 2017
$19.99
82% (92%)
21,503 ±4,458
15,704 ±3,809
04:41 (03:14)
14
Death Ray Manta SE
Sep 17, 2015
$0.5
82% (92%)
54,602 ±7,103
21,986 ±4,507
02:10 (01:16)
15
Armed with Wings: Rearmed
Jun 1, 2017
$6.69
82% (92%)
27,301 ±5,023
14,496 ±3,660
04:57 (02:51)
16
Momodora III
Jul 1, 2014
$1.99
78% (91%)
62,575 ±7,604
41,073 ±6,161
01:55 (01:23)
17
Devil May Cry 4
Dec 22, 2009
$19.99
78% (91%/78%)
293,549 ±16,467
205,363 ±13,774
08:11 (03:11)
18
Demons with Shotguns
Apr 25, 2016
$9.99
N/A (N/A)
13,771 ±3,567
8,456 ±2,795
02:28 (02:32)
19
Prison Run and Gun
Mar 16, 2016
$0.5
74% (90%)
20,053 ±4,305
12,080 ±3,341
02:53 (02:18)
20
Bird Assassin
Aug 27, 2014
$1.99
74% (90%)
16,429 ±3,896
7,973 ±2,714
01:13 (00:53)
21
Planet of the Eyes
Aug 24, 2015
$9.99
74% (90%/66%)
71,032 ±8,102
17,395 ±4,009
02:41 (02:19)
22
Unbox: Newbie's Adventure
Sep 5, 2016
$5.99
74% (90%/68%)
78,038 ±8,492
39,381 ±6,033
02:29 (01:44)
23
Painkiller: Black Edition
Jan 24, 2007
$9.99
71% (89%)
345,977 ±17,876
178,304 ±12,835
05:00 (01:17)
24
Avoid - Sensory Overload
Apr 8, 2014
$0.99
71% (89%)
15,704 ±3,809
9,423 ±2,951
03:19 (02:05)
25
The Way
May 20, 2016
$3.74
68% (88%/67%)
40,106 ±6,088
14,979 ±3,720
04:51 (01:56)
26
Mr. Shifty
Apr 13, 2017
$10.04
68% (88%)
194,733 ±13,413
47,354 ±6,615
03:22 (02:32)
27
Little Big Adventure - Enhanced Edition
Oct 20, 2015
$5.99
68% (88%)
13,530 ±3,536
8,939 ±2,874
04:10 (02:19)
28
Shadow Blade: Reload
Aug 10, 2015
$14.99
68% (88%/70%)
38,898 ±5,995
15,704 ±3,809
03:01 (02:28)
29
LASTFIGHT
May 19, 2016
$14.99
N/A (N/A)
3,866 ±1,890
3,382 ±1,768
01:28 (01:26)
30
Super Furball
Apr 21, 2015
$3.99
N/A (N/A)
9,906 ±3,025
3,866 ±1,890
03:11 (02:56)
31
Zero Punctuation: Hatfall - Hatters Gonna Hat Edition
Nov 20, 2015
$4.99
65% (87%)
12,080 ±3,341
10,872 ±3,170
02:54 (01:11)
32
Spooky Cats
Jun 4, 2015
$0.74
65% (87%)
24,644 ±4,772
13,530 ±3,536
01:47 (01:29)
33
The Tiny Tale 2
Jan 30, 2015
$6.99
N/A (N/A)
4,832 ±2,113
2,416 ±1,494
04:18 (03:27)
34
Meltdown
Jun 5, 2014
$6.99
62% (86%)
59,676 ±7,426
42,039 ±6,233
04:13 (02:26)
35
VelocityUltra
Dec 12, 2013
$0.99
62% (86%)
73,931 ±8,265
33,341 ±5,551
02:52 (02:07)
36
Dustoff Heli Rescue
Mar 6, 2015
$0.51
59% (85%)
41,556 ±6,197
28,751 ±5,154
02:21 (02:21)
37
Droid Assault
Jan 9, 2013
$4.19
56% (84%)
85,769 ±8,903
51,945 ±6,928
02:34 (01:25)
38
Last Knight: Rogue Rider Edition
Oct 3, 2014
$7.99
56% (84%)
33,825 ±5,591
21,744 ±4,483
03:59 (02:37)
39
12 is Better Than 6
Nov 20, 2015
$1.49
53% (83%/74%)
170,089 ±12,536
104,131 ±9,809
03:45 (02:10)
40
Rad Rodgers: World One
Dec 1, 2016
$11.99
53% (83%/72%)
8,939 ±2,874
5,557 ±2,266
02:28 (01:02)
41
Bear Simulator
Feb 26, 2016
$14.99
51% (82%)
12,322 ±3,374
11,114 ±3,205
09:44 (03:45)
42
Shadow Ops: Red Mercury
Jul 2, 2014
$1.74
51% (82%/61%)
21,261 ±4,432
5,074 ±2,165
02:05 (02:53)
43
Jet Gunner
Aug 4, 2014
$0.99
49% (81%)
143,271 ±11,506
93,984 ±9,319
02:24 (01:28)
44
Ruin of the Reckless
Apr 26, 2017
$6.69
N/A (N/A)
3,866 ±1,890
2,658 ±1,567
02:18 (03:16)
45
Leisure Suit Larry in the Land of the Lounge Lizards: Reloaded
Jun 27, 2013
N/A
47% (80%)
81,179 ±8,661
45,905 ±6,513
04:05 (02:31)
46
Dark Sector
Mar 24, 2009
$9.99
47% (80%/66%)
70,065 ±8,046
29,476 ±5,219
03:30 (01:29)
47
Hail to the King: Deathbat
Oct 30, 2014
$5.99
47% (80%)
7,973 ±2,714
6,040 ±2,362
02:02 (01:23)
48
Run Rabbit Run
Mar 31, 2016
$3.51
N/A (N/A)
15,704 ±3,809
10,631 ±3,134
03:39 (02:45)
49
Weapon of Choice
Sep 23, 2015
$4.99
N/A (N/A)
13,530 ±3,536
7,731 ±2,673
02:23 (02:45)
50
Raptor: Call of The Shadows - 2015 Edition
Feb 13, 2015
$4.99
45% (79%)
27,543 ±5,045
12,080 ±3,341
02:17 (01:32)
51
David.
Feb 16, 2015
$0.79
45% (79%)
80,937 ±8,648
54,602 ±7,103
02:27 (02:35)
52
GIGANTIC ARMY
Mar 6, 2014
$2.99
45% (79%)
68,857 ±7,977
34,549 ±5,650
01:54 (01:00)
53
TRON RUN/r
Feb 16, 2016
$5.99
45% (79%)
16,429 ±3,896
13,771 ±3,567
02:11 (01:01)
54
UNLOVED
Sep 29, 2016
$1.99
45% (79%)
19,570 ±4,252
16,429 ±3,896
07:10 (01:22)
55
Hive Jump
Jan 18, 2017
$19.99
43% (78%)
6,765 ±2,500
5,798 ±2,315
04:33 (03:50)
56
Velocity 2X
Aug 19, 2015
$19.99
N/A (N/A)
56,294 ±7,212
8,939 ±2,874
02:46 (02:03)
57
Rocket Knight
May 11, 2010
$14.99
43% (78%/63%)
12,563 ±3,407
7,973 ±2,714
02:26 (01:48)
58
Strike Suit Zero: Director's Cut
Apr 8, 2014
$19.99
43% (78%)
36,482 ±5,806
24,402 ±4,749
03:15 (01:56)
59
Hot Tin Roof: The Cat That Wore A Fedora
Feb 20, 2015
$10.49
N/A (N/A/66%)
121,285 ±10,586
25,127 ±4,819
02:55 (01:51)
60
Alien Shooter 2 Conscription
May 18, 2012
$9.99
N/A (N/A)
86,977 ±8,965
17,637 ±4,037
01:38 (00:42)
61
Woah Dave!
Oct 30, 2014
$4.99
39% (76%)
16,671 ±3,925
6,765 ±2,500
01:22 (00:59)
62
BossConstructor
Oct 24, 2016
$14.99
39% (76%)
14,255 ±3,629
12,563 ±3,407
06:51 (02:53)
63
Deadlings: Rotten Edition
Nov 11, 2014
$3.99
39% (76%)
74,414 ±8,292
49,287 ±6,749
02:58 (02:36)
64
Fist Puncher
Jun 21, 2013
$1.99
37% (75%/73%)
47,113 ±6,598
28,751 ±5,154
05:12 (01:53)
65
TEMBO THE BADASS ELEPHANT
Jul 21, 2015
$14.99
37% (75%)
35,999 ±5,768
23,436 ±4,654
01:26 (00:44)
66
Livelock
Aug 30, 2016
$4.99
37% (75%/73%)
33,100 ±5,531
24,885 ±4,795
97:00 (03:11)
67
Zombie Vikings
Dec 7, 2015
$2.99
35% (74%/74%)
35,516 ±5,729
17,154 ±3,981
04:47 (04:00)
68
FEIST
Jul 23, 2015
$9.99
35% (74%)
30,442 ±5,304
20,778 ±4,382
02:32 (01:38)
69
Warp
Mar 21, 2012
$2.49
33% (73%)
48,562 ±6,699
32,133 ±5,449
03:37 (01:39)
70
Viktor
Jun 13, 2014
$1.19
33% (73%)
21,986 ±4,507
14,979 ±3,720
03:53 (02:04)
71
The First Templar - Steam Special Edition
May 12, 2011
$9.99
33% (73%/57%)
128,533 ±10,898
42,281 ±6,251
04:40 (01:24)
72
Anima Gate of Memories
Jun 2, 2016
$11.99
31% (72%)
19,328 ±4,226
14,255 ±3,629
04:51 (02:57)
73
Rain Blood Chronicles: Mirage
Nov 11, 2013
$9.99
31% (72%/68%)
16,429 ±3,896
8,939 ±2,874
03:47 (01:26)
74
Chronicles of Teddy
Apr 2, 2015
$5.99
30% (71%)
14,738 ±3,690
9,664 ±2,988
04:33 (01:54)
75
A.R.E.S.: Extinction Agenda
Jan 19, 2011
$4.99
30% (71%/68%)
127,567 ±10,857
96,158 ±9,426
02:28 (01:42)
76
Collapse
Apr 11, 2014
$1.99
28% (70%)
45,905 ±6,513
28,268 ±5,111
02:47 (02:17)
77
Magnetic By Nature
Nov 10, 2014
$9.99
N/A (N/A)
33,100 ±5,531
15,704 ±3,809
02:09 (01:34)
78
BloodRayne 2
Sep 14, 2006
$3.49
27% (69%/67%)
74,172 ±8,279
38,415 ±5,958
03:32 (02:46)
79
Guns n Zombies
Oct 30, 2014
$0.79
27% (69%)
121,044 ±10,576
84,561 ±8,840
03:13 (01:36)
80
Toren
May 11, 2015
$3.79
25% (68%/57%)
57,019 ±7,259
32,617 ±5,490
03:05 (02:04)
81
Wooden Sen'SeY
Dec 5, 2013
$9.99
N/A (N/A)
34,066 ±5,611
15,704 ±3,809
02:32 (01:12)
82
Toy Odyssey: The Lost and Found
Sep 20, 2016
$7.49
25% (68%/66%)
109,930 ±10,079
24,160 ±4,725
03:17 (02:06)
83
Zoo Rampage
Jul 9, 2014
$3.99
23% (66%)
8,215 ±2,755
5,315 ±2,216
02:31 (02:30)
84
Stick 'Em Up 2: Paper Adventures
Jul 27, 2015
$2.99
23% (66%)
19,812 ±4,279
12,080 ±3,341
01:48 (00:57)
85
Legends of the Universe - StarCore
Jul 25, 2016
$0.51
N/A (N/A)
5,798 ±2,315
3,382 ±1,768
03:04 (03:54)
86
MIND: Path to Thalamus Enhanced Edition
Aug 5, 2014
$1.79
22% (65%/75%)
109,447 ±10,056
62,334 ±7,590
03:13 (02:05)
87
Devil's Dare
Oct 21, 2014
$12.99
22% (65%)
24,402 ±4,749
14,738 ±3,690
02:33 (02:23)
88
Fair Strike
Apr 23, 2015
$0.51
N/A (N/A/56%)
3,624 ±1,830
2,416 ±1,494
02:40 (03:32)
89
Blood Knights
Nov 13, 2013
$9.99
21% (64%)
77,555 ±8,466
43,247 ±6,322
03:28 (02:57)
90
Pixel Boy and the Ever Expanding Dungeon
May 30, 2014
$0.49
19% (63%)
43,489 ±6,339
32,858 ±5,510
02:30 (01:36)
91
El Matador
Apr 3, 2014
$0.99
19% (63%/54%)
30,442 ±5,304
9,664 ±2,988
02:31 (00:51)
92
EVE: Valkyrie
Nov 17, 2016
$39.99
19% (63%/69%)
12,322 ±3,374
10,631 ±3,134
02:37 (01:12)
93
Hyperspace Pinball
Sep 30, 2015
$2.99
N/A (N/A)
10,631 ±3,134
6,040 ±2,362
02:16 (02:39)
94
Attractio
Jan 18, 2016
$19.99
N/A (N/A)
71,032 ±8,102
7,490 ±2,631
01:05 (00:19)
95
Flashback
Oct 1, 2013
$3.39
18% (62%)
28,268 ±5,111
19,087 ±4,200
04:44 (02:52)
96
Q*bert: Rebooted
Jul 7, 2014
$4.99
17% (61%)
11,597 ±3,273
8,215 ±2,755
01:47 (00:36)
97
I am Weapon: Revival
Oct 23, 2015
$1.59
17% (61%)
29,717 ±5,240
17,879 ±4,065
02:47 (02:23)
98
Dinocide
Jan 21, 2016
$2.49
N/A (N/A/51%)
66,683 ±7,850
22,469 ±4,557
02:37 (01:39)
99
Woolfe - The Red Hood Diaries
Mar 17, 2015
$3.39
16% (60%/55%)
70,065 ±8,046
49,287 ±6,749
02:10 (01:21)
100
Heavy Fire: Afghanistan
Aug 15, 2014
$2.99
14% (58%)
35,516 ±5,729
20,053 ±4,305
02:37 (01:42)
101
Wickland
Feb 6, 2015
$0.99
12% (55%)
115,487 ±10,330
70,548 ±8,074
02:09 (01:47)
102
Fossil Echo
Jul 8, 2016
$9.99
11% (54%/61%)
9,423 ±2,951
6,040 ±2,362
02:25 (01:47)
103
The Stalin Subway
Sep 19, 2014
$0.51
10% (52%)
16,912 ±3,953
10,147 ±3,062
03:27 (02:41)
104
The Stalin Subway: Red Veil
Oct 24, 2014
$0.5
7% (46%)
16,912 ±3,953
11,597 ±3,273
02:54 (02:13)
105
Fabula Mortis
Oct 27, 2014
$1.59
N/A (N/A)
21,020 ±4,407
12,563 ±3,407
03:11 (02:35)
106
Samudai
Feb 9, 2015
$2.99
N/A (N/A)
24,160 ±4,725
10,872 ±3,170
02:02 (02:03)
107
Vendetta - Curse of Raven's Cry
Nov 20, 2015
$9.89
5% (43%)
5,074 ±2,165
4,349 ±2,004
06:24 (04:53)
108
R.I.P.D.: The Game
Jul 16, 2013
$9.99
5% (41%)
34,549 ±5,650
21,261 ±4,432
03:11 (02:22)
109
Onikira - Demon Killer
Aug 27, 2015
$2.79
5% (41%)
53,153 ±7,008
25,368 ±4,842
02:02 (01:26)
110
Obludia
Jul 18, 2014
$1.24
N/A (N/A)
17,395 ±4,009
10,631 ±3,134
02:57 (02:17)
111
Beyond Space Remastered Edition
Jun 18, 2014
$1.24
4% (39%)
35,516 ±5,729
22,711 ±4,581
02:13 (01:26)
112
Deformers
Apr 20, 2017
$29.99
3% (34%)
9,906 ±3,025
4,590 ±2,059
00:25 (00:39)
113
Psichodelya
Aug 8, 2014
$1.99
N/A (N/A)
90,601 ±9,150
51,945 ±6,928
03:12 (03:18)
114
Robotex
Nov 19, 2014
$4.99
2% (31%)
185,552 ±13,093
127,808 ±10,867
03:04 (02:21)
115
Ku: Shroud of the Morrigan
Mar 17, 2014
$4.99
N/A (N/A)
23,919 ±4,701
13,771 ±3,567
02:07 (02:03)
116
Overlord: Fellowship of Evil
Oct 19, 2015
$4.74
1% (24%)
51,945 ±6,928
15,221 ±3,750
01:53 (01:07)