Stick it to The Man!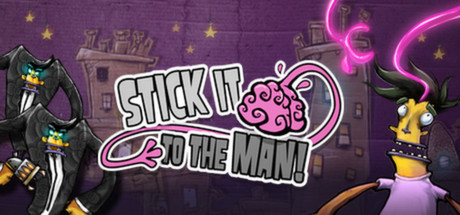 Store | Hub | SteamDB | Site
Developer: Zoink Games Publisher: Ripstone
Genre: Action, Adventure, Indie
Languages: English, French, Italian, German, Spanish, Japanese
Tags: Adventure (47), Indie (37), Comedy (32), Action (31), Platformer (29), Puzzle (17), Funny (10), 2D (7), Singleplayer (7)
Category: Single-player, Steam Achievements, Steam Trading Cards, Partial Controller Support, Steam Cloud
Release date: Dec 13, 2013
Price: $14.99
Score rank: 89% Userscore: 94% Old userscore: 95% Metascore: 83%
Owners: 48,477 ± 6,638
Players total: 26,377 ± 4,896 (54.41%)
Followers: 1,340
Peak concurrent players yesterday: 3
YouTube stats: 392,334 views and 451 comments for videos uploaded last week, 0 new videos uploaded yesterday.
Playtime total: 03:59 (average) 02:53 (median)

Steam Spy is still in beta, so expect major bugs.
Peak daily concurrent players:
CCU data courtesy of SteamDB. Used with permission.
Hourly concurrent players:
YouTube:
The views data is based on top 50 videos uploaded last week. Actual number of views might be more than the number shown.

The displayed number of videos uploaded yesterday is limited to 50, so if there were more videos uploaded, the number will still show 50.

If the game has commonly used word as its name (like "FEAR" or "Volume") its number of Youtube views might be wrong.
Games similar to this one:
#
Game
Release date

Price

Score rank
(Userscore / Metascore)

Owners

Players

Playtime (Median)

1
Little Big Adventure 2
Oct 20, 2015
$1.99
99% (98%)
22,100 ±4,482
11,406 ±3,220
04:59 (03:49)
2
Battle Bruise
May 3, 2017
$0.99
97% (97%)
12,357 ±3,351
8,792 ±2,827
04:31 (02:50)
3
Wonder Boy: The Dragon's Trap
Jun 8, 2017
$13.99
97% (97%)
10,931 ±3,152
9,743 ±2,976
04:51 (05:09)
4
Bleed 2
Feb 8, 2017
$7.49
95% (96%/83%)
4,277 ±1,971
3,802 ±1,859
03:37 (04:16)
5
The Dishwasher: Vampire Smile
May 12, 2017
$9.99
95% (96%)
13,307 ±3,478
10,456 ±3,082
03:46 (02:26)
6
Noitu Love 2: Devolution
Apr 23, 2012
$1.99
95% (96%/80%)
63,923 ±7,622
44,437 ±6,355
01:44 (01:05)
7
Odallus: The Dark Call
Jul 15, 2015
$9.99
92% (95%/80%)
136,402 ±11,133
68,914 ±7,914
03:37 (02:26)
8
Flywrench
Aug 24, 2015
$3.49
89% (94%)
5,228 ±2,180
4,277 ±1,971
03:25 (02:09)
9
Supercharged Robot VULKAISER
Jun 4, 2015
$4.99
89% (94%)
45,388 ±6,423
18,773 ±4,130
02:25 (02:16)
10
Guns, Gore & Cannoli
Apr 30, 2015
$4.89
89% (94%/74%)
46,814 ±6,523
40,635 ±6,077
06:23 (03:31)
11
Mighty Switch Force! Hyper Drive Edition
Jun 25, 2015
$4.99
89% (94%/85%)
16,634 ±3,888
12,595 ±3,383
02:41 (02:14)
12
RIVE: Wreck, Hack, Die, Retry!
Sep 13, 2016
$5.09
89% (94%)
279,457 ±15,934
72,003 ±8,089
02:37 (01:25)
13
MURI
Dec 6, 2013
$3.99
86% (93%)
38,259 ±5,897
21,862 ±4,457
02:34 (01:29)
14
Armed with Wings: Rearmed
Jun 1, 2017
$5.99
81% (92%)
26,140 ±4,874
17,110 ±3,943
03:34 (03:14)
15
Rad Rodgers: World One
Dec 1, 2016
$5.99
N/A (N/A/72%)
8,080 ±2,710
5,228 ±2,180
01:21 (01:12)
16
Planet of the Eyes
Aug 24, 2015
$9.99
77% (91%/66%)
67,963 ±7,859
15,684 ±3,775
02:49 (01:50)
17
Death Ray Manta SE
Sep 17, 2015
$2.99
N/A (N/A)
51,804 ±6,862
20,436 ±4,310
02:45 (02:54)
18
Momodora III
Jul 1, 2014
$0.99
77% (91%)
66,537 ±7,776
49,665 ±6,718
02:20 (01:29)
19
Devil May Cry 4
Dec 22, 2009
$19.99
77% (91%/78%)
306,547 ±16,688
211,018 ±13,847
08:46 (03:05)
20
Demons with Shotguns
Apr 25, 2016
$2.49
N/A (N/A)
11,644 ±3,253
7,604 ±2,629
03:17 (02:48)
21
Unbox: Newbie's Adventure
Sep 5, 2016
$5.99
77% (91%/68%)
84,122 ±8,744
40,873 ±6,095
02:38 (01:31)
22
Bird Assassin
Aug 27, 2014
$1.99
74% (90%)
15,684 ±3,775
7,367 ±2,587
01:03 (00:56)
23
Painkiller: Black Edition
Jan 24, 2007
$2.49
71% (89%)
359,539 ±18,071
192,008 ±13,208
04:35 (01:12)
24
Avoid - Sensory Overload
Apr 8, 2014
$1.24
71% (89%)
18,535 ±4,104
14,258 ±3,600
02:29 (01:32)
25
Mr. Shifty
Apr 13, 2017
$4.49
71% (89%)
16,159 ±3,832
12,595 ±3,383
03:21 (03:10)
26
Prison Run and Gun
Mar 16, 2016
$0.59
67% (88%)
16,159 ±3,832
11,882 ±3,286
02:27 (02:11)
27
Little Big Adventure - Enhanced Edition
Oct 20, 2015
$5.99
67% (88%)
14,258 ±3,600
7,604 ±2,629
03:51 (01:38)
28
Shadow Blade: Reload
Aug 10, 2015
$14.99
67% (88%/70%)
38,734 ±5,933
18,535 ±4,104
03:28 (03:03)
29
The Way
May 20, 2016
$3.74
67% (88%/67%)
26,853 ±4,940
13,307 ±3,478
03:26 (01:16)
30
LASTFIGHT
May 19, 2016
$14.99
N/A (N/A)
4,277 ±1,971
3,564 ±1,800
01:14 (01:16)
31
Zero Punctuation: Hatfall - Hatters Gonna Hat Edition
Nov 20, 2015
$4.99
64% (87%)
10,218 ±3,047
9,505 ±2,939
02:44 (01:43)
32
The Tiny Tale 2
Jan 30, 2015
$6.99
N/A (N/A)
5,703 ±2,276
4,040 ±1,916
02:34 (02:58)
33
Meltdown
Jun 5, 2014
$6.99
61% (86%)
59,646 ±7,363
43,487 ±6,287
04:49 (03:11)
34
Dustoff Heli Rescue
Mar 6, 2015
$3.99
61% (86%)
41,348 ±6,130
28,991 ±5,133
02:49 (02:39)
35
Spooky Cats
Jun 4, 2015
$2.99
61% (86%)
25,902 ±4,852
18,773 ±4,130
02:20 (02:38)
36
Droid Assault
Jan 9, 2013
$9.99
59% (85%)
88,162 ±8,951
56,319 ±7,154
02:35 (01:19)
37
Super Furball
Apr 21, 2015
$3.99
N/A (N/A)
11,406 ±3,220
7,842 ±2,669
03:39 (03:24)
38
VelocityUltra
Dec 12, 2013
$0.99
59% (85%)
80,558 ±8,556
36,358 ±5,748
03:47 (02:27)
39
Last Knight: Rogue Rider Edition
Oct 3, 2014
$7.99
56% (84%)
32,793 ±5,459
22,100 ±4,482
02:56 (02:26)
40
Bear Simulator
Feb 26, 2016
$14.99
54% (83%)
10,218 ±3,047
10,218 ±3,047
10:33 (03:30)
41
Ruin of the Reckless
Apr 26, 2017
$4.99
N/A (N/A)
4,298 ±2,428
3,940 ±2,325
01:34 (01:19)
42
Weapon of Choice
Sep 23, 2015
$4.99
N/A (N/A)
12,595 ±3,383
7,604 ±2,629
03:01 (03:17)
43
12 is Better Than 6
Nov 20, 2015
$2.99
54% (83%/74%)
144,243 ±11,449
90,063 ±9,047
03:21 (01:57)
44
Shadow Ops: Red Mercury
Jul 2, 2014
$6.99
51% (82%/61%)
24,476 ±4,716
5,941 ±2,323
01:56 (02:36)
45
UNLOVED
Sep 29, 2016
$2.49
46% (80%)
16,872 ±3,916
13,783 ±3,539
04:24 (01:20)
46
Run Rabbit Run
Mar 31, 2016
$2.67
N/A (N/A)
18,535 ±4,104
13,545 ±3,508
03:30 (03:16)
47
David.
Feb 16, 2015
$0.79
46% (80%)
75,092 ±8,261
54,418 ±7,033
02:10 (02:28)
48
Hive Jump
Jan 18, 2017
$19.99
46% (80%)
10,218 ±3,047
8,080 ±2,710
04:52 (03:56)
49
GIGANTIC ARMY
Mar 6, 2014
$5.99
44% (79%)
81,746 ±8,619
39,685 ±6,006
01:45 (01:10)
50
TRON RUN/r
Feb 16, 2016
$19.99
44% (79%)
14,971 ±3,689
12,119 ±3,319
03:15 (01:50)
51
Leisure Suit Larry in the Land of the Lounge Lizards: Reloaded
Jun 27, 2013
$19.99
44% (79%)
75,092 ±8,261
46,101 ±6,473
03:26 (01:50)
52
Jet Gunner
Aug 4, 2014
$0.99
44% (79%)
143,293 ±11,411
95,053 ±9,294
02:29 (01:08)
53
Dark Sector
Mar 24, 2009
$9.99
44% (79%/66%)
77,468 ±8,391
32,318 ±5,420
04:45 (01:38)
54
Hail to the King: Deathbat
Oct 30, 2014
$5.99
44% (79%)
8,317 ±2,749
5,941 ±2,323
02:17 (00:47)
55
Strike Suit Zero: Director's Cut
Apr 8, 2014
$19.99
44% (79%)
42,299 ±6,200
26,140 ±4,874
03:18 (02:06)
56
Alien Shooter 2 Conscription
May 18, 2012
$9.99
N/A (N/A)
82,934 ±8,682
15,684 ±3,775
01:59 (01:08)
57
Rocket Knight
May 11, 2010
$2.99
43% (78%/63%)
13,307 ±3,478
9,981 ±3,012
03:04 (01:07)
58
Raptor: Call of The Shadows - 2015 Edition
Feb 13, 2015
$4.99
43% (78%)
29,942 ±5,216
16,397 ±3,860
02:41 (00:51)
59
Velocity 2X
Aug 19, 2015
$19.99
N/A (N/A)
61,309 ±7,465
11,882 ±3,286
03:39 (03:05)
60
Deadlings: Rotten Edition
Nov 11, 2014
$3.99
41% (77%)
76,280 ±8,326
48,477 ±6,638
02:17 (01:41)
61
Woah Dave!
Oct 30, 2014
$4.99
39% (76%)
21,862 ±4,457
10,693 ±3,117
01:43 (01:05)
62
Livelock
Aug 30, 2016
$4.99
39% (76%/73%)
31,130 ±5,319
22,100 ±4,482
04:05 (03:16)
63
FEIST
Jul 23, 2015
$3.99
37% (75%)
29,467 ±5,175
19,486 ±4,208
02:36 (01:24)
64
BossConstructor
Oct 24, 2016
$14.99
37% (75%)
12,595 ±3,383
11,882 ±3,286
06:21 (03:18)
65
TEMBO THE BADASS ELEPHANT
Jul 21, 2015
$14.99
37% (75%)
40,160 ±6,041
26,615 ±4,918
02:57 (01:07)
66
Zombie Vikings
Dec 7, 2015
$1.19
35% (74%/74%)
33,744 ±5,538
17,585 ±3,998
03:10 (03:00)
67
Viktor
Jun 13, 2014
$1.19
35% (74%)
19,961 ±4,259
14,496 ±3,629
03:13 (03:03)
68
Fist Puncher
Jun 21, 2013
$9.99
35% (74%/73%)
56,557 ±7,169
33,744 ±5,538
04:11 (01:59)
69
Hot Tin Roof: The Cat That Wore A Fedora
Feb 20, 2015
$7.49
N/A (N/A/66%)
122,619 ±10,556
21,387 ±4,409
02:42 (01:50)
70
Rain Blood Chronicles: Mirage
Nov 11, 2013
$9.99
33% (73%/68%)
12,832 ±3,415
6,416 ±2,415
03:32 (01:36)
71
The First Templar - Steam Special Edition
May 12, 2011
$2.49
33% (73%/57%)
133,550 ±11,016
43,487 ±6,287
05:22 (01:32)
72
Warp
Mar 21, 2012
$3.99
33% (73%)
50,854 ±6,798
32,318 ±5,420
03:47 (01:15)
73
Anima Gate of Memories
Jun 2, 2016
$19.99
33% (73%)
19,724 ±4,234
12,595 ±3,383
06:48 (03:25)
74
Chronicles of Teddy
Apr 2, 2015
$5.99
30% (71%)
12,595 ±3,383
7,842 ±2,669
10:42 (13:53)
75
A.R.E.S.: Extinction Agenda
Jan 19, 2011
$4.99
30% (71%/68%)
133,075 ±10,997
104,321 ±9,737
03:14 (01:37)
76
Magnetic By Nature
Nov 10, 2014
$9.99
N/A (N/A)
29,467 ±5,175
14,971 ±3,689
02:32 (01:37)
77
BloodRayne 2
Sep 14, 2006
$4.49
28% (70%/67%)
77,468 ±8,391
41,823 ±6,165
74:36 (02:59)
78
Guns n Zombies
Oct 30, 2014
$7.99
28% (70%)
112,163 ±10,096
72,953 ±8,142
02:37 (01:33)
79
Collapse
Apr 11, 2014
$1.99
28% (70%)
47,764 ±6,589
27,328 ±4,984
03:23 (02:05)
80
Toy Odyssey: The Lost and Found
Sep 20, 2016
$7.49
27% (69%/66%)
56,319 ±7,154
16,872 ±3,916
13:30 (02:54)
81
Toren
May 11, 2015
$3.79
25% (68%/57%)
59,646 ±7,363
33,744 ±5,538
02:14 (01:43)
82
Wooden Sen'SeY
Dec 5, 2013
$9.99
N/A (N/A)
35,883 ±5,711
17,822 ±4,025
02:45 (01:51)
83
MIND: Path to Thalamus Enhanced Edition
Aug 5, 2014
$8.99
23% (66%/75%)
125,470 ±10,678
76,993 ±8,365
03:23 (02:22)
84
Fair Strike
Apr 23, 2015
$0.51
N/A (N/A/56%)
3,564 ±1,800
3,089 ±1,675
03:37 (03:37)
85
Legends of the Universe: StarCore
Jul 25, 2016
$3.99
N/A (N/A)
3,089 ±1,675
2,376 ±1,469
03:25 (04:05)
86
Hyperspace Pinball
Sep 30, 2015
$2.99
N/A (N/A)
11,406 ±3,220
8,080 ±2,710
02:48 (02:19)
87
Devil's Dare
Oct 21, 2014
$12.99
22% (65%)
24,951 ±4,762
16,634 ±3,888
03:22 (02:27)
88
Zoo Rampage
Jul 9, 2014
$3.99
22% (65%)
8,317 ±2,749
7,129 ±2,545
02:14 (02:05)
89
Stick 'Em Up 2: Paper Adventures
Jul 27, 2015
$0.98
22% (65%)
15,209 ±3,718
6,891 ±2,502
01:15 (01:11)
90
Blood Knights
Nov 13, 2013
$9.99
21% (64%)
72,478 ±8,116
40,398 ±6,059
02:47 (02:23)
91
El Matador
Apr 3, 2014
$0.99
19% (63%/54%)
30,417 ±5,258
7,129 ±2,545
00:46 (00:24)
92
EVE: Valkyrie
Nov 17, 2016
$39.99
19% (63%/69%)
10,456 ±3,082
9,030 ±2,865
02:50 (01:47)
93
Pixel Boy and the Ever Expanding Dungeon
May 30, 2014
$0.99
18% (62%)
38,021 ±5,878
26,853 ±4,940
02:50 (02:39)
94
Attractio
Jan 18, 2016
$19.99
N/A (N/A)
71,052 ±8,036
6,654 ±2,459
01:37 (00:26)
95
Flashback
Oct 1, 2013
$3.39
18% (62%)
27,090 ±4,962
19,486 ±4,208
04:53 (02:30)
96
Dinocide
Jan 21, 2016
$2.99
N/A (N/A/51%)
60,359 ±7,406
18,535 ±4,104
03:32 (03:15)
97
Q*bert: Rebooted
Jul 7, 2014
$1.24
17% (61%)
10,218 ±3,047
6,654 ±2,459
01:16 (00:54)
98
Woolfe - The Red Hood Diaries
Mar 17, 2015
$9.99
16% (60%/55%)
71,052 ±8,036
46,338 ±6,489
03:03 (01:41)
99
Heavy Fire: Afghanistan
Aug 15, 2014
$2.99
16% (60%)
35,883 ±5,711
23,526 ±4,624
03:00 (02:11)
100
I am Weapon: Revival
Oct 23, 2015
$1.59
15% (59%)
25,664 ±4,830
16,634 ±3,888
03:52 (03:01)
101
Chasing Dead
Mar 3, 2016
$9.99
14% (58%)
2,507 ±1,854
2,507 ±1,854
02:01 (02:48)
102
Fossil Echo
Jul 8, 2016
$2.49
12% (55%/61%)
8,555 ±2,788
6,178 ±2,369
02:11 (02:19)
103
Wickland
Feb 6, 2015
$0.49
12% (54%)
125,946 ±10,698
75,330 ±8,274
02:46 (01:49)
104
The Stalin Subway
Sep 19, 2014
$3.99
11% (53%)
19,011 ±4,157
14,020 ±3,569
02:55 (02:05)
105
Samudai
Feb 9, 2015
$2.99
N/A (N/A)
27,565 ±5,005
15,209 ±3,718
01:56 (01:17)
106
Fabula Mortis
Oct 27, 2014
$7.99
N/A (N/A)
19,011 ±4,157
12,119 ±3,319
03:55 (02:26)
107
The Stalin Subway: Red Veil
Oct 24, 2014
$2.99
7% (46%)
18,773 ±4,130
13,783 ±3,539
02:40 (01:42)
108
Onikira - Demon Killer
Aug 27, 2015
$13.99
5% (42%)
49,190 ±6,686
22,575 ±4,530
02:23 (01:10)
109
R.I.P.D.: The Game
Jul 16, 2013
$9.99
5% (41%)
28,278 ±5,070
19,011 ±4,157
02:55 (02:15)
110
Vendetta - Curse of Raven's Cry
Nov 20, 2015
$49.99
4% (40%)
3,564 ±1,800
3,327 ±1,739
22:09 (31:04)
111
Beyond Space Remastered Edition
Jun 18, 2014
$4.99
4% (40%)
33,982 ±5,557
22,100 ±4,482
02:06 (01:23)
112
Obludia
Jul 18, 2014
$4.99
N/A (N/A)
18,535 ±4,104
13,070 ±3,446
02:40 (02:29)
113
Deformers
Apr 20, 2017
$29.99
3% (36%)
7,842 ±2,669
4,040 ±1,916
01:04 (00:48)
114
Psichodelya
Aug 8, 2014
$6.99
N/A (N/A)
75,330 ±8,274
39,922 ±6,023
02:56 (03:00)
115
Robotex
Nov 19, 2014
$4.99
2% (31%)
177,987 ±12,717
124,282 ±10,627
02:40 (02:20)
116
Ku: Shroud of the Morrigan
Mar 17, 2014
$4.99
N/A (N/A)
23,050 ±4,577
16,634 ±3,888
03:01 (02:23)
117
Overlord: Fellowship of Evil
Oct 19, 2015
$4.74
1% (25%)
51,091 ±6,814
17,110 ±3,943
02:09 (00:57)