OMG Zombies!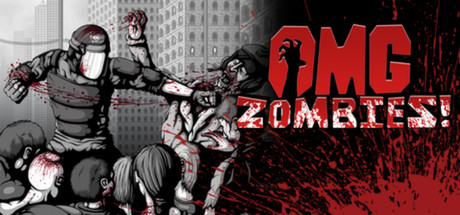 Store | Hub | SteamDB | Site
Developer: Laughing Jackal LTD Publisher: Ghostlight LTD
Genre: Action, Strategy
Languages: English
Tags: Zombies (125), Action (82), Strategy (60), Indie (33), Puzzle (25), Gore (17), Singleplayer (6), Casual (5)
Category: Single-player, Steam Achievements, Full controller support, Steam Trading Cards, Steam Leaderboards
Release date: Feb 13, 2014
Price: $4.99
Score rank: 46% Userscore: 80% Old userscore: 79%
Owners: 31,234 ± 4,842
Players in the last 2 weeks: 1,161 ± 1,607 (3.72%)
Players total: 22,590 ± 4,118 (72.33%)
Followers: 489
Peak concurrent players yesterday: 2
Playtime in the last 2 weeks: 00:26 (average) 00:47 (median)
Playtime total: 04:08 (average) 03:36 (median)

Steam Spy is still in beta, so expect major bugs.
Peak daily concurrent players:
CCU data courtesy of SteamDB. Used with permission.
Hourly concurrent players:
YouTube:
The views data is based on top 50 videos uploaded last week. Actual number of views might be more than the number shown.

The displayed number of videos uploaded yesterday is limited to 50, so if there were more videos uploaded, the number will still show 50.

If the game has commonly used word as its name (like "FEAR" or "Volume") its number of Youtube views might be wrong.
Games similar to this one:
#
Game
Release date

Price

Score rank
(Userscore / Metascore)

Owners

Players

Playtime (Median)

1
Don't Starve
$14.99
97% (97%/79%)
4,173,737 ±55,696
3,617,225 ±51,885
23:13 (06:13)
2
Braid
Apr 10, 2009
$14.99
89% (94%/90%)
1,221,064 ±30,233
787,131 ±24,286
03:44 (01:43)
3
Dying Light: The Following - Enhanced Edition
Jan 26, 2015
$59.99
81% (92%/87%)
1,952,799 ±38,200
1,865,187 ±37,337
36:15 (24:04)
4
Insurgency
Jan 22, 2014
$2.49
77% (91%/74%)
3,770,644 ±52,964
3,117,092 ±48,194
19:08 (04:29)
5
Dead Pixels
Dec 7, 2012
$2.99
64% (87%)
247,120 ±13,617
184,260 ±11,759
02:12 (00:55)
6
Zombie Driver HD
Oct 17, 2012
$9.99
56% (84%)
229,637 ±13,126
169,723 ±11,286
03:03 (01:24)
7
Tom Clancy's Rainbow Six Siege
Dec 1, 2015
$14.99
53% (83%)
2,226,242 ±40,773
2,176,936 ±40,321
101:10 (29:11)
8
Rising Storm 2: Vietnam
May 30, 2017
$24.99
49% (81%/81%)
314,892 ±15,370
304,284 ±15,109
16:49 (08:08)
9
Polarity
Jul 15, 2016
$13.99
49% (81%)
581,263 ±20,875
360,465 ±16,443
02:15 (01:26)
10
The Flame in the Flood
Feb 24, 2016
$14.99
42% (78%/73%)
191,921 ±12,001
105,684 ±8,906
05:31 (01:36)
11
GhostControl Inc.
Jun 6, 2014
$14.99
37% (75%)
10,804 ±2,848
9,233 ±2,632
02:49 (01:41)
12
RAGE
Oct 3, 2011
$9.99
37% (75%/79%)
1,358,964 ±31,889
1,126,970 ±29,048
17:14 (08:22)
13
Contagion
Oct 25, 2013
$9.99
37% (75%/62%)
1,091,021 ±28,582
850,973 ±25,250
06:24 (02:44)
14
The Walking Dead: A New Frontier
Dec 20, 2016
$24.99
35% (74%)
225,315 ±13,002
170,902 ±11,325
08:44 (07:30)
15
Dead Rising 2
Sep 27, 2010
$19.99
35% (74%/78%)
589,120 ±21,016
427,058 ±17,897
09:59 (03:33)
16
Frozen State
Aug 5, 2016
$11.99
31% (72%)
16,501 ±3,519
13,751 ±3,213
03:31 (01:06)
17
Dead Island Definitive Edition
May 31, 2016
$19.99
31% (72%)
164,223 ±11,101
125,132 ±9,691
08:32 (04:13)
18
CastleMiner Z
Feb 3, 2014
$3.99
31% (72%)
300,944 ±15,026
259,692 ±13,959
06:21 (02:18)
19
How to Survive 2
Sep 8, 2016
$14.99
30% (71%/69%)
460,649 ±18,586
402,110 ±17,366
12:07 (04:18)
20
Ghost in the Shell: Stand Alone Complex - First Assault Online
Jul 28, 2016
Free
27% (69%)
1,730,234 ±35,967
1,269,781 ±30,829
06:49 (00:58)
21
Takedown: Red Sabre
Feb 10, 2014
$4.99
3% (37%/34%)
242,798 ±13,497
184,063 ±11,752
02:54 (01:01)
22
Better Late Than DEAD
Mar 3, 2016
$14.99
3% (35%)
42,431 ±5,643
23,573 ±4,206
01:06 (00:39)
23
Day One : Garry's Incident
Sep 25, 2013
$2.99
0% (18%)
94,094 ±8,404
65,807 ±7,028
02:29 (00:53)