OMG Zombies!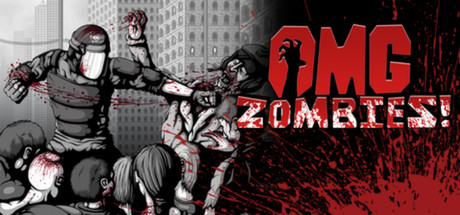 Store | Hub | SteamDB | Site
Developer: Laughing Jackal LTD Publisher: Ghostlight LTD
Genre: Action, Strategy
Languages: English
Tags: Zombies (125), Action (82), Strategy (60), Indie (33), Puzzle (25), Gore (17), Singleplayer (6), Casual (5)
Category: Single-player, Steam Achievements, Full controller support, Steam Trading Cards, Steam Leaderboards
Release date: Feb 13, 2014
Price: $4.99
Score rank: 48% Userscore: 80% Old userscore: 79%
Owners: 30,099 ± 4,974
Players in the last 2 weeks: 646 ± 893 (2.15%)
Players total: 19,779 ± 4,032 (65.71%)
Followers: 480
Peak concurrent players yesterday: 2
YouTube stats: 105 views and 2 comments for videos uploaded last week, 0 new videos uploaded yesterday.
Playtime in the last 2 weeks: 04:26 (average) 04:26 (median)
Playtime total: 06:47 (average) 02:35 (median)

Steam Spy is still in beta, so expect major bugs.
Peak daily concurrent players:
CCU data courtesy of SteamDB. Used with permission.
Hourly concurrent players:
YouTube:
The views data is based on top 50 videos uploaded last week. Actual number of views might be more than the number shown.

The displayed number of videos uploaded yesterday is limited to 50, so if there were more videos uploaded, the number will still show 50.

If the game has commonly used word as its name (like "FEAR" or "Volume") its number of Youtube views might be wrong.
Games similar to this one:
#
Game
Release date

Price

Score rank
(Userscore / Metascore)

Owners

Players

Playtime (Median)

1
Don't Starve
$14.99
97% (97%/79%)
4,074,483 ±57,572
3,570,763 ±53,931
23:02 (06:19)
2
Braid
Apr 10, 2009
$4.49
89% (94%/90%)
1,264,139 ±32,184
827,495 ±26,054
03:44 (01:43)
3
Dying Light: The Following - Enhanced Edition
Jan 26, 2015
$59.99
83% (92%/87%)
1,818,812 ±38,577
1,733,891 ±37,670
37:17 (24:10)
4
Insurgency
Jan 22, 2014
$4.99
79% (91%/74%)
3,434,674 ±52,903
2,883,011 ±48,503
18:55 (04:48)
5
Arizona Sunshine
Dec 6, 2016
$39.99
69% (88%/83%)
48,588 ±6,319
45,793 ±6,135
08:06 (03:40)
6
Dead Pixels
Dec 7, 2012
$0.74
63% (86%)
262,287 ±14,678
199,295 ±12,796
01:55 (00:48)
7
Sniper Elite: Nazi Zombie Army 2
Oct 31, 2013
$14.99
60% (85%/53%)
419,660 ±18,563
349,143 ±16,934
05:15 (03:01)
8
Tom Clancy's Rainbow Six® Siege
Dec 1, 2015
$14.99
55% (83%)
1,866,110 ±39,073
1,826,337 ±38,656
93:44 (29:52)
9
Deadlight
Oct 25, 2012
$14.99
48% (80%/78%)
1,015,611 ±28,857
682,377 ±23,663
03:32 (02:23)
10
The Walking Dead: A New Frontier
Dec 20, 2016
$24.99
43% (78%)
155,223 ±11,293
124,909 ±10,131
05:05 (04:17)
11
Contagion
Oct 25, 2013
$9.99
39% (76%/62%)
1,101,392 ±30,047
858,454 ±26,535
05:55 (02:37)
12
GhostControl Inc.
Jun 6, 2014
$14.99
37% (75%)
6,880 ±2,378
4,945 ±2,016
03:35 (02:36)
13
Frozen State
Aug 5, 2016
$11.99
35% (74%)
22,789 ±4,328
19,994 ±4,054
04:37 (00:55)
14
Dead Rising® 2
Sep 27, 2010
$19.99
35% (74%/78%)
512,105 ±20,504
407,835 ±18,300
09:06 (03:31)
15
CastleMiner Z
Feb 3, 2014
$1.99
32% (72%)
298,406 ±15,656
262,072 ±14,672
06:09 (02:13)
16
How to Survive 2
Sep 8, 2016
$14.99
30% (71%/69%)
439,009 ±18,986
386,121 ±17,807
10:06 (04:08)
17
Ghost in the Shell: Stand Alone Complex - First Assault Online
Jul 28, 2016
Free
29% (70%)
1,575,444 ±35,915
1,140,090 ±30,569
06:49 (01:01)
18
Shadows of Kurgansk
Dec 15, 2016
$5.99
29% (70%)
6,665 ±2,340
5,375 ±2,101
05:05 (02:18)
19
The Escapists: The Walking Dead
Sep 30, 2015
$17.99
20% (63%/66%)
86,426 ±8,428
62,777 ±7,183
03:13 (00:58)
20
How To Survive: Third Person Standalone
Jul 2, 2015
$9.99
12% (55%)
123,619 ±10,079
70,302 ±7,601
04:36 (01:28)
21
Breach & Clear: Deadline Rebirth (2016)
Jul 20, 2015
$19.99
11% (53%)
70,087 ±7,589
36,978 ±5,513
04:41 (02:04)
22
Takedown: Red Sabre
Feb 10, 2014
$4.99
3% (37%/34%)
233,264 ±13,843
179,946 ±12,159
02:20 (00:55)
23
Better Late Than DEAD
Mar 3, 2016
$14.99
3% (37%)
36,118 ±5,448
22,359 ±4,287
01:07 (00:28)
24
Day One : Garry's Incident
Sep 25, 2013
$2.99
0% (18%)
99,325 ±9,034
68,367 ±7,496
01:36 (00:52)