Why So Evil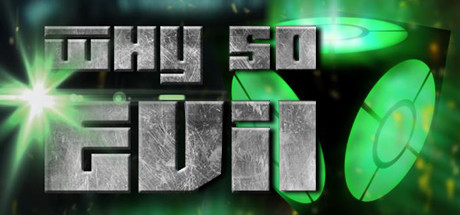 Store | Hub | SteamDB | Site
Developer: Zonitron Productions Publisher: Zonitron Productions
Genre: Action, Adventure, Casual
Languages: English
Tags: Difficult (23), Action (22), Casual (20), Indie (19), Puzzle (19), Physics (18), Adventure (16), Top-Down (15), Third Person (15), Co-op (14), Platformer (14), Singleplayer (14), 3D Platformer (14), Colorful (13), Family Friendly (13), Great Soundtrack (13), Puzzle-Platformer (13), Controller (13), Atmospheric (13), Fantasy (12)
Category: Single-player, Co-op, Shared/Split Screen, Steam Trading Cards, Partial Controller Support
Release date: Nov 10, 2014
N/A
Score rank: 13% Userscore: 56% Old userscore: 56%
Followers: 696
Peak concurrent players yesterday: 43
YouTube stats: 1 views and 0 comments for videos uploaded last week, 0 new videos uploaded yesterday.

Steam Spy is still in beta, so expect major bugs.
Peak daily concurrent players:
CCU data courtesy of SteamDB. Used with permission.
Hourly concurrent players:
YouTube:
The views data is based on top 50 videos uploaded last week. Actual number of views might be more than the number shown.

The displayed number of videos uploaded yesterday is limited to 50, so if there were more videos uploaded, the number will still show 50.

If the game has commonly used word as its name (like "FEAR" or "Volume") its number of Youtube views might be wrong.
Games similar to this one:
#
Game
Release date

Price

Score rank
(Userscore / Metascore)

Owners

Players

Playtime (Median)

1
TY the Tasmanian Tiger
Dec 12, 2016
$14.99
99% (98%)
53,737 ±7,306
45,949 ±6,755
07:22 (04:33)
2
One Finger Death Punch
Mar 3, 2014
$4.99
99% (98%)
713,894 ±26,611
557,616 ±23,522
06:45 (03:08)
3
SteamWorld Heist
Jun 7, 2016
$14.99
97% (97%/81%)
428,077 ±20,613
210,793 ±14,467
07:40 (03:59)
4
Supreme Commander: Forged Alliance
Sep 28, 2011
$14.99
97% (97%/81%)
988,029 ±31,298
480,515 ±21,837
32:49 (08:42)
5
Dungeon Warfare
Nov 4, 2015
$9.99
97% (97%)
38,940 ±6,219
31,931 ±5,631
11:51 (06:26)
6
The Wolf Among Us
Oct 11, 2013
$24.99
97% (97%/85%)
1,079,407 ±32,710
785,024 ±27,903
10:08 (08:31)
7
Batman: Arkham Asylum Game of the Year Edition
Mar 26, 2010
$19.99
95% (96%/91%)
3,024,833 ±54,650
1,920,764 ±43,597
10:39 (06:35)
8
Mini Metro
Nov 6, 2015
$9.99
95% (96%/77%)
496,870 ±22,206
372,263 ±19,223
08:21 (04:03)
9
Defend The Highlands
Nov 6, 2015
$9.99
N/A (N/A)
135,510 ±11,600
68,793 ±8,266
03:38 (04:00)
10
Stronghold Crusader HD
Oct 21, 2013
$9.99
95% (96%/78%)
1,137,557 ±33,578
721,163 ±26,746
14:11 (02:34)
11
Counter-Strike
Nov 1, 2000
$9.99
95% (96%/88%)
14,155,087 ±116,879
9,863,417 ±97,998
188:52 (06:15)
12
Creeper World 3: Arc Eternal
Mar 27, 2014
$14.99
95% (96%)
161,729 ±12,673
132,914 ±11,489
35:58 (12:41)
13
Dust: An Elysian Tail
May 24, 2013
$14.99
95% (96%)
1,176,757 ±34,150
805,272 ±28,260
07:35 (03:28)
14
Death Road to Canada
Jul 21, 2016
$14.99
92% (95%)
168,479 ±12,935
137,846 ±11,700
09:54 (03:46)
15
Batman: Arkham City - Game of the Year Edition
Sep 7, 2012
$19.99
92% (95%/91%)
3,642,676 ±59,934
2,112,347 ±45,711
17:01 (08:11)
16
Counter-Strike: Source
Nov 1, 2004
$19.99
92% (95%/88%)
15,758,363 ±123,115
11,486,422 ±105,577
134:26 (10:25)
17
Lords of the Realm II
Dec 3, 2015
$2.99
92% (95%/77%)
48,804 ±6,962
36,084 ±5,987
30:56 (04:58)
18
Neon Chrome
Apr 28, 2016
$14.99
92% (95%/74%)
215,207 ±14,618
83,331 ±9,097
04:59 (01:52)
19
Warhammer 40,000: Dawn of War - Dark Crusade
Aug 7, 2007
$12.99
92% (95%/87%)
1,126,395 ±33,413
582,278 ±24,036
21:10 (04:51)
20
Turok 2: Seeds of Evil
Mar 16, 2017
$19.99
92% (95%)
41,276 ±6,403
31,152 ±5,562
07:30 (03:57)
21
Medieval II: Total War
Nov 27, 2007
$19.99
92% (95%/88%)
2,060,687 ±45,151
1,485,418 ±38,356
63:22 (11:08)
22
EARTH DEFENSE FORCE 4.1 The Shadow of New Despair
Jul 18, 2016
$49.99
92% (95%/79%)
154,201 ±12,374
148,750 ±12,154
39:50 (18:25)
23
Tomb Raider
Mar 4, 2013
$19.99
92% (95%/86%)
5,175,081 ±71,326
4,241,049 ±64,630
15:23 (10:29)
24
Brutal Legend
Feb 26, 2013
$14.99
89% (94%/80%)
2,330,669 ±48,004
1,034,497 ±32,024
05:46 (03:24)
25
DmC: Devil May Cry
Jan 24, 2013
$29.99
89% (94%/85%)
1,236,724 ±35,007
861,345 ±29,226
09:51 (06:07)
26
Samorost 3
Mar 24, 2016
$19.99
89% (94%/80%)
219,101 ±14,750
87,225 ±9,307
03:41 (02:35)
27
Age of Empires II HD
Apr 9, 2013
$19.99
89% (94%/68%)
4,857,853 ±69,127
4,438,602 ±66,105
45:49 (10:04)
28
Thimbleweed Park
Mar 30, 2017
$19.99
89% (94%/84%)
78,139 ±8,809
69,313 ±8,297
11:43 (08:31)
29
Rome: Total War - Collection
Aug 28, 2007
$9.99
89% (94%/92%)
1,801,868 ±42,231
1,243,992 ±35,110
41:07 (06:27)
30
Super Trench Attack!
Jul 24, 2014
$4.99
86% (93%)
99,426 ±9,937
71,649 ±8,436
02:52 (02:02)
31
Rise of the Tomb Raider
Feb 9, 2016
$59.99
86% (93%/86%)
2,109,232 ±45,677
1,792,523 ±42,122
22:11 (15:44)
32
Company of Heroes: Tales of Valor
Apr 8, 2009
$19.99
86% (93%/70%)
2,295,363 ±47,641
738,036 ±27,057
26:29 (02:29)
33
STAR WARS Empire at War - Gold Pack
May 25, 2010
$19.99
86% (93%)
1,599,641 ±39,799
951,685 ±30,718
26:54 (04:20)
34
Rampage Knights
Sep 4, 2015
$11.99
86% (93%/80%)
243,243 ±15,541
174,450 ±13,162
10:00 (04:34)
35
The Silent Age
May 29, 2015
$9.99
86% (93%)
285,298 ±16,830
108,252 ±10,369
02:50 (02:16)
36
Shadow Warrior
Sep 26, 2013
$39.99
86% (93%/73%)
2,984,336 ±54,285
1,457,901 ±38,000
05:48 (02:55)
37
Company of Heroes - Legacy Edition
Jul 17, 2007
$19.99
86% (93%/93%)
3,134,903 ±55,629
1,334,073 ±36,355
13:32 (02:08)
38
Plague Inc: Evolved
Feb 18, 2016
$14.99
86% (93%)
1,606,131 ±39,879
1,446,738 ±37,855
10:02 (05:11)
39
Quern - Undying Thoughts
Nov 28, 2016
$24.99
86% (93%/83%)
22,325 ±4,709
16,095 ±3,998
17:01 (07:58)
40
Mafia II
Mar 22, 2011
$29.99
86% (93%/77%)
2,618,303 ±50,866
2,051,601 ±45,052
28:12 (14:32)
41
Sins of a Solar Empire: Rebellion
Jun 12, 2012
$12.49
82% (92%/82%)
990,885 ±31,343
857,711 ±29,165
44:12 (10:10)
42
ICEY
Nov 17, 2016
$10.99
82% (92%/84%)
479,996 ±21,826
350,717 ±18,659
03:48 (02:25)
43
Bayonetta
Apr 11, 2017
$19.99
82% (92%/90%)
370,965 ±19,189
287,634 ±16,899
07:47 (03:26)
44
Sid Meier's Civilization IV
Oct 25, 2006
$19.99
82% (92%/94%)
1,597,305 ±39,770
131,356 ±11,421
17:54 (03:09)
45
Renowned Explorers: International Society
Sep 2, 2015
$19.99
82% (92%)
223,514 ±14,897
154,980 ±12,406
12:58 (05:50)
46
Panzer Corps
Mar 12, 2014
$19.99
82% (92%/80%)
79,956 ±8,911
71,909 ±8,451
88:01 (17:34)
47
Rise of Nations: Extended Edition
Jun 12, 2014
$19.99
78% (91%/89%)
819,810 ±28,514
633,938 ±25,079
22:17 (05:29)
48
Alan Wake
Feb 16, 2012
N/A
78% (91%/83%)
2,244,482 ±47,113
1,563,817 ±39,352
06:52 (02:53)
49
Skulls of the Shogun
Jul 29, 2013
$9.99
78% (91%/72%)
220,658 ±14,802
114,483 ±10,663
04:34 (02:05)
50
Middle-earth: Shadow of Mordor
Sep 30, 2014
$19.99
78% (91%)
4,399,144 ±65,813
3,683,173 ±60,264
21:01 (14:15)
51
Chaos on Deponia
Nov 6, 2012
$6.74
78% (91%/78%)
451,441 ±21,167
200,409 ±14,107
07:48 (05:31)
52
Might & Magic: Clash of Heroes
Sep 22, 2011
$9.99
78% (91%/76%)
264,271 ±16,198
142,260 ±11,886
21:06 (08:38)
53
Devil May Cry 4 Special Edition
Jun 23, 2015
$24.99
78% (91%)
323,718 ±17,927
222,735 ±14,871
11:22 (05:16)
54
Predynastic Egypt
Oct 10, 2016
$4.99
78% (91%)
35,565 ±5,943
31,931 ±5,631
07:07 (05:10)
55
Napoleon: Total War
Feb 23, 2010
$19.99
78% (91%/81%)
2,416,596 ±48,877
1,946,983 ±43,893
70:32 (12:51)
56
Transformers: Fall of Cybertron
Aug 20, 2012
$49.99
78% (91%)
211,313 ±14,485
165,364 ±12,814
23:41 (08:35)
57
Darkest Hour: A Hearts of Iron Game
Apr 8, 2011
$9.99
78% (91%/81%)
163,806 ±12,754
91,119 ±9,513
60:41 (04:51)
58
Lost Castle
Aug 31, 2016
$9.99
78% (91%)
598,373 ±24,366
574,490 ±23,875
19:46 (10:52)
59
Darksiders
Sep 23, 2010
N/A
74% (90%/83%)
2,749,659 ±52,119
1,498,658 ±38,526
09:43 (03:01)
60
RiME
May 26, 2017
$29.99
74% (90%/78%)
55,554 ±7,428
38,680 ±6,198
05:34 (04:12)
61
Blitzkrieg Anthology
Sep 16, 2014
$4.99
74% (90%)
85,927 ±9,238
50,881 ±7,109
13:27 (02:24)
62
Dominions 4: Thrones of Ascension
Dec 5, 2013
$34.99
74% (90%)
69,313 ±8,297
59,188 ±7,667
74:26 (08:16)
63
Call of Duty 2
Oct 13, 2006
$19.99
74% (90%/86%)
383,685 ±19,515
293,086 ±17,058
15:30 (05:35)
64
Total War: SHOGUN 2
Mar 15, 2011
$29.99
74% (90%)
3,084,021 ±55,178
2,740,314 ±52,031
81:47 (23:38)
65
Splatter - Zombie Apocalypse
Jun 4, 2014
$4.99
74% (90%)
223,514 ±14,897
142,000 ±11,875
03:03 (02:34)
66
Unholy Heights
Oct 4, 2013
$3.99
74% (90%)
181,978 ±13,443
125,126 ±11,147
07:11 (02:49)
67
Deponia
Aug 6, 2012
$9.99
74% (90%/74%)
955,579 ±30,781
587,729 ±24,149
05:28 (03:48)
68
RUNNING WITH RIFLES
Apr 2, 2015
$14.99
70% (89%/78%)
315,930 ±17,710
298,018 ±17,201
11:30 (04:06)
69
Halo Wars: Definitive Edition
Apr 20, 2017
$19.99
70% (89%)
170,815 ±13,024
132,395 ±11,466
10:24 (04:03)
70
Call of Duty: Modern Warfare 2
Nov 11, 2009
$19.99
70% (89%/86%)
5,296,054 ±72,146
4,691,970 ±67,948
22:54 (09:30)
71
Depth
Nov 3, 2014
$19.99
70% (89%/65%)
1,065,130 ±32,493
948,311 ±30,663
09:06 (03:28)
72
Call of Duty: Modern Warfare 2
Nov 11, 2009
$19.99
70% (89%/86%)
5,296,054 ±72,146
4,638,233 ±67,562
141:50 (35:48)
73
Empire: Total War
Mar 3, 2009
$19.99
70% (89%/90%)
3,688,365 ±60,306
3,222,647 ±56,397
102:13 (21:31)
74
Mad Max
Sep 1, 2015
$19.99
70% (89%/73%)
1,658,051 ±40,517
1,418,961 ±37,491
27:38 (14:50)
75
Grow Up
Aug 16, 2016
$9.99
70% (89%/71%)
70,870 ±8,390
53,996 ±7,323
06:00 (03:34)
76
Deponia: The Complete Journey
Jul 8, 2014
$39.99
70% (89%)
193,660 ±13,867
133,693 ±11,522
13:01 (05:21)
77
Town of Salem
Dec 15, 2014
$4.99
70% (89%)
755,949 ±27,383
625,631 ±24,914
32:11 (10:20)
78
Xenonauts
Jun 16, 2014
$24.99
70% (89%/77%)
261,675 ±16,118
184,055 ±13,519
35:25 (09:31)
79
The Curious Expedition
Sep 2, 2016
$14.99
70% (89%/74%)
108,512 ±10,381
91,638 ±9,540
09:37 (03:25)
80
Age of Empires III: Complete Collection
Jan 5, 2012
$39.99
67% (88%/81%)
2,332,745 ±48,026
1,937,378 ±43,785
28:27 (05:46)
81
Shadow Warrior 2
Oct 13, 2016
$39.99
67% (88%/78%)
363,437 ±18,994
334,362 ±18,219
12:40 (07:53)
82
Kingdom: New Lands
Aug 9, 2016
$14.99
67% (88%)
637,312 ±25,145
370,706 ±19,183
09:48 (04:06)
83
Wolfenstein: The Old Blood
May 4, 2015
$19.99
67% (88%/76%)
746,603 ±27,213
513,484 ±22,573
11:39 (07:09)
84
Men of War: Assault Squad
Feb 24, 2011
$9.99
67% (88%/77%)
575,009 ±23,886
308,921 ±17,512
46:31 (11:03)
85
Wargame: Airland Battle
May 29, 2013
$19.99
67% (88%/80%)
593,181 ±24,260
428,077 ±20,613
23:44 (04:54)
86
Brothers in Arms: Road to Hill 30
May 13, 2008
$9.99
67% (88%/87%)
114,483 ±10,663
82,552 ±9,055
04:43 (02:12)
87
Home Behind
Jun 2, 2016
$5.99
67% (88%)
206,380 ±14,315
200,409 ±14,107
13:32 (08:15)
88
Alice: Madness Returns
N/A
64% (87%/75%)
659,638 ±25,581
504,139 ±22,367
08:50 (03:37)
89
Wargame: Red Dragon
Apr 17, 2014
$29.99
64% (87%/78%)
726,614 ±26,847
504,398 ±22,373
60:58 (07:18)
90
Battle Brothers
Mar 24, 2017
$29.99
64% (87%/80%)
105,137 ±10,218
102,022 ±10,066
58:58 (24:27)
91
Heroes of Might & Magic V
May 13, 2008
$9.99
64% (87%/77%)
389,137 ±19,653
274,135 ±16,497
19:38 (05:13)
92
Assassins Creed Brotherhood
Mar 22, 2011
$19.99
64% (87%/88%)
968,819 ±30,993
666,907 ±25,722
23:32 (14:44)
93
Warlock - Master of the Arcane
May 8, 2012
$24.99
61% (86%/71%)
790,994 ±28,009
419,510 ±20,405
15:00 (02:53)
94
Quantum Break
Sep 29, 2016
$39.99
61% (86%/66%)
574,490 ±23,875
313,075 ±17,630
06:56 (04:11)
95
Stronghold 2: Steam Edition
$14.99
61% (86%)
405,751 ±20,068
242,724 ±15,524
14:36 (03:50)
96
Blitzkrieg 2 Anthology
Sep 16, 2014
$4.99
61% (86%/75%)
106,695 ±10,294
60,746 ±7,767
10:32 (01:42)
97
My Lands: Black Gem Hunting
Sep 16, 2014
Free
61% (86%)
350,197 ±18,645
157,316 ±12,499
39:08 (00:12)
98
NOBUNAGA'S AMBITION: Souzou (Traditional Chinese version)
Aug 2014
$24.99
61% (86%)
24,402 ±4,923
22,585 ±4,736
59:35 (23:41)
99
Crookz - The Big Heist
Aug 25, 2015
$9.99
61% (86%/74%)
30,113 ±5,469
16,095 ±3,998
05:37 (01:35)
100
Earn to Die 2
May 5, 2016
$4.99
61% (86%)
13,239 ±3,626
12,720 ±3,554
24:20 (05:32)
101
This Is the Police
Aug 2, 2016
$14.99
59% (85%)
420,289 ±20,424
302,691 ±17,335
09:40 (05:01)
102
Resident Evil 5/ Biohazard 5
Sep 15, 2009
$19.99
59% (85%/86%)
1,142,230 ±33,646
787,100 ±27,940
16:07 (08:22)
103
Ultimate General: Gettysburg
Oct 16, 2014
$14.99
59% (85%/84%)
307,104 ±17,461
184,314 ±13,529
13:17 (02:34)
104
Call of Duty: Black Ops
Nov 9, 2010
$39.99
59% (85%/81%)
3,628,657 ±59,820
3,458,102 ±58,407
24:31 (09:12)
105
Darksiders Warmastered Edition
Nov 29, 2016
$19.99
59% (85%)
2,794,310 ±52,538
501,024 ±22,298
06:58 (03:10)
106
Tom Clancy's Rainbow Six Vegas 2
Apr 16, 2008
$9.99
59% (85%/78%)
557,876 ±23,528
433,788 ±20,749
11:13 (03:28)
107
Call of Duty: Black Ops
Nov 9, 2010
$39.99
59% (85%/81%)
3,628,657 ±59,820
3,050,014 ±54,875
74:15 (17:44)
108
Sonic Adventure 2
Nov 19, 2012
$9.99
59% (85%)
571,375 ±23,811
344,227 ±18,485
11:13 (02:27)
109
Runestone Keeper
Mar 2, 2015
$9.99
59% (85%)
232,080 ±15,180
126,165 ±11,193
10:02 (03:47)
110
Worms Reloaded
Aug 26, 2010
$19.99
56% (84%/79%)
918,457 ±30,178
712,596 ±26,587
11:29 (03:23)
111
Serious Sam's Bogus Detour
Jun 20, 2017
$14.99
56% (84%/76%)
8,826 ±2,961
7,528 ±2,734
17:49 (07:40)
112
RWBY: Grimm Eclipse
Jul 5, 2016
$19.99
56% (84%)
319,046 ±17,797
294,643 ±17,103
08:26 (03:19)
113
Worms Revolution
Oct 10, 2012
$14.99
56% (84%/73%)
1,102,771 ±33,061
887,046 ±29,658
08:25 (03:23)
114
Men of War: Assault Squad 2
May 15, 2014
$29.99
56% (84%/68%)
664,570 ±25,677
614,468 ±24,691
53:49 (13:30)
115
Kingdoms and Castles
Jul 20, 2017
$9.99
56% (84%)
421,846 ±20,462
400,559 ±19,940
08:00 (04:47)
116
Batman: Arkham Origins
Oct 24, 2013
$19.99
56% (84%/74%)
2,323,919 ±47,935
1,616,775 ±40,011
19:31 (11:05)
117
Antihero
Jul 10, 2017
$14.99
56% (84%/81%)
21,547 ±4,626
17,912 ±4,218
06:02 (04:33)
118
Firewatch
Feb 9, 2016
$19.99
56% (84%/81%)
854,336 ±29,107
738,556 ±27,066
04:46 (04:03)
119
Resident Evil Revelations / Biohazard Revelations
May 20, 2013
$29.99
56% (84%/77%)
690,790 ±26,178
438,980 ±20,873
13:44 (06:13)
120
Age of Mythology: Extended Edition
May 8, 2014
$29.99
56% (84%/66%)
1,215,956 ±34,713
1,045,919 ±32,200
28:20 (07:06)
121
Caesar 3
Aug 29, 2016
$5.99
56% (84%)
90,340 ±9,472
35,824 ±5,965
13:19 (02:48)
122
Dreamfall Chapters
Jul 21, 2017
$24.99
53% (83%/71%)
259,338 ±16,046
140,442 ±11,810
13:15 (05:03)
123
Hearts of Iron IV
Jun 6, 2016
$39.99
53% (83%/83%)
948,570 ±30,668
915,342 ±30,127
126:59 (50:48)
124
Assassin's Creed 2 Deluxe Edition
Mar 9, 2010
$19.99
53% (83%/86%)
1,444,921 ±37,831
1,082,003 ±32,749
22:42 (13:43)
125
Call of Duty: Black Ops II
Nov 12, 2012
$59.99
53% (83%/74%)
3,250,683 ±56,640
2,653,349 ±51,203
09:27 (03:23)
126
Call of Duty: Black Ops II
Nov 12, 2012
$59.99
53% (83%/74%)
3,250,683 ±56,640
2,843,893 ±53,000
85:38 (19:28)
127
Warhammer: End Times - Vermintide
Oct 23, 2015
$29.99
53% (83%/79%)
1,382,098 ±37,002
1,141,711 ±33,639
19:29 (06:11)
128
Command & Conquer: Red Alert 3
Jan 8, 2009
$19.99
53% (83%/82%)
896,910 ±29,822
715,711 ±26,645
15:49 (04:27)
129
Portal Knights
May 18, 2017
$19.99
51% (82%/72%)
631,342 ±25,027
614,987 ±24,701
19:31 (09:02)
130
Max Payne 3
May 31, 2012
$19.99
51% (82%/87%)
1,834,058 ±42,605
1,475,813 ±38,232
13:45 (09:16)
131
Crysis 2 - Maximum Edition
Mar 22, 2011
$29.99
51% (82%)
2,263,952 ±47,316
1,189,996 ±34,341
07:25 (02:43)
132
Castlevania: Lords of Shadow 2
Feb 25, 2014
$39.99
51% (82%/58%)
223,514 ±14,897
143,817 ±11,951
14:18 (09:24)
133
Endless Space 2
May 18, 2017
$39.99
51% (82%)
307,623 ±17,476
285,298 ±16,830
33:05 (13:39)
134
Endless Legend
Sep 18, 2014
$29.99
51% (82%/82%)
1,225,042 ±34,842
1,009,316 ±31,632
26:06 (08:41)
135
911 Operator
Feb 24, 2017
$14.99
51% (82%/68%)
157,835 ±12,519
153,941 ±12,364
07:30 (04:17)
136
The Legend of Korra
Oct 21, 2014
$14.99
51% (82%)
230,263 ±15,120
175,488 ±13,201
07:04 (04:05)
137
Prototype
Jun 10, 2009
$19.99
49% (81%/79%)
578,903 ±23,967
436,124 ±20,805
11:14 (05:05)
138
Call of Duty: Modern Warfare 3
Nov 8, 2011
$39.99
49% (81%)
3,497,820 ±58,739
3,139,056 ±55,665
25:19 (08:58)
139
XCOM 2
Feb 4, 2016
$59.99
46% (80%/88%)
1,769,678 ±41,854
1,585,364 ±39,622
72:11 (37:25)
140
Age of Wonders III
Mar 31, 2014
$29.99
46% (80%/80%)
641,726 ±25,232
579,422 ±23,977
46:37 (09:34)
141
Forts
Apr 19, 2017
$14.99
46% (80%/74%)
154,201 ±12,374
149,788 ±12,196
09:14 (04:57)
142
Endless Space - Collection
Jul 4, 2012
$19.99
46% (80%/77%)
1,338,226 ±36,412
1,023,854 ±31,859
24:43 (06:25)
143
Stronghold Legends: Steam Edition
Sep 15, 2016
$14.99
46% (80%)
468,834 ±21,571
221,956 ±14,845
09:10 (02:39)
144
Way of the Samurai 4
Jul 23, 2015
$24.99
44% (79%/72%)
79,956 ±8,911
70,870 ±8,390
15:10 (05:06)
145
Worms W.M.D
Aug 23, 2016
$29.99
44% (79%/79%)
334,362 ±18,219
212,870 ±14,538
06:26 (02:38)
146
SAMURAI WARRIORS 4-II
Sep 29, 2015
$49.99
44% (79%)
38,161 ±6,156
36,603 ±6,029
21:49 (09:51)
147
Resident Evil 6 / Biohazard 6
Mar 22, 2013
$29.99
44% (79%/69%)
1,381,320 ±36,992
1,066,168 ±32,509
19:18 (08:21)
148
Obduction
Aug 24, 2016
$29.99
44% (79%/76%)
102,541 ±10,091
85,408 ±9,210
10:39 (05:29)
149
Blockstorm
May 21, 2015
$4.99
44% (79%)
539,185 ±23,131
370,446 ±19,176
06:59 (02:59)
150
Convoy
Apr 21, 2015
$14.99
44% (79%/72%)
83,071 ±9,083
69,053 ±8,281
07:00 (02:43)
151
Planetary Annihilation: TITANS
Aug 18, 2015
$39.99
44% (79%)
571,375 ±23,811
407,568 ±20,113
15:39 (04:48)
152
Halcyon 6: Starbase Commander
Sep 8, 2016
$14.99
44% (79%/71%)
111,108 ±10,504
92,676 ±9,594
09:58 (04:44)
153
LEGO Pirates of the Caribbean: The Video Game
Oct 6, 2014
$19.99
44% (79%)
85,148 ±9,196
56,073 ±7,463
16:16 (06:40)
154
Medal of Honor: Airborne
Oct 6, 2009
$9.99
42% (78%/78%)
219,879 ±14,776
181,459 ±13,423
08:28 (02:31)
155
STASIS
Aug 31, 2015
$19.99
42% (78%/79%)
54,516 ±7,358
37,901 ±6,135
04:53 (04:04)
156
Sins of a Solar Empire: Trinity
Nov 16, 2011
$19.99
42% (78%/87%)
283,221 ±16,769
185,093 ±13,557
21:28 (05:49)
157
Homeworld: Deserts of Kharak
Jan 20, 2016
$49.99
42% (78%/79%)
212,870 ±14,538
176,007 ±13,220
13:03 (05:35)
158
Legends of Eisenwald
Jul 2, 2015
$19.99
42% (78%/71%)
186,910 ±13,623
98,388 ±9,885
14:16 (04:25)
159
Total War: ROME II - Emperor Edition
Sep 2, 2013
$59.95
40% (77%/76%)
2,630,244 ±50,981
2,475,784 ±49,469
140:29 (45:05)
160
Warhammer 40,000: Armageddon
Nov 26, 2014
$39.99
40% (77%/68%)
47,766 ±6,888
42,055 ±6,463
30:19 (09:22)
161
GALAK-Z
Oct 29, 2015
$19.99
40% (77%/78%)
200,409 ±14,107
72,428 ±8,481
05:13 (02:08)
162
Tropico 5
May 23, 2014
$19.99
40% (77%/75%)
1,199,342 ±34,475
1,042,285 ±32,144
22:10 (09:52)
163
Home Wars
Jun 13, 2017
$9.99
40% (77%)
18,431 ±4,278
17,133 ±4,125
06:36 (03:38)
164
RIFT
Mar 1, 2011
Free
38% (76%/84%)
2,940,723 ±53,889
1,552,914 ±39,215
42:05 (03:21)
165
Star Trek Online
Jan 31, 2012
Free
38% (76%/76%)
1,844,442 ±42,725
1,145,086 ±33,688
64:05 (05:13)
166
Galactic Civilizations III
May 14, 2015
$14.99
38% (76%/81%)
595,258 ±24,303
401,857 ±19,972
45:27 (08:30)
167
Ben and Ed
Dec 8, 2015
$9.99
38% (76%)
97,349 ±9,833
85,148 ±9,196
03:34 (01:53)
168
Galactic Civilizations II: Ultimate Edition
Dec 2, 2011
$19.99
38% (76%/92%)
666,647 ±25,717
313,334 ±17,637
20:08 (02:25)
169
Incoming Forces
Mar 6, 2014
$9.99
N/A (N/A/67%)
224,552 ±14,932
120,194 ±10,925
03:38 (03:29)
170
The Surge
May 15, 2017
$39.99
37% (75%/72%)
101,243 ±10,027
91,119 ±9,513
13:19 (06:48)
171
Wargame: European Escalation
Feb 22, 2012
$9.99
37% (75%/81%)
835,386 ±28,783
520,494 ±22,727
16:15 (03:14)
172
Company of Heroes 2
Jun 25, 2013
$19.99
37% (75%/80%)
3,826,990 ±61,420
2,375,060 ±48,457
69:17 (08:54)
173
Assassins Creed III
Nov 20, 2012
$19.99
37% (75%/80%)
1,109,261 ±33,158
885,488 ±29,632
33:51 (19:52)
174
Total War: WARHAMMER
May 24, 2016
$59.99
37% (75%/86%)
1,895,064 ±43,306
1,749,689 ±41,618
88:25 (34:25)
175
River City Ransom: Underground
Feb 27, 2017
$19.99
37% (75%)
62,823 ±7,899
57,371 ±7,549
10:09 (03:03)
176
Dungeons 2
Apr 24, 2015
$19.99
37% (75%/70%)
1,057,861 ±32,383
506,735 ±22,425
08:33 (03:41)
177
Hegemony III: Clash of the Ancients
Aug 25, 2015
$29.99
37% (75%)
24,921 ±4,975
20,768 ±4,542
17:58 (05:25)
178
Darksiders II Deathinitive Edition
Nov 5, 2015
$29.99
37% (75%)
1,107,184 ±33,127
470,910 ±21,618
10:26 (04:46)
179
Offworld Trading Company
Apr 28, 2016
$19.99
35% (74%/78%)
485,967 ±21,961
323,199 ±17,912
09:26 (04:00)
180
Total War: ATTILA
Feb 17, 2015
$44.99
35% (74%/80%)
1,122,501 ±33,355
1,024,373 ±31,867
103:24 (30:55)
181
Gems of War - Puzzle RPG
Nov 20, 2014
Free
35% (74%)
416,135 ±20,323
248,175 ±15,697
79:17 (04:25)
182
Majesty 2 Collection
Apr 19, 2011
$19.99
35% (74%)
130,837 ±11,399
86,446 ±9,266
16:30 (05:51)
183
Saints Row: Gat out of Hell
Jan 20, 2015
$14.99
33% (73%/66%)
714,153 ±26,616
458,450 ±21,331
07:32 (05:04)
184
Cossacks 3
Sep 20, 2016
$19.99
33% (73%)
305,287 ±17,409
291,788 ±17,020
34:37 (09:35)
185
Lux Delux
May 1, 2015
$9.99
33% (73%)
45,170 ±6,698
28,556 ±5,326
05:51 (02:39)
186
Jagged Alliance 2 - Wildfire
Nov 16, 2012
$1.39
31% (72%)
189,766 ±13,727
117,857 ±10,819
08:22 (06:18)
187
Cradle
Jul 24, 2015
$12.99
31% (72%/65%)
33,229 ±5,745
25,441 ±5,027
04:48 (03:35)
188
Gold Rush! Anniversary
Nov 7, 2014
$12.99
N/A (N/A)
134,472 ±11,556
61,784 ±7,833
03:49 (04:23)
189
MASSIVE CHALICE
Jun 1, 2015
$19.99
30% (71%/73%)
246,099 ±15,632
131,876 ±11,444
07:26 (02:18)
190
Blood Bowl 2
Sep 22, 2015
$19.99
28% (70%/76%)
246,877 ±15,656
229,484 ±15,095
44:25 (12:12)
191
Sid Meiers Civilization VI
Oct 20, 2016
$59.99
28% (70%/88%)
2,609,736 ±50,783
2,494,994 ±49,660
91:35 (31:41)
192
Grey Goo
Jan 23, 2015
$29.99
28% (70%/77%)
468,314 ±21,559
275,433 ±16,536
09:06 (03:55)
193
Space Run Galaxy
Jun 17, 2016
$19.99
28% (70%/75%)
223,254 ±14,889
74,245 ±8,587
09:24 (02:59)
194
Master of Orion
Aug 25, 2016
$29.99
27% (69%/74%)
201,707 ±14,152
185,872 ±13,586
48:58 (19:17)
195
Battlefleet Gothic: Armada
Apr 21, 2016
$39.99
27% (69%/77%)
281,144 ±16,707
262,194 ±16,134
20:03 (07:45)
196
Talisman: The Horus Heresy
Feb 22, 2016
$14.99
25% (68%)
29,594 ±5,421
20,768 ±4,542
04:46 (01:26)
197
Heaven Forest NIGHTS
Mar 14, 2017
$0.62
N/A (N/A)
149,528 ±12,186
112,146 ±10,553
03:57 (04:17)
198
Agent Awesome
Feb 17, 2015
$1.99
N/A (N/A)
299,576 ±17,246
187,430 ±13,642
03:43 (03:20)
199
The Long Journey Home
May 30, 2017
$39.99
25% (68%/68%)
31,411 ±5,585
27,777 ±5,252
09:18 (03:56)
200
Trine 3: The Artifacts of Power
Aug 20, 2015
$21.99
25% (68%)
631,601 ±25,033
318,007 ±17,768
06:16 (03:11)
201
Tap Heroes
Jun 5, 2015
$0.89
25% (68%)
185,612 ±13,576
152,384 ±12,301
10:37 (03:28)
202
DRAGON QUEST HEROES Slime Edition
Dec 3, 2015
$39.99
24% (67%)
53,737 ±7,306
48,545 ±6,944
14:34 (06:05)
203
Jagged Alliance - Back in Action
Feb 8, 2012
$19.99
24% (67%/62%)
262,194 ±16,134
185,872 ±13,586
45:53 (05:48)
204
Particula
Feb 2, 2015
$0.49
23% (66%)
662,753 ±25,642
450,662 ±21,149
05:00 (05:29)
205
King Lucas
Dec 1, 2016
$4.99
23% (66%)
35,046 ±5,900
30,113 ±5,469
04:28 (04:30)
206
Crazy Forest
Jul 6, 2016
$4.99
N/A (N/A)
130,318 ±11,376
87,484 ±9,321
03:15 (03:23)
207
Dead Island: Riptide Definitive Edition
May 31, 2016
$19.99
23% (66%)
173,671 ±13,132
83,071 ±9,083
06:51 (02:53)
208
Tom Clancy's Ghost Recon: Future Soldier
Jun 26, 2012
$19.99
23% (66%/71%)
319,824 ±17,819
277,250 ±16,591
14:39 (06:05)
209
Scourge of War: Waterloo
Nov 19, 2015
$49.99
23% (66%)
8,307 ±2,872
6,490 ±2,539
05:07 (02:34)
210
Heroes of Might & Magic III - HD Edition
Jan 28, 2015
$14.99
23% (66%/65%)
633,678 ±25,074
495,313 ±22,171
34:33 (08:47)
211
Crossout
Jul 26, 2017
Free
22% (65%)
1,429,345 ±37,627
1,195,448 ±34,419
16:00 (02:31)
212
Ace of Spades: Battle Builder
Dec 12, 2012
$14.99
22% (65%)
1,083,561 ±32,773
1,007,499 ±31,604
14:14 (04:16)
213
Prototype 2
Jul 24, 2012
$39.99
21% (64%/76%)
666,387 ±25,712
453,517 ±21,216
14:55 (08:48)
214
Homefront
Mar 14, 2011
$19.99
18% (62%/70%)
2,840,778 ±52,971
1,014,508 ±31,714
08:06 (02:50)
215
Sun Blast: Star Fighter
Apr 2, 2015
$0.49
17% (61%)
185,093 ±13,557
134,472 ±11,556
03:17 (03:01)
216
Stronghold Crusader 2
Sep 22, 2014
$39.99
17% (61%/65%)
818,771 ±28,496
582,018 ±24,031
18:43 (04:31)
217
Act of Aggression - Reboot Edition
Sep 2, 2015
$29.99
17% (61%/71%)
134,731 ±11,567
125,386 ±11,159
19:48 (06:10)
218
DETOUR
May 16, 2011
$0.49
16% (60%)
464,161 ±21,463
320,084 ±17,826
03:25 (02:22)
219
Purgatory
Jun 22, 2016
$0.99
16% (60%)
293,086 ±17,058
231,302 ±15,155
04:14 (03:31)
220
Realpolitiks
Feb 16, 2017
$24.99
14% (58%)
28,296 ±5,301
27,258 ±5,203
12:17 (07:14)
221
Enemy Front
Jun 10, 2014
$29.99
14% (58%/52%)
210,274 ±14,450
164,066 ±12,764
07:51 (02:36)
222
StarDrive 2
Apr 9, 2015
$29.99
13% (57%/70%)
71,649 ±8,436
62,563 ±7,883
28:54 (11:24)
223
NOBUNAGA'S AMBITION: Sphere of Influence - Ascension /
Mar 23, 2016
$59.99
13% (57%)
71,649 ±8,436
70,870 ±8,390
246:44 (78:56)
224
Sniper: Ghost Warrior
Jun 24, 2010
$7.99
12% (55%/55%)
1,110,040 ±33,170
840,837 ±28,877
14:10 (04:00)
225
Blitzkrieg 3
Jun 2, 2017
$19.99
11% (54%/68%)
63,861 ±7,964
60,227 ±7,734
19:15 (05:27)
226
Sid Meier's Civilization: Beyond Earth
Oct 23, 2014
$39.99
11% (53%/81%)
1,539,155 ±39,042
1,416,106 ±37,453
42:49 (16:30)
227
Heaven Island - VR MMO
Dec 23, 2015
$0.62
11% (53%)
553,722 ±23,440
398,483 ±19,888
05:23 (05:57)
228
Resident Evil: Operation Raccoon City
May 18, 2012
$29.99
10% (52%/48%)
147,711 ±12,111
117,338 ±10,795
07:23 (02:48)
229
Forgotten Heroes
Aug 12, 2016
$0.99
N/A (N/A)
83,590 ±9,111
80,216 ±8,926
04:53 (04:31)
230
Dead Rising 4
Mar 14, 2017
$59.99
9% (50%/74%)
71,649 ±8,436
66,717 ±8,140
13:30 (07:23)
231
Might and Magic: Heroes VII Trial by Fire
Aug 4, 2016
$29.99
9% (50%)
52,439 ±7,217
35,305 ±5,922
31:16 (12:09)
232
Syberia 3
Nov 13, 2017
$29.99
8% (49%/51%)
72,168 ±8,466
59,707 ±7,701
15:04 (07:22)
233
ROMANCE OF THE THREE KINGDOMS XIII / 13
Jan 27, 2016
$59.99
8% (48%)
217,803 ±14,706
215,466 ±14,627
118:30 (51:21)
234
Grind Zones
Jul 19, 2016
$4.99
7% (47%)
332,285 ±18,162
247,656 ±15,681
04:21 (04:00)
235
Might & Magic: Heroes VI
Oct 13, 2011
$19.99
7% (47%/77%)
666,128 ±25,707
589,027 ±24,175
53:55 (17:43)
236
Ballistic Protection
Oct 12, 2016
$0.99
6% (45%)
377,715 ±19,363
250,771 ±15,779
03:58 (04:24)
237
Dead6hot
Feb 1, 2016
$0.99
6% (45%)
314,113 ±17,659
264,271 ±16,198
04:12 (03:32)
238
Call of Duty: Modern Warfare Remastered
Jul 27, 2017
$39.99
6% (44%)
266,607 ±16,269
165,623 ±12,824
07:14 (02:51)
239
Nux
Aug 15, 2014
$6.99
N/A (N/A)
186,132 ±13,595
123,569 ±11,078
03:18 (03:15)
240
Rento Fortune - Online Dice Board Game
Jul 14, 2017
$4.99
6% (44%)
62,823 ±7,899
61,005 ±7,784
05:51 (03:59)
241
Sid Meier's Starships
Mar 12, 2015
$14.99
6% (44%/64%)
279,846 ±16,668
158,614 ±12,550
08:08 (02:58)
242
Might & Magic Heroes VII
Sep 29, 2015
$49.99
6% (44%)
137,846 ±11,700
125,645 ±11,170
54:30 (17:49)
243
Grand Ages: Medieval
Sep 25, 2015
$19.99
5% (43%/63%)
84,629 ±9,168
77,360 ±8,765
23:27 (07:37)
244
Operation: New Earth
Dec 14, 2016
Free
4% (40%)
91,638 ±9,540
57,112 ±7,531
20:45 (00:12)
245
Call of Duty: Infinite Warfare
Nov 3, 2016
$59.99
4% (39%/73%)
533,473 ±23,008
472,987 ±21,666
35:58 (10:20)
246
Spakoyno: Back to the USSR 2.0
Feb 15, 2016
$0.79
4% (38%)
272,837 ±16,458
175,228 ±13,191
03:58 (04:00)
247
Cavern Escape
Feb 20, 2017
$0.49
3% (37%)
256,223 ±15,950
226,888 ±15,009
03:29 (03:30)
248
Urban Empire
Jan 20, 2017
$29.99
3% (36%/62%)
48,026 ±6,906
45,170 ±6,698
10:49 (05:13)
249
Z.I.O.N.
May 7, 2016
$0.49
N/A (N/A)
212,351 ±14,521
187,170 ±13,633
06:18 (06:32)
250
Project Pulsation
Dec 15, 2015
$4.99
N/A (N/A)
205,601 ±14,288
181,199 ±13,414
06:30 (06:32)