App

Where are my Internets?
Where are my Internets?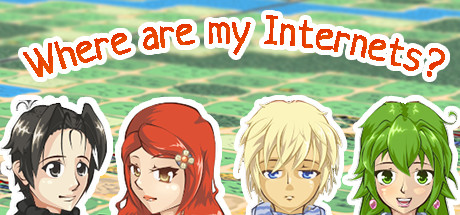 Store | Hub | SteamDB | Site
Developer: Lokator Studio Publisher: DNVA
Genre: Indie
Languages: English, Russian
Tags: Indie (57), Board Game (42), RPGMaker (39), Anime (37), Comedy (34), Turn-Based (32), Funny (31), Family Friendly (31), Grid-Based Movement (31), Co-op (30), Great Soundtrack (30), 4 Player Local (29), Third Person (29), Survival (28), Memes (26), Multiplayer (22), 2D (16)
Category: Single-player, Local Co-op, Steam Achievements, Steam Trading Cards, Partial Controller Support, Steam Cloud
Release date: Dec 16, 2016
Price: $2.99
Old userscore: 79% Owners: 7,584 ± 2,506
Players total: 3,034 ± 1,585 (40%)
Followers: 417
Peak concurrent players yesterday: 1
Playtime total: 05:03 (average) 05:49 (median)

Steam Spy is still in beta, so expect major bugs.
Peak daily concurrent players:
CCU data courtesy of SteamDB. Used with permission.
Hourly concurrent players:
YouTube:
The views data is based on top 50 videos uploaded last week. Actual number of views might be more than the number shown.

The displayed number of videos uploaded yesterday is limited to 50, so if there were more videos uploaded, the number will still show 50.

If the game has commonly used word as its name (like "FEAR" or "Volume") its number of Youtube views might be wrong.
Games similar to this one:
#
Game
Release date

Price

Score rank
(Userscore / Metascore)

Owners

Players

Playtime (Median)

1
Hustle Cat
Mar 16, 2016
$19.99
97% (97%)
13,868 ±3,389
12,568 ±3,226
12:03 (11:29)
2
Darkarta: A Broken Heart's Quest Collector's Edition
Mar 8, 2017
$5.99
N/A (N/A)
18,418 ±3,906
13,651 ±3,363
04:12 (04:00)
3
Luxor Evolved
Mar 1, 2012
$9.99
97% (97%)
34,236 ±5,325
12,351 ±3,198
04:25 (01:53)
4
Night Blights
Apr 15, 2016
$4.99
N/A (N/A)
19,501 ±4,019
12,568 ±3,226
02:43 (02:31)
5
Carrie's Order Up!
Sep 12, 2016
$2.99
N/A (N/A)
8,451 ±2,646
5,634 ±2,160
03:09 (02:25)
6
Beat Da Beat
Mar 10, 2016
$1.99
95% (96%)
5,417 ±2,118
5,200 ±2,075
04:30 (04:37)
7
Recursion Deluxe
Feb 12, 2016
$4.99
N/A (N/A)
14,951 ±3,519
9,534 ±2,810
02:35 (02:54)
8
Think To Die 3
Mar 27, 2017
$4.99
N/A (N/A)
5,634 ±2,160
3,250 ±1,641
02:34 (02:39)
9
A Good Snowman Is Hard To Build
Feb 25, 2015
$9.99
89% (94%)
6,934 ±2,396
5,200 ±2,075
05:16 (03:50)
10
[the Sequence]
Mar 30, 2016
$1.99
86% (93%)
13,218 ±3,309
11,051 ±3,025
04:35 (05:41)
11
12 Labours of Hercules
Mar 23, 2015
$2.99
86% (93%)
159,261 ±11,485
130,226 ±10,385
07:13 (04:36)
12
Chip's Challenge 2
May 28, 2015
$4.99
N/A (N/A)
20,368 ±4,107
10,617 ±2,965
23:47 (01:03)
13
Tribloos 2
Jan 30, 2014
$0.99
86% (93%)
119,825 ±9,962
44,203 ±6,051
03:06 (02:09)
14
SquareCells
Dec 7, 2015
$2.99
81% (92%)
22,535 ±4,320
14,951 ±3,519
04:41 (04:05)
15
Swapperoo
Dec 18, 2015
$4.99
N/A (N/A)
8,234 ±2,611
5,634 ±2,160
02:34 (03:07)
16
Koala Kids
Jun 22, 2015
$2.99
N/A (N/A)
14,084 ±3,416
8,884 ±2,713
03:25 (03:05)
17
Grapple
Mar 9, 2015
$7.99
81% (92%)
33,802 ±5,291
21,668 ±4,237
02:40 (02:14)
18
The Jackbox Party Pack
Nov 26, 2014
$24.99
81% (92%)
235,749 ±13,972
213,648 ±13,301
08:53 (04:40)
19
Steam and Metal
Feb 9, 2015
$4.99
N/A (N/A)
11,267 ±3,055
6,717 ±2,359
02:07 (02:13)
20
RePete
Mar 9, 2016
$1.99
N/A (N/A)
29,252 ±4,922
24,918 ±4,543
03:25 (03:28)
21
Frog Climbers
Oct 6, 2016
$6.99
N/A (N/A)
65,654 ±7,375
14,518 ±3,468
02:17 (01:46)
22
This Starry Midnight We Make
Jun 1, 2015
$9.99
N/A (N/A)
4,334 ±1,894
2,167 ±1,339
03:28 (05:13)
23
Griptape Backbone
May 5, 2017
Free
77% (91%)
5,634 ±2,160
3,684 ±1,747
00:37 (00:18)
24
Earthtongue
Apr 27, 2015
$4.99
74% (90%)
5,634 ±2,160
4,117 ±1,846
02:55 (02:04)
25
Forgotten, Not Lost - A Kinetic Novel
Apr 1, 2016
$0.99
74% (90%)
15,818 ±3,620
11,701 ±3,113
02:43 (03:08)
26
Cursed Sight
Aug 3, 2015
$1.74
74% (90%)
6,934 ±2,396
3,467 ±1,694
02:29 (01:54)
27
Fearful Symmetry
Dec 28, 2016
$9.99
N/A (N/A)
6,284 ±2,281
4,117 ±1,846
03:37 (04:20)
28
Tennis in the Face
Nov 18, 2015
$2.49
N/A (N/A)
10,401 ±2,935
6,284 ±2,281
02:44 (02:56)
29
Without Within 2
Nov 9, 2015
$1.24
74% (90%)
3,467 ±1,694
2,600 ±1,467
02:57 (02:43)
30
Clock Simulator
Jul 20, 2016
$0.99
74% (90%)
20,151 ±4,086
16,901 ±3,742
02:07 (01:26)
31
Dungeon Painter Studio
Feb 26, 2017
$14.99
74% (90%)
12,134 ±3,170
11,701 ±3,113
08:35 (04:05)
32
Girls Like Robots
Feb 14, 2014
$6.99
N/A (N/A)
147,993 ±11,071
37,269 ±5,556
04:17 (02:58)
33
Thrillville: Off the Rails
Jul 8, 2009
$9.99
71% (89%/70%)
24,052 ±4,463
21,235 ±4,194
05:34 (01:45)
34
The Reject Demon: Toko Chapter 0 Prelude
May 8, 2015
$4.99
71% (89%)
17,985 ±3,860
10,184 ±2,904
04:31 (02:27)
35
Alpha Runner
Sep 2, 2015
$0.99
71% (89%)
38,136 ±5,620
28,819 ±4,886
04:01 (03:06)
36
Bob Was Hungry
Aug 19, 2015
$9.99
71% (89%)
33,369 ±5,257
24,485 ±4,504
04:09 (03:35)
37
On Rusty Trails
Jun 13, 2016
$3.24
71% (89%/77%)
8,451 ±2,646
4,117 ±1,846
02:59 (02:20)
38
12 Labours of Hercules IV: Mother Nature (Platinum Edition)
Dec 25, 2015
$2.99
71% (89%)
38,786 ±5,668
27,302 ±4,756
06:51 (04:05)
39
Vampires: Guide Them to Safety!
Oct 22, 2014
$4.99
N/A (N/A)
6,284 ±2,281
4,334 ±1,894
02:24 (02:42)
40
In Between
Aug 21, 2015
$11.99
67% (88%/68%)
67,821 ±7,495
45,070 ±6,110
03:18 (03:27)
41
12 Labours of Hercules V: Kids of Hellas (Platinum Edition)
Jun 17, 2016
$2.99
67% (88%)
34,236 ±5,325
23,185 ±4,382
08:00 (04:32)
42
Loot Hound
Nov 17, 2015
$8.99
N/A (N/A)
2,167 ±1,339
1,733 ±1,198
05:06 (10:03)
43
Sophie's Curse
Mar 16, 2016
$4.99
67% (88%)
30,552 ±5,031
18,201 ±3,883
01:55 (01:24)
44
Psycho Starship Rampage
Sep 28, 2015
$9.99
64% (87%)
4,334 ±1,894
3,250 ±1,641
05:36 (02:36)
45
Oozi: Earth Adventure
Dec 5, 2013
$4.99
64% (87%/66%)
125,459 ±10,194
53,304 ±6,645
05:44 (02:22)
46
Anode
Oct 5, 2015
$3.99
N/A (N/A)
11,267 ±3,055
9,317 ±2,778
06:42 (04:01)
47
BAD END
Nov 25, 2015
$1.98
61% (86%)
15,384 ±3,570
5,200 ±2,075
01:51 (01:50)
48
Magma Tsunami
Jun 1, 2016
$0.99
N/A (N/A)
100,540 ±9,126
79,089 ±8,094
09:02 (06:27)
49
Army of Pixels
Oct 29, 2015
$4.99
N/A (N/A)
4,767 ±1,987
3,250 ±1,641
03:29 (08:27)
50
Asphyxia
Aug 4, 2015
$5.99
59% (85%)
31,202 ±5,084
11,267 ±3,055
04:31 (03:35)
51
Dead Man's Draw
Feb 6, 2014
$6.99
59% (85%)
24,485 ±4,504
13,218 ±3,309
12:45 (04:11)
52
Lift It
Jan 20, 2017
$4.99
N/A (N/A)
11,917 ±3,142
7,150 ±2,434
05:19 (06:44)
53
Air Missions: HIND
Jun 14, 2017
$11.04
56% (84%)
8,667 ±2,679
7,367 ±2,470
02:18 (01:41)
54
Star Sky -
Oct 23, 2015
$3.99
54% (83%)
11,484 ±3,084
5,634 ±2,160
02:04 (02:36)
55
Governor of Poker 2 - Premium Edition
Oct 11, 2010
$14.99
54% (83%)
30,985 ±5,066
16,468 ±3,693
31:24 (07:23)
56
Cyto
Jul 10, 2014
$3.99
N/A (N/A)
41,386 ±5,855
25,352 ±4,583
02:41 (03:17)
57
Cute Things Dying Violently
Sep 2, 2015
$2.99
N/A (N/A)
9,101 ±2,745
6,284 ±2,281
02:58 (03:14)
58
Gridworld
Dec 24, 2015
$0.99
51% (82%)
13,868 ±3,389
12,134 ±3,170
08:03 (01:05)
59
Rescue Team 5
Nov 18, 2015
$3.99
N/A (N/A)
18,418 ±3,906
11,267 ±3,055
02:39 (02:48)
60
Wanda - A Beautiful Apocalypse
Jun 3, 2016
$0.99
N/A (N/A)
51,354 ±6,522
21,235 ±4,194
02:38 (03:05)
61
Stay Alight
Mar 2, 2015
$3.99
49% (81%)
22,968 ±4,362
16,034 ±3,644
03:20 (02:56)
62
Collisions
Jul 28, 2015
$3.99
N/A (N/A)
40,736 ±5,809
23,835 ±4,443
04:00 (03:10)
63
Space Drifters 2D
Mar 28, 2016
$0.99
N/A (N/A)
17,551 ±3,813
10,184 ±2,904
03:20 (04:12)
64
Sentinel 4: Dark Star
Aug 13, 2015
$6.99
N/A (N/A)
8,451 ±2,646
5,417 ±2,118
13:11 (04:25)
65
The Last NightMary - A Lenda do Cabea de Cuia
Nov 2, 2015
$0.49
47% (80%)
60,237 ±7,064
39,436 ±5,715
03:24 (03:35)
66
hackmud
Sep 22, 2016
$19.99
47% (80%)
19,501 ±4,019
18,635 ±3,929
22:58 (06:17)
67
Job the Leprechaun
Jul 31, 2015
$0.99
N/A (N/A)
43,770 ±6,021
33,586 ±5,275
03:27 (03:27)
68
SinaRun
Oct 26, 2015
$2.99
45% (79%)
9,101 ±2,745
7,584 ±2,506
08:16 (01:42)
69
GamersGoMakers
Aug 8, 2014
$9.99
45% (79%)
21,885 ±4,258
15,818 ±3,620
22:39 (09:56)
70
Farm for your Life
Jun 16, 2014
$9.99
45% (79%)
36,619 ±5,508
30,335 ±5,013
06:52 (05:19)
71
Terraform
May 8, 2015
$2.99
N/A (N/A)
7,367 ±2,470
1,950 ±1,271
02:01 (02:19)
72
Neon Prism
Nov 18, 2016
$1.99
42% (78%)
106,824 ±9,406
66,305 ±7,411
03:16 (03:26)
73
Egg Returns Home
May 5, 2015
$1.99
42% (78%)
38,786 ±5,668
30,335 ±5,013
03:09 (02:51)
74
Idle Evolution
Apr 3, 2017
$3.49
42% (78%)
6,717 ±2,359
6,500 ±2,320
12:16 (06:59)
75
Archimedes
Oct 6, 2016
$2.99
42% (78%)
11,267 ±3,055
7,584 ±2,506
02:05 (01:42)
76
Paranormal State: Poison Spring
Apr 9, 2014
$9.99
42% (78%)
34,886 ±5,376
22,752 ±4,341
03:53 (03:41)
77
The Survey
Oct 27, 2016
$4.99
42% (78%)
3,467 ±1,694
3,250 ±1,641
01:45 (01:56)
78
MOAI 2: Path to Another World
Jul 16, 2015
$7.99
N/A (N/A)
2,600 ±1,467
1,733 ±1,198
19:54 (26:09)
79
Pixel Puzzles 2: Birds
Feb 20, 2015
$9.99
N/A (N/A)
130,226 ±10,385
43,336 ±5,991
04:03 (03:15)
80
ConflictCraft
Dec 8, 2016
$2.99
N/A (N/A)
6,067 ±2,242
5,200 ±2,075
03:30 (03:53)
81
Fate Tectonics
Sep 9, 2015
$9.99
39% (76%)
13,218 ±3,309
5,850 ±2,201
02:28 (02:27)
82
Optika
Aug 26, 2016
$2.49
39% (76%)
16,034 ±3,644
10,617 ±2,965
03:18 (03:11)
83
Particulars
Nov 19, 2014
$5.99
N/A (N/A/74%)
35,319 ±5,409
17,335 ±3,789
03:50 (03:38)
84
Racecraft
Mar 4, 2016
$19.99
N/A (N/A)
26,002 ±4,641
4,117 ±1,846
01:04 (01:26)
85
Totally Unbalanced
Jul 29, 2016
$3.99
N/A (N/A)
6,717 ±2,359
5,634 ±2,160
02:46 (03:34)
86
The Deletion
Jul 30, 2015
$1.99
35% (74%)
17,985 ±3,860
10,617 ±2,965
03:11 (03:00)
87
Turbo Pug 3D
Sep 20, 2016
$1.99
N/A (N/A)
260,668 ±14,691
190,463 ±12,559
03:20 (03:30)
88
GO AWAY, THERE'S KUMIS OVER THERE!
Oct 28, 2016
$0.99
35% (74%)
10,617 ±2,965
8,234 ±2,611
03:05 (03:23)
89
Axel & Pixel
Oct 6, 2010
$4.99
N/A (N/A)
22,102 ±4,279
6,717 ±2,359
02:14 (01:28)
90
Western FPS
Mar 13, 2017
$0.99
N/A (N/A)
155,361 ±11,343
143,226 ±10,891
06:16 (06:32)
91
Kombine
Oct 14, 2016
$0.99
N/A (N/A)
18,201 ±3,883
15,384 ±3,570
03:48 (03:47)
92
Beeftacular
Aug 26, 2016
$2.99
31% (72%)
10,834 ±2,996
6,284 ±2,281
02:29 (02:58)
93
Caravanserail
Mar 10, 2016
$2.99
N/A (N/A)
17,118 ±3,765
11,917 ±3,142
02:50 (03:09)
94
Laserlife
Sep 22, 2015
$14.99
N/A (N/A)
13,001 ±3,282
7,150 ±2,434
07:36 (02:54)
95
One Last Chance
Apr 7, 2016
$3.99
N/A (N/A)
8,234 ±2,611
3,467 ±1,694
02:44 (03:22)
96
Herding Dog
Jan 15, 2016
$2.99
N/A (N/A)
8,451 ±2,646
3,684 ±1,747
03:48 (03:25)
97
Zipple World
Jan 19, 2016
$4.99
N/A (N/A)
5,634 ±2,160
3,684 ±1,747
03:48 (03:23)
98
Love in the Glen
Jun 8, 2016
$5.99
N/A (N/A)
11,917 ±3,142
8,017 ±2,577
02:34 (03:00)
99
Won't You Be My Laser?
Sep 2, 2016
$0.99
N/A (N/A)
11,484 ±3,084
8,234 ±2,611
03:20 (03:50)
100
Winexy
Jan 13, 2017
$0.99
28% (70%)
16,251 ±3,669
9,751 ±2,842
02:27 (02:41)
101
Alter World
May 29, 2015
$1.99
27% (69%)
147,993 ±11,071
108,774 ±9,492
03:46 (03:52)
102
Sinister City
Oct 20, 2014
$0.99
27% (69%)
171,395 ±11,914
113,974 ±9,716
03:13 (02:43)
103
1931: Scheherazade at the Library of Pergamum
Mar 26, 2015
$24.99
27% (69%)
13,001 ±3,282
8,234 ±2,611
14:20 (05:32)
104
Power of Love
Jul 21, 2015
$0.49
N/A (N/A)
24,702 ±4,523
14,518 ±3,468
04:07 (03:18)
105
Pester
Aug 21, 2015
$0.99
N/A (N/A)
42,903 ±5,961
30,985 ±5,066
03:08 (03:07)
106
XCavalypse
Jun 6, 2016
$5.99
N/A (N/A)
3,034 ±1,585
2,167 ±1,339
02:47 (03:20)
107
Fergus The Fly
Feb 1, 2017
$0.99
N/A (N/A)
266,518 ±14,855
245,067 ±14,245
03:26 (03:30)
108
Highborn
Feb 19, 2013
$1.99
N/A (N/A)
17,985 ±3,860
11,267 ±3,055
04:57 (02:44)
109
Broken Dreams
Feb 19, 2016
$1.99
22% (65%)
184,396 ±12,358
132,176 ±10,463
03:59 (03:30)
110
Goodnight Butcher
Dec 18, 2015
$1.99
N/A (N/A)
27,519 ±4,774
21,451 ±4,215
03:32 (03:30)
111
Mind Games
Mar 4, 2016
$2.99
20% (63%)
14,301 ±3,442
11,051 ±3,025
03:11 (02:36)
112
Marble Duel
Nov 12, 2015
$4.99
20% (63%)
11,484 ±3,084
8,017 ±2,577
07:47 (03:37)
113
Football Blitz
Jan 4, 2017
$3.99
N/A (N/A)
4,767 ±1,987
3,034 ±1,585
02:54 (02:34)
114
One way to exit
Mar 12, 2016
$0.69
N/A (N/A)
189,596 ±12,530
167,278 ±11,770
03:20 (03:30)
115
Way of Gold and Steel
Aug 17, 2015
$6.99
15% (59%)
18,418 ±3,906
13,001 ±3,282
02:11 (01:41)
116
Rage Runner
May 16, 2014
$4.99
N/A (N/A)
22,318 ±4,300
13,434 ±3,336
03:07 (02:46)
117
Dance Magic
Feb 15, 2016
$9.99
N/A (N/A)
9,317 ±2,778
6,717 ±2,359
03:45 (03:42)
118
Star Chronicles: Delta Quadrant
Jul 7, 2015
$0.99
15% (58%)
373,342 ±17,580
253,734 ±14,495
03:55 (03:30)
119
Backgammon Blitz
Nov 12, 2015
$3.99
14% (57%)
9,751 ±2,842
4,334 ±1,894
05:49 (04:15)
120
Color Syndrome
Aug 1, 2016
$0.99
N/A (N/A)
27,519 ±4,774
22,318 ±4,300
03:35 (03:54)
121
Sky to Fly: Soulless Leviathan
Jul 22, 2016
$3.99
N/A (N/A)
4,334 ±1,894
2,817 ±1,527
01:58 (02:33)
122
FBI MANIA
Jan 31, 2017
$0.99
N/A (N/A)
67,821 ±7,495
65,004 ±7,338
03:47 (03:30)
123
Drizzlepath
Mar 12, 2015
$0.98
11% (52%)
18,201 ±3,883
11,051 ±3,025
01:42 (01:37)
124
King's Guard TD
Jun 8, 2016
$0.74
N/A (N/A)
138,676 ±10,717
98,807 ±9,047
03:02 (03:04)
125
Quantum Rush Champions
Dec 4, 2014
$9.99
10% (51%)
36,186 ±5,475
29,035 ±4,904
03:56 (04:20)
126
Bunny & Piggy
Nov 30, 2016
$0.99
N/A (N/A)
45,936 ±6,169
38,353 ±5,636
03:10 (03:29)
127
Wildlife Park 2 - Dino World
Jul 17, 2014
$3.99
N/A (N/A)
40,953 ±5,824
19,068 ±3,974
05:38 (02:34)
128
Astro Emporia
Feb 2, 2015
$0.99
N/A (N/A)
12,351 ±3,198
8,451 ±2,646
02:22 (02:01)
129
Bloop Reloaded
Feb 6, 2015
$9.99
N/A (N/A)
105,524 ±9,349
71,288 ±7,684
03:10 (03:15)
130
Partical City Guardians
Aug 4, 2016
$1.05
7% (47%)
64,571 ±7,313
58,721 ±6,974
03:38 (03:30)
131
Burst
Mar 14, 2016
$1.99
N/A (N/A)
120,692 ±9,998
115,058 ±9,762
04:02 (04:00)
132
Autumn
May 14, 2016
$2.99
N/A (N/A)
55,254 ±6,765
45,503 ±6,139
05:38 (03:30)
133
Reptilian Rebellion
Aug 7, 2016
$0.49
N/A (N/A)
38,353 ±5,636
32,936 ±5,223
03:42 (04:00)
134
Melting Hearts: Our Love Will Grow 2
Apr 29, 2016
$0.49
N/A (N/A)
14,734 ±3,493
8,884 ±2,713
04:16 (03:32)
135
Space Hotel
Jan 4, 2017
$1.99
N/A (N/A)
2,600 ±1,467
1,733 ±1,198
01:36 (01:51)
136
Industry Transporters
Aug 31, 2015
$9.99
N/A (N/A)
3,467 ±1,694
1,083 ±947
00:54 (01:21)
137
Ninja Stealth 2
Jan 30, 2017
$0.49
5% (41%)
21,018 ±4,173
13,434 ±3,336
03:09 (03:06)
138
European Ship Simulator
Nov 4, 2016
$4.99
4% (38%)
42,903 ±5,961
39,653 ±5,731
04:07 (01:50)
139
iREC
Jan 16, 2017
$2.99
N/A (N/A)
8,451 ±2,646
4,334 ±1,894
02:23 (02:45)
140
Hide and Secret Treasure of the Ages
Jun 17, 2016
$2.99
N/A (N/A)
13,651 ±3,363
10,617 ±2,965
03:38 (03:33)
141
Streets of Chaos
Jan 28, 2015
$0.99
N/A (N/A)
130,442 ±10,394
89,923 ±8,630
03:16 (03:30)
142
Labyrinth Simulator
Sep 21, 2015
$4.99
N/A (N/A)
12,134 ±3,170
7,584 ±2,506
02:34 (03:06)
143
Robot vs Birds Zombies
Jul 23, 2015
$0.99
1% (28%)
16,901 ±3,742
11,917 ±3,142
03:55 (03:18)
144
Hyposphere
May 5, 2016
$2.99
N/A (N/A)
168,145 ±11,801
140,626 ±10,792
05:01 (05:01)
145
Cyber Team Manager
Jan 18, 2016
$4.99
N/A (N/A)
6,500 ±2,320
4,117 ±1,846
02:54 (02:59)
146
Space Odyssey
Jun 26, 2017
$1.99
N/A (N/A)
17,335 ±3,789
16,251 ±3,669
03:57 (04:01)