App

Where are my Internets?
Where are my Internets?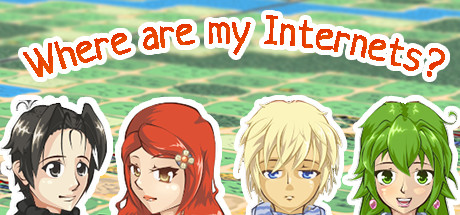 Store | Hub | SteamDB | Site
Developer: Lokator Studio Publisher: DNVA
Genre: Indie
Languages: English, Russian
Tags: Indie (57), Board Game (42), RPGMaker (39), Anime (37), Comedy (34), Turn-Based (32), Funny (31), Family Friendly (31), Grid-Based Movement (31), Great Soundtrack (30), Co-op (30), Third Person (29), 4 Player Local (29), Survival (28), Memes (27), Multiplayer (22), 2D (16)
Category: Single-player, Local Co-op, Steam Achievements, Steam Trading Cards, Partial Controller Support, Steam Cloud
Release date: Dec 16, 2016
Price: $0.89 70%
Old userscore: 78% Owners: 6,374 ± 2,202
Players total: 2,788 ± 1,457 (43.75%)
Followers: 353
Peak concurrent players yesterday: 3
Playtime total: 03:38 (average) 04:43 (median)

Steam Spy is still in beta, so expect major bugs.
Peak daily concurrent players:
CCU data courtesy of SteamDB. Used with permission.
Hourly concurrent players:
YouTube:
The views data is based on top 50 videos uploaded last week. Actual number of views might be more than the number shown.

The displayed number of videos uploaded yesterday is limited to 50, so if there were more videos uploaded, the number will still show 50.

If the game has commonly used word as its name (like "FEAR" or "Volume") its number of Youtube views might be wrong.
Games similar to this one:
#
Game
Release date

Price

Score rank
(Userscore / Metascore)

Owners

Players

Playtime (Median)

1
BOROS
Apr 6, 2017
$2.49
N/A (N/A)
3,984 ±1,741
2,589 ±1,404
03:02 (02:41)
2
Hade
Dec 2, 2016
$0.89
N/A (N/A)
10,158 ±2,780
7,768 ±2,431
04:02 (03:05)
3
Quell Reflect
May 14, 2015
$0.79
N/A (N/A)
16,930 ±3,590
1,992 ±1,231
01:22 (01:42)
4
Carrie's Order Up!
Sep 12, 2016
$1.49
N/A (N/A)
8,565 ±2,553
7,170 ±2,336
03:04 (03:12)
5
Space Hole
Sep 2, 2016
$0.49
N/A (N/A)
4,382 ±1,826
3,187 ±1,557
02:45 (03:04)
6
MasterpieceVR
Jan 20, 2017
Free
N/A (N/A)
16,532 ±3,547
8,166 ±2,493
00:31 (00:14)
7
SculptrVR
Apr 4, 2016
$13.39
N/A (N/A)
23,901 ±4,265
4,780 ±1,907
08:51 (00:40)
8
Bad Caterpillar
Oct 19, 2016
$0.99
N/A (N/A)
21,909 ±4,084
16,332 ±3,526
03:17 (03:20)
9
Polyology
Mar 28, 2016
$1.69
N/A (N/A)
7,370 ±2,368
5,378 ±2,023
03:08 (03:01)
10
Recursion Deluxe
Feb 12, 2016
$1.24
N/A (N/A)
12,747 ±3,115
7,967 ±2,462
03:19 (02:42)
11
Orbox C
Dec 28, 2016
$2.99
N/A (N/A)
8,365 ±2,523
6,573 ±2,236
03:15 (03:10)
12
Narcissu 10th Anniversary Anthology Project
Jan 27, 2016
$2.24
100% (100%)
79,671 ±7,787
15,934 ±3,482
02:37 (02:03)
13
Spooky Bonus
Oct 15, 2015
$4.99
N/A (N/A)
2,390 ±1,348
2,191 ±1,291
09:48 (10:14)
14
Delicious - Emily's Christmas Carol
Nov 4, 2016
$6.49
N/A (N/A)
2,589 ±1,404
2,390 ±1,348
11:35 (15:33)
15
Beat Da Beat
Mar 10, 2016
$1.99
95% (96%)
4,979 ±1,947
4,780 ±1,907
03:04 (03:09)
16
CapitalShip VR
Oct 17, 2016
$14.99
N/A (N/A)
996 ±870
598 ±674
00:11 (00:10)
17
Darkarta: A Broken Heart's Quest Collector's Edition
Mar 8, 2017
$3.05
N/A (N/A)
17,727 ±3,673
13,743 ±3,234
03:53 (03:51)
18
Dream Car Racing 3D
Sep 22, 2016
$11.24
92% (95%)
7,569 ±2,400
6,971 ±2,303
11:40 (06:09)
19
Prompt
Jul 6, 2015
$0.99
N/A (N/A)
2,788 ±1,457
1,195 ±953
01:55 (02:26)
20
Golf for Workgroups
Apr 6, 2017
$3.74
N/A (N/A)
2,589 ±1,404
797 ±778
00:11 (00:12)
21
Cryste: the Faith of Fire Vol.1
May 17, 2017
$11.24
89% (94%)
1,793 ±1,168
1,593 ±1,101
03:46 (04:57)
22
A Good Snowman Is Hard To Build
Feb 25, 2015
$2.99
86% (93%)
5,378 ±2,023
4,979 ±1,947
01:27 (01:20)
23
ShapeLab
Mar 23, 2017
Free
N/A (N/A)
4,979 ±1,947
1,793 ±1,168
03:24 (02:27)
24
Cubot
Jan 8, 2015
$0.99
86% (93%)
37,047 ±5,310
26,889 ±4,524
01:50 (01:04)
25
I Expect You To Die
Apr 25, 2017
$24.99
N/A (N/A/76%)
2,788 ±1,457
2,589 ±1,404
01:28 (01:20)
26
Think To Die 3
Mar 27, 2017
$0.99
N/A (N/A)
2,788 ±1,457
797 ±778
02:30 (02:49)
27
The Puzzle Room VR ( Escape The Room )
Jan 4, 2017
$8.44
N/A (N/A)
2,657 ±1,732
1,771 ±1,414
02:05 (01:19)
28
First Person Tennis - The Real Tennis Simulator
Dec 6, 2016
$19.99
N/A (N/A)
1,992 ±1,231
1,992 ±1,231
04:19 (10:28)
29
Solar War
Jan 6, 2015
$4.99
N/A (N/A)
886 ±1,000
590 ±816
01:24 (01:23)
30
Paddle Up
Aug 24, 2016
$4.99
82% (92%)
6,772 ±2,270
6,772 ±2,270
06:26 (02:53)
31
Mu Cartographer
Aug 24, 2016
$0.99
82% (92%)
14,341 ±3,304
2,788 ±1,457
00:47 (01:44)
32
Soundboxing
Sep 29, 2016
$5.19
78% (91%)
7,967 ±2,462
7,967 ±2,462
05:03 (03:54)
33
This Starry Midnight We Make
Jun 1, 2015
$2.49
N/A (N/A)
5,179 ±1,985
3,386 ±1,605
04:36 (04:58)
34
Titans of Space 2.0
May 23, 2016
$4.95
78% (91%)
7,967 ±2,462
6,772 ±2,270
00:34 (00:29)
35
Never give up!
Dec 29, 2016
$1.19
N/A (N/A)
2,390 ±1,348
1,793 ±1,168
04:58 (04:15)
36
A Fear Of Heights, And Other Things
Oct 17, 2016
$0.89
N/A (N/A)
1,992 ±1,231
1,593 ±1,101
00:52 (01:19)
37
Community College Hero: Trial by Fire
Dec 4, 2015
$2.99
78% (91%)
6,573 ±2,236
5,179 ±1,985
07:37 (06:19)
38
Diesel Guns
Sep 22, 2016
$2.49
N/A (N/A)
1,593 ±1,101
1,195 ±953
00:55 (01:25)
39
Hack Run ZERO
Jul 13, 2015
$1.24
N/A (N/A)
7,370 ±2,368
996 ±870
00:32 (00:27)
40
Grav|Lab - Gravitational Testing Facility & Observations
May 18, 2017
$14.99
N/A (N/A)
1,992 ±1,231
1,593 ±1,101
01:24 (01:51)
41
Fearful Symmetry
Dec 28, 2016
$1.99
N/A (N/A)
7,768 ±2,431
5,975 ±2,132
03:09 (03:42)
42
Parallax
Mar 10, 2015
$2.49
74% (90%/68%)
9,560 ±2,697
6,374 ±2,202
01:41 (00:48)
43
King Kaiju
Jan 31, 2017
$2.99
74% (90%)
6,174 ±2,168
4,979 ±1,947
01:57 (00:58)
44
Heart's Medicine - Time to Heal
Sep 20, 2016
$4.93
74% (90%)
15,137 ±3,394
12,946 ±3,139
10:29 (08:11)
45
The Keep
Mar 16, 2017
$4.94
N/A (N/A/61%)
4,581 ±1,867
2,788 ±1,457
02:24 (02:25)
46
Without Within 2
Nov 9, 2015
$2.49
70% (89%)
4,780 ±1,907
3,187 ±1,557
02:05 (01:52)
47
THE WALL
Jun 7, 2017
$1.99
70% (89%)
2,390 ±1,348
1,793 ±1,168
00:43 (00:55)
48
PowersVR
Feb 8, 2017
$7.49
N/A (N/A)
1,593 ±1,101
1,195 ±953
00:36 (00:43)
49
Weed Shop 2
Mar 30, 2017
$7.49
67% (88%)
2,988 ±1,508
2,988 ±1,508
07:48 (07:16)
50
Until I Have You
Apr 4, 2016
$2.79
N/A (N/A)
2,988 ±1,508
1,992 ±1,231
03:39 (05:49)
51
The Shape Of Heart
Oct 25, 2016
$1.79
67% (88%)
5,577 ±2,060
4,780 ±1,907
01:50 (02:10)
52
Loot Hound
Nov 17, 2015
$8.99
N/A (N/A)
2,390 ±1,348
2,191 ±1,291
04:15 (04:43)
53
Sethian
Nov 9, 2016
$4.99
N/A (N/A)
2,390 ±1,348
2,191 ±1,291
02:03 (03:12)
54
Lobotomy Corporation | Monster Management Simulation
Dec 16, 2016
$14.99
62% (86%)
15,536 ±3,439
15,137 ±3,394
07:47 (02:49)
55
Counter Fight
Nov 14, 2016
$5.59
59% (85%)
1,992 ±1,231
1,593 ±1,101
07:40 (08:15)
56
CrossCells
May 26, 2017
$2.99
59% (85%)
4,183 ±1,784
3,784 ±1,697
04:55 (03:02)
57
Blasters of the Universe
Jul 14, 2016
$7.49
N/A (N/A)
6,573 ±2,236
797 ±778
01:15 (01:30)
58
Sym
May 7, 2015
$7.99
N/A (N/A/61%)
2,390 ±1,348
1,394 ±1,030
02:25 (03:27)
59
Werewolves Within
Dec 6, 2016
$20.09
56% (84%)
4,183 ±1,784
1,394 ±1,030
04:24 (03:19)
60
Cosmos Crash VR
Dec 22, 2016
$3.99
N/A (N/A)
1,793 ±1,168
1,593 ±1,101
04:13 (00:31)
61
The Last Warlock
Aug 24, 2015
$3.59
N/A (N/A)
6,374 ±2,202
398 ±550
02:15 (01:30)
62
Castaway Paradise - Town Building Sim
May 19, 2015
$4.94
56% (84%)
10,955 ±2,887
10,357 ±2,808
13:55 (05:30)
63
SnakEscape
Feb 12, 2016
$1.19
N/A (N/A)
8,565 ±2,553
5,378 ±2,023
02:21 (02:53)
64
Craft Keep VR
Apr 21, 2017
$10.04
N/A (N/A)
2,589 ±1,404
2,390 ±1,348
01:32 (02:07)
65
Don't Disturb
Sep 1, 2016
$1.74
54% (83%)
2,988 ±1,508
1,992 ±1,231
01:58 (02:14)
66
Welcome to Boon Hill
Oct 31, 2015
$1.99
N/A (N/A)
1,992 ±1,231
1,195 ±953
02:06 (02:47)
67
Guided Meditation VR
Oct 3, 2016
$8.24
N/A (N/A)
4,382 ±1,826
3,784 ±1,697
00:57 (00:28)
68
Dream Tale
Dec 16, 2014
$0.99
N/A (N/A)
15,536 ±3,439
797 ±778
00:23 (00:29)
69
Asteroids Minesweeper
Jul 8, 2016
$0.69
N/A (N/A)
2,390 ±1,348
797 ±778
01:02 (00:53)
70
ISLANDS: Non-Places
Nov 17, 2016
$2.99
46% (80%)
5,577 ±2,060
2,191 ±1,291
00:36 (00:44)
71
Prismatica
Jul 1, 2015
$0.99
N/A (N/A)
12,150 ±3,041
2,988 ±1,508
00:23 (00:14)
72
Interkosmos
Apr 25, 2017
$4.49
N/A (N/A)
1,195 ±953
797 ±778
01:33 (01:39)
73
Fabulous - Angela's Fashion Fever
Oct 19, 2016
$6.49
N/A (N/A)
1,793 ±1,168
1,394 ±1,030
07:41 (06:24)
74
Bunny Hop League
Apr 27, 2017
$4.49
38% (76%)
14,341 ±3,304
10,357 ±2,808
04:05 (03:36)
75
Burly Men at Sea
Sep 29, 2016
$4.99
N/A (N/A/82%)
3,187 ±1,557
1,992 ±1,231
01:35 (01:24)
76
Minimalism
Feb 8, 2017
$0.49
38% (76%)
13,146 ±3,163
9,760 ±2,725
04:26 (04:38)
77
Puzzle Strike
Dec 21, 2015
$9.89
N/A (N/A)
1,394 ±1,030
1,195 ±953
05:29 (08:07)
78
CALENDULA
Feb 2, 2016
$1.95
35% (74%/67%)
5,776 ±2,096
2,988 ±1,508
01:30 (01:38)
79
Earthfall
Apr 26, 2017
$14.99
35% (74%)
2,390 ±1,348
1,992 ±1,231
11:12 (17:36)
80
ICED
May 15, 2017
$6.49
35% (74%)
2,589 ±1,404
2,191 ±1,291
02:12 (03:13)
81
Valiant
May 2, 2016
Free
N/A (N/A)
2,191 ±1,291
1,793 ±1,168
00:45 (01:23)
82
Don't Let Go!
Sep 13, 2016
$2.24
N/A (N/A)
9,560 ±2,697
3,984 ±1,741
06:19 (00:32)
83
Pythagoria
Jan 22, 2016
$0.69
33% (73%)
6,772 ±2,270
5,776 ±2,096
02:05 (01:50)
84
(VR) The Han Dynasty Imperial Mausoleums
Jan 20, 2017
$1.99
N/A (N/A)
886 ±1,000
886 ±1,000
06:30 (09:35)
85
HOUND
Mar 28, 2017
$0.99
N/A (N/A)
2,988 ±1,508
398 ±550
00:06 (00:03)
86
vrAMP
May 27, 2016
$3.74
N/A (N/A)
1,992 ±1,231
1,793 ±1,168
00:31 (00:36)
87
Love in the Glen
Jun 8, 2016
$2.99
N/A (N/A)
13,345 ±3,187
8,565 ±2,553
02:41 (02:54)
88
Riddles Of The Past
Jul 22, 2016
$1.74
28% (70%)
3,984 ±1,741
2,390 ±1,348
03:32 (04:30)
89
Crystal Catacombs
Jan 15, 2015
$2.79
N/A (N/A)
27,686 ±4,590
3,187 ±1,557
01:27 (03:07)
90
Herding Dog
Jan 15, 2016
$0.74
N/A (N/A)
8,166 ±2,493
5,179 ±1,985
02:53 (02:56)
91
Crash Wheels
Dec 14, 2016
$2.74
27% (69%)
3,784 ±1,697
3,386 ±1,605
04:46 (04:19)
92
League of Mermaids
Sep 22, 2015
$1.04
N/A (N/A)
16,532 ±3,547
1,593 ±1,101
03:08 (02:36)
93
Storm
Jun 27, 2013
$9.99
27% (69%/63%)
23,901 ±4,265
11,552 ±2,965
02:01 (01:04)
94
Armor Clash
Oct 21, 2015
$6.99
24% (67%)
1,593 ±1,101
1,195 ±953
01:41 (01:58)
95
Farm Frenzy: Hurricane Season
Jul 3, 2015
$0.69
N/A (N/A)
2,988 ±1,508
1,992 ±1,231
26:19 (22:19)
96
Copter and Sky
Jul 21, 2016
$2.99
N/A (N/A)
6,573 ±2,236
2,589 ±1,404
00:30 (00:30)
97
JiPS
Apr 19, 2016
$2.24
N/A (N/A)
3,585 ±1,652
3,187 ±1,557
04:02 (04:03)
98
Quadrant
May 26, 2015
$0.99
22% (65%)
4,183 ±1,784
1,992 ±1,231
04:29 (05:20)
99
Strategy & Tactics: Dark Ages
Dec 12, 2016
$5.99
N/A (N/A)
3,386 ±1,605
2,191 ±1,291
05:38 (02:08)
100
Castles
Oct 9, 2015
$0.5
N/A (N/A)
2,788 ±1,457
1,992 ±1,231
02:49 (03:38)
101
Dance Magic
Feb 15, 2016
$2.49
N/A (N/A)
8,166 ±2,493
7,370 ±2,368
03:30 (02:51)
102
Roads of Rome
Oct 16, 2015
$3.99
N/A (N/A)
1,476 ±1,291
1,476 ±1,291
05:07 (06:11)
103
Farm Life: Natures Adventure
Aug 23, 2016
$0.62
N/A (N/A)
4,581 ±1,867
3,585 ±1,652
03:56 (02:55)
104
VR Karts
Apr 17, 2015
Free
N/A (N/A)
886 ±1,000
886 ±1,000
02:23 (03:25)
105
Ski Park Tycoon
Feb 3, 2015
$9.99
N/A (N/A)
2,788 ±1,457
1,593 ±1,101
18:24 (27:59)
106
Rat Simulator
May 8, 2017
$4.49
N/A (N/A)
1,394 ±1,030
797 ±778
03:57 (02:30)
107
Strange Night
Jul 26, 2016
$3.19
12% (55%)
5,776 ±2,096
1,593 ±1,101
00:37 (00:40)
108
Sky to Fly: Soulless Leviathan
Jul 22, 2016
$2.99
N/A (N/A)
6,971 ±2,303
4,382 ±1,826
02:00 (02:20)
109
XenoBloom
Sep 23, 2015
$4.99
N/A (N/A)
1,992 ±1,231
1,992 ±1,231
01:48 (03:35)
110
Panda School Browser
May 22, 2015
$1.99
N/A (N/A)
2,788 ±1,457
199 ±389
00:18 (00:06)
111
Arctic alive
Jan 29, 2016
$1.99
N/A (N/A)
1,476 ±1,291
295 ±577
00:31 (00:15)
112
D.U.S.T.
Oct 19, 2015
$14.99
11% (53%)
3,984 ±1,741
3,784 ±1,697
02:50 (01:16)
113
Townopolis
Apr 27, 2016
$0.99
N/A (N/A)
16,532 ±3,547
10,955 ±2,887
02:54 (02:45)
114
Drift King: Survival
Nov 24, 2016
$3.49
N/A (N/A)
1,593 ±1,101
1,195 ±953
01:34 (02:54)
115
Lord Mayor
Jul 21, 2016
$1.99
N/A (N/A)
7,768 ±2,431
199 ±389
00:30 (00:10)
116
Damnation City of Death
Mar 3, 2015
$5.99
N/A (N/A)
10,357 ±2,808
1,195 ±953
00:19 (00:29)
117
iso-Sphere
Nov 13, 2015
$0.59
N/A (N/A)
5,975 ±2,132
4,780 ±1,907
03:45 (03:13)
118
Economic Conquest
May 24, 2017
$4.99
N/A (N/A)
2,191 ±1,291
1,394 ±1,030
01:15 (01:48)
119
Mech Marines: Steel March
Jan 9, 2015
$7.99
N/A (N/A)
3,585 ±1,652
3,585 ±1,652
02:17 (01:55)
120
Poltergeist: A Pixelated Horror
Oct 20, 2014
$3.19
N/A (N/A/70%)
2,191 ±1,291
2,191 ±1,291
00:59 (01:12)
121
Choice of the Petal Throne
Apr 10, 2015
$3.99
N/A (N/A)
1,793 ±1,168
1,593 ±1,101
02:13 (02:41)
122
Space Hotel
Jan 4, 2017
$0.49
N/A (N/A)
1,992 ±1,231
1,593 ±1,101
02:51 (02:48)
123
Oil Enterprise
Apr 20, 2016
$5.99
6% (43%)
9,959 ±2,753
9,162 ±2,641
06:25 (03:38)
124
Industry Transporters
Aug 31, 2015
$9.99
N/A (N/A)
4,581 ±1,867
598 ±674
01:31 (01:25)
125
The Lost Island
Nov 20, 2015
$8.09
N/A (N/A)
13,146 ±3,163
797 ±778
00:22 (00:29)
126
Social Interaction Trainer
Nov 2, 2016
$0.49
N/A (N/A)
1,394 ±1,030
598 ±674
01:20 (01:10)
127
Paranormal Teens
Dec 28, 2016
Free
N/A (N/A)
3,386 ±1,605
2,191 ±1,291
00:23 (00:28)
128
Quadrant M4
May 29, 2017
$0.99
N/A (N/A)
2,788 ±1,457
1,195 ±953
00:26 (00:40)