App

Where are my Internets?
Where are my Internets?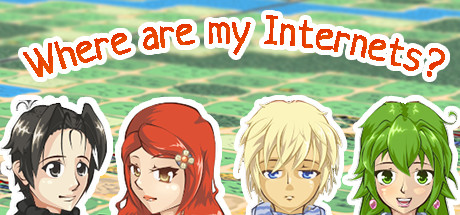 Store | Hub | SteamDB | Site
Developer: Lokator Studio Publisher: DNVA
Genre: Indie
Languages: English, Russian
Tags: Indie (56), Board Game (39), RPGMaker (38), Anime (32), Comedy (32), Turn-Based (30), Funny (30), Family Friendly (30), Great Soundtrack (29), Grid-Based Movement (29), Co-op (28), 4 Player Local (28), Memes (27), Third Person (27), Survival (27), Multiplayer (20), 2D (15)
Category: Single-player, Local Co-op, Steam Achievements, Steam Trading Cards, Partial Controller Support, Steam Cloud
Release date: Dec 16, 2016
Price: $2.99
Owners: 4,782 ± 2,040
Players total: 2,049 ± 1,336 (42.86%)
Followers: 309
Peak concurrent players yesterday: 3
Playtime total: 06:07 (average) 06:52 (median)

Steam Spy is still in beta, so expect major bugs.
Peak daily concurrent players:
CCU data courtesy of SteamDB. Used with permission.
Hourly concurrent players:
YouTube:
The views data is based on top 50 videos uploaded last week. Actual number of views might be more than the number shown.

The displayed number of videos uploaded yesterday is limited to 50, so if there were more videos uploaded, the number will still show 50.

If the game has commonly used word as its name (like "FEAR" or "Volume") its number of Youtube views might be wrong.
Games similar to this one:
#
Game
Release date

Price

Score rank
(Userscore / Metascore)

Owners

Players

Playtime (Median)

1
Quell Reflect
May 14, 2015
$3.99
N/A (N/A)
15,029 ±3,617
2,505 ±1,477
03:03 (04:35)
2
Carrie's Order Up!
Sep 12, 2016
$2.99
N/A (N/A)
6,376 ±2,356
4,782 ±2,040
02:34 (02:44)
3
Quell Memento
May 14, 2015
$3.99
N/A (N/A)
15,485 ±3,672
2,505 ±1,477
02:44 (03:20)
4
Venusian Vengeance
Mar 27, 2015
$3.99
N/A (N/A)
10,247 ±2,987
5,465 ±2,181
04:17 (02:46)
5
Recursion Deluxe
Feb 12, 2016
$4.99
N/A (N/A)
8,198 ±2,672
4,099 ±1,889
06:35 (02:22)
6
She Remembered Caterpillars
Jan 17, 2017
$11.99
N/A (N/A/83%)
2,049 ±1,336
1,594 ±1,178
02:17 (02:04)
7
Bad Caterpillar
Oct 19, 2016
$1.99
N/A (N/A)
11,613 ±3,180
6,831 ±2,439
02:16 (02:36)
8
Disastr_Blastr
Nov 21, 2016
$4.99
N/A (N/A)
5,010 ±2,088
2,960 ±1,605
05:04 (05:38)
9
SculptrVR
Apr 4, 2016
$19.99
N/A (N/A)
20,722 ±4,248
3,188 ±1,666
00:46 (00:31)
10
Narcissu 10th Anniversary Anthology Project
Jan 27, 2016
$2.99
100% (100%)
6,376 ±2,356
3,188 ±1,666
02:10 (01:59)
11
Stephen's Sausage Roll
Apr 17, 2016
$29.99
100% (99%/90%)
7,059 ±2,479
6,604 ±2,398
10:24 (04:44)
12
Peace, Death!
Mar 24, 2017
$4.99
97% (97%)
13,207 ±3,391
12,524 ±3,302
02:08 (01:37)
13
Dream Car Racing 3D
Sep 22, 2016
$14.99
97% (97%)
7,059 ±2,479
6,831 ±2,439
16:38 (02:24)
14
Spooky Bonus
Oct 15, 2015
$9.99
N/A (N/A)
2,960 ±1,605
2,277 ±1,408
11:11 (15:32)
15
Luxor Evolved
Mar 1, 2012
$9.99
97% (97%)
33,929 ±5,435
12,069 ±3,242
10:27 (02:39)
16
SoundStage
Mar 10, 2017
$9.99
97% (97%)
18,217 ±3,983
17,079 ±3,856
01:00 (00:36)
17
WOLFLAME
Apr 21, 2016
$5.99
N/A (N/A)
1,822 ±1,259
1,366 ±1,090
02:15 (02:31)
18
Prompt
Jul 6, 2015
$4.99
N/A (N/A)
3,416 ±1,724
1,139 ±995
00:30 (00:40)
19
Darkarta: A Broken Heart's Quest Collector's Edition
Mar 8, 2017
$9.99
N/A (N/A)
2,505 ±1,477
1,822 ±1,259
03:07 (03:45)
20
BLARP!
Apr 4, 2016
$2.99
92% (95%)
10,475 ±3,020
9,109 ±2,816
01:05 (00:18)
21
Night Blights
Apr 15, 2016
$4.99
N/A (N/A)
16,623 ±3,804
7,287 ±2,519
04:42 (03:33)
22
Vortex Attack:
May 27, 2015
$6.99
N/A (N/A)
4,554 ±1,991
3,188 ±1,666
02:39 (02:48)
23
Aaero
Apr 11, 2017
$14.99
92% (95%)
1,822 ±1,259
1,822 ±1,259
01:26 (01:42)
24
ShotForge
Nov 2, 2016
Free
N/A (N/A)
16,168 ±3,752
5,921 ±2,270
00:35 (00:33)
25
On Rusty Trails
Jun 13, 2016
$12.99
N/A (N/A/77%)
4,782 ±2,040
2,277 ±1,408
02:36 (03:06)
26
Lost Crew
Sep 15, 2016
$1.99
N/A (N/A)
6,376 ±2,356
3,871 ±1,836
04:28 (10:30)
27
Modbox
Apr 5, 2016
$14.99
89% (94%)
29,375 ±5,057
11,613 ±3,180
01:46 (00:56)
28
Farm Frenzy: Heave Ho
Aug 26, 2015
$4.99
N/A (N/A)
3,643 ±1,781
2,505 ±1,477
15:25 (20:57)
29
Vampires: Guide Them to Safety!
Oct 22, 2014
$4.99
N/A (N/A)
9,336 ±2,851
5,237 ±2,135
07:01 (02:54)
30
Mu Cartographer
Aug 24, 2016
$4.99
83% (92%)
12,069 ±3,242
2,960 ±1,605
00:59 (01:23)
31
Solar War
Jan 6, 2015
$19.99
N/A (N/A)
1,366 ±1,090
1,139 ±995
36:12 (35:25)
32
Dots eXtreme
Sep 13, 2016
$1.99
N/A (N/A)
4,554 ±1,991
3,416 ±1,724
02:17 (02:17)
33
12 Labours of Hercules IV: Mother Nature (Platinum Edition)
Dec 25, 2015
$2.99
79% (91%)
33,929 ±5,435
24,138 ±4,584
10:27 (04:22)
34
Earthtongue
Apr 27, 2015
$4.99
79% (91%)
4,782 ±2,040
3,416 ±1,724
02:04 (01:46)
35
Abduction Bit
Nov 14, 2016
$0.99
N/A (N/A)
3,871 ±1,836
2,505 ±1,477
02:16 (03:22)
36
Hyper Bounce Blast
May 27, 2016
$4.99
N/A (N/A)
2,960 ±1,605
1,366 ±1,090
03:10 (04:48)
37
Holo Impact : Prologue
Nov 10, 2016
$14.99
N/A (N/A)
1,366 ±1,090
1,139 ±995
00:53 (01:04)
38
This Starry Midnight We Make
Jun 1, 2015
$9.99
N/A (N/A)
2,960 ±1,605
1,594 ±1,178
01:49 (02:32)
39
Fearful Symmetry
Dec 28, 2016
$1.99
N/A (N/A)
6,604 ±2,398
3,871 ±1,836
03:27 (04:12)
40
Zenzizenzic
Jul 23, 2015
$9.99
N/A (N/A/85%)
5,237 ±2,135
2,277 ±1,408
03:18 (01:53)
41
Khaba
Jan 12, 2015
$3.99
N/A (N/A)
7,059 ±2,479
4,099 ±1,889
02:38 (02:59)
42
Dashy Square
Apr 25, 2016
$3.99
75% (90%)
15,257 ±3,645
11,158 ±3,117
05:56 (04:48)
43
Heart's Medicine - Time to Heal
Sep 20, 2016
$12.99
72% (89%)
11,613 ±3,180
10,703 ±3,053
10:59 (07:29)
44
ASCII Attack
Mar 16, 2016
$1.49
N/A (N/A)
7,515 ±2,558
4,327 ±1,941
02:54 (04:10)
45
PowersVR
Feb 8, 2017
$9.99
N/A (N/A)
1,594 ±1,178
1,366 ±1,090
00:33 (00:32)
46
A-Gents
Apr 20, 2016
$1.99
N/A (N/A)
13,891 ±3,478
7,970 ±2,634
04:05 (03:13)
47
Surfingers
Jan 27, 2016
$1.99
66% (87%)
69,225 ±7,764
39,622 ±5,874
02:45 (02:35)
48
Mighty Switch Force! Academy
Nov 23, 2015
$9.99
N/A (N/A)
2,505 ±1,477
1,139 ±995
00:57 (00:37)
49
Barbie and Her Sisters Puppy Rescue
Dec 17, 2015
$9.99
66% (87%)
5,010 ±2,088
4,554 ±1,991
07:45 (08:57)
50
Good Archer
Mar 9, 2017
$1.99
N/A (N/A)
10,703 ±3,053
6,604 ±2,398
04:17 (05:17)
51
SnakEscape
Feb 12, 2016
$5.99
N/A (N/A)
8,198 ±2,672
4,554 ±1,991
03:06 (02:55)
52
Guided Meditation VR
Oct 3, 2016
$14.99
N/A (N/A)
3,643 ±1,781
3,416 ±1,724
01:25 (03:18)
53
Temporal Temple
Jun 22, 2016
$1.99
N/A (N/A)
3,416 ±1,724
1,366 ±1,090
04:54 (03:36)
54
Gravity Cat
Jul 13, 2016
$2.99
60% (85%)
19,811 ±4,153
11,386 ±3,148
02:20 (02:37)
55
Tennis in the Face
Nov 18, 2015
$4.99
N/A (N/A)
9,564 ±2,886
5,465 ±2,181
05:28 (03:56)
56
Counter Fight
Nov 14, 2016
$7.99
58% (84%)
2,505 ±1,477
2,277 ±1,408
01:57 (04:48)
57
Oik 2
Mar 28, 2017
$0.99
55% (83%)
9,109 ±2,816
6,376 ±2,356
01:58 (02:22)
58
Cash_Out
May 27, 2015
$4.99
N/A (N/A)
4,782 ±2,040
2,049 ±1,336
02:04 (01:25)
59
Dream Tale
Dec 16, 2014
$4.99
N/A (N/A)
10,247 ±2,987
455 ±629
00:25 (00:16)
60
Don't Disturb
Sep 1, 2016
$3.49
52% (82%)
2,505 ±1,477
1,594 ±1,178
01:29 (00:50)
61
CAPSULE
May 29, 2014
$4.99
50% (81%)
11,386 ±3,148
3,643 ±1,781
00:24 (00:33)
62
Last Horizon
Nov 18, 2015
$4.99
48% (80%)
14,346 ±3,534
6,148 ±2,314
00:44 (00:23)
63
Space Drifters 2D
Mar 28, 2016
$0.99
N/A (N/A)
15,712 ±3,699
7,287 ±2,519
03:09 (04:12)
64
Try Hard Parking
Jan 3, 2017
$1.99
48% (80%)
2,733 ±1,542
1,594 ±1,178
01:32 (01:52)
65
Detached
Aug 31, 2016
$19.99
N/A (N/A)
911 ±890
455 ±629
01:56 (01:17)
66
VRC PRO
Mar 24, 2015
$44.99
46% (79%)
10,475 ±3,020
10,247 ±2,987
12:30 (04:30)
67
Star Sky -
Oct 23, 2015
$3.99
46% (79%)
13,207 ±3,391
7,287 ±2,519
03:16 (03:02)
68
Access Denied
Dec 16, 2016
$2.99
N/A (N/A)
3,871 ±1,836
2,049 ±1,336
03:14 (03:56)
69
Verdict Guilty -
Jun 13, 2016
$2.99
43% (78%)
13,435 ±3,420
7,287 ±2,519
01:53 (02:26)
70
Prismatica
Jul 1, 2015
$4.99
N/A (N/A)
9,564 ±2,886
1,366 ±1,090
01:12 (01:31)
71
BalanCity
Sep 21, 2016
$7.99
N/A (N/A)
10,019 ±2,954
3,188 ±1,666
02:10 (02:11)
72
Riddles Of The Past
Jul 22, 2016
$6.99
39% (76%)
5,921 ±2,270
3,643 ±1,781
03:21 (02:59)
73
Archimedes
Oct 6, 2016
$2.99
39% (76%)
7,970 ±2,634
5,237 ±2,135
01:57 (02:48)
74
Tyto Ecology
Apr 14, 2016
$6.99
39% (76%)
15,029 ±3,617
13,891 ±3,478
03:02 (01:23)
75
Terraform
May 8, 2015
$2.99
N/A (N/A)
5,010 ±2,088
455 ±629
08:37 (04:29)
76
Racecraft
Mar 4, 2016
$19.99
N/A (N/A)
25,504 ±4,712
2,277 ±1,408
02:21 (03:45)
77
Tenrow
Apr 8, 2016
$2.99
N/A (N/A)
6,148 ±2,314
4,554 ±1,991
03:06 (02:19)
78
Aerofly FS 2 Flight Simulator
May 19, 2016
$49.99
37% (75%)
17,534 ±3,907
17,079 ±3,856
12:20 (06:05)
79
Rise & Shine
Jan 13, 2017
$14.99
35% (74%)
8,881 ±2,781
7,515 ±2,558
02:19 (02:01)
80
Defense Zone 3 Ultra HD
Dec 14, 2016
$2.99
35% (74%)
1,822 ±1,259
1,822 ±1,259
11:55 (23:50)
81
CALENDULA
Feb 2, 2016
$2.93
35% (74%/67%)
4,099 ±1,889
2,277 ±1,408
01:53 (02:22)
82
Legends of the Universe: StarCore
Jul 25, 2016
$3.99
N/A (N/A)
3,416 ±1,724
2,277 ±1,408
02:29 (02:46)
83
Pythagoria
Jan 22, 2016
$1.99
34% (73%)
5,465 ±2,181
4,099 ±1,889
01:10 (00:57)
84
Laserlife
Sep 22, 2015
$14.99
N/A (N/A)
11,841 ±3,211
5,237 ±2,135
04:06 (03:01)
85
Zombie Parking
Apr 14, 2016
$0.99
N/A (N/A)
2,277 ±1,408
2,049 ±1,336
09:48 (04:24)
86
Mines of Mars
Dec 18, 2015
$6.99
N/A (N/A)
9,336 ±2,851
1,822 ±1,259
01:34 (03:43)
87
Trino
Jan 27, 2011
$4.99
N/A (N/A)
4,327 ±1,941
3,416 ±1,724
02:19 (00:46)
88
Music Inside: A VR Rhythm Game
Sep 5, 2016
$7.49
N/A (N/A)
2,277 ±1,408
1,594 ±1,178
01:03 (01:12)
89
Crystal Catacombs
Jan 15, 2015
$7.99
N/A (N/A)
24,593 ±4,627
4,099 ±1,889
00:52 (00:18)
90
Chesster
Mar 16, 2016
$3.99
N/A (N/A)
2,960 ±1,605
1,366 ±1,090
02:45 (03:33)
91
Let There Be Life
Feb 13, 2015
$5.99
N/A (N/A)
9,336 ±2,851
1,366 ±1,090
00:09 (00:12)
92
Citadel
Aug 17, 2016
Free
N/A (N/A)
7,059 ±2,479
3,643 ±1,781
03:20 (03:33)
93
League of Mermaids
Sep 22, 2015
$6.99
N/A (N/A)
12,297 ±3,272
683 ±771
04:26 (04:25)
94
XCavalypse
Jun 6, 2016
$5.99
N/A (N/A)
5,237 ±2,135
3,643 ±1,781
01:39 (01:46)
95
Wildlife Park 2
Jul 17, 2014
$6.99
26% (68%)
43,266 ±6,138
38,939 ±5,823
16:33 (03:29)
96
Antihorror
Jul 27, 2016
$1.99
25% (67%)
3,188 ±1,666
1,594 ±1,178
02:02 (02:24)
97
Tick Tock Bang Bang
Jun 9, 2016
$9.99
N/A (N/A)
2,277 ±1,408
1,594 ±1,178
00:21 (00:26)
98
Rumble
Oct 14, 2015
$4.99
N/A (N/A)
13,891 ±3,478
2,277 ±1,408
00:25 (00:38)
99
Motorbike
Jan 19, 2015
$9.99
N/A (N/A)
4,099 ±1,889
4,099 ±1,889
02:17 (01:36)
100
Hybrid Animals
Aug 29, 2016
$6.99
22% (65%)
15,257 ±3,645
14,574 ±3,562
08:00 (01:10)
101
Farm Frenzy: Hurricane Season
Jul 3, 2015
$6.99
N/A (N/A)
3,643 ±1,781
2,733 ±1,542
14:32 (26:39)
102
Camper Jumper Simulator
Jan 2, 2017
$1.79
N/A (N/A)
2,049 ±1,336
1,366 ±1,090
00:50 (00:35)
103
Jump/Boxer
Apr 24, 2015
$0.99
N/A (N/A)
9,792 ±2,920
1,594 ±1,178
00:09 (00:12)
104
Metrocide
Dec 15, 2014
$12.99
N/A (N/A/68%)
48,048 ±6,468
22,088 ±4,385
03:01 (02:09)
105
Hunt: The Unknown Quarry
Jan 30, 2017
Free
N/A (N/A)
2,960 ±1,605
1,139 ±995
02:52 (03:11)
106
Rage Runner
May 16, 2014
$4.99
N/A (N/A)
16,168 ±3,752
8,198 ±2,672
02:54 (02:21)
107
Farm Life: Natures Adventure
Aug 23, 2016
$0.99
N/A (N/A)
3,188 ±1,666
1,822 ±1,259
03:12 (04:12)
108
Roads of Rome
Oct 16, 2015
$3.99
N/A (N/A)
1,139 ±995
1,139 ±995
09:40 (15:43)
109
Strange Night
Jul 26, 2016
$3.99
N/A (N/A)
4,099 ±1,889
1,139 ±995
01:27 (01:59)
110
Ski Park Tycoon
Feb 3, 2015
$9.99
N/A (N/A)
3,188 ±1,666
1,822 ±1,259
10:50 (09:57)
111
The Treasures of Montezuma 3
Oct 16, 2014
$3.99
16% (59%)
9,564 ±2,886
8,198 ±2,672
07:40 (03:10)
112
Adorables
Mar 30, 2016
$2.99
N/A (N/A)
94,957 ±9,092
74,463 ±8,052
07:38 (07:29)
113
Space Jones VR
Aug 11, 2016
$10.99
N/A (N/A)
2,049 ±1,336
1,594 ±1,178
00:37 (00:40)
114
Earthfall
Apr 26, 2017
$14.99
N/A (N/A)
1,822 ±1,259
1,366 ±1,090
328:48 (01:24)
115
Afterlife Empire
Aug 21, 2015
$4.99
15% (58%)
3,416 ±1,724
2,049 ±1,336
01:12 (01:45)
116
XenoBloom
Sep 23, 2015
$4.99
N/A (N/A)
1,822 ±1,259
1,366 ±1,090
01:14 (01:56)
117
Wild Frontera
Apr 21, 2015
$4.99
N/A (N/A)
11,613 ±3,180
5,693 ±2,226
03:15 (02:58)
118
iso-Sphere
Nov 13, 2015
$1.99
N/A (N/A)
5,921 ±2,270
3,871 ±1,836
03:17 (02:32)
119
The Renegades of Orion 2.0
Feb 22, 2016
$0.99
N/A (N/A)
10,475 ±3,020
6,604 ±2,398
04:17 (03:22)
120
Call to 10
Jan 16, 2017
$1.99
N/A (N/A)
17,079 ±3,856
13,663 ±3,449
03:06 (03:22)
121
Zero Point
Oct 28, 2014
Free
7% (47%)
3,871 ±1,836
3,871 ±1,836
01:09 (00:47)
122
Rolling Shapes
Jun 8, 2015
$1.99
N/A (N/A)
3,643 ±1,781
2,277 ±1,408
04:33 (04:20)
123
Industry Transporters
Aug 31, 2015
$9.99
N/A (N/A)
4,327 ±1,941
1,139 ±995
00:58 (01:15)
124
Oil Enterprise
Apr 20, 2016
$19.99
6% (43%)
10,930 ±3,085
10,930 ±3,085
04:36 (02:20)
125
Don't Chat With Strangers
Jan 6, 2017
$4.99
N/A (N/A)
1,139 ±995
1,139 ±995
00:48 (01:00)
126
Glitchrunners
Apr 8, 2016
$12.99
N/A (N/A)
4,099 ±1,889
1,594 ±1,178
00:29 (00:40)
127
Triangle
Jan 30, 2017
$1.99
N/A (N/A)
18,900 ±4,057
15,712 ±3,699
03:12 (03:30)
128
Paranormal Teens
Dec 28, 2016
Free
N/A (N/A)
2,960 ±1,605
1,594 ±1,178
00:39 (00:54)
129
Doom Rails
Nov 4, 2009
$2.99
N/A (N/A)
3,188 ±1,666
1,139 ±995
00:32 (00:33)
130
Satanist
Jun 1, 2016
$0.99
N/A (N/A)
1,822 ±1,259
455 ±629
00:15 (00:09)