Crashimals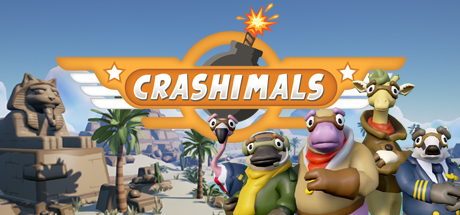 Store | Hub | SteamDB
Developer: Rogue Earth LLC Publisher: GAMEPUMP
Genre: Action, Casual, Indie, Strategy
Languages: English
Tags: Early Access (25), Indie (22), Casual (21), Action (21), Strategy (21), VR (6), VR Only (1)
Category: Single-player
Release date: Sep 7, 2017 (previously in Early Access)
Price: $29.99
Owners: 678 ± 1,328
Followers: 111
YouTube stats: 14 views and 3 comments for videos uploaded last week, 1 new videos uploaded yesterday.

Steam Spy is still in beta, so expect major bugs.
Peak daily concurrent players:
CCU data courtesy of SteamDB. Used with permission.
Hourly concurrent players:
YouTube:
The views data is based on top 50 videos uploaded last week. Actual number of views might be more than the number shown.

The displayed number of videos uploaded yesterday is limited to 50, so if there were more videos uploaded, the number will still show 50.

If the game has commonly used word as its name (like "FEAR" or "Volume") its number of Youtube views might be wrong.
Games similar to this one:
#
Game
Release date

Price

Score rank
(Userscore / Metascore)

Owners

Players

Playtime (Median)

1
Tyto Online
Nov 25, 2016
$24.99
N/A (N/A)
687 ±1,344
687 ±1,344
04:03 (04:03)
2
Edgar
Mar 29, 2016
$4.99
N/A (N/A)
1,365 ±1,335
0 ±0
00:00 (00:00)
3
Mecha Ritz: Steel Rondo
Jun 9, 2016
$6.99
N/A (N/A)
682 ±944
341 ±667
05:20 (02:40)
4
Kagura Douchuuki
Oct 22, 2015
$13.99
N/A (N/A)
1,132 ±989
1,132 ±989
01:50 (02:18)
5
A Midsummer Night's Choice
Aug 25, 2016
$6.99
N/A (N/A)
2,037 ±1,327
905 ±885
03:40 (04:51)
6
Dad Beat Dads
Oct 19, 2015
$5.99
N/A (N/A)
1,024 ±1,156
682 ±944
00:08 (00:07)
7
The Last Time
Sep 9, 2016
$3.99
100% (100%)
4,753 ±2,028
1,584 ±1,171
01:25 (01:34)
8
Jump Tanks
Mar 8, 2016
Free
N/A (N/A)
682 ±944
341 ±667
00:18 (00:09)
9
Einlanzer
Mar 1, 2017
$7.99
N/A (N/A)
1,024 ±1,156
682 ±944
01:12 (01:04)
10
Valcarta: Rise of the Demon
Jul 8, 2016
$6.99
N/A (N/A)
4,526 ±1,979
2,489 ±1,467
04:37 (05:18)
11
Gene
Jan 30, 2015
$0.99
N/A (N/A)
687 ±1,344
687 ±1,344
01:45 (01:45)
12
Romance of the Three Kingdoms /
Dec 13, 2016
$9.09
N/A (N/A)
1,132 ±989
905 ±885
94:47 (80:33)
13
Gulf of Aden - Task Force Somalia
Dec 14, 2015
$8.99
N/A (N/A)
1,024 ±1,156
1,024 ±1,156
00:48 (01:07)
14
Frequent Flyer
Jan 20, 2017
$0.99
N/A (N/A)
2,263 ±1,399
1,811 ±1,251
00:23 (00:32)
15
Himawari - The Sunflower -
Dec 9, 2016
$34.99
N/A (N/A)
1,584 ±1,171
905 ±885
13:51 (17:50)
16
Z-Exemplar
Nov 25, 2016
$4.99
N/A (N/A)
4,753 ±2,028
0 ±0
00:00 (00:00)
17
Dwarflings
Mar 16, 2017
$3.99
N/A (N/A)
21,953 ±4,358
19,237 ±4,080
05:01 (04:31)
18
Recursed
Sep 30, 2016
$7.99
100% (100%)
2,263 ±1,399
1,811 ±1,251
02:48 (03:58)
19
Queen At Arms
Feb 3, 2016
$24.99
N/A (N/A)
1,373 ±1,902
1,373 ±1,902
03:09 (04:48)
20
Lifestream - A Haunting Text Adventure
Sep 19, 2016
$2.99
N/A (N/A)
1,132 ±989
453 ±625
08:21 (05:34)
21
WITCH-BOT MEGLILO
Jul 15, 2016
$5.99
N/A (N/A)
2,037 ±1,327
1,358 ±1,084
01:49 (01:57)
22
Courier of the Crypts
May 21, 2015
$11.99
N/A (N/A)
905 ±885
453 ±625
01:49 (01:12)
23
Arcane
Dec 19, 2016
Free
N/A (N/A)
1,373 ±1,902
687 ±1,344
02:02 (02:02)
24
Deserted: The Story of Peter
Sep 7, 2016
$4.99
N/A (N/A)
5,658 ±2,212
453 ±625
00:07 (00:04)
25
LIT
Feb 21, 2017
$5.99
N/A (N/A)
1,358 ±1,084
905 ±885
00:57 (01:11)
26
Castle Must Be Mine
Nov 11, 2016
$14.99
100% (99%)
6,563 ±2,383
5,432 ±2,168
02:01 (01:12)
27
Four Last Things
Feb 23, 2017
$7.99
99% (98%/83%)
3,847 ±1,824
2,716 ±1,533
01:40 (02:20)
28
Handsome Mr. Frog
Aug 8, 2016
$0.99
N/A (N/A)
3,395 ±1,714
1,811 ±1,251
01:46 (02:19)
29
Toonstruck
Nov 15, 2016
$9.99
N/A (N/A)
3,412 ±2,111
2,388 ±1,766
04:42 (06:40)
30
FLAMBERGE
Mar 25, 2015
$9.99
N/A (N/A)
2,037 ±1,327
1,584 ±1,171
01:19 (01:20)
31
ZeGame
May 27, 2016
$4.99
N/A (N/A)
1,811 ±1,251
1,584 ±1,171
04:18 (06:07)
32
Golden Krone Hotel
Oct 25, 2016
$9.99
N/A (N/A)
1,024 ±1,156
1,024 ±1,156
05:09 (07:23)
33
Space Fuss
Feb 28, 2017
$4.99
N/A (N/A)
5,884 ±2,256
3,395 ±1,714
03:17 (02:47)
34
Super Mutant Alien Assault
Jul 11, 2016
$9.99
N/A (N/A)
4,526 ±1,979
3,395 ±1,714
01:53 (02:42)
35
Wheely
Nov 9, 2016
$1.99
N/A (N/A)
2,942 ±1,595
1,811 ±1,251
02:40 (03:15)
36
DWVR
Dec 15, 2016
$14.99
N/A (N/A)
1,024 ±1,156
1,024 ±1,156
00:14 (00:15)
37
Overdriven Reloaded
Oct 7, 2016
$5.99
N/A (N/A)
679 ±766
453 ±625
06:33 (04:22)
38
Escape!VR -The Basement-
Nov 7, 2016
$11.99
N/A (N/A)
2,388 ±1,766
2,047 ±1,635
03:08 (04:30)
39
Element
Dec 14, 2015
$10.99
N/A (N/A)
1,365 ±1,335
1,365 ±1,335
00:13 (00:17)
40
Squareface
Sep 11, 2016
$8.99
N/A (N/A)
5,884 ±2,256
3,847 ±1,824
03:40 (03:46)
41
Blood Alloy: Reborn
Mar 2, 2016
$12.99
N/A (N/A/48%)
1,358 ±1,084
1,132 ±989
00:40 (00:36)
42
Western 1849 Reloaded
Feb 10, 2017
$4.99
N/A (N/A)
13,126 ±3,370
6,563 ±2,383
05:01 (04:57)
43
King Oddball
Sep 9, 2016
$4.99
N/A (N/A)
679 ±766
226 ±442
13:48 (04:36)
44
One Of The Last
Nov 3, 2016
$12.99
N/A (N/A)
682 ±944
682 ±944
00:03 (00:02)
45
Beyond Magic
Feb 20, 2017
$2.99
N/A (N/A)
2,942 ±1,595
1,358 ±1,084
04:14 (03:38)
46
Stratego - Single Player
Dec 10, 2016
$6.99
N/A (N/A)
1,584 ±1,171
1,584 ±1,171
06:46 (05:17)
47
Witch of Ice Kingdom
Jan 6, 2017
$5.99
N/A (N/A)
1,811 ±1,251
1,358 ±1,084
02:26 (02:13)
48
Lords of New York
Jan 19, 2017
$9.99
N/A (N/A)
5,884 ±2,256
4,526 ±1,979
02:39 (02:52)
49
Mystery Maze Of Balthasar Castle
Jul 10, 2015
$4.99
N/A (N/A)
3,847 ±1,824
2,263 ±1,399
01:48 (02:12)
50
Line Of Defense Tactics - Tactical Advantage
Mar 17, 2014
$9.99
N/A (N/A/47%)
1,024 ±1,156
1,024 ±1,156
08:23 (12:23)
51
Break Through: Artificial Maze
Jul 12, 2016
$0.99
N/A (N/A)
682 ±944
682 ±944
02:08 (02:08)